"It was weird," Ricky Carmichael, who added instant legitimacy and credibility to supercross' voyage to Canada in December 2004, told me earlier this week.
In 2004, 2005, and 2006, the World Supercross GP ran in conjunction with the AMA Supercross Series (long story) and kicked off with December races in Toronto and Vancouver. The whole World Supercross GP thing was invented to bring FIM sanctioning to the series—a countermeasure when the AMA attempted to break with existing SX promoters. In 2002 and 2003, World SXGP featured two December races in Europe. For 2004, the promoters then came up with a better idea, moving the races from Europe to Canada, reducing travel stress.
The top riders and teams were still not sure if they should attend the stand-alone World Supercross GP rounds. Race early, or just wait until AMA points started getting handed out at Anaheim? The Canadian races got a big boost when Carmichael signed up for them.
"Once I had the opportunity to go, it was the right time for me," Carmichael says now. "I had just gotten on Suzuki, and I really needed the race time because, as you recall, I had taken off the whole '04 series with a torn ACL. So I used it as an opportunity—and also as a chance to help the supercross series as well. It worked really well; we learned a lot about the bike and made some real improvements. We found some things we had overlooked and were able to make those changes by the time the AMA series started at Anaheim."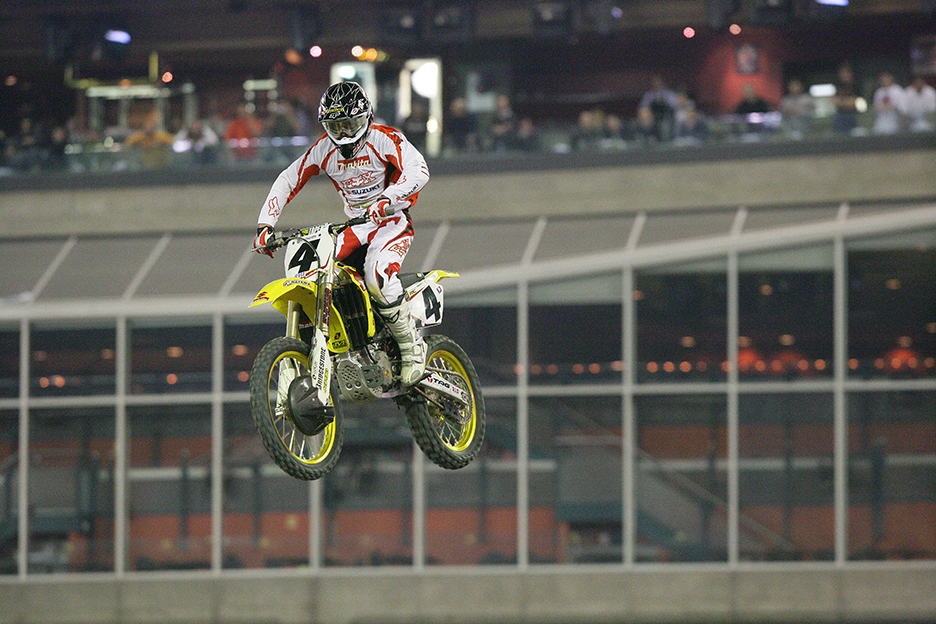 Carmichael started the 2005 AMA Series—probably the most hyped ever—with a podium in a muddy Anaheim opener, and then a five-race win streak. By February he was in complete control of the championship, while 2004 champion Chad Reed was still struggling to set up his Yamaha. James Stewart had already crashed out with a broken arm. Did the two races in Canada—which Carmichael won handily on his RM250—help?
"100 percent," he said. "The first year I did it, it absolutely helped us out tremendously. We found some things that were wrong, it worked out so good for us. It was an A-plus-plus for me."
No surprise, when the Toronto and Vancouver events rolled up again in December 2005, Reed and James Stewart also made the trek. All the factory teams wanted to match the head start RC and Suzuki had gotten a year earlier.
"It's not a party unless everyone is invited!" RC said with a laugh. "It was good, it was like another U.S. Supercross. The fans really enjoyed it, the crowd was a lot bigger. It was good for supercross. This was a true benchmark, a true supercross track."
At Toronto in 2005, Stewart showed up with "New Beginning" on the back of his pants, sporting a new number (switching from #259 to the #7 he still holds today) and a new bike—Kawasaki's KX450F four-stroke. Stewart was so fast in Toronto that he led early, crashed, got back up, and repassed Carmichael to take the victory. He won again the next weekend in Vancouver. Stewart dominated, but Carmichael still thinks the Canadian races were beneficial.
"When we came the next year and Stewart was so good, it gave us three weeks to improve," he said. "He showed us some areas where we needed to be better, so we were able to improve on that. The first year was a win for me with the bike; the second year was a win as far as riding is concerned. Speed-wise, I learned a lot and I was able to make adjustments during the three weeks before Anaheim."
Those Canadian races in 2005 also served as a bellwether for the sport. At the Las Vegas finale in May 2005, Stewart, Reed, and Carmichael all raced 250 two-strokes. In December, they were all racing 450 four-strokes. The pendulum had swung. For Stewart, it obviously started well. Reed, though, looked notably out of sorts in his first supercross runs on the YZ450F. Again, those Canadian rounds helped as a testing ground.
"I don't know if everyone was at 100 percent, or at least as much as they think they would be for Anaheim. But they were close," Carmichael said. "A lot of times, people might have still been finishing up their testing, or maybe they were still waiting for parts they had been testing with and needed to put on order. I don't know about them. For me, I was still in my training camp at the time, so I had to take a break and adjust the schedule. So everyone had to make a few adjustments, but I'd say everyone was close to 100 percent."
About that training camp. When Stewart blew everyone away in December '05, it seemed to serve as a warning of what was to come in January '06. Maybe, but maybe not. Carmichael's assistant with FOX Racing, Scott Taylor, astutely leaked some photos to the media after the races, showing that Ricky was racing while wearing a heart-rate monitor. He explained that Carmichael was still in the middle of his Aldon Baker boot camp and wouldn't be at peak fitness until January. "Training to peak," in fact, soon became a term in the sport.
"My hard work was done through October, November, and half of December, and then the rest of the year I was trying to maintain and not actually build any fitness," Carmichael said. "For me, I felt like I was peaking all of the time! But yeah, in December, we had to be respectful of the training a little bit and make some adjustments based on the travel."
The next year, in December 2006, Reed showed up faster and he and Stewart battled in Toronto, leading to another classic—they bumped, Stewart went off the track, then Stewart attempted to come back on the track in a blind area next to a jump. Lapped rider Travis Preston landed on him and they went down in a heap. Reed went on to take the win.
A week later in Vancouver, Stewart showed up on crutches nursing a sore ankle. He led for a bit, but yielded to Carmichael. That would mark Vancouver's last run on the SX schedule, and the end of the December races (Toronto's date would move to March). Carmichael would emerge the last winner of the December in Canada races—fitting, because he was also the first.