Welcome to Racerhead, on a cold Friday here in West Virginia but a very busy one out on California, where most of the paddock for Monster Energy AMA Supercross is getting ready for Anaheim 1, now less than a month away. But SX is probably the furthest thing on the mind of many of the people being affected by those wildfires out there. It's been crazy and sad to watch the burning up and down the coast, and hats off to the firefighters, first responders and volunteers who are all doing all they can to save lives.
Fortunately, there's something new to chew up this week: Feld Motor Sports released the track maps for the 2018 Monster Energy AMA Supercross Championship.
They are a beautiful array of jump combos, whoops, sand sections, banked turns, ring-o-fires... Er, wait, no ring-o-fire. But there's certainly enough razzle-dazzle in these designs to get you ready for some supercross, and with a few format changes thrown in—not to mention the looming battle to take over the vacated crown of Ryan Dungey—it should be a fantastic season. Here are the first four tracks to get you in that SX mainframe.
With the major racing all done for the year, now is the time that countdowns begin, conspiracy theories pop up online, and bench-racing can get a little rough. The usual suspects come up—like two-strokes-versus-four-strokes, Team USA, the schedule, rider unions, etc.—and they can turn into real get-out-your-popcorn moments, especially when they are on the Vital MX Forum. One got up and running late last night about PED allegations, which is less of an annual topic that a constant one, and for good reason. Every sport is dealing with trying to prevent their participants from using performance-enhancing drugs, and SX/MX is no different. Everyone has their questions about whether or not this rider or that trainer might be cheating the system, and they want to know what the overseers are doing to prevent and police it. This one was slightly different, though, because Jeff Alessi was the driving force behind the thread.
I've known Jeff for almost his entire life, and while I've had some misadventures with him and his family, we've always patched things up and got on with it. Jeff's current concerns are that he feels nothing has been done about PEDs since the whole issue was brought up at a team manager's meeting back at Washougal in 2013, which is simply not true. And I understand that Jeff Alessi might not realize this since he hasn't raced in Lucas Oil Pro Motocross since Lake Elsinore in 2012. Come think of it, a lot of fans and race-watchers may not know what's being done to try to keep PEDs out of our sport, so I thought I would use a slow week here to explain what is being done on the Pro Motocross side of things.
More than five years ago MX Sports Pro Racing was approached by a couple of team managers and pro riders to inquire about the question of anti-doping testing in the sport. They were concerned about the "rumors" in the paddock regarding the suspected use of performance-enhancing substances by athletes. While this type of testing has traditionally been the responsibility of a sports sanctioning body, MX Sports Pro Racing, as the promotional rights holder to the AMA Pro Motocross Championship Series, agreed to look into the matter and report back to these teams and riders.
In the fall of 2013, MX Sports Pro Racing presented a report on the issue of performance-enhancing substances in sports along with a possible testing plan to a core group of industry representatives, which included representatives from every OEM that fielded or supported riders and teams. In this plan, MX Sports Pro Racing explained that because of the incredibly complicated and scientific nature of the issue of anti-doping, it would only proceed with an outside, independent agency to conduct any testing or rules enforcement because of the need for the process be recognized as fair, honest, and independent.
MX Sports Pro Racing proposed entering into an agreement with the United States Anti-Doping Agency (USADA), which is the entity responsible for administering and enforcing the World Anti-Doping Agency (WADA) Code in the U.S., to conduct tests and enforce anti-doping rules. USADA is also the entity that oversees all U.S. Olympic testing and the testing for an array of other U.S. sports programs, both amateur and professional. MX Sports Pro Racing received the unanimous support of the sport's key industry and rider representatives to continue, and the company proceeded to enter into an agreement with USADA to develop, implement, and manage an anti-doping program for professional motocross in the U.S. (Supercross, which is sanctioned by the AMA and the FIM and is run by Feld Motor Sports, uses WADA directly for oversight, based on FIM rules.)
During the period since the time when USADA assumed the responsibility to conduct anti-doping testing for the sport of AMA Pro Motocross, MX Sports Pro Racing has established a continuing anti-doping educational program that provides annual one-on-one anti-doping counseling for individual riders and trainers, annual education seminars offered to all riders, personal assistance for riders with questions regarding Therapeutic Use Exemptions (TUEs), online resources and an annual "new riders" seminar for future pro riders at Loretta Lynn's.
Since the adoption of the USADA anti-doping testing and related educational programs, dozens of riders have been selected for both blood and urine testing by USADA, including EVERY top rider in both professional motocross classes. During this period, there have been zero failures. MX Sports Pro Racing reports back to this group of industry representatives annually to update them on each year's testing results and any pending changes to the rules established in the WADA Code.
This testing is complicated and expensive. MX Sports Pro Racing assumes 100 percent of all testing costs as an investment in our sport to be able to proudly report to the world that the playing field of our sport, in our country, is level, and our athletes are clean, according to USADA testing. And while we're not privy to what goes on behind closed doors, nor can we monitor everything that a rider might put into his or her body, we are doing the best we can keep PEDs out of motocross, just as Feld is doing in supercross and Youthstream is doing with MXGP. We also all know that PEDs are a constantly changing and evolving issue, and we will try to stay ahead of those that seek to have an unfair, undetectable advantage, we will be diligent in our efforts.
Making a blank statement that this is rampant in motocross and signaling out trainers and past champions is unfortunate as a whole and unfair to the riders. That's why I wanted to explain to Jeff Alessi and others here that a lot has changed—and all for the better—since Washougal 2013. There's never a bad time to offer a suggestion or concern, but it's bad form to publically besmirch someone's reputation based on your own suspicion. And sorry, but calling me "dirty" and saying I turned "a blind eye" to this issue is neither accurate nor fair.
Jeff Alessi and anyone else who has real information about PED usage should go directly to USADA—the people who caught Lance Armstrong and conduct our testing and policing—at this hotline: 1-877-Play Clean (1-877-752-9253). For more information, click here.
Only 29 more days until Anaheim…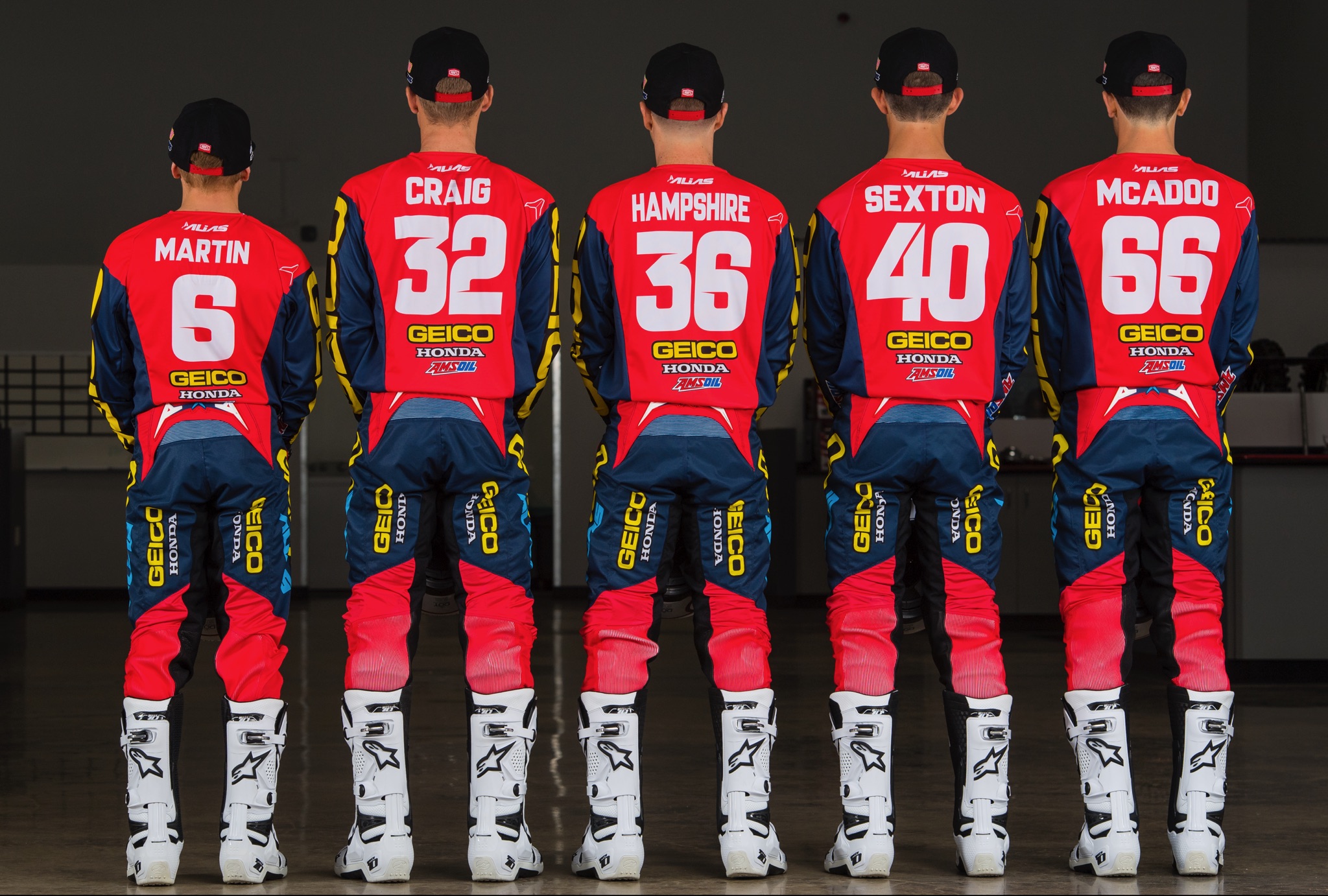 THE FIRST TEN YEARS (DC)
On a recent trip through the archives in the book, I came across the event program we published for the 1991 AMA Amateur National Championships at Loretta Lynn's Ranch. Since the race was a decade old, we decided to look back at the first decade of the event with a bunch of "Top Ten" lists. Looking back at them now, it's amazing what we didn't know yet and didn't see coming in regards to amateur and professional motocross. 1987 C Class champion Jeremy McGrath isn't mentioned, as he was just getting his supercross crown on, and the best amateur to come out of that event was six-time champion Jimmy Button. And the most successful graduate was six-time AMA Supercross/250 Motocross Champion Jeff Stanton.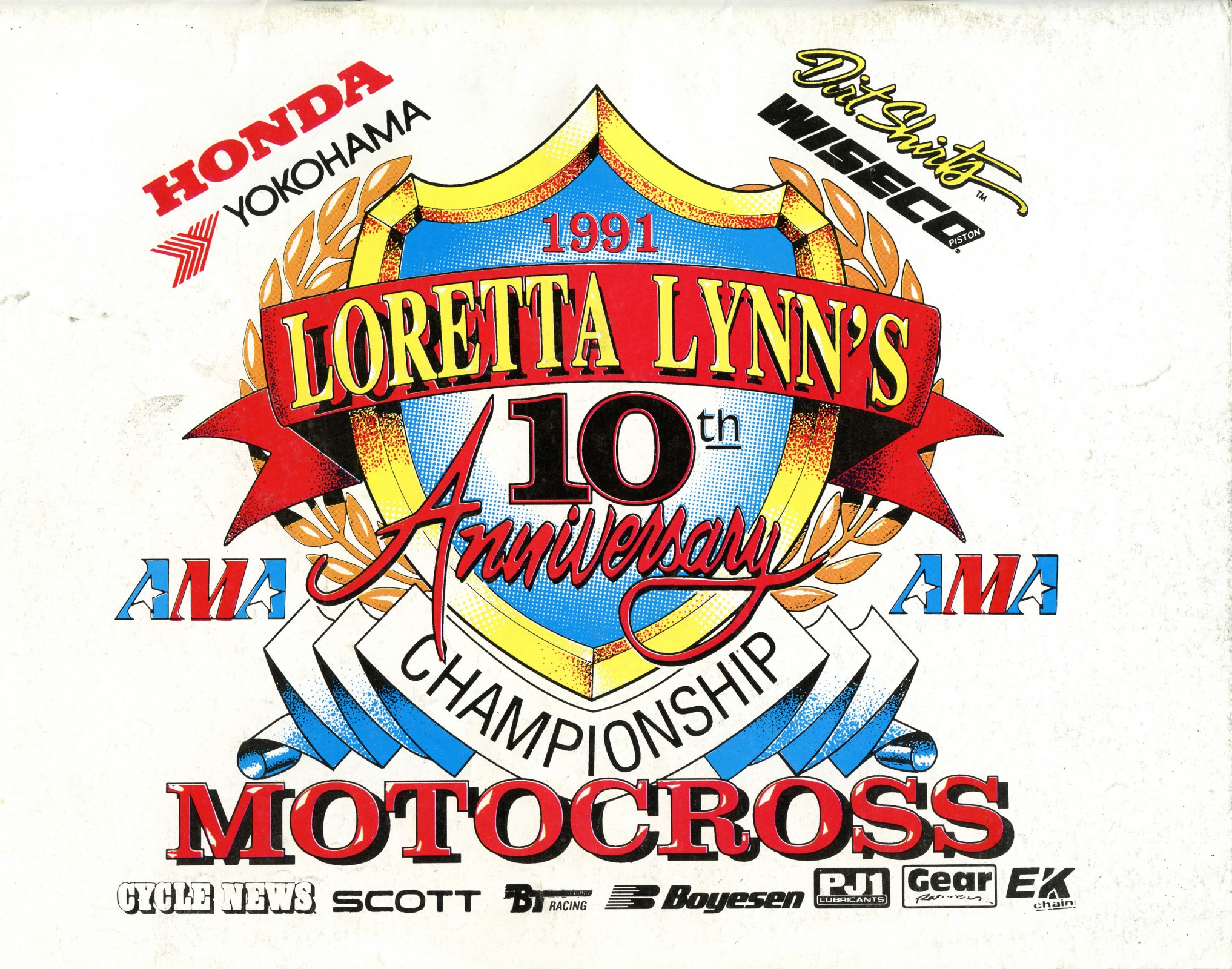 Anyway, we scanned them in to share them here—it's a walk down memory lane. Some of it's kind of funny too, like "Some Fads That Didn't Stick Around" and "Ten Things You'll See This Time Around."
And speaking of Loretta Lynn's, MX Sports and the AMA released the 2018 Area and Regional dates and locations. Check them out right here.
Media Week! (Jason Weigandt)
I have a new suggestion for the pro racing industry: Let's start calling the first full week of December Media Week. Over the last five days, teams were hosting photo shoots, meet and greets and media intros, including (just as an example) all of the KTM teams on Monday, JGR Suzuki on Tuesday, and the Monster Energy Kawasaki and factory Rockstar Energy Husqvarna teams on Wednesday (these events were scheduled at the exact same time, no less). GEICO Honda held its annual team photo shoot this week and Honda HRC will have one next week, along with a media introduction for the team next Thursday. Factory Monster Energy/Knich Yamaha has a team shoot soon, but a few days ago they let us sneak out to the test track to get some info we needed in advance. By this time of year, teams are ready to go public.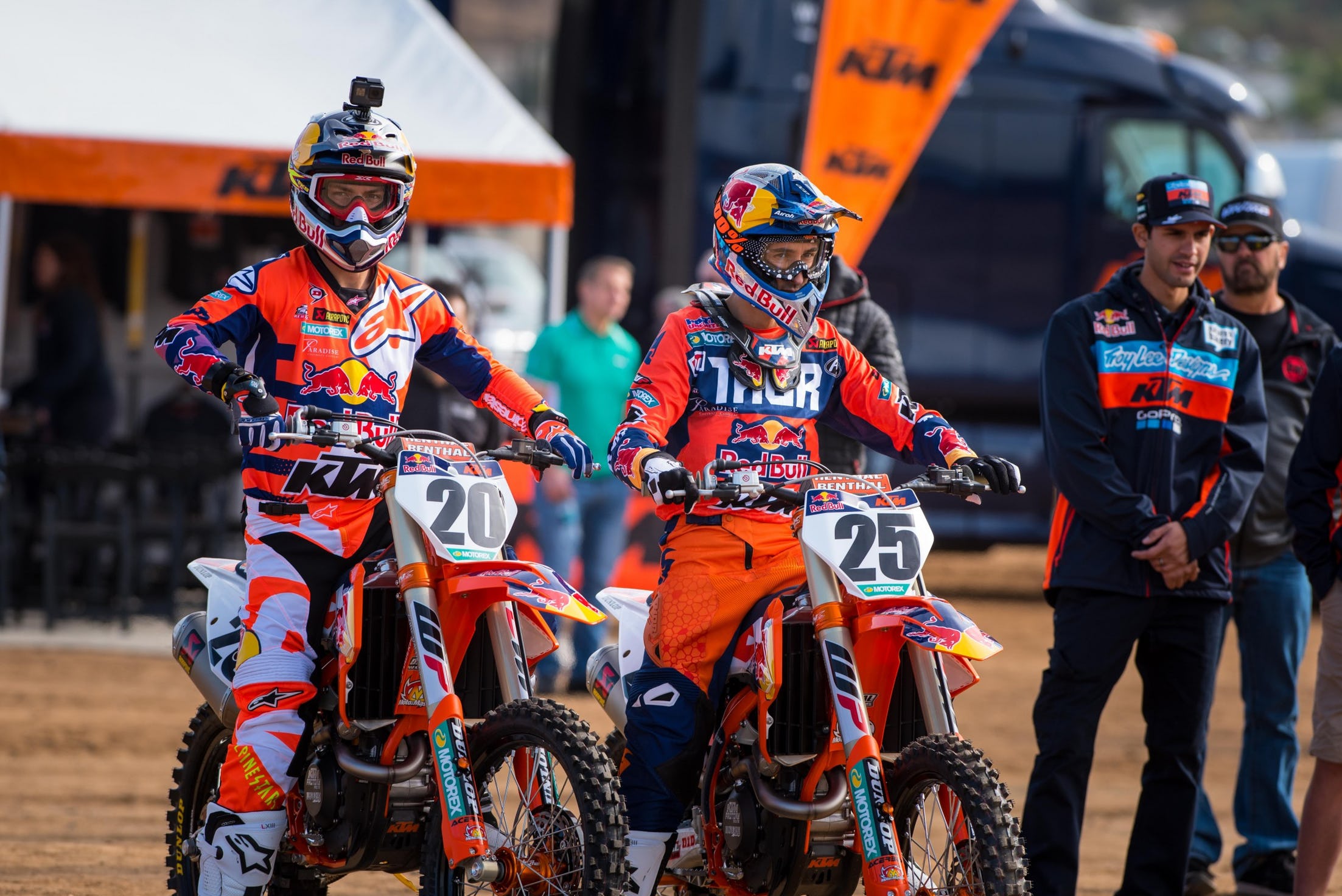 With the added attention on test track life out in California, we've also been flooded with the usual "___ is flying at the test track" stories. I saw Justin Hill churning out some serious laps on Tuesday and wrote about it earlier today (LINK). We've also heard, and this is a loose list, that Cooper Webb is "flying at the test track" and Blake Baggett is "flying at the test track." This time of year is all about the hype, the positive vibes, and the general excitement and nerves as the season nears.
We tried to bottle all of that into our annual Monster Energy Supercross Preview Shows. We shot all five episodes in our Morgantown, West Virginia, studio this week, with the usual banter between myself, David Pingree, Steve Matthes, and Jason Thomas. These shows are becoming a December tradition, right up there with A Christmas Story and Christmas Vacation on perma-loop. Look for the shows starting next week.
Time to get excited, people!
In the Mag
The February issue of Racer X Illustrated dropped this week. Check out what's in the issue and subscribe today to read more.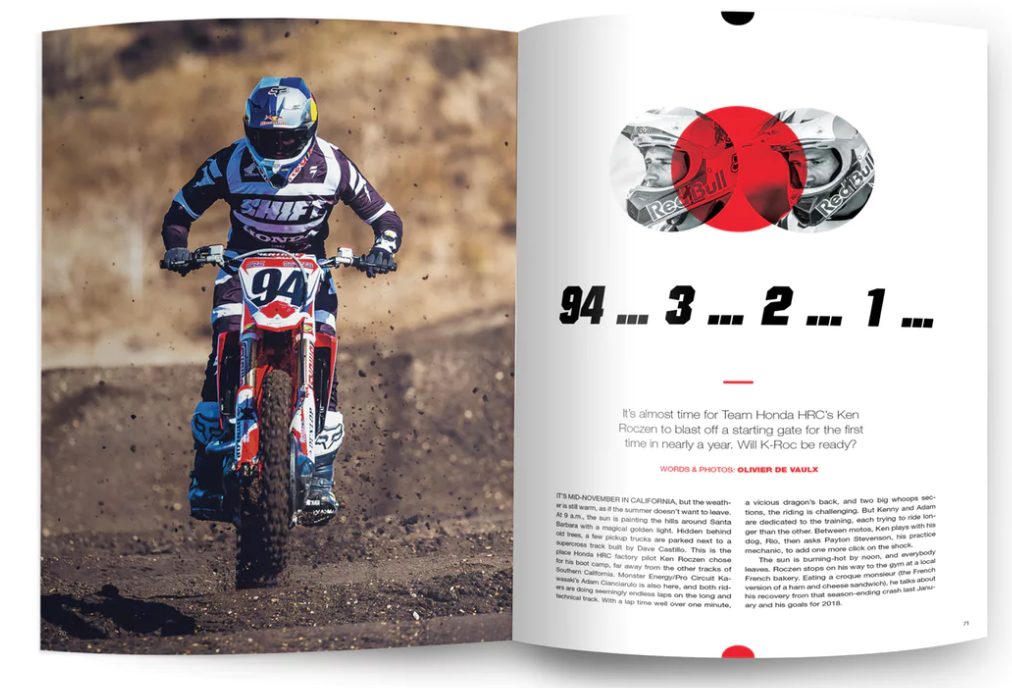 On the eve of his return to Monster Energy AMA Supercross racing after a horrible injury, Team Honda HRC's Ken Roczen sat down with us for a candid and wide-ranging talk.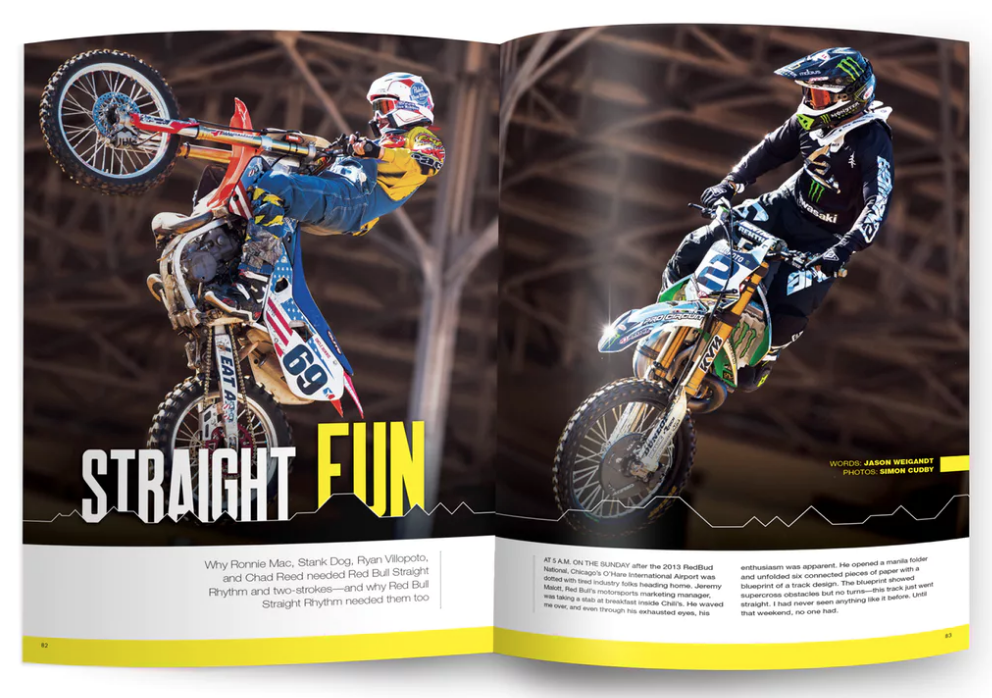 Featuring much-loved two-stroke bikes and a cast of outsized characters—with Ronnie Mac at the center—Red Bull Straight Rhythm is finding its identity.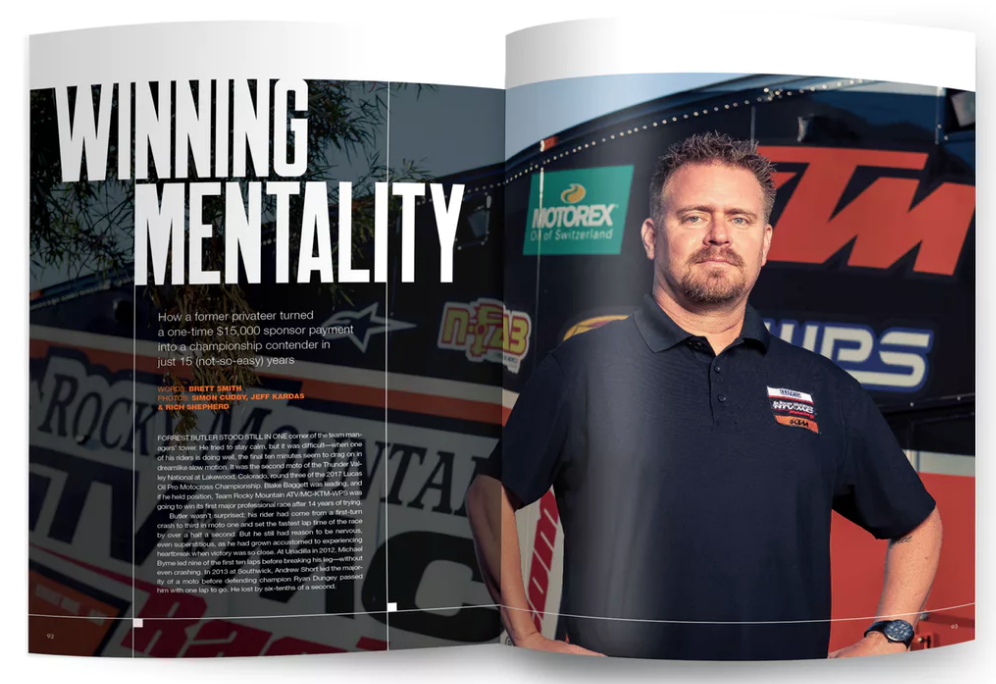 In 2004, privateer Forrest Butler got a $15,000 sponsor check that let him and his two brothers go racing. Now he's at the head of the championship-contending Rocky Mountain ATV/MC-KTM-WPS team.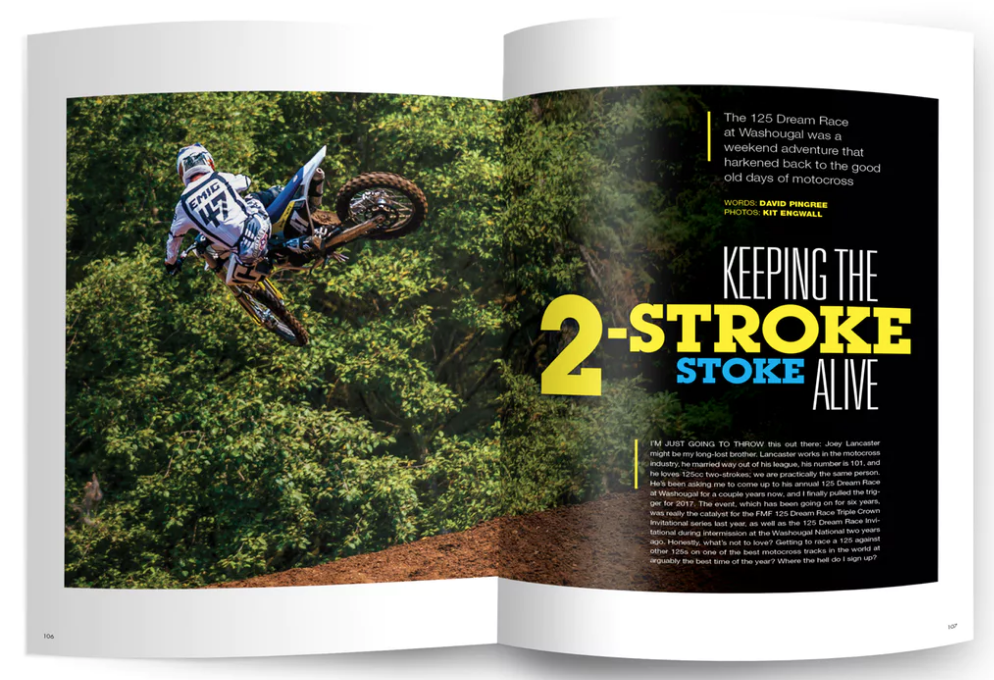 Ping packs up his premix and heads to Washougal to finally compete in the 125 Dream Race.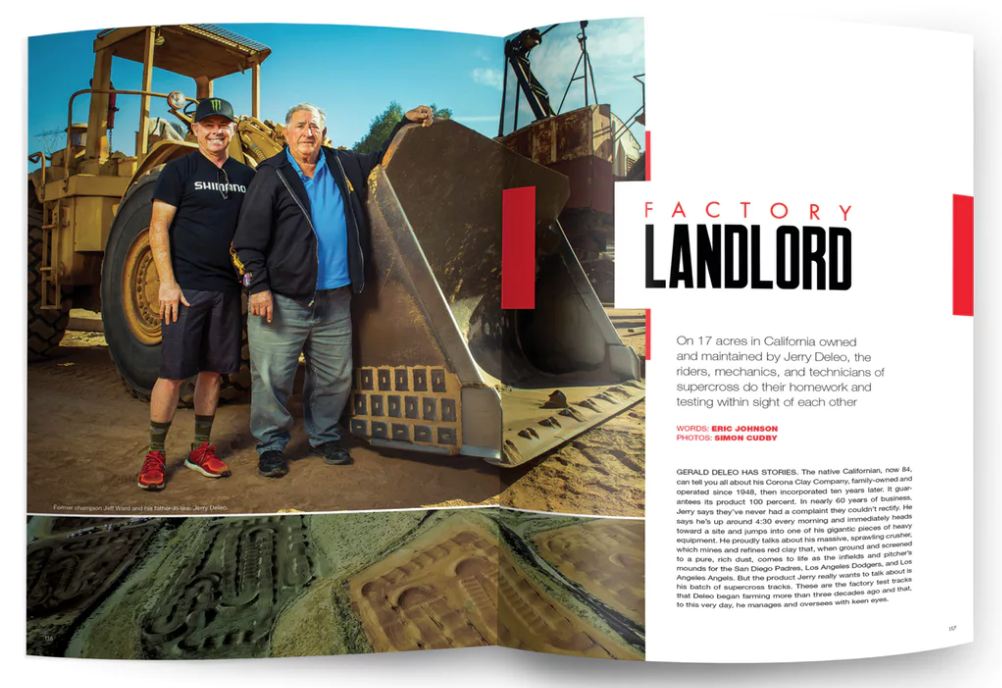 Eighty-four-year-old Jerry Deleo owns and operates the factory test tracks for each of the Big Six manufacturers. He gives us a tour of the most exciting 17 acres in supercross.
Antonio Against Valentino (Andras Hegyi)
Motocrossers have long been interested in auto racing. Ricky Johnson, Jeff Ward, Jeremy McGrath, Ricky Carmichael, and Travis Pastarna have all competed in cars or trucks after their professional motocross careers ended. Antonio Cairoli isn't waiting that long—the nine-time FIM World Champion is already showing that he may have a future in rally car racing. The Sicilian legend has taken part in rallying for some years, and he's becoming faster and more competitive. In the first weekend of December, he demonstrated his skill at the Monza Rally Show in Italy, at the legendary Autodromo of Monza, a city near Milan. Cairoli had already won the closing sprint race of the Masters Show at the Monza Rally Show in 2015, but this year he was one of four drivers fighting for the overall victory. The Monza Rally Show has existed since 1978 and has become a world-famous rally event, attracting many big names in the sport. It is a three-day event, with nine special stages and 105 different cars at the starting line.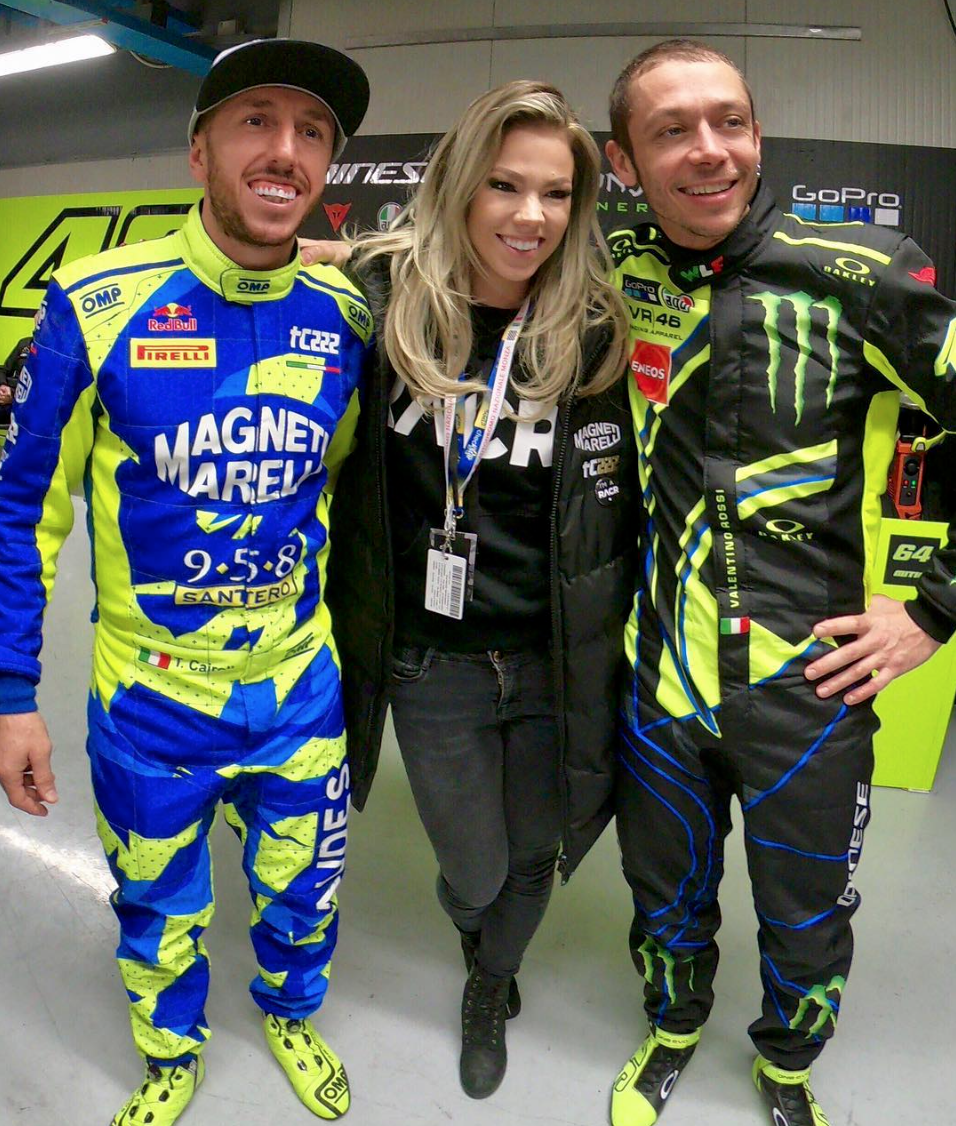 Coincidentally, the Monza Rally Show is also Valentino Rossi's race, as the nine-time MotoGP World Champion has competed in the event 17 times, and the Doctor won it six times, making him the most successful driver in history of this event. Besides Rossi, two stars from the Rally World Championship, the Norwegian Andreas Mikkelsen and the Belgian Thierry Neuville (both members of the factory Hyundai team) joined the battle.
For Cairoli, this year was even more interesting because he raced with a new rally car brand.He raced with Citroen between 2013 and '16, but this season he moved to Hyundai. The move was a good one because Cairoli was very fast, striving for the overall victory from start to finish. On the first day he was second in the overall standing, then he slipped back to third and finally finished fourth at the end of the race. Unfortunately, he was given a penalty of 10 seconds due to a technical irregularity (both he and Rossi's car were under the weight limit). After the race, he talked about his possible future rallying after his motocross career, and it sounds like he may be headed there when he finally parks his #222 KTM.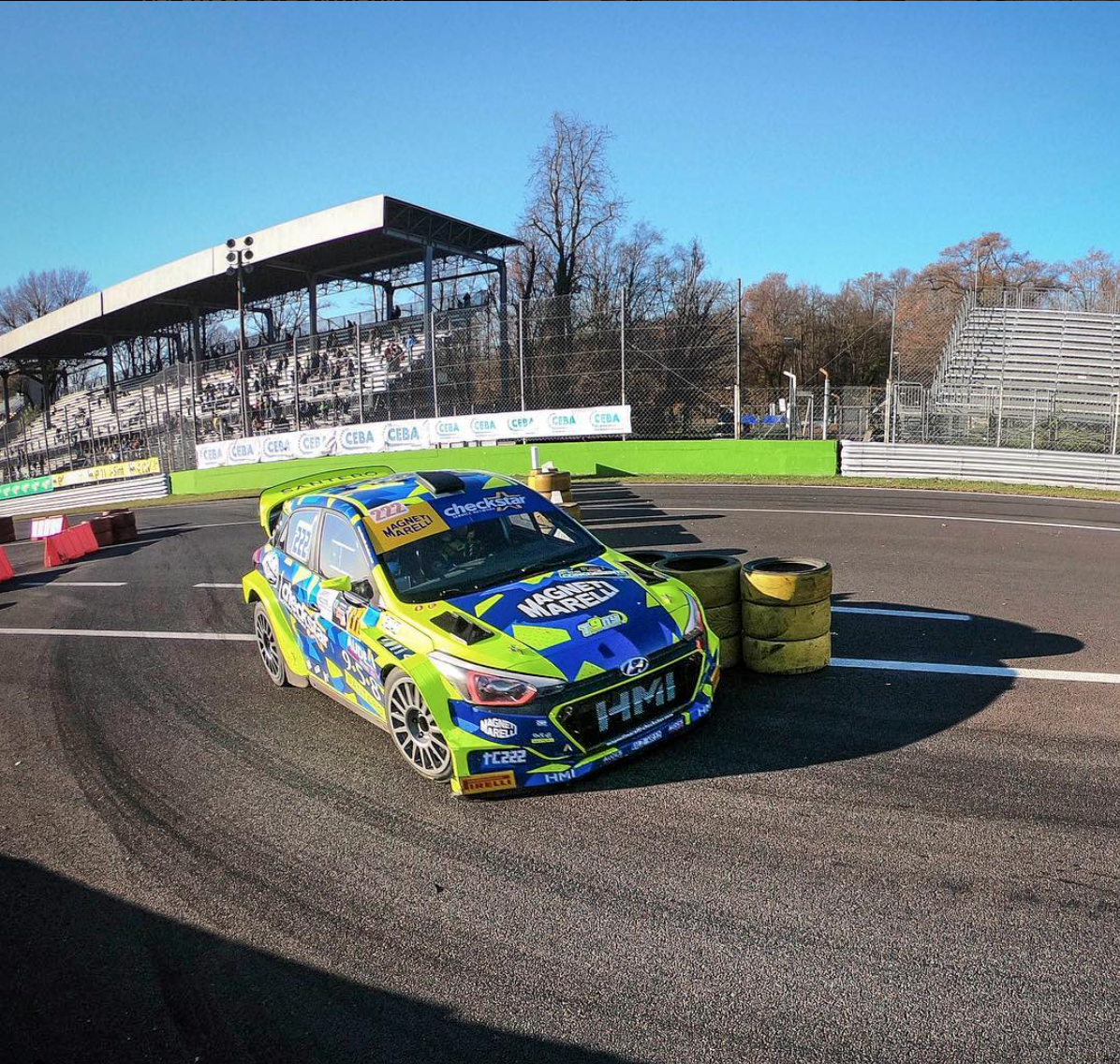 The Monza Rally Show was Cairoli's last race in 2017. Now, he is going to spend holidays relaxing and then be ready to charge up for the MXGP opener, on March 4, 2018, in Argentina, where he will take on Jeffrey Herlings, Tim Gajser, Romain Febvre, and more as he chases his tenth world title in hopes of reaching Stefan Everts on the all-time list.
LORETTA LYNN'S REMASTERED
You know that infamous cliché we've all heard our local motocross announcers say a countless number of times? "They're so close you could throw a blanket over them!" Well, that absolutely fits for this particular moto. This week's Loretta Lynn's Remastered Moto of the Week is Supermini 1 (12-15)—Moto 2.
This race is full of battles and quick lap times from the moment the starting gate drops. In this moto, you'll see Kawasaki Team Green's Dillan Schwartz, Ty Masterpool on the not-so-popular TM100, and moto 1 winner Jarrett Frye all gunning for the top spot on the podium. You'll also see riders like Carson Mumford, Nathaniel Thrasher, and Stilez Robertson in the fray as well. Something to pay attention to while you watch is the riding style of Ty Masterpool. Masterpool possesses an agro, creative style that is a tad reminiscent of Eli Tomac, and it's entertaining to watch as he fights to get around the eventual race winner, Dillan Schwartz.
The Supermini classes at Loretta Lynn's are definitely a favorite to watch, and Supermini 1 (12-15)—Moto 2 provided the type of close racing this class is known for. Watch this moto and more digitally remastered in HD here, where a fresh batch of 10 motos is released every Monday.
And here are the overall results from that SuperMini 1 week.
CALIFORNIA FIRES (DC)
I mentioned a couple weeks back that our friend Craig Schulz lost his home in the fires that hit Northern California. We found him a copy of the Peanuts feature he penned back in 2008 that was lost in the fire. He sent us a thank-you note and added this: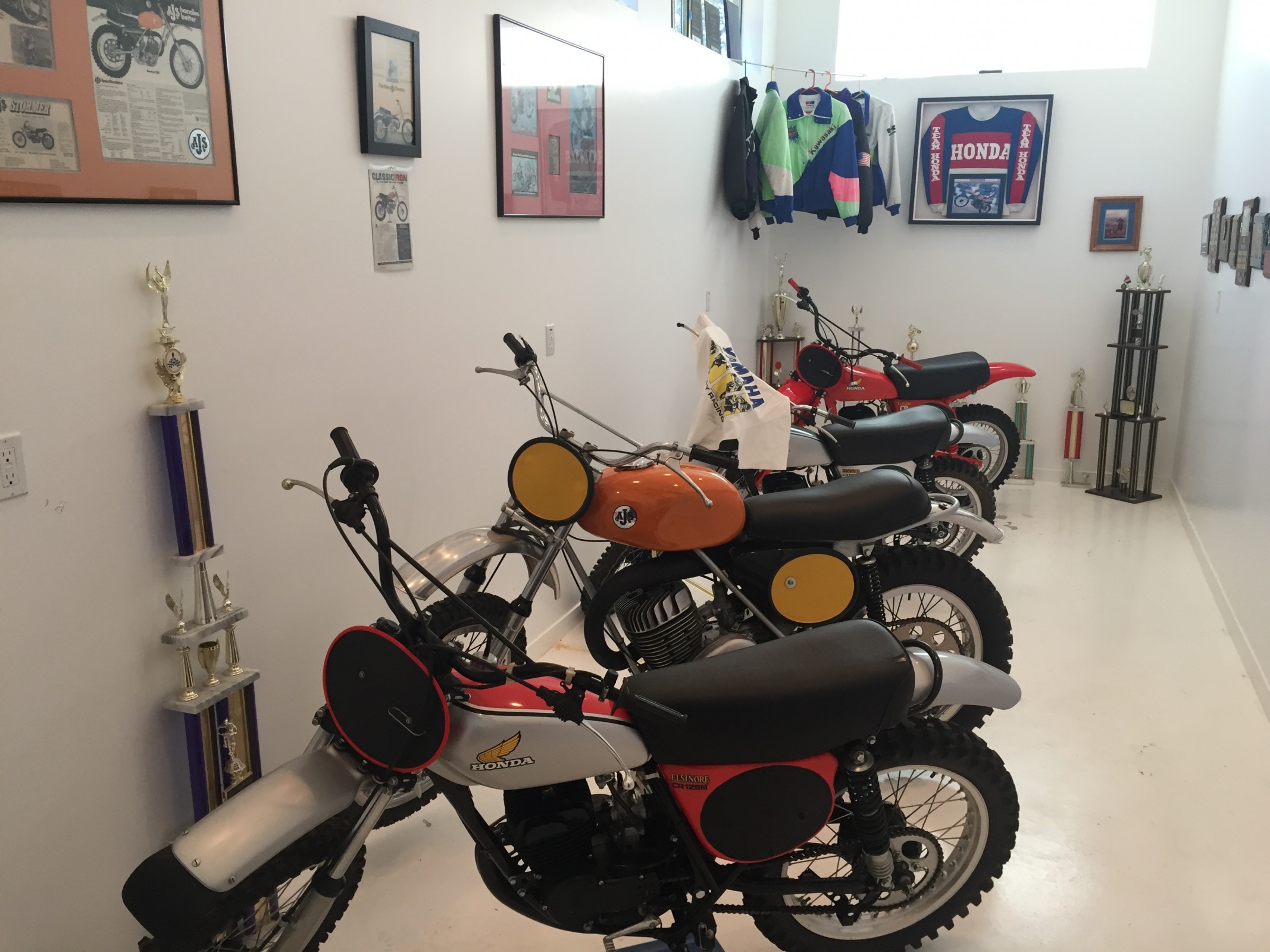 "Sadly, I lost both my new bikes (KTM 500 EXC and Suzuki RM-Z250) and all my vintage bikes except my Rickman Zundapp. On top of that I had hauled in sawdust to my track for six months and I had the whole thing two feet deep in the stuff—it all burned in the fire. I have attached a photo of my small bike museum that is no longer here. (Missing is the 75 Elsinore and Rickman)."
Good luck rebuilding, Craig, and sorry about losing all of those great bikes.
Hey, Watch It!
They race motocross in China, rain or shine, as you will see in this video of the China International Motocross Festival a few months ago:
How Jeffrey Herlings found traction in MXGP:
Our friend Danny Stuart once again hooked up with his favorite video subject—Jimmy D!
Here's a best-of clip from the recent AZ Open amateur race.
Head-Scratching Headline of the Week
"Foreigner to Detonate Sturgis Buffalo Chip Opening Weekend" (PR from Buffalo Chip bar, about the rock band Foreigner, not "a foreigner")
Random Notes
The Rockstar Husqvarna team intro was held high above Los Angeles at the top of a skyscraper. Our own Kyle Scott was there for this short report.
The February 2018 Issue of Racer X Illustrated Digital Edition is now available. Pick up your copy today and read about our talk with Ken Roczen and his comeback, why Red Bull Straight Rhythm needs two-strokes, and Forrest Butler's championship contending race team. Also read about Ping's day at Washougal for some 125 Dream Racing, and Jerry Deleo, who owns and operates the factory test tracks for each of the Big Six manufacturers.
Subscribe now for as low as $9.98 and receive a FREE 2018 "Through the Decades" Calendar, plus access to our digital edition.
Enjoy the Christmas shopping and holiday parties coming your way. Thanks for reading Racerhead. See you at the races.