By Alex Gobert | MotoOnline.com.au
Rockstar Energy Husqvarna's Dean Wilson had a spectacular weekend in Australia, winning the SX1 main event on Saturday at the AUS-X Open and then finishing runner-up to teammate Jason Anderson on Sunday.
Our friends at Motoonline.com.au grabbed Wilson for a post-race interview. Follow their site for the latest on Australian moto—including continuing coverage of the Australian Supercross Championship.
Racer X: You got the victory on night one and then the runner-up result on Sunday, so overall it was a really solid weekend and a lot of fun as well...
Dean Wilson: Yeah, definitely, I think it was a good weekend. I won two heat races, a main event, and got a second, so it was solid and I'm quite happy with it. A few good starts, a few bad starts, but tonight I didn't have the greatest start and Jason [Anderson] had a little bit of a gap. I tried to maintain it, but he was on a good one tonight and I never had him. I think it was a great weekend. I had a lot of fun and it was good training for me as well.
On night one especially, getting back atop the podium, you said it had been a while since you've been up there, it just seemed to be a pretty special result and maybe even one to add that bit of confidence heading into 2018. How did it feel?
Yeah, I mean, it's been an amazing year and just to get a win was so cool. I haven't had one in so long; it's just been injury after injury—everyone kind of knows the story—but it was a great feeling and I'm just pumped.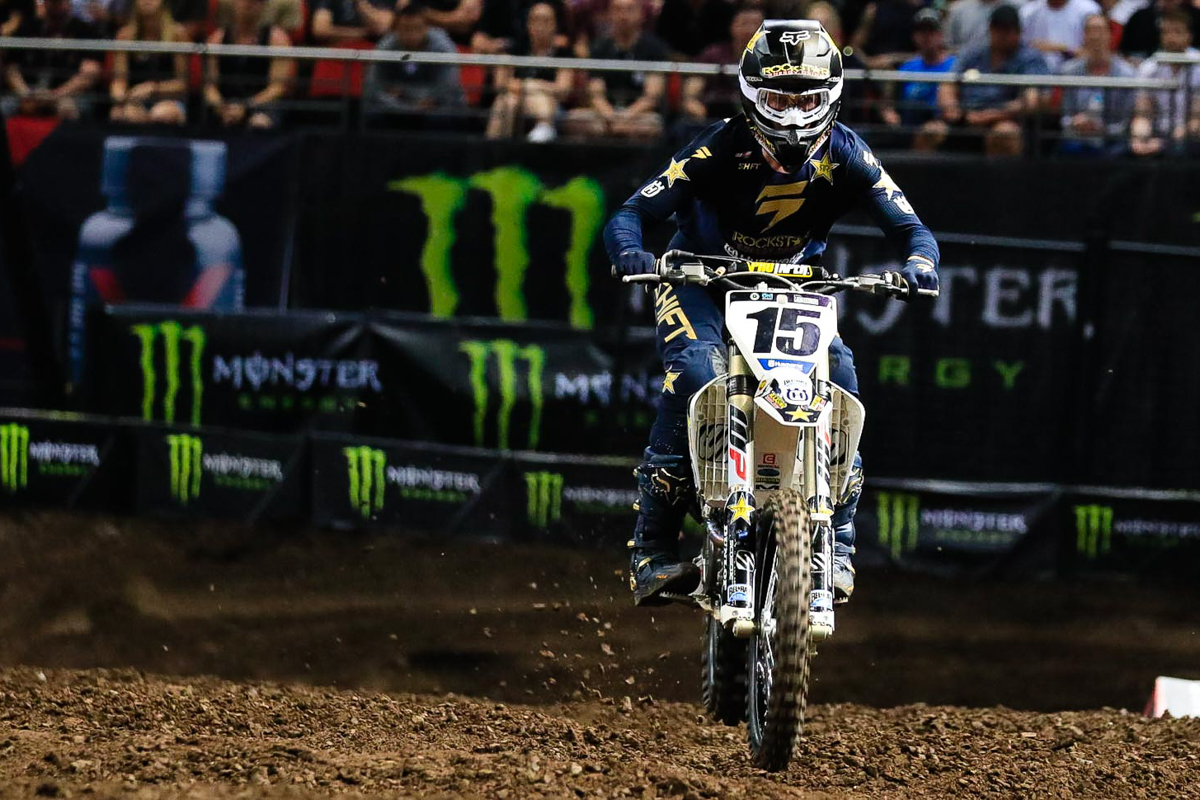 A big thing for this weekend was having Rockstar Energy Husqvarnas going 1-2 both nights, trading wins between yourself and Jason, which was a good result for your U.S. team and Husqvarna's Australian program as well.
Absolutely, and I've got to give a big shout-out to Husqvarna Australia. They've really helped us out a lot, done everything for us, and have been really helpful with the bikes. Also, a shout-out to Adam Bailey and the AUS-X Open for making this happen, because it's just been an awesome weekend, a lot of fun, and hopefully I can come back again.
You had that special announcement in Sydney on the Thursday evening that you are wearing Shift in 2018, which was released alongside the YouTube edit and online content. It's been a big year for your career, hasn't it?
Yeah, that was really cool and I was pumped. It's always been a dream of mine to join the Shift family, and, like I said, this year has just been completely amazing. Starting the season with just my dad in the back of a van, getting on the factory Husqvarna team, getting fourth outdoors, riding des Nations, a podium at Monster Cup, to being here and then going to Paris next, it's just been unreal, it really has. Joining the Shift and Fox family on top of all that has been insane and it's just been a big blessing. I'm really happy.
Just to cap it off, this coming weekend you're heading to Paris. What are your thoughts on these international races?
Well, this is my first time ever doing international races, so it's been good, but what I've really been struggling with is the jet-lag. Even today, I'd just go through waves where I'm really tired—I had to have a shower, drink coffee, do some jumping-jacks, and then obviously sleep a bit on the couch! Jet-lag was definitely kicking my butt, but other than that, that was probably the only thing.