We motocross fans might not be experts on history, geography, or culture, but we can fake it with trivial knowledge of international racing (and if that fails, we can just consult our own Davey Coombs, who actually aces world history.)
When I was in elementary school, teachers thought I was some sort of genius because I knew where small European countries like Holland and Belgium stood on the map. I only knew this for fear of John Van den Berk or Eric Gebors beating Rick Johnson!
We can all trace a historic line through motocross power nations and the riders that emerged from them. We know, for example, that South African riders like Greg Albertyn, Grant Langston, and Tyla Rattray might not have been raised with incredible finesse, but they were warriors who dug deep and willed themselves to make it happen. Conversely, we can name many French riders with grace and smooth riding styles, but many of those riders also had strange stories of off-track decisions and training.
In fact, "Enigmatic Frenchman" is a term baked right into motocross culture, starting right at the top with Jean-Michel Bayle, who was the best rider in the world for one year, and then announced he would quit the sport to go road racing. JMB's entire career was shadowed in mystery. He purposely made it look like he wasn't trying. He ate Kit-Kat bars in front of his Honda teammate Jeff Stanton just to piss him off, and would carve his initials into the hillsides around the Hondaland test track while Stanton was out pounding motos. JMB probably tried much harder than he let on, but he cast his own dye, and then announced his retirement from motocross and supercross while standing at the top. It's as enigmatic as it gets.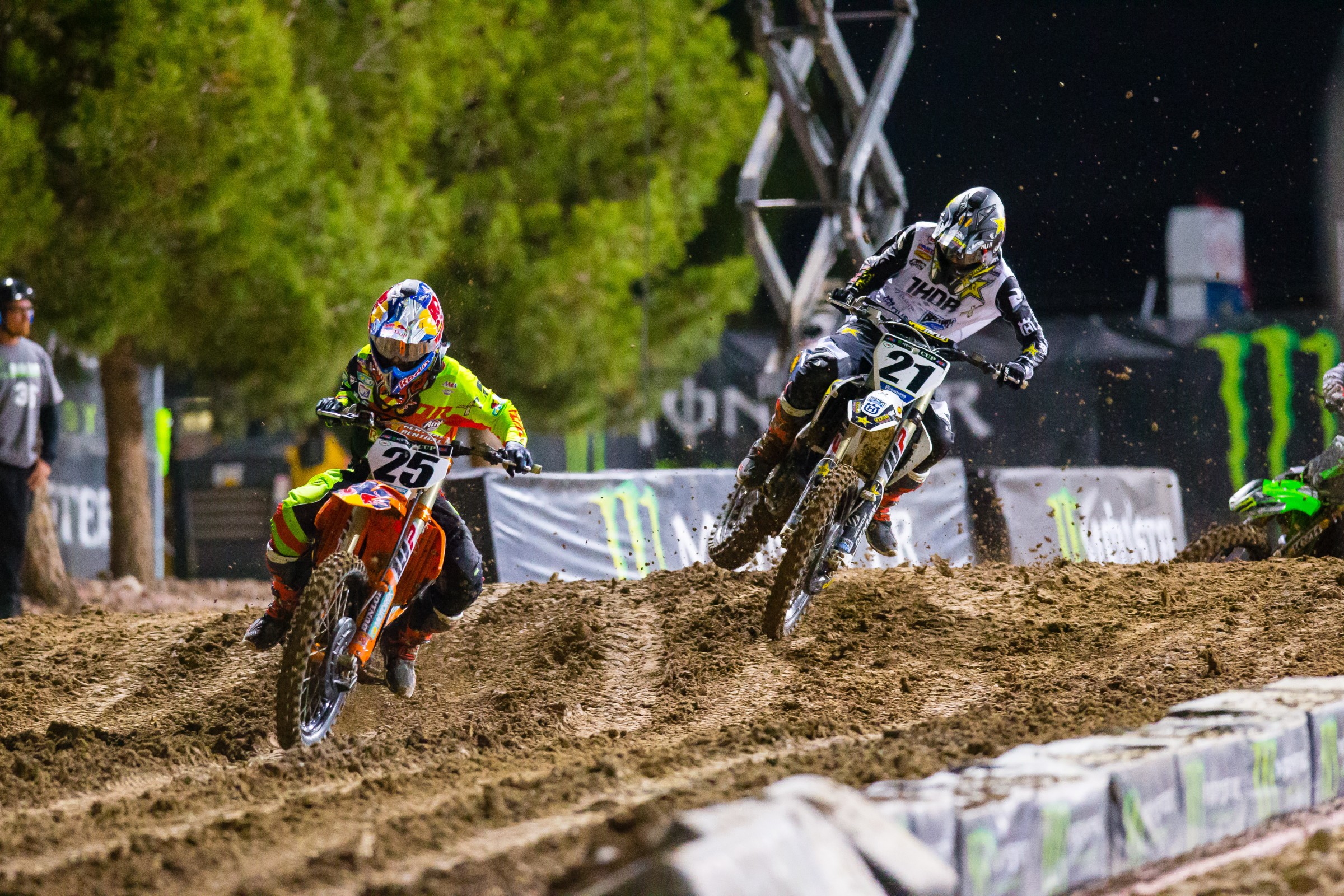 The rep that Bayle forged lived on through others. There's a list of super-talented French riders capable of reaching the highest heights, but none of them did, for whatever reason. Mikael Pichon, Stephane Roncada, David Vuillemin, Sebastien Tortelli, and Christophe Pourcel can all say that they could beat the best at their best. Vuillemin is one of the few humans on earth who has beaten both Jeremy McGrath and Ricky Carmichael straight-up for supercross wins. Roncada would only catch fire briefly, but when he did, he beat Travis Pastrana and gave James Stewart all he could handle. Tortelli could go as fast as Carmichael outdoors. Pourcel had the stuff to beat Ryan Villopoto and Ryan Dungey. These guys coulda, shoulda, woulda. But most of them, outside of Tortelli, weren't grinders (and while Tortelli was, he didn't have the graceful style of the others). They all had flashes, but were unable to do it every week and win a premiere-class championship in the U.S.
Marvin Musquin is from France, but what does he really have in common with guys who were raised in an entirely different generation? Guys who he probably never even met growing up? Unfortunately for him, rudimentary motocross geography applies.
Marvin, like most of the French riders before him, is known as a technician. When the race calls for precise riding, he excels. But he lagged when a straight-up let-it-all-hang-out wide-open charge was needed. Marvin is a very nice guy. Marvin is a smaller guy. Marvin would rather jump whoops than blitz over the top. Everything pointed to Marvin having great style but not hanging it out enough to reach the very pinnacle, especially on a 450, which would require even more strength and produce even more scary moments. Could he be aggressive enough? Could he be strong enough? Did he have the killer instinct? Would Marvin become just another 250 Champion to only find sporadic success—or none at all—on the 450?
Marvin's evolution has been fun to watch, as he pairs his trademark precise riding style with a new edge. He's not going feet off the pegs like Bob Hannah or bending the bike like Ricky Carmichael. His style remains his own, but that style is playing in fast forward. Off the track, we know Marvin is giving it his all, and on the track, you see he's not settling for anything. He's trying to win, and willing to go to the edge to get there.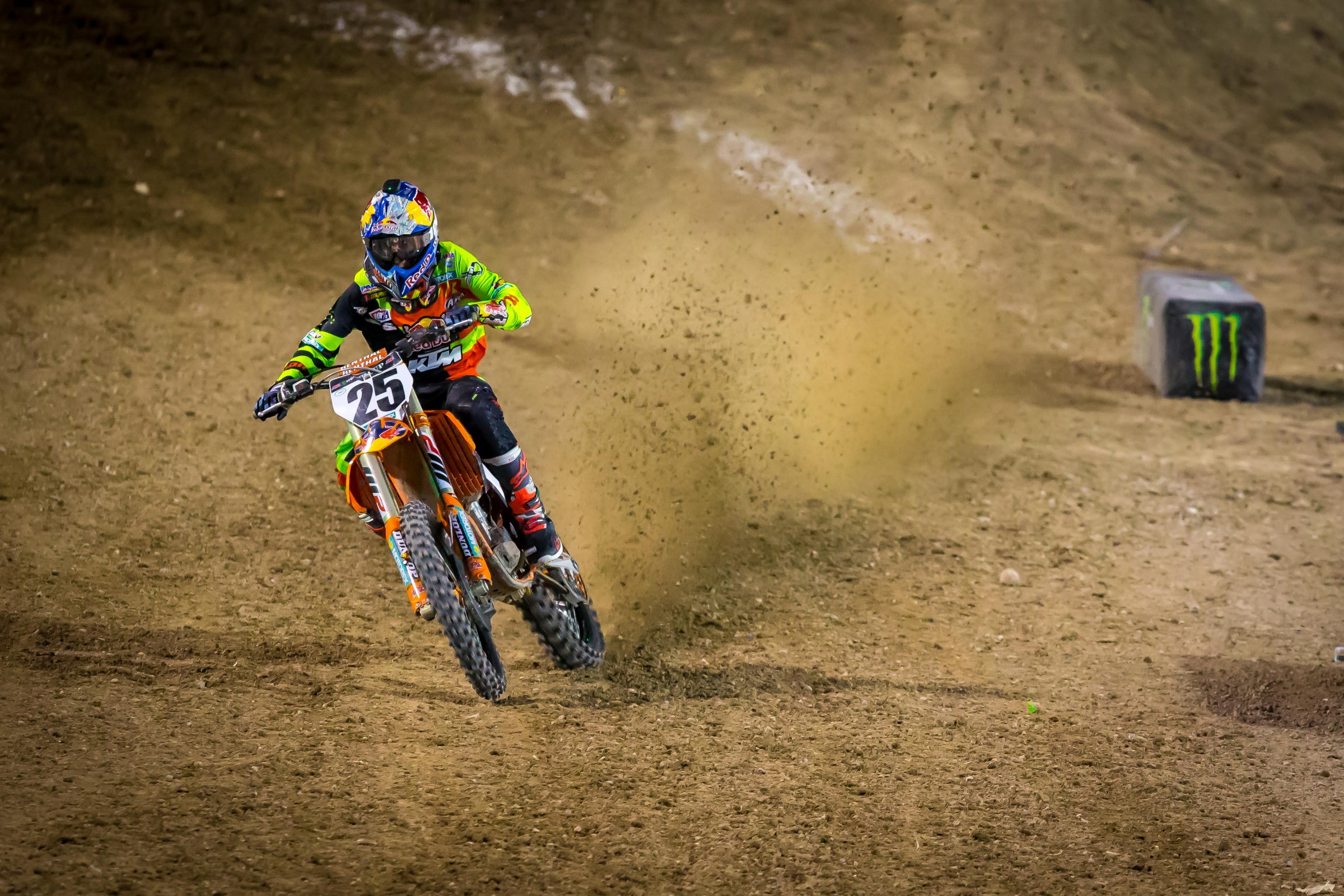 At the Las Vegas Supercross back in May, I was approached by French former GP racer Pierrick Paget. He's recently produced a new book Motocross: Today's Riding Style Guide. Marvin is the focal point, because Pierrick believes Marvin has the best style in the game right now—others might be bigger or stronger or even faster at times, but Marvin makes the most of what he has.
"Technique and style can make up for size," says Marvin in the book. "It's more than just looking good. I think it's about having good flow, holding your speed, being efficient, and having good technique. This is directly what makes me different from some of my competitors."
In the book, Marvin actually cites Vuillemin as an influence in his early days. Marvin knew he wouldn't be the strongest, so he worked to be more technical and precise. The French lineage runs through—using technique and, yes, craftiness to go fast.
After his recent run of success, Marvin has earned the right to be a favorite in 2018 Monster Energy Supercross. He has made up for deficiencies and played to his strengths. He's maximized his potential. How far can he go?