Winchester, United Kingdom
Motocross of Nations
Motocross of Nations
Zach Osborne | Rockstar Energy Husqvarna | 10-3 for second overall in MX2
Racer X: Tough day today. Great race yesterday. We're all going to remember that. I guess in the end it doesn't mean much for a guy like you. You just didn't get the job done as a team. Bummed? Happy? How do you feel?
Zach Osborne: Overall happy. It was a great experience. We had some tough luck with Cole's [Seely] bike in both motos. It was tough conditions for anyone today. It's something we don't see a lot in America. So yeah, it is what it is. I hope to have the chance to come back again and get a little revenge. I think myself personally I rode well. In the second moto today I felt like I rode really, really good. Yesterday I felt like I rode really well also. It's a tough race to win. It was going to be tough from the get-go for us period. So, it's a bit disappointing but at the same time we can't be too bummed.
How bad was the mud out there for you at times? It light misted so it wasn't a full, full mudder but it probably almost should have been that way to be easier?
For sure. It would have been much easier if it kept raining, but on the 250 it was so heavy and claggy. Some of the jumps are marginal anyway. Even yesterday the finish line was big. Today with the mud and the weight, it was like a last-second decision every lap whether you're going to jump it or not. To get third in a moto, I felt like that was really, really good. I got smoked obviously. My goal coming here was to kind of try to race with the guys at the front. I really, really wanted to win a moto. I don't know if that was realistic or not, but with the way I rode yesterday and just the overall feeling I had with the track and stuff I think I could have done a little better had it not been so, so heavy. But at the same time, I can't be too bummed with myself. Took 13 points from two motos so it's okay.
Great second moto battle there with Hunter Lawrence and yourself. He went down. Kirk Gibbs was in there for Australia. It was cool to watch. It was a good battle. [Christophe] Charlier was in the mix, too.
Yeah, it was really good. Charlier is riding well. I think it's crazy to win Six Days and the Nations in the same year. That's pretty unreal. But also Hunter is a really good rider. I told Bobby [Hewitt, team owner] a few weeks ago, Hunter is going to be really good. Don't miss out on him. But obviously now he's with another team. But he's a talent for sure. I told him that after the heat race yesterday. I passed him, but I'm a little bit older than him. He's going to be really good I think.
Overall experience? You've told us on the show. You told anybody who would ask you about representing America at a Motocross des Nations. It didn't go great as a team, but how was the experience?
Unreal. The amount of people that are here that want to see us and the amount of support that we get, it's really cool. I think it'll be an awesome experience next year if I'm able to be picked for RedBud. But I've enjoyed it. This was a really special venue for me, being that I know Steve [Dixon, track owner] so well and I was on his team for so long. So, for me this was also kind of a little bit of a home 'Nations really.
And Tom and Seely, cool to hang out with a couple of guys that maybe you don't know that well?
Yeah, we had a good time. As the captain, I feel like I need to kind of bring everyone together. I feel like we've all enjoyed it. I think they felt a little bit more pressure than I did. I didn't feel so much pressure, but it is what it is. We'll learn from this and come back better. The French guys are strong. It bums me out a little bit that there's so much like GP/AMA…
Hatred?
It's not even really hatred, just comparison. I think that it's not necessary. We all need each other at the end of the day. We're all racing and we're all kind of striving to bring motocross to a higher level. Other than that, it's all in all an amazing experience and something I would definitely give another shot.
Easier or harder to race a 250 against 450s than you thought? Going in you're like, hey, I got some work to do, but now that it's over?
With these conditions, a little harder. I was getting sucked down in one rut sometimes losing four or five seconds. So, when is as trying to pass [Kirk] Gibbs with no goggles I'm just like beating my head against the crossbar pad like, come on, please let me go by. But I think if the conditions had been the same like yesterday, then it wouldn't have been as bad. But it could have easily gone the other way. All in all a great experience and I'm grateful to have had the opportunity to be here and ride for Team USA. – Steve Matthes
---
Thomas Covington | Rockstar Energy Husqvarna | 22-17 for 11th overall in Open Class
Seeing Thomas Covington in the confines of his Husqvarna team awning less than 20 minutes after the final moto at Matterley Basin with his Team USA jacket in place but face still covered with dried mud seemed to sum-up his experience of the 71st running of the Motocross of Nations but the very first for the 21-year-old MX2 Grand Prix star. Covington, together with Zach Osborne and Cole Seely perhaps constituted the most down-to-earth, appreciated, and humble selection the winningest country in this competition have submitted for years. They wore their threads with a note of dignity and increased accessibility and made the best of the fuss around them and within the permanently busy refuge of solace in the Alpinestars hospitality rig. But English rain also washed out any luck or signs of promise for the trio after decent speed on a drier track in qualification indicated they would be in with a shout of silverware.
Osborne pushed and gunned the FC250 and Cole Seely felt the worst of the big Matterley jumps while Covington's day was mired from the first moments with a first turn melee necessitating a moto of roost and catch-up. A similar story after a bad start in the final race led to his 17-22. After optimism and strains of hope, this was indeed mud in the eye. It was also harsh on the MX2 Grand Prix winner who was one of the few to actively covert a Team USA slot and who has evolved into an athlete finding podium consistency in the FIM Motocross World Championship. This winter, for the first time in his career, he will be pegged as a title contender come March 2018 and the ignition of MXGP once more.
Later on, and with a cleaner aspect, we sat down for a chat that seemed to be emotional at times, the rawness of the race day at Matterley still so fresh.
Racer X: Forgetting the conditions it seemed the day would be uphill 10 seconds into that first moto.
Thomas Covington: I was actually feeling really good on Saturday. The track conditions were as good as it gets here at Matterley. I had a few issues where I wasn't getting comfy on the bike and I'd only been riding the 450 for two weeks, so it was bit like a testing day for me but my speed was really good. I was really positive about Sunday and everything was going in the right direction. I also felt good in warm-up.
You said you wanted to change the set-up of the FC450 a bit?
And we did, just a couple of things to make me feel more comfortable but it is not so easy pushing one thing [the FC250] hard all year and then just switching. The track was really muddy in warm-up and I wasn't feeling great but could still put in a good lap; I was fifth. I came out of the first start and got caught in that crash and bent my levers up. I ended up going down another two times after that. It was a struggle and just tried to get back as many places as possible but it wasn't much use. I knew Seely had already had a DNF in the first one so we couldn't afford another bad moto but I did what I could to get back as far as I could. In the second one I came out of the gate pretty decent but hit a soft spot at the bottom of the slope and everyone passed me. It wasn't easy coming from behind. If I had made a good start then I could have followed the guys a bit and found a rhythm. I was only able to manage a 17th or something. It was a pretty terrible day to be honest. Not what we were going for.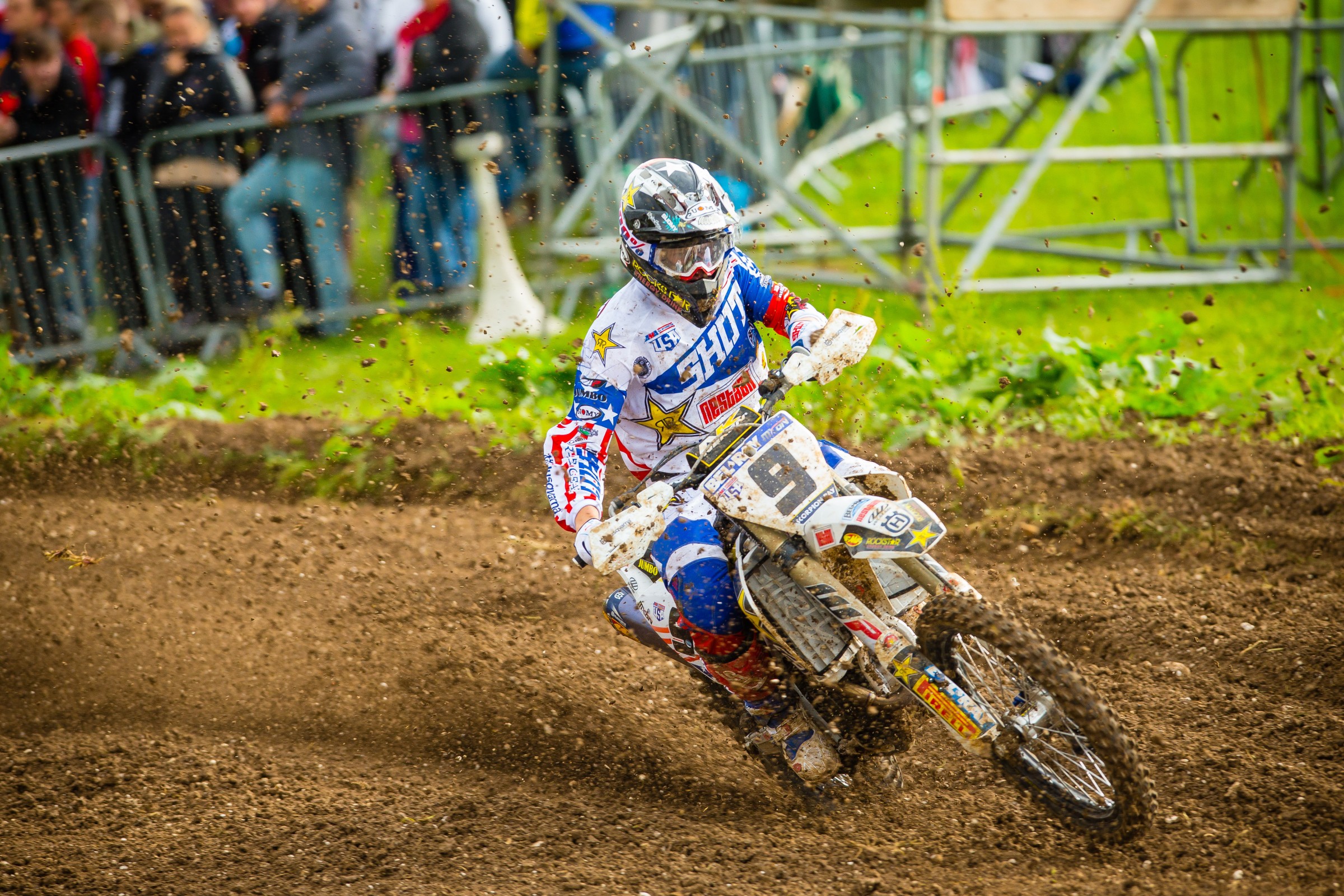 Were there moments around that track where
you thought "gimme my 250 back" or was it better to have that 450 power?
Ha, I'm a bit better in those kinds of conditions on the 250. I just know it better; it's my bike, but I could have ridden the 450 well also. When you are getting roosted the whole moto and you cannot see anything back in the pack it is hard to make any kind of rhythm. Bad starts in both races was the biggest thing.
You've won MX2 Grands Prix in the mud, was there any kind of positive from today?
Hmm, I ran my fastest lap time in the second-to-last lap of the second moto, the third race today, so I was starting to figure it out and with the bike set-up as well but it was of course too late. It is still an honour to be picked for this team and to ride for the United States. The guys at the AMA and Roger [DeCoster] know I gave everything I had. I just hope I get another opportunity. I don't know what else to say.
Was this experience how you expected with the fuss, attention, pressure and so on?
Yeah, it was how I imagined. Maybe even less because the Americans in the past were even more superstars when they came over. And I don't get that feeling around us much now and maybe it is because we haven't had the success we used to have. It was still awesome to see all the fans reactions and it was quite a bit different to a normal GP. I can hardly walk through the pits here and that's pretty cool. I tried to talk as much as I could with the fans and I don't think I have any gear left—I gave everything away. I feel like this race is the top of the sport. There is nothing like it. Just to be part of it is awesome.
You forged a second half of the season with a series of high points. This obviously feels like a low but is there a galvanising effect? Are you already thinking of firing back as soon as MXGP starts again?
Yeah. I won the last GP and was almost top three in every race in the last part of the season. I just need to focus on that. This race, especially with the weather, was a bit of a crap shoot and that's motocross; things happen. Even if I had won the last race then the bad luck with Seely meant it wouldn't have made much difference. It just wasn't our year.
What's next?
I'm heading back to Belgium and will be hitting it hard in the off-season. We are going to do a bit of testing. I'm not taking too much time off this year. I'm healthy and in good shape. I'll be focusing on my weaknesses and trying to turn them into my strong points. I think we have a good plan for that with Joel [Roelants] and Jacky [Martens]. So the focus is already there for the world championship. – Adam Wheeler