Villars-sous-Écot, France
MXGP of Pays de Montbéliard
FIM Motocross World Championship
It is hard to dislike Pauls Jonass. The 20-year-old has an easy sense of humour and no qualms laughing at himself or finding the brevity in a situation. Sometimes talk gets serious and the expression changes to one you imagine was firmly in place through the hours, sweat, and energy in Belgium far from his Latvian home on the other side of Europe in the three season quest to be World Champion.
Already a double Junior FIM World Champ and 125cc European Champion, Jonass was marked to be Red Bull KTM's "next in line" for MX2 glory in a debut GP term in 2015 where injury to Jeffrey Herlings saw the youngster's consistency and podium results suddenly thrust him in the position of being the Austrian's chief title hopes. Rookie misjudgement in Holland and Assen in the final rounds of that term allowed Tim Gajser to give Honda a small landmark but Pauls had made his statement. The following year was wrecked by several crashes, the last one at Loket for the Grand Prix of Czech Republic led to a season-ending concussion.
Jonass has talked about that difficult episode often this year about his conversion into the most resilient and prolific rider in all classes of the FIM Motocross World Championship. His 15 podium appearances from 19 rounds and six wins were the bedrock of a first ever crown for his country in the 61-year-old FIM contest—an accolade confirmed with fifth position at a soaked Villars sous Ecot last weekend.
We grabbed some time with the new world champ while still damp with champagne, grin fixed in place, and bearer of a shiny #1 jersey.
Racer X: We spoke on Saturday and the eve of the championship—finally there was no problem sleeping?
Pauls Jonass: No! I think I was asleep by 9 p.m. and woke at 7.30, so I was quite relaxed. I was feeling good after Saturday and I knew I had been putting work and I only needed nine points. Ok, you can still mess things up in muddy conditions like this but I was feeling ok and had a good day.
You had a first match point in Assen the previous week where you said you had been thinking about the championship, and Saturday in Holland was terrible. You turned it around to win the first moto there but the title didn't arrive. So how was your mindset in the build-up to this last chance?
I wanted the title in Assen but then decided the same weekend that I didn't want to have a party the same time as Tony [Cairoli, who clinched his ninth world championship in Assen.] Just joking! It's true that I was thinking a lot about it before Assen, maybe too much because I felt the pressure. This week I was more relaxed even if it did feel like a long time. I didn't train so much, kept loose and easy. I don't have too many friends in Belgium so I didn't have much to do with my free time. I thought about things and was able to put things in the "right place," which helped for the weekend.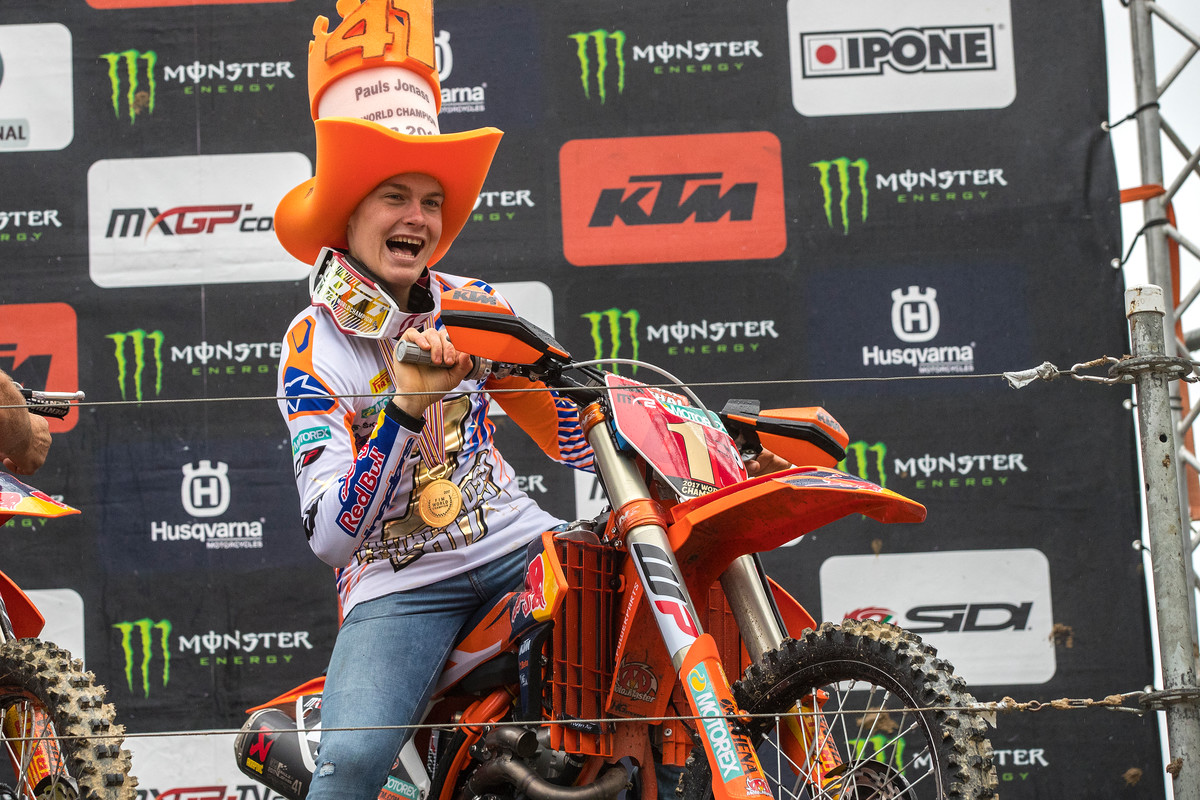 Thinking and analysing has clearly helped you. Last year you took some time away because of the concussion and came back a stronger, more focussed and less prone to big mistakes. It was a big transformation.
For sure. Lately I've been by myself quite a bit and alone with my thoughts, and being able to [mentally] organise works for me. It perhaps doesn't work for someone else.
This is a fantastic achievement for you personally but what about the wider effect and what it will mean in Latvia?
It is very big for Latvia and something special but I will be honest and say I haven't thought about that side of it yet. I will need a few days for it to settle down. I am still really emotional and I cannot turn on my phone because every time I do it won't stop buzzing or playing music all the time! When I've calmed down I think I will be a lot clearer about what I have done.
On that subject: why no Nations appearance this year?
That's the question I'm getting a lot now. I hit my head pretty hard last year in Loket. At the start of the season—at the LaCapelle International—I hit my head again. Since that time it has been hard with practicing. I had such a good off-season and until LaCapelle everything was going really well; I was riding a lot and felt really strong—I still do—but lately in the second part of the season we have done maybe 30 percent of the riding I would have liked. I was struggling. I also gained some weight. I wasn't happy but luckily I have some good people around me that gave me support. The doctors told me I needed to take a rest, not ride for a while and let my head heal. For sure I would like to race at the Nations but my health is more important. There will be many more Nations for me.
You've talked about the role former GP winner Marc de Reuver has played as your coach and mentor throughout the year, but give us an example of how he is helping.
He has been really important for me. He just knows the right thing to say. He puts messages on the pitboard. Even today. I'd crashed in the first moto and was riding ok coming through the pack and I came past one lap and saw "OK, Pik!" which in Dutch is like "Ok my friend!" and I'm smiling for a couple of corners. In the second moto he wrote the Dutch word for fire and I thought "Ok, let's go." Small things like that actually helps a lot.
Will you take the number 4 away from the #41 for 2018?
Ha! I think yes. I have been thinking about it lately. I have to speak with the team bosses to see what they say but not everybody can race with the #1. I think it is quite special and not many people have done it. Who was the last one? Marvin [Musquin]?
Yep, in 2010.
So it has been a long time. I think the No.1 looks good on my shirt right now! It might mean a bit of extra pressure in the first races but not everyone can have it.