Ricky Carmichael is a busy man. So much so that it took us a couple weeks to track him down to conduct the interview you're about to read. All of us here at Racer X have known RC for quite a while now, and all along the way, he's been an outstanding racer and personality to work with. Smart, observant, and always quite candid, he calls things just like he seems them, and his words come with a complete absence of pretension or bullshit. What makes him even more endearing is how he wears his heart on his sleeve and pours all that he has into the sport that he genuinely loves.
Over the weekend, the GOAT reached out and told us he felt the time was right to let motocross fans the world over know not only what he's been up to, but what he has on his to-do list this forthcoming winter. In great spirits and in a talking sort of mood, much to our enjoyment, RC had quite a bit to download and get us up to speed on. All things considered, when Ricky talks, people listen.
Racer X: Okay RC, everybody wants to hear what the GOAT has been up to. How have things been going with the one and only Ricky Carmichael?
Ricky Carmichael: I've been great. I've had a great year so far. The only negative thing that I can think that has happened this year was just the shutting down of RCH. But at the same time, I'm ecstatic for the accomplishments that we were able to achieve and I'm very thankful for the sponsors that we had and thankful for all the people who supported RCH. I want to give Carey Hart a huge thank you for even entertaining my idea, and without out his help, this probably wouldn't have been possible. We had a hell of a run. I want to thank all of the employees that were ever at RCH. I feel like we had some of the best in the business and I wish them the best moving forward. I think anyone who might employ one of our RCH employees are going to be in good shape. I think we had some of the best guys in the paddock. We did far more things than I ever thought we would do. I think the only thing that I wish we could have gotten was that supercross title, but we still got a major title and that's what's important. Along with all of that, I'm all good, man! I'm going to try and advance my role in supercross TV coverage next year and hit some more races. I have a really busy fall coming up and some really fun, exciting events starting with the Motocross of Nations here in a few weeks. I'm really excited to go back. I haven't been to the Motocross of Nations since 2007—my last race! That was the last Motocross of Nations I've been to. I'm really excited about going there and especially to be going to the UK. I love going to that country. It's always a great time. I'm really excited to see all the fans and to spend face time with them and maybe do some hot laps with [Stefan] Everts for all the fans. That should be pretty fun. I'm ecstatic about that. Then switching gears, we've got the Monster Energy Cup coming up and I'll play an integral role in that with the design of that track and I'll be doing the TV there as well. So we've got that on the plat and I'm super-pumped about that. After that I'm going to go to Australia for the AUS-X Open and fire up my two-stroke and hopefully race with my mate Chad Reed, which will be a lot of fun. The AUS-X Open event is really, really good and those guys down there—Adam Bailey and the crew—do a fantastic job. I have another event I'm going to do closer to Christmas. I'm going to go to the Geneva Supercross and spend some time at that race. It's going to be a good and busy fall and it's going to be great for the fans and I can't wait for it.
A Ricky Carmichael world tour. Very good. I imagine keeping an eye on the RCH race team the past few years sort of kept you close to home for a few years, huh?
Yeah, it did. Now there are a lot of things that I'm able to do because I don't race or own a race team. Now it's about spreading the love for my great sponsors and to spend some time with fans and the great people who helped me get to the position that I'm in now. It's a great role and I love doing it. I love being a brand ambassador for all my great sponsors and I don't take light to the fact that none of this would be possible without them, so I just want to do my part and have a good time while I'm doing it.
The closing of the RCH team, was it basically a sponsorship and funding issue? Dollars are hard to come by in any form of racing around the world right now.
Yeah, absolutely. At the end of the day, we were a private label team and before we spent a dollar, we had to earn a dollar. Unfortunately, those dollars just weren't out there and we needed them to operate the way we were used to operating our race team. When you're going against the OEMs, the likes of Honda, Kawasaki, Yamaha, KTM, Husqvarna, basically their pockets are endless, relative to the dollars that we had to spend and what we had to compete with. You just can't do it. You almost have to have unlimited resources. It was good for a while, but as soon as the sponsorship dollars dried up, we couldn't continue. It's a shame. It really is. It's scary for the sport. I have concerns about it and why we can't get outside sponsors. I have my thoughts. I think what we did opened a lot of eyes and hopefully it will be better for other teams like an RCH in the future. Maybe we can all learn from this. I know I most certainly have. Maybe with the help of some of the heavier players in the sport, we can adjust things and make it all better.
You want to elaborate a bit on what the sport can do to make the reality of the sponsorship surroundings better?
Yeah, we need to show the value of the sport and the sponsors involved. Whether it's more TV time or things of that nature. I think across the board, we need to look at how we can make it more appealing to the sponsors. You know, when you take a team like RCH, and I'll say it again, you're competing against the bigger OEM teams and it's really, really hard. That's why I'm so proud of what we were able to accomplish and it would have never been possible without the great sponsors that we had. Eventually, those sponsors move on somewhere else, or maybe they weren't happy in the space, so it's our job as past owners to work with the promoters and say, "Okay, why did these sponsors not like the space? How can we make them happier? What can we do better to show our worth and show them how great our sport is and how many fans we have?" The sport of supercross and motocross is huge and there is no reason why it can't be like NASCAR someday. We just have to do a really good job of working together and achieving that goal.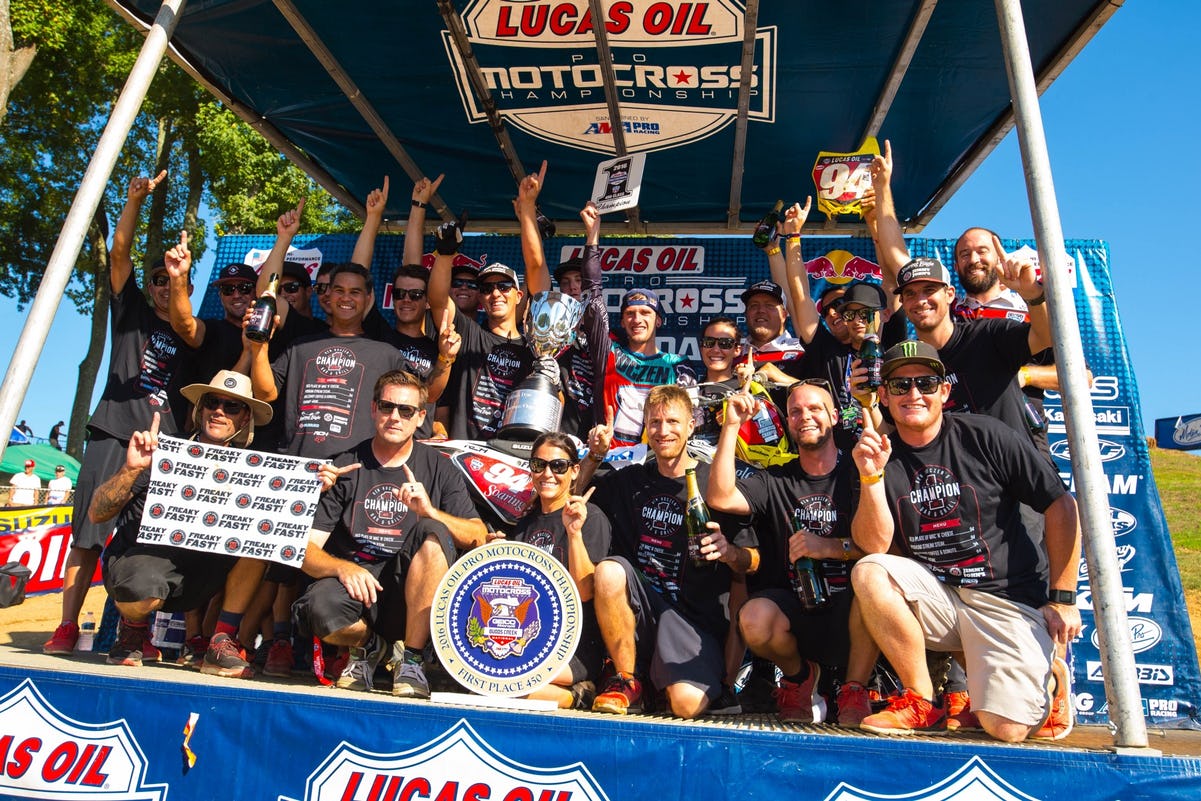 Supercross and motocross has a young and vibrant following that goes to the races and, ultimately, purchases products. The demographic involved in our sport has to be attractive to a number of corporations and businesses.
One hundred precent it is. You're exactly right. And that's the tough part. We have the demographic that most sponsors want. We have the Millennials [Also known as Generation Y and aged 18-29 years old] and it's tough when we have the demo that they want, but yet it's so hard to get sponsorship. It's hard, man. It's a tough pill to swallow. Clearly we have to do something better, for sure.
As far as the general, overall health of the sport goes, what do you think?
I think we're in a good spot, especially in supercross. I feel like it's growing and our TV package is pretty good, so I'm happy for that. As far as bike sales and things go, I think there needs to be a little bit of an increase in that area. I think we're all working hard to make that happen with marketing and looking for better ways and ideas to do just that. All the manufacturers are doing that. We have to do a great job of showing all these people how great of sport this is for all ages. From a health standpoint, I think fan participation is pretty good. I know our TV numbers are pretty stout this year and it seems like there are a lot of butts in seats at the stadiums. We need the bike numbers and the people buying new unit numbers to follow the spectator trend.
One thing my buddies and I seem to totally agree on is that it seems to be coming pretty apparent that there needs to be a good, inexpensive, entry level motocross bike brought to the marketplace. Whether it's a 125, or whatever it may be, we think such a bike would attract more people to the sport. You know a bike where people could get in cheap, even if they just wanted to ride in a field next to their house or something. Thoughts?
Well, that's right. A couple people have asked me about that in the last month or so. They'll ask me what I think about the two-stroke stuff and I can tell you that a year and a half ago if you would have asked me that question I would have said not a chance. I thought it might have been just a fad and that people would eventually get over it, however, it's really started to grow some legs. I think now, as opposed to if you would have asked you a year ago, a lot of these OEMs, with the exception of KTM and Husqvarna, are probably really starting to look at this and saying, "Hey, we really need to think about updating our two-stroke model and getting back into the two-stroke business a little more than what we have." I think that would be a good idea, perhaps. Maybe more models would help. I'm not the best sales guy, so I'm not sure how effective the bikes would be sales-wise.
You've been with Suzuki for a long time now and have done amazing things for that motor company. Will you remain with them? Will you work with the Suzuki-backed Joe Gibbs Racing team?
Yeah, my plan is to continue my relationship with Suzuki. Suzuki has been a huge part of my racing career. Even after my racing career, we have a great working relationship together—even outside of what we had with RCH. I work close with Suzuki and we throw around ideas. I do Camp Carmichael, which is exclusive to Suzuki riders. We recently did the Japan trip, which was really cool where they featured and rolled out the 2018 model of the RM-Z450. Anything on the professional racing-side of things, I'm always up for that. I feel like I have a great rapport with the Japanese in the Suzuki racing department and I feel like I know what's going on within the sport and what other teams are doing, so any help that they need on that end, I'm always here for them. I want what's best for the Suzuki brand. I want the same thing for JGR. JGR has a great crew behind them and I think this will be a great opportunity for JGR and Suzuki as well. I'm excited for their partnership and I think it will be just fine.
I'm going to hit you with a few topics here that I know motocross enthusiasts will want you to amplify. What did you think about the conclusion of the Monster Energy Supercross, and in addition, Ryan Dungey's decision to call time on his career?
I think the supercross series was fantastic. And it honestly didn't surprise me that Dungey pulled the plug. I really thought he would have rode it out through outdoors. Him pulling out before outdoors surprised me more than him calling it quits. You know what: That guy has no regrets. He's probably accomplished more than he ever thought that he would. He made a great name for himself and probably set himself up well financially. He was respected by everybody and it worked out for him. It worked out for him in the end. Team tactics or not, he was there and he was where he needed to be at the right time. He went out and grabbed and earned it and kudos to him. I'm very happy for him. I was happy to play a small role in his career and be there for him in his earlier years and hopefully he was able to take some of the knowledge and advice I gave him and better himself. I'm very proud to see how great of a career that he had and I wish the best for him in anything else that he does and I hope to see him around at some races.
How about Eli Tomac in 17? The last few rounds of the supercross season were a bit touch and go, but then again, he bounced back to win the first 450 title of his career. To his credit, Eli was always in it.
Eli had a great year. I mean he's the 450MX champ, so that was really cool to see him do that. Man, he was so close to the supercross championship as well. It's different. I think with what he learned this year he'll be able to better himself for next year because it's not always going to be easy. He can very easily be in that position again where he's in a must-win situation. I enjoyed watching him ride and I think he's great for our sport. He has a great attitude. He's fun to listen to in interviews and he's always genuine. But he was in a tough spot in supercross and he came up on the short end of that. However, looking at how it all turned out, he can apply that to next year and make some adjustments so what happened this year doesn't happen again. It definitely was a tough pill to swallow for him, I'm sure. There's nothing to say. He was in the opportune spot and didn't make it happen, unfortunately.
What about Ken Roczen? Can he bounce back?
I think Ken will be good. I think he'll bounce back. Everything that I'm hearing is that he's great. However, that could just be smoke and mirrors. I don't know. I wish the best for him. I think the sport needs him and it will be great for the sport. I think he'll back and I think he'll be good and what a great story it would be. I know he has been working as hard as he can to get back to where he once was. If he's not going to be the same as he once was, I bet he'll be very close. I'm excited to see him back and hopefully he'll be okay. It'll be exciting for the fans and it will be a story, for sure. I expect him to be back.
Chad Reed? James Stewart? Are we going to see these guys in 2018?
I think we're going to have a better chance of seeing Chad than we will James. I have no idea where James went. It's pretty surreal with where that guy was and now where is not. I don't really even talk about it anymore. It's been so long since he's been gone and been out of the racing scene. His brother is doing great, though. I love following his brother. I'm a huge fan of his brother and he's fun to watch. I enjoy talking to him. Chad, on the other hand, I know he's searching for something. I know he'll end up with something. It'll be last minute. Some team will pick him up, for sure. I hope to see him out there. I just hope that when he's out there, he's running up front. I know where he used to run all the time and that's what I remember him as. I don't prefer seeing him running sixth, seventh, eighth, ninth, 10th place. When I see that I know it can't be fun for him. But it might be. I just know that the guy that used to contend for wins and be on the box every weekend and be a title contender can't be having fun right now. If he wasn't winning when I was racing him, he was miserable. I just hope the best for him and enjoy being around him and love seeing him at the races. If he gets something for '18, I just want him to run up front because that's how I always remember Chad.
The Motocross of Nations and trying to get our guys to line up for that deal. You always went. Even when things weren't totally going your way, you always went. What do you think?
I was telling somebody this the other day: I remember in 1997, my rookie year, I had a really healthy points lead. I was the dominant guy when it was time to for the Motocross of Nations team to be picked. They ended up not picking me. They took Steve Lamson over myself. In light of everything, that probably was the right decision, but I was pretty butt-hurt about it. It was an honor to go to the Motocross of Nations and to be invited to that race. In my day, if you could win any title and be selected to represent the USA at the Motocross of Nations, I mean that was one of the greatest honors. So, that was always one of my goals. Times have definitely changed. It's not like that anymore. I'm not exactly sure why. They're racing the same amount of races that everyone else did when everyone was going. It's sad to see. It really is. I'm still trying to figure out why it is the way it is. If they have an injury, then they have an injury. I raced the Motocross of Nations in Zolder, Belgium, and we did pretty good. We didn't win as a team, but it was one of the best races of my life and I had a blown out ACL. You can't always blame injuries on everything. It doesn't mean that I don't respect our racers. I have a tremendous amount of respect for our guys. They're allowed to make their decisions, you know what I mean? It's just different times. I'm still looking into why no one wants to do it, other than they just want time off. And why isn't it an honor to them to be picked?
Last topic. There has been a lot of talk over the past month or so about how Jeffrey Herlings and Antonio Cairoli and a host of other MXGP guys are taking over global motocross and that the American-based guys aren't as fast as them and are losing speed and … what do you make of all that?
Well, I think the GP guys are really good. I mean, I love watching them. They definitely have a lot of speed right now. They really, really do and it's cool to see. As far as the debate centering on if the GP riders are better than the US riders? I think they're all good. I think they're both good at what they do. I think it totally depends on the situation, you know? Honestly, I just think it depends on the day. I don't look into it as much as everyone else does. I do know and feel that there are faster guys coming from the GPs now than there was in my day. There were just a few back in my day when I was coming up. However, those few were some of the greats. I mean, Stefan Everts, the guy is a complete legend in his own right. I think there is more of them now and there are faster guys, for sure. It just depends on the day, in my opinion.