A year ago at the Unadilla National, Troy Lee Designs/Red Bull KTM's Jessy Nelson went down late in the second moto. The crash left him paralyzed from the chest down. Injuries of that nature don't just rock the world of the rider involved, they rock the entire industry. Everyone in the sport is pulling for Jessy—not just hoping he recovers, but also that he's enjoying his life as it is today.
So how is it going? Over the summer Jessy penned an update for the Road 2 Recovery foundation. Here's an update on Jessy, in his words.
---
The past few months I've been on the gas with everything I've been doing; traveling, therapy, driving (lots of driving), and everything in between. I've been blessed with so much love and continued support and I'm doing everything in my power to hammer down on this injury, but also not letting it consume me. I have a lot of other opportunities that I am able to focus on outside of my injury, like my new Polaris RZR to drive around and start getting comfy in. I also have a hand cycle now that I want to start putting some serious miles on.
I recently turned 23 and I asked my girlfriend Emily to marry me while we were in Catalina. She is one strong, amazing woman that I am so lucky to have in my life. We have been to Hawaii for my first vacation with her family as a quick little break and I've been camping and swimming. We've gone to Catalina and Mexico to pre-run the Baja 500 with the guys from Polaris and had lots of fun. I still go out to the track every now and again to peak my head around and say hi to some friends and help out with what I can. I definitely miss my old job and what I was able to do each day, but I guess those days are long gone.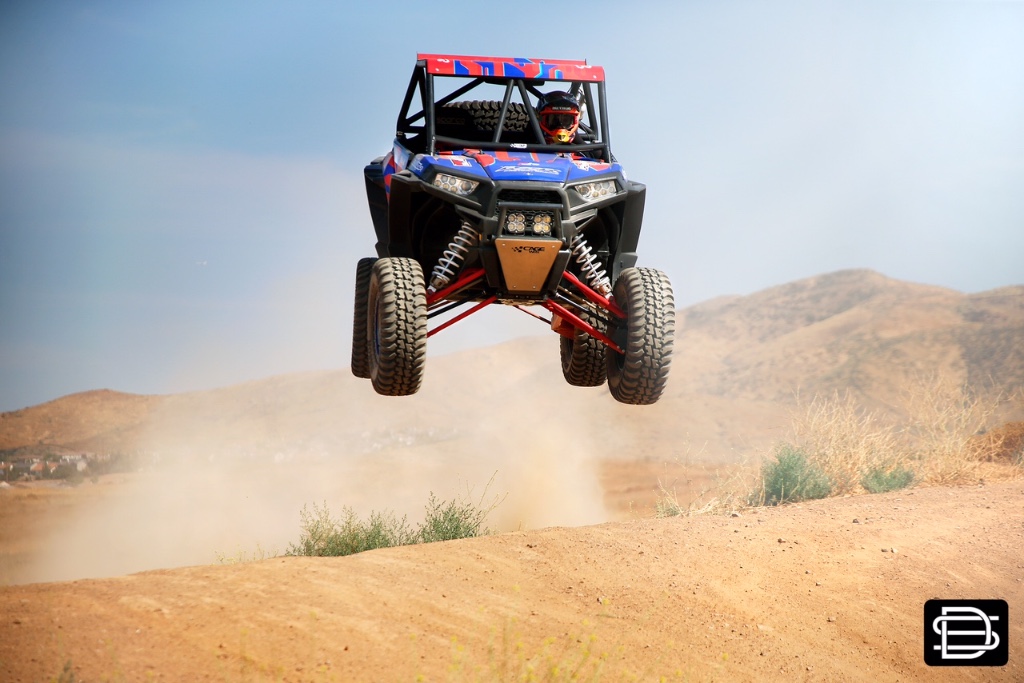 But as of right now, my life is full of positivity and I have time to figure that all out.
I'm still going to Strides SCI in San Juan Capistrano three to four days a week and doing what I know how to do at home with my training to keep progress going in my therapy. What I have learned from my body is that sometimes I just need to rest. I'm relearning my body and finding that balance just like I had to do before when I was training—and I also try to have fun when I can.
Most recently I have started checking out different options with stem cell therapy and stimulators, I'm just about open to anything. My body is constantly in a state of change; my muscle spasms change all of a sudden or I'll be able to flex my quad or move my toes for a couple of minutes, hours, or even days but it all seems to slowly dissipate but eventually comes back for a little bit. My focus right now is trying to get all these changes to stabilize and continues to get better. I have definitely seen improvements; especially with sensation. I can feel a lot in my left side, but my right is spotty. I can feel both feet really well along with my glutes.
I'm always looking for the positive, I have great support and backing and I'm going to continue this journey. Who's to say I'm not going to be one of those cases that can make something of this and get back on my feet? I'm not a quitter and I will keep grinding away! Thank you so much to everyone in my corner: Road 2 Recovery, everyone involved with Troy Lee Designs (my extended family), Red Bull who has been behind me for so many years, my family and my fiancée Emily for all that she does for us and keeping my head held high when I'm not up for it. The people at Compex have been so great to me and that machine is unreal with how much it has helped with my blood flow and keeping my muscles going. Thank you MX Locker, Statik Clothing, and Positive Ride for your shirts that so many people are now wearing for me. Brie Cody and her family has gone above and beyond for me and I can't thank them enough, I'm so glad to now call them my friends.