New Berlin, NY
Unadilla
Lucas Oil AMA Pro Motocross Championship
Little bit of a nutty Unadilla National this past weekend, round 10 of the Lucas Oil Pro Motocross Championship. We had a little bit of everything: a primo track for practice (a couple riders told me afterwards it was the best they've ever seen it), a good first 250MX moto, some rain and lightning in 450MX moto one which caused an early red flag, a delay before the second motos, and then finally, two complete mudders to end the day on a shortened track. All we needed was a clown car to ride out onto the start straight and we'd be set.
The big news came in the morning when the American Motorcyclist Association announced the three members of Team USA for the upcoming Motocross of Nations in England. Cole Seely will ride MXGP, European-based Thomas Covington will ride Open, and Zach Osborne will ride MX2. It's no one's ideal USA team, and they will be going in as the biggest underdogs probably since 1992 when Jeff Emig, Mike LaRocco, and a GP-based Billy Liles went to Australia. Covington in particular is a real stretch as he's riding a bike he's never raced professionally and in addition, it's not like he's dominating in MX2. The word is that team manager Roger DeCoster wanted to send Jeremy Martin (who confirmed to me he was all about going) on a 450 but Honda, rightfully so I might add, didn't want to foot the bill for two riders, so Seely got the nod.
This should be interesting to watch and I imagine if they manage to pull off the win, it'll be one of the bigger upsets since—wait for it—that 1992 Team USA squad that pulled it out!
I don't know, man, maybe I'm getting soft in my old age or something, but I understand Eli Tomac bowing out of the MXoN. I'm mystified by those that want to hammer on him for bowing out for a second-straight year. I mean, I don't think I read the same stuff on Ryan Dungey for doing the same thing. And let's not forget for those flag wavers that want to talk about ET bailing on his country, the very reason we had to send a super-underdog team in 1992 was because Damon Bradshaw, Mike Kiedrowski, and Jeff Stanton bailed on this race that year. Oh, and not to mention that the reason Team Honda sent their team in the first place in 1981 was because the heavy hitters like Bob Hannah, Mark Barnett, and Broc Glover didn't want to go! With the FIM Motocross World Championship calendar going later into the year, the Lucas Oil Pro Motocross schedule ending sooner, this race is now just terribly timed for everyone. Heck, Cole Seely said the same thing on the Pulpmx Show, but he's going because he's never been. Tomac has gone twice. Anyway, read ET's interview where he lays out his, to me, very valid reasons for not going.
Let's take a look at the results, shall we?
250MX Results
1 6 Jeremy Martin Millville, MN Honda CRF250R 2 1- J-Mart was wide open to start the second moto and led wire to wire in the slop. He definitely had some sketchy moments out there, but the mud was bad. Imagine trying to pin it and trying to find the lines on a track that's destroyed and that nobody's ridden on yet? The riders didn't have a parade lap so it was drop the gate and go! I asked Martin about his up and down season and he acknowledged that it's been just that, but he said it's a new bike and new team for him so he sort of shrugged off the question. My next question should've been "But Jer, we're now EIGHT MONTHS into this thing, it's not new for you" but I lack the balls I guess. Anyway, great ride for Jeremy coming off a poor Washougal (for him).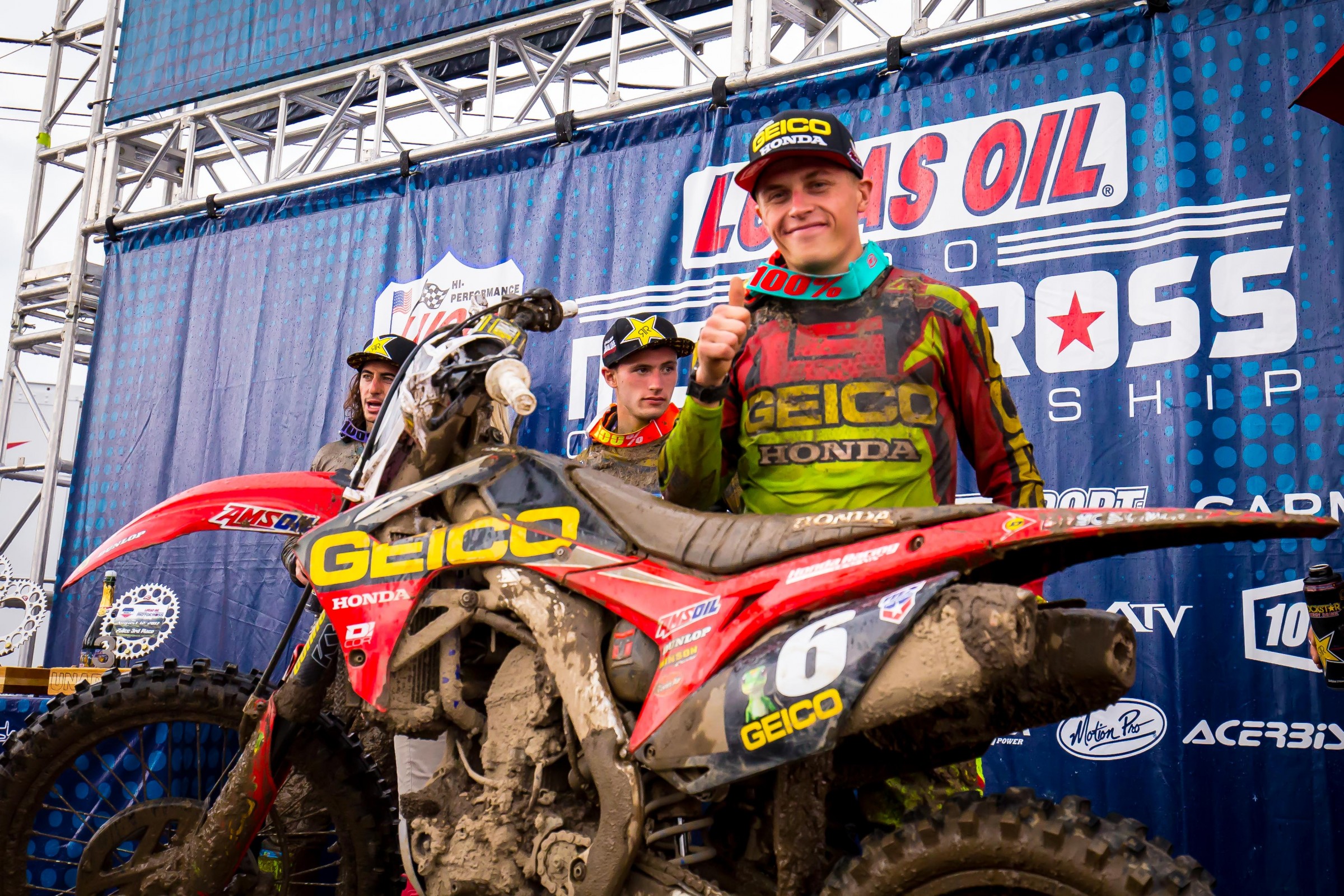 2 17 Joseph Savatgy Tallahassee, FL Kawasaki KX 250F 1 4- The testing the PC team did with Savatgy wasn't massive, it was some things to help out the turning, but, hey, whatever works. Savatgy won his third moto out of the last five in moto one and he did it in convincing fashion. Martin made up about four seconds in two laps at one point, but Savatgy collided with a lapper and hurt his ankle/foot, so that was probably why. He lined up for moto two and rode strong to a fourth. He's a whole new man, people, and although Osborne has been really strong this year, what if we saw this Savatgy to start the year?
3 16 Zachary Osborne Abingdon, VA Husqvarna FC250 3 5- The #16 has only taken one moto win out of the last six ran, but that reason hasn't been his riding, it's been his starts! Not sure what's happened to them but they're gone. He's salvaging podiums with his overall speed and fitness right now and nothing wrong with that—he's got a huge points lead. Still, I hope he figures this thing out by England because he's not going to be able to rip through a bunch of 450s very easily. But it's not all doom and gloom, if he gets the starts this weekend at Budds Creek—a track he loves—he will win in my opinion.
4 108 Dylan Ferrandis France Yamaha YZ 250F 6 3- I was very surprised to see Ferrandis get dropped so easily in the first moto by the top three as that's not his style and we generally see European-based riders really love Unadilla. I was not surprised that he did well in the massive mudder that was the second moto.
5 191 Justin Cooper Cold Spring Harbor, NY Yamaha YZ 250F 12 2- It seems like rookies always do something outstanding at their first race, you know? They either holeshot, lead some laps, run top five, or something that impresses you. And Cooper did just that with a strong second in moto two. Yeah, it was a mudder, but still, he had the fastest lap time out of everyone! His first moto was good also and it was a day he and his family will never forget. I interviewed the kid afterward and he seemed pretty calm and normal—that's what they are all like nowadays coming out of these moto factories. I forgot to ask him if he was a fan of the Islanders.
6 36 Adam Cianciarulo Clermont FL Kawasaki KX 250F 5 8- AC blew the overall at Washougal and something inside me thought he'd finish the job this weekend. I don't know, it just seemed right. And early in the first moto he was running first with Savatgy behind him when he tipped over. That's not too bad as he was still third. But then getting passed by Osborne and Plessinger on the last two laps, yeah that's not too good. So much for my prediction.
7 23 Aaron Plessinger Hamilton, OH Yamaha YZ 250F 4 10- Oh man, second moto. Plessinger is a mudder, his dad was a mudder, and he was all over Cooper for second with J-Mart not that far ahead when he tipped over. I think he would've caught Martin, I really do. He's phenomenal in the mud.
8 31 RJ Hampshire Hudson, FL Honda CRF250R 8 6- Quiet day for RJ, although I saw on his social media that he got a Unadilla rock to the lip and looked like some sort of supermodel with a bad injection.
9 486 Chase Sexton La Moille, IL Honda CRF250R 7 12- Sexton tied his career best in the first moto and rode steady throughout—although off the back of the pack ahead of him. But he was the best of the next group. He sort of reminds me of his manager Mike LaRocco when he turned pro, running the #559 Yamaha. Mike was in shape and fast, but couldn't get starts (he wouldn't really get many in the next 15 years either). Sexton says he's working on them.
10 42 Kyle Cunningham Willow Park, TX Suzuki RMZ 250 13 7- Cunningham rode very well in the slop coming from outside the top 15 to get that seventh. Nice work for the vet and with JGR Suzuki announcing they are running four 250Fs in 2018 supercross (you would think Nicoletti and Bisceglia have two of those spots) and two in MX, you gotta think Cunningham wants one of those spots bad.
11 39 Colt Nichols Muskogee, OK Yamaha YZ 250F 11 9- Quiet day for Nichols as well and he surprisingly got a better finish in the muck than he did when the track was pretty good.
12 38 Shane McElrath Canton, NC KTM 250 SX-F FE 10 14- Still waiting…..
13 45 Mitchell Harrison Brighton, MI Yamaha YZ 250F 9 16- I think Harrison is probably writing his resume for a new 2018 team each and every week and you know what? It's been pretty good.
14 74 Bradley Taft Nixa, MO Yamaha YZ 250F 15 13- This is five good motos in a row for Taft so he's righted this ship that was careening off course. Cancel that Panic Button pressing that we had scheduled.
15 105 Steven Clarke United Kingdom KTM 250 SX-F 39 11- Privateer hero Clarke almost pulled the holeshot in moto one and was right up there when his bike broke. Sucks for him (Pulpmx Show did give him some cash for the repairs), but hey, at least he salvaged a nice finish in moto two where he probably was wondering what all the fuss was. This was just a routine moto in England in April.
16 355 Joey Crown Metamora, MI Kawasaki KX 250F 18 15- Lost in the Justin Cooper hype was that Crown was also making his pro debut. Who knew? Crown reminds me a tad bit of Dillian Epstein, who was a just under the radar Team Green kid that couldn't get on Pro Circuit. We'll wait and see what Crown's able to do.
17 183 Lorenzo Locurcio Venezuela Yamaha YZ 250F 17 18- I gotta call up Lorenzo and find out what his deal is one of the days.
18 129 Sean Cantrell Murrieta, CA KTM 250 SX-F FE 14 40- As I wrote a couple of weeks ago, maybe the grind of week in and week out racing is getting to the rookie. He'll be more prepared for it next year.
19 78 Nick Gaines Ringgold, GA Yamaha YZ 250F 16 22- Oh no, the inconsistent Nick Gaines is back! Calm down, I'm kidding. Hey, it could have been worse like it was for Luke Renzland who had to be bummed at his day after going down in moto one.
20 231 Jayce Pennington Walnut Hill, IL Yamaha YZ 250F 21 17- Nice job for Jayce getting some points in his pro debut. I mean, yeah it was a mudder, but he's not going to tell anyone that in 10 years and besides, he just missed out in moto one.
450MX Results
1 25 Marvin Musquin France KTM 450 SX-F FE 1 1- Well, well, well look at this! The Leopard Seal's ripped off six-straight moto wins and three overalls in a row. Yeah, that's right. He was unbeatable this weekend and pulled massively good starts. Awesome to see him get his season back on track after his knee injury.
2 30 Martin Davalos Ecuador Husqvarna FC450 8 2- Just another routine weekend for Marty where he catches and passes Tomac in moto one (and it was late in the moto. His fitness is awesome!) and then he catches the leader in moto two for a bit before settling for a second and a second overall. Ho-hum. Help me, I'm trapped in bizarre world.
3 14 Cole Seely Newbury Park, CA Honda CRF450R 3 6- After just missing it at Washougal, Seely collected his first ever 450MX podium at Unadilla. Who had Musquin, Davalos ,and Seely in a 450MX podium pool at the start of the year?
4 2 Cooper Webb Newport, NC Yamaha YZ 450F 7 3- And this guy just missed his first 450MX podium when Peick passed him in the first moto. Webb tied with Seely for third, but that one pass by Peick, semi-late in moto one, cost him the one point he would've needed to get third. You know what's weird? Webb's really excelled at the races where the ground is really soft. Think about this moto, Oakland, and Seattle SX earlier in the year, and Southwick. That can't be just a coincidence can it?
5 4 Blake Baggett Grand Terrace, CA KTM 450 SX-F FE 2 11- Baggett's first moto was great, second moto in the mud not so much. The fact his team uses a Velcro strip on his grip to help keep his injured thumb on the bars is rather remarkable. I'm not sure I've ever seen that or heard of that before. And I'm also not sure a Velcro strip would really help all that much as it could never keep my shoes tight when I was a kid.
6 15 Dean Wilson United Kingdom Husqvarna FC450 9 4- Great second moto for Wilson who got the start and cruised out there. It's crazy to think just how much the start helps you in conditions like that. It's, like, everything.
7 19 Justin Bogle Cushing, OK Suzuki RMZ 450 4 10- Oh man, Bogle had third in the first moto, stopped for a new pair of goggles (he had 10 seconds on Seely in fourth) then slid out on the grass exiting the pit and Seely rode on by. Then the red flag came out signifying the end of the moto! Obviously he had no way of knowing that red flag was going to come, but he wouldn't have pulled in if he had known. So actually, don't blame Peick for Webb not getting third overall, blame Bogle! Second moto he was almost last (Phil Nicoletti was really last) and he rode awesome to get to 10th. What's he doing next year? I'm not sure but if JGR doesn't keep Justin Barcia (doesn't look like it, right?) then I could see Bogle riding for them.
8 48 Christian Craig Corona, CA Honda CRF450R 5 9- Good first moto for Craig who almost got the holeshot. The start is everything for CC and I understand it's everything for every rider, but I think more so with CC. If he gets it, it's on and if he doesn't, it's not.
9 3 Eli Tomac Cortez, CO Kawasaki KX 450F 10 5- JT can go on and on in our podcasts and he can write stories like THIS one about Tomac, but I'm just not there yet. At the last race he crushed everyone not named Marvin Musquin (I mean, just give Marv credit, he was amazing), at Millville he came from a poor start to second and then crashed while in second in moto two. This weekend the first moto wasn't good, but he ripped all his tear-offs and couldn't see! Second moto he rode well in terrible conditions to get fifth. I'm just not ready to sound the alarm yet. Let's check back next week.
10 34 Benny Bloss Oak Grove, MO KTM 450 SX-F FE 15 8- Man, a 15-8 for 10th overall? That's quite a score for Ol'Benji. That's living right, people! He was so far back in the first moto it was ridiculous, so that 15th is a good ride, although you won't ever read about it anywhere else. Benny's going to be top 20 in the points after next week and that's pretty impressive for only four rounds.
11 40 Fredrik Noren Sweden Honda CRF450R 11 13- Fast Freddie is normally very good at Unadilla and he was good this year although I'm sure he wished he would be a bit better.
12 70 Dakota Alix Jay, VT KTM 450 SX-F FE 13 12- Solid day for Alix in the mud (the 450s had both motos in the slime while the 250 dudes had one and a half). You've got to figure he's had quite a bit of wet weather experience being from the Northeast.
13 32 Weston Peick Menifee, CA Suzuki RMZ 450 6 20- Peick had a strong first moto, pulling away from Tomac and catching and passing Webb. Strong ride for the Viking. Second moto he developed some front disc issues and lost his front brake, which at Unadilla is no bueno and at Unadilla in then mud is really no bueno.
14 43 Matthew Bisceglia Tualatin, OR Suzuki RMZ 450 38 7- Well, Bisceglia's raced six motos now and after he DNF'd two of his first four he told me that's going to stop and he'll be inside the top 10 both motos real soon. Hold that thought because he had the same thing happen to him this weekend! He pulled the holeshot in moto one and would have definitely finished inside the top 10, but he crashed and knocked the wind out of himself. So that's a DNF. But the dude is such a good starter that he turned the 38th gate pick into a top 10 start in moto two and stayed there!
15 81 Henry Miller Rochester, MN Yamaha YZ 450F 14 14- Another solid day for Miller. He's going to be lowering that #81 by quite a bit for 2018 and if I were him, I'd stay 450 next year all the way and start getting busy making mains and making money.
16 37 Phillip Nicoletti Cohocton, NY Suzuki RMZ 450 12 18- We had Phil on the Pulpmx Show and he asked me where I thought he'd finish at 'Dilla. I said 14-18 and he laughed at me, called me an idiot and said he wouldn't even show up if he were to do that. Well, yes it was a mudder and yes he crashed in the first turn and had to pull into the mechanic's area for gloves, but that 12-18 is not that far off 14-18. Just sayin.
17 125 Josh Mosiman Sebastopol, CA Husqvarna FC450 18 15- Mosiman tied his career best with that 15th in moto two and hooray for that.
18 606 Ronnie Stewart Easton, PA Suzuki RMZ 450 17 17- Ronnie absolutely killed it for his hometown fans and for my fantasy MX team as well. Thank you, Ronnie, you're the man!
19 718 Toshiki Tomita Japan Honda CRF450R 21 16- Tomita didn't qualify out of the two practices and that was weird. But he won the LCQ to get into the motos and then not surprisingly, he did pretty well in the mudder moto. The Japanese can ride that stuff, bro.
20 88 John Short Pilot Point, TX Yamaha YZ 450F 16 31- Completely lost in the Henry Miller hype is John Short who's always been, to me anyways, better at MX than SX. Short's currently 18th in the points as a privateer and that's pretty good. He's Steady Eddie out here while Miller is the guy that's flashy.
After Washougal, I wrote this:
17 130 Austin Root Chester, SC Husqvarna FC250 17 17- I don't know anything about Root, like seriously, nothing at all. But if he wants to get my undying respect he needs to get "(G)Root" on the back of his pants.
Well, he did it, people. That's fantastic. He just missed out on the top 20, but he rode well. Thank you, Austin Root, you made my day.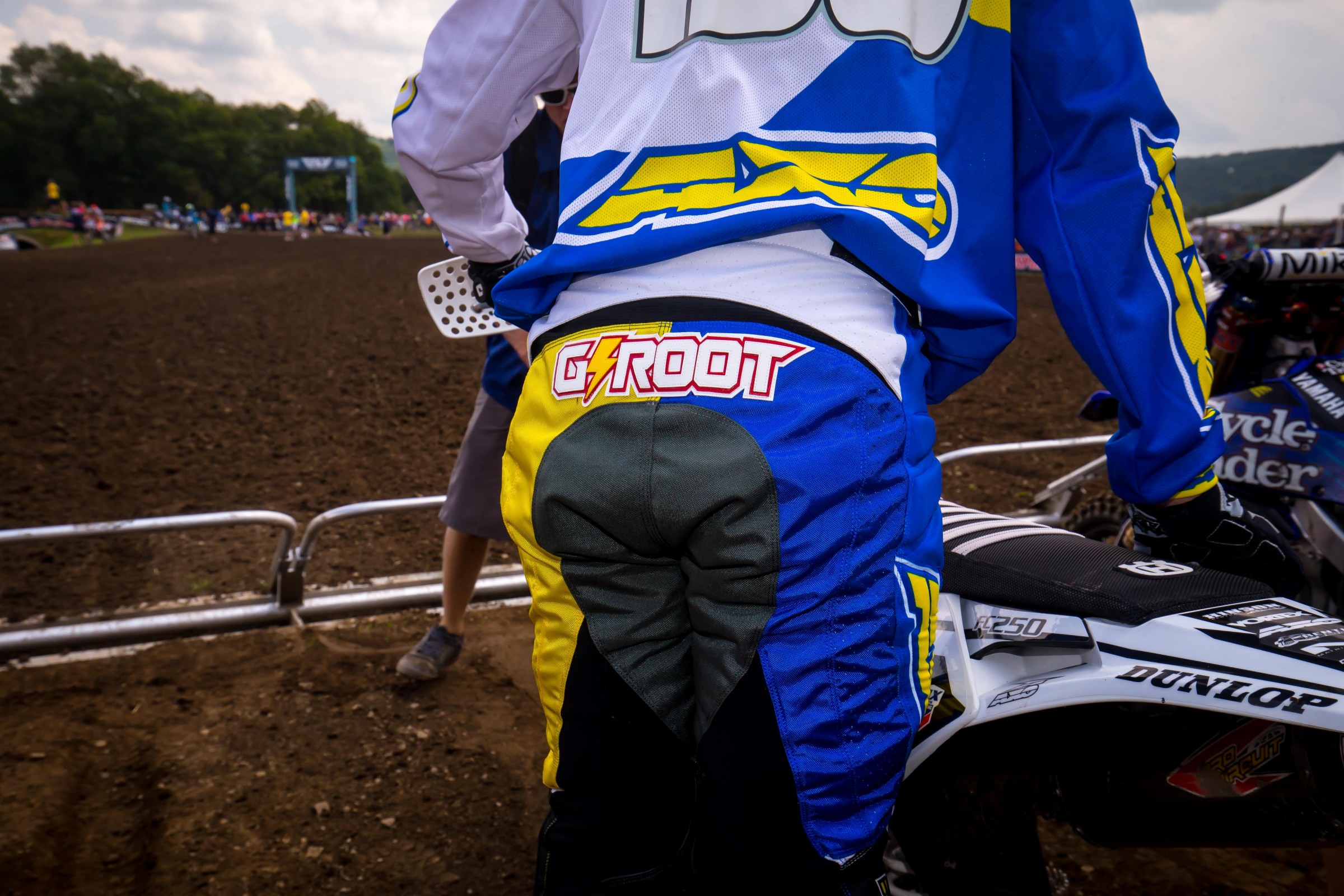 Thanks for reading OBS, I appreciate it. Two more and a USGP to go and we'll call it a wrap on 2017. Looking forward to this weekend at Budds. Email me at matthes@racerxonline.com if you want to chat.