Dean Ferris Wins Seventh Straight in Australia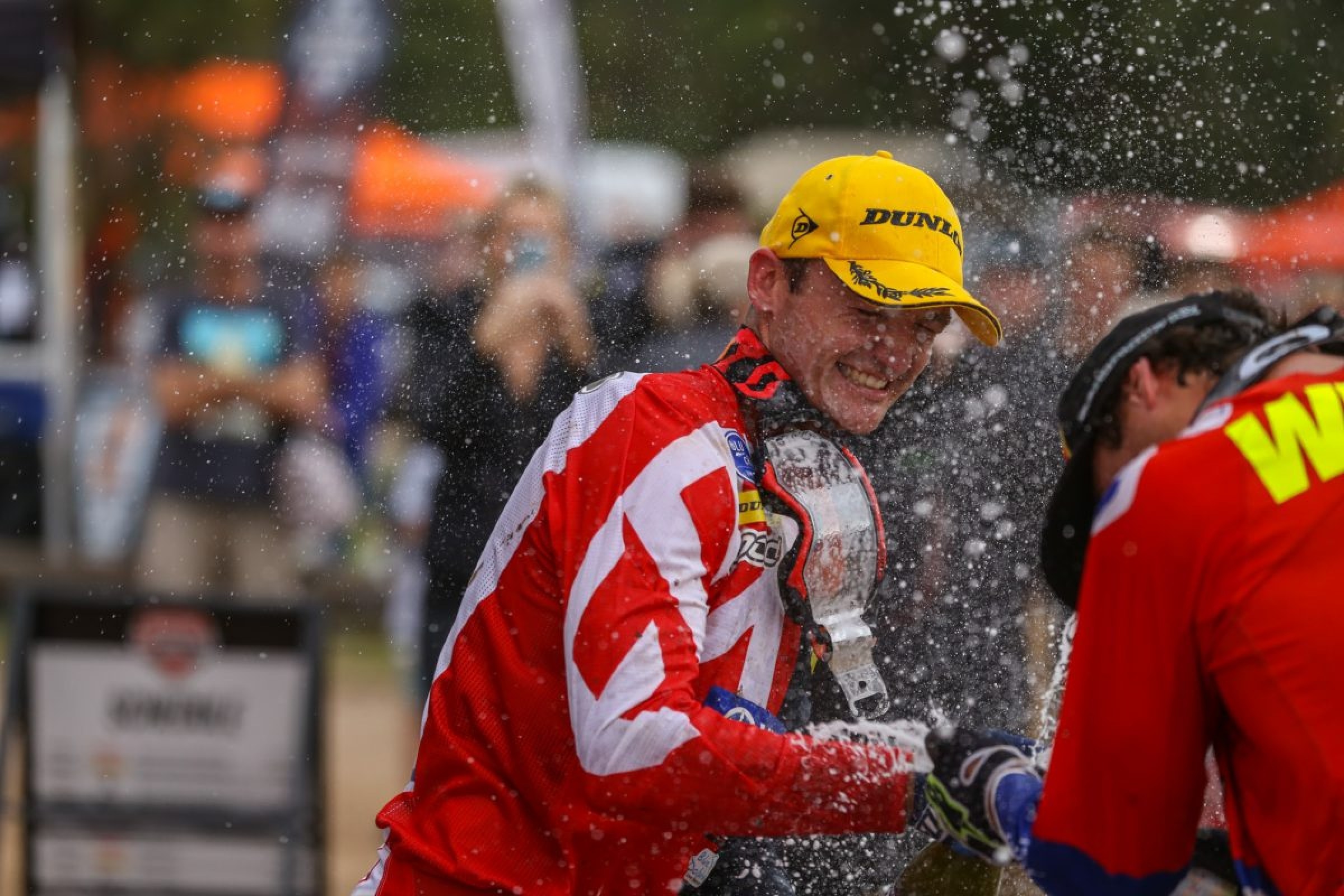 It was yet another Thor MX1 round victory in the books for CDR Yamaha's Dean Ferris who went undefeated at Round 8 of the Motul MX Nationals at Port Macquarie today.
Strong crowds turned out to watch the fastest riders in the business go to battle at Port Macquarie today, but it was Ferris who left with plenty of reason to celebrate, recording a perfect round of racing as the series reaches the pointy end of the championship.
The Thor MX1 category had at total of 30 minutes on the clock for their practice and qualifying session ahead of racing this morning, and despite being a brand new track for the premier class, it took no time at all for the heavy hitters to settle in.
CDR Yamaha's Ferris showcased his speed from the get go, but it was on lap five that he set the fastest qualifying time, a 1:45.604, a time that couldn't be matched during the remainder of the session. Second fastest on track was KTM's Luke Styke (1:46.262) followed by team mate Kirk Gibbs who was third quickest with a 1:46.463 hot lap. Behind the top three were Crankt Protein Honda Racing's Luke Clout and MEGA Bulk Fuels Monster Energy Kawasaki's Brett Metcalfe, with all five riders then progressing through to GoPro Superpole.
With GoPro Superpole marking the first points paying event at Port Macquarie, riders were determined to leave nothing on the track during their individual hot laps, but it was CDR Yamaha's Ferris who snatched up his fifth Superpole win for 2017, as well as three all important championship points.
Moto 1
After collecting yet another GoPro Superpole victory prior to moto one, Ferris took to the line at Port Macquarie with one goal, to leave undefeated.
When gates dropped and riders stormed into the first turn it was DPH Motorsport's Kade Mosig who snatched up the Raceline holeshot, however in what has become tradition throughout 2017, it was Ferris who was nipping at his heels.
It only took half a lap for the MX1 Championship points leader Ferris to gain control of the moto, moving in to the lead position and relegating Mosig to second. Behind Mosig was MEGA Bulk Fuels Monster Energy Kawasaki's Nathan Crawford, followed by fellow rookie Honda mounted Clout in fourth.
After only two laps, Ferris had pulled a comfortable three second lead on his competitors, allowing the battle for all further positions to happen behind him. And battle they did, with names such as Todd Waters, Kyle Peters, and Kirk Gibbs just outside the top five, the remaining laps proved to be some of the best of the season.
After eight minutes on the fresh new circuit, Ferris began to separate himself from the field, and simply school the competition. Behind him Mosig, Crawford, Clout and Waters were locked into the fight for remaining top positions, keeping the thousands of spectators on the edge of their seats.
Surprisingly one man who was notably absent from the top five was Brett Metcalfe. After eight laps on the forever changing circuit, the newly drafted Kawasaki rider was back in ninth position after going down at the beginning of the moto.
When the MX1 class reached the halfway mark, rookie Kawasaki rider Crawford put the foot down, registering the fastest lap time which allowed him to close in DPH Motorsport's Mosig. Another rider who found his form later in the moto was Waters. The Crankt Protein Honda Racing Team rider made a pass on his team mate Clout to move up to fourth position – just shy of the MX1 podium with a handful of laps remaining.
As moto one reached it's closing stages there had been little change to positions, however Waters had closed the gap on Crawford and was beginning to pose a threat to the Kawasaki rider with only two laps remaining.
But it was Ferris who collected the chequered flag victorious for the 12th time this season in race one – a task he's grown accustomed to throughout 2017. Second place in race one went to DPH Motorsport's Mosig, followed by Crawford who managed to hold off Waters to finish in third.
Waters wrapped up the opening moto in fourth followed by teammate Clout in fifth. Gibbs, Styke, Metcalfe, Peters and Davey Motorsport's Hamish Harwood completed the top ten.
Moto 2
In the second moto for the Thor MX1 class, Crankt Protein Honda Racing Team's Clout secured the holeshot, however the attention quickly shifted to the pile up in the first turn with the likes of Mosig and Gibbs just two of the riders caught up in the carnage.
Much like in moto one, Ferris started in second behind the race leader, however after less than a lap the CDR Yamaha rider once again gained control of the moto, moving into the lead and relegating Clout to second.
After two laps, heavy hitters Gibbs, Peters and Mosig were all well outside the top ten, meaning riders needed to capitalise on the time remaining in order to maximise points.
With Ferris out in front and continuing to stretch out his lead, Clout soon began to feel the pressure from his teammate Waters, however Waters also had his hands full thanks to Kawasaki's Metcalfe who was out for redemption after a difficult first moto.
But it was Waters who managed to find the perfect spot to execute a pass on his teammate, the Queenslander moving in to second position, and leaving Clout to fight off Metcalfe behind him.
As moto two progressed, Metcalfe began putting significant pressure on his rookie competitor, the pair providing plenty of entertainment for the crowd who continued to dot the fence line.
By the halfway mark Ferris was again untouchable out in front, Waters continued to maintain second from Metcalfe who had found his way past Clout. Clout was then pushed down to fourth ahead of Styke, CDR Yamaha's Dylan Long, Gibbs and Crawford.
As the Thor MX1 class reached the closing stages of their final moto, there had been little change to positions, Ferris maintaining control of the race from Waters and Metcalfe.
And when the chequered flag flew for the final time, it was Ferris who collected an incredible 13th race victory. Second place went to Honda mounted Waters, followed by Metcalfe who held on for the 30 minutes to eventually cross the finish line in third. Clout and Gibbs finished in fourth and fifth places respectively, followed by Styke, Long, Crawford, Peters, and Mosig who completed the top ten.
With another flawless scorecard to his name, Ferris secured his seventh Thor MX1 round win at Port Macquarie this afternoon, second overall went to Waters, while teammate Clout secured his first MX1 podium with a third at Port Macquarie.
Ferris now holds a commanding 75 point lead in the Thor MX1 Championship with two rounds remaining.
"The feeling of winning doesn't wear off, it feels just as good every time, I love it, this is what I work for," Ferris shared.
"It's not just the winning on the weekend, it's during the week, I'm ticking off my motos and every day I do my best to achieve my goals.
"I was thankful that I could get some good starts, and be quick in those first couple of laps here. The track today was awesome, and it was nice to have a new venue on the calendar, so hopefully we can come back to Port Macquarie in the future.
"At the moment I'm just doing my thing and taking it one race at a time. I definitely couldn't slack off today, and it was awesome to share the podium with Luke (Clout) who got his first MX1 podium, and also Todd who belongs up here."
MX1 450 Pro
| | |
| --- | --- |
| OVERALL FINISH | RIDER |
| 1st | Dean Ferris |
| 2nd | Todd Waters |
| 3rd | Luke Clout |
| 4th | Brett Metcalfe |
| 5th | Nathan Crawford |
| 6th | Kade Mosig |
| 7th | Kirk Gibbs |
| 8th | Luke Styke |
| 9th | Kyle Peters |
| 10th | Dylan Long |
MX1 450 Pro Championship Standings
| | | |
| --- | --- | --- |
| STANDING | RIDER | POINTS |
| 1st | Dean Ferris | 562 |
| 2nd | Kirk Gibbs | 487 |
| 3rd | Kade Mosig | 436 |
| 4th | Todd Waters | 421 |
| 5th | Luke Styke | 408 |
| 6th | Luke Clout | 378 |
| 7th | Kyle Peters | 371 |
| 8th | Brett Metcalfe | 350 |
| 9th | Nathan Crawford | 304 |
| 10th | Joel Green | 267 |
Davey Motorsports KTM rider Egan Mastin took two wins from two motos in the Motul MX2 class and left Port Macquarie undefeated, at what was an epic Round 8 of the Motul MX Nationals today.
With a strong crowd turning out to support the Motul MX National's first ever visit to Port Macquarie, the MX2 category were impressive in both races today, the front runners battling hard as competitors reach the pointy end of their championship.
The Motul MX2 class were treated to prime time track conditions during their qualifying session this morning, and being the first time that the series has visited the venue, the field of riders maximised on the opportunity to get to know the all new circuit.
By the time qualifying had wrapped up, Penrite CRF Honda Racing's Kyle Webster pipped KTM's Mastin for the top spot with a 1:46.859 lap time on his last rotation on the circuit, second quickest was Mastin, (1:47.627) while Serco Yamaha's Mitchell Evans secured the third gate pick with a 1:48.226 lap time.
Moto 1
With only eight points separating the championship leader Wilson Todd from his competition heading into the round, when the MX2 class lined up for their opening moto at Port Macquarie all eyes were on the DPH Motorsport's Yamaha machine.
And it was Todd who secured the first Raceline holeshot of the weekend, followed Mastin and fastest qualifier Webster.
With 30 minutes on the clock in the first race for the Motul MX2 category, after two laps riders settled in to their positions. DPH Motorsport's Todd began to stretch out his lead on Mastin, while Webster back in third had his hands full trying to hold off a hard charging Davey Motorsport's rider Hamish Harwood.
By the five lap mark, Serco Yamaha's Evans made his way back through the field, passing Harwood and moving into fourth behind fastest qualifier Webster.
With Todd having a comfortable lead, the attention then shifted to the battle for positions behind him, and it was Yamaha mounted Richie Evans and and 'RUOK themed' KSF Racing's Dylan Wills' who's battle for sixth captured the crowd's attention.
But just as both Wills and Evans had kick started their battle, Mastin closed in on race leader Todd, and set up one hell of a fight for control of the opening moto.
Mastin made the move on Todd just after the first turn, but Todd retaliated, the pair switching back and forth a handful of times before KTM's Mastin found the edge and began to pull a gap on his Yamaha competitor.
By the halfway point in race one, the running order saw Mastin leading from Todd and Webster – Evans, Harwood and Richie Evans, occupied positions four through to six, while Wills, Raceline Pirelli KTM's Jayden Rykers and Tomas Ravenhorst followed closely behind.
With only a handful of laps left to run in the first moto, Rykers began to find his way through the talented field, passing both Wills and Evans (Richie) and making up two positions in just one rotation.
But by the time rider's received the last lap board, Davey Motorsport's Mastin continued to lead by a healthy eight seconds while behind him, points leader Todd was doing everything in his power to find the lines that would narrow the gap.
But when the chequered flag flew it was Mastin's smooth and calculated riding that saw him take the first race victory at Port Macquarie, second place went to red plate holder Todd, followed by the MX2 fastest qualifier Webster who put in a smart and consistent ride to finish in third. Evans and Harwood completed the top five, followed by Rykers, Wills, Evans, Ravenhorst and Raceline Pirelli KTM's Jay Wilson who all finished inside the top ten.
Moto 2
With Mastin gaining three points on Todd after the opening moto, when bikes lined up for race two this afternoon, the crowd watched on eager to see how the last race of the day would play out.
In race two it was Mastin who pulled the Raceline holeshot, but Todd was just behind him, setting up the final MX2 race as a 20-minute dash to the finish line.
Behind the lead pair, KSF Racing's Wills led the battle for third between himself, Webster and Serco Yamaha's Evans. But by lap three it all came undone for Wills and Webster after coming together and going down down, both losing a number of positions and handing third place to Serco Yamaha's Evans.
By the five lap mark, Mastin had pulled a comfortable four second lead on second placed Todd, while behind the top two, Evans began to close in on the pair, determined not to give away any more points in the MX2 Championship.
By the halfway mark, Mastin, Todd and Evans had put significant distance between themselves and the rest of the field. Just shy of the podium in fourth was New Zealander Harwood, followed by Richie Evans, Webster, Rykers and Wilson.
In the later stages of the moto it was the battle for fifth that captured the crowd's attention – Webster, Rykers and Richie Evans all rubbing paint for two laps, before Webster and Rykers relegated Evans back to seventh. But just as the battle had settled down, down went Webster, allowing Raceline Pirelli KTM's Rykers to slot up into fifth.
By the time the last lap board was displayed, Mastin once again was in the box seat to collect his second race win for the day, however behind him Todd and Evans had found each other on the track and Evans also closed in on the KTM race leader's real wheel, making the final lap one of the most exciting of the weekend.
But when the chequered flag flew for the final time today, it was Mastin who collected the Motul MX2 race two victory. Second place went to DPH Motorsport's Todd, followed by Evans who was forced to settle for third. Harwood and Rykers wrapped up moto two in fourth and fifth places respectively, followed by Webster, Evans (Richie), Wills, Wilson and Connor Tierney.
When the points from both motos were calculated, two race wins saw Mastin awarded with the Round 8 victory and the top step of the Motul MX2 podium. Second overall went to Todd, while Serco Yamaha's Evans concluded the Port Macquarie outing in third.
Todd now carries a 13 point lead in the Motul MX2 Championship with two rounds remaining.
"For me this year I didn't want to peak too early, I train to peak at the right time during the season and I think at the moment that's what we are doing," Mastin shared.
"To come away with the win in both motos today we're stoked. Port Macquarie is only three hours away from home for me, so I have all my friends and family here and it's nice to get a win in front of an audience like that. This is a round I definitely wanted to win.
"At this stage the championship is still within reach. I want to go out every weekend and win every race, so we'll be aiming to do that over the next two rounds."
MX2 250 Pro
| | |
| --- | --- |
| OVERALL FINISH | RIDER |
| 1st | Egan Mastin |
| 2nd | Wilson Todd |
| 3rd | Mitchell Evans |
| 4th | Kyle Webster |
| 5th | Hamish Harwood |
| 6th | Jayden Rykers |
| 7th | Richie Evans |
| 8th | Dylan Wills |
| 9th | Jay Wilson |
| 10th | Connor Tierney |
MX2 250 Pro Championship Standings
| | | |
| --- | --- | --- |
| STANDING | RIDER | POINTS |
| 1st | Wilson Todd | 490 |
| 2nd | Egan Mastin | 477 |
| 3rd | Mitchell Evans | 476 |
| 4th | Hamish Harwood | 427 |
| 5th | Kyle Webster | 399 |
| 6th | Dylan Wills | 381 |
| 7th | Jayden Rykers | 371 |
| 8th | Jackson Richardson | 365 |
| 9th | Richie Evans | 350 |
| 10th | Joel Evans | 281 |