Christophe Pourcel Back On Top In Canada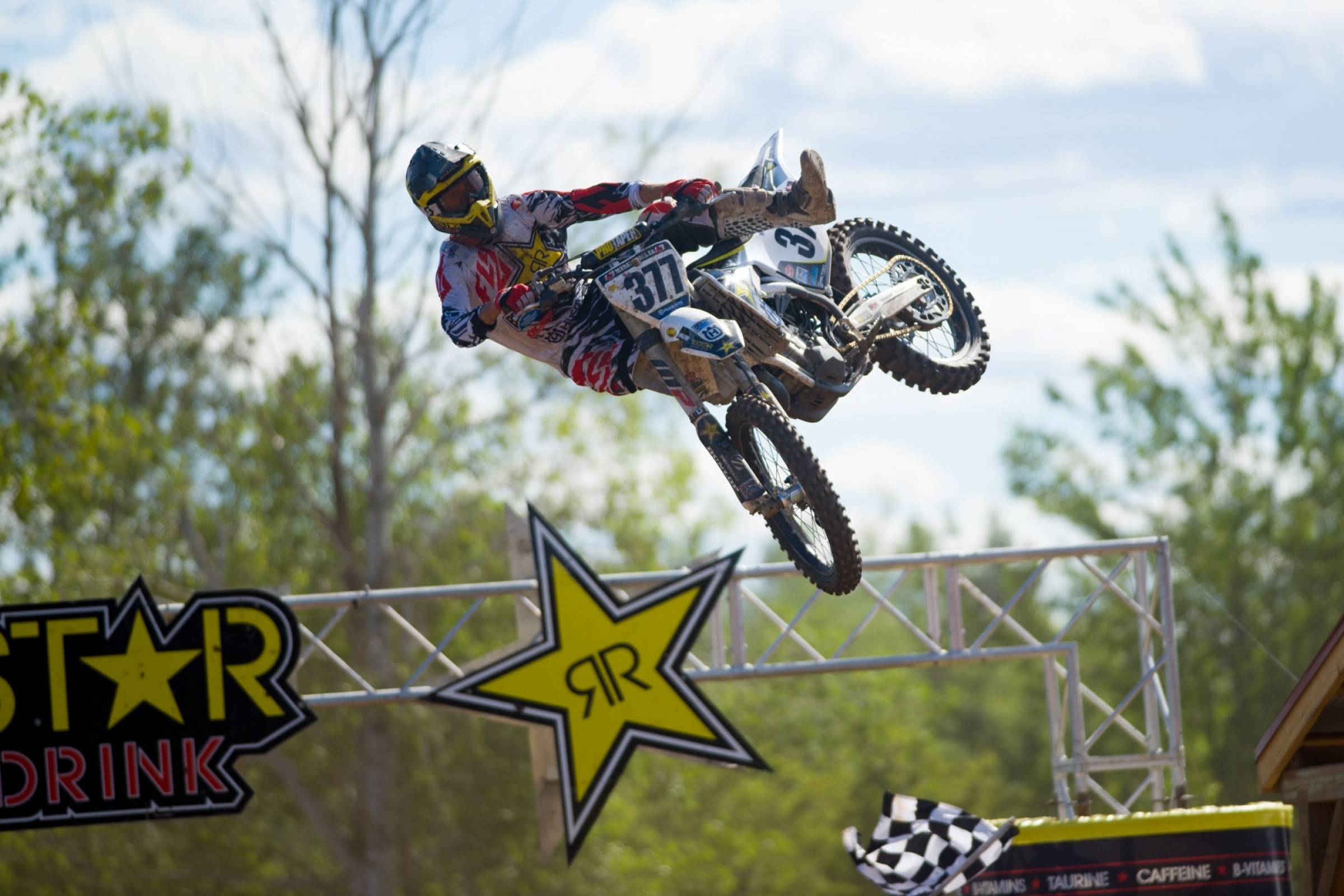 Another beautiful day greeted racers and fans as the Riverglade MX Park in Moncton, NB was the location for Round 8 of the CMRC sanctioned 2017 Rockstar Energy Drink Motocross Nationals presented by Motovan. Spectators turned up in record numbers and lined the fences to get a glimpse of their favourite riders as they soared through the air, scrubbing the big jumps with incredible style at the Riverglade MX Park.
Both classes had some good battles as the riders were forced to deal with a lot of punishing roost coming from their opponents' rear wheels as they tried to make a pass. With only two rounds to go, we have a terrific battle for the MX1 title between Matt Goerke and Christophe Pourcel, and in the MX2 class we saw Shawn Maffenbeier put on a clinic and extend his points lead as he continues to go after his first national title.
MX1
Rockstar Husqvarna's Christophe Pourcel was the day's fastest qualifier. After coming around fifth on the opening lap of Moto 1, Pourcel made a steady charge to the front where he posted the fastest lap of the race, and looked like he was going to challenge Goerke for the lead before settling for second. Pourcel got a similar start in Moto 2 and again made his way towards the front, and after passing both Goerke and Mike Alessi found himself in the lead on Lap 11. Christophe hung on to take the win in Moto 2 and his 2-1 finishes put him on the top of the box for the day. The overall was his fourth this season, making him the only one in the class to have more than one win, but he was unable to gain any ground on series leader Goerke. Pourcel still finds himself trailing by 19 points with only two races left this season.
Series points leader and red plate holder Rockstar Energy OTSFF Yamaha's Matt Goerke continued to move closer to his third national title, and although his 1-2 moto scores left him second overall for the day, he maintained his 19-point series lead that he came to Moncton with. Goerke had good starts in both motos and never ran worse than third all day, and described the roost coming off the rear wheel of the motorcycles "like being shot with a paintball gun." After being passed by Pourcel in the second moto, Matt said he tried to run him back down but made a few mistakes and didn't want to crash so he settled for second. Goerke is looking forward to next weekend's track in Quebec where he has won before.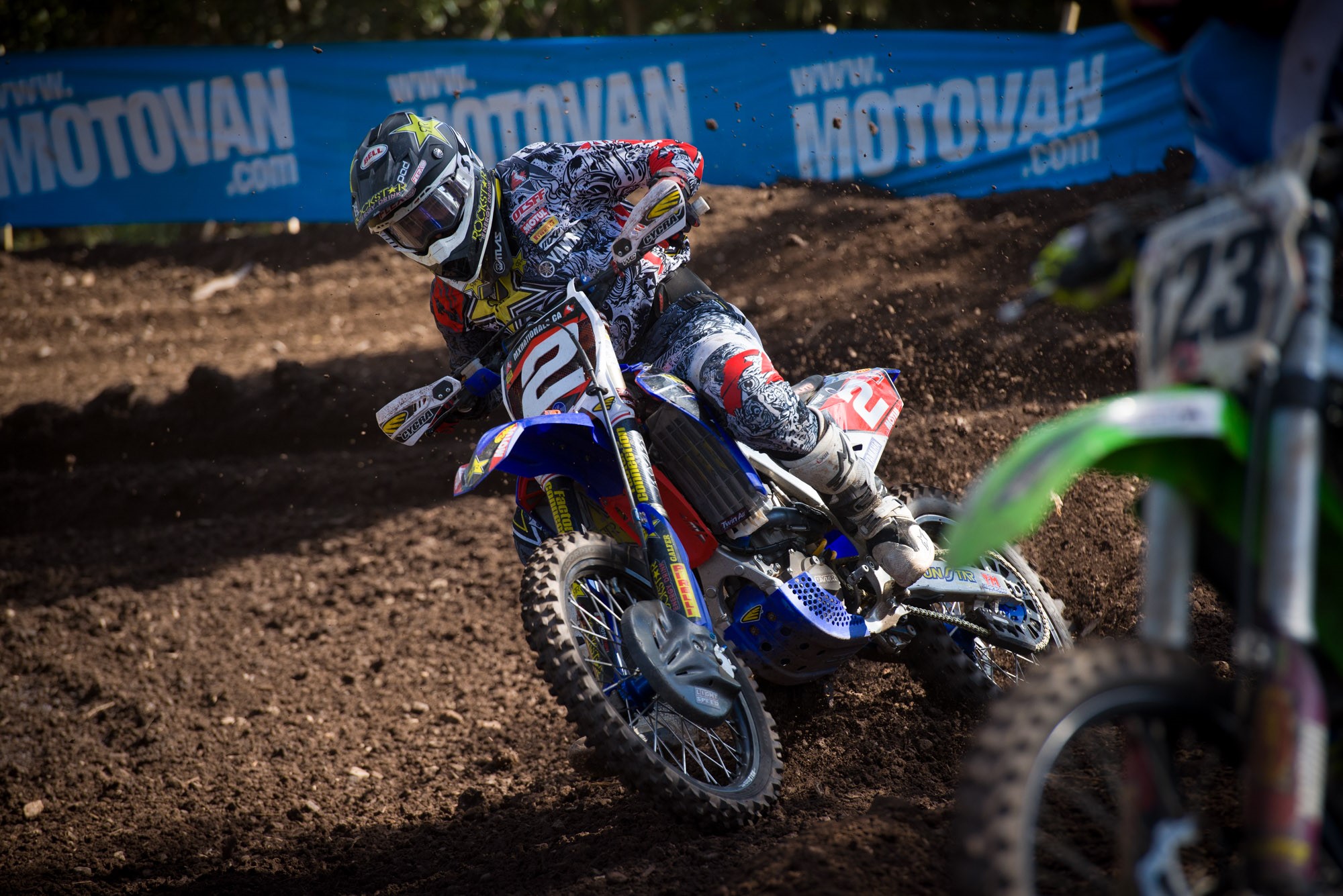 Monster Energy Alpinestars Kawasaki's Mike Alessi has often been called the best starter in motocross and race fans this weekend got to see why after the talented American took both holeshots on route to the Royal Distributing Triple Crown and a nice bonus cheque. Alessi qualified second and led all but five laps of Moto 1 before admitting to "tightening up" and being passed late in the race by Goerke and Pourcel. In Moto 2, Mike led more than half the race until tightening up again and being passed by the same two guys, finished the day 3-3 for third overall, and moved into a tie for third in the series standings.
Royal Distributing Motovan Piller's Race Team's Kyle Chisholm backed up his best finish of the season with another fourth overall this weekend after finishing 5-4 in Moncton. Chisholm got good starts in both motos and was never outside of the top 5 all day. With only two rounds left in the series, Kyle is still looking to be standing on the podium at the end of the day, but don't be suprised if it happens next weekend in Deschambault on a track that should suit his riding style well.
After being the top dog on the newly formed Royal Distributing Motovan Piller's Race Team all season, Tyler Medaglia has been narrowly beaten by his teammate now at the last two rounds. After qualifying fourth fastest, Medaglia got a great start in the first moto and ran in second place for the first seven laps before being passed by Goerke then Pourcel and finishing fourth. In the second moto, Tyler came around the first lap in fifth and held that position for all but one lap of the moto, and finished 4-5 for fifth overall on the day.
Rounding out the top 10 were Honda Canada GDR Fox Racing's Colton Facciotti in sixth, Redemption Racing's Cade Clason in seventh, TXS Productions Black Diamond MX O'Neal's Jesse Wentland in eighth, Yamaha Canada Cycle Works Foot Hills' Keylan Meston in ninth, and Rockstar Energy OTSFF Yamaha's Tim Tremblay in tenth.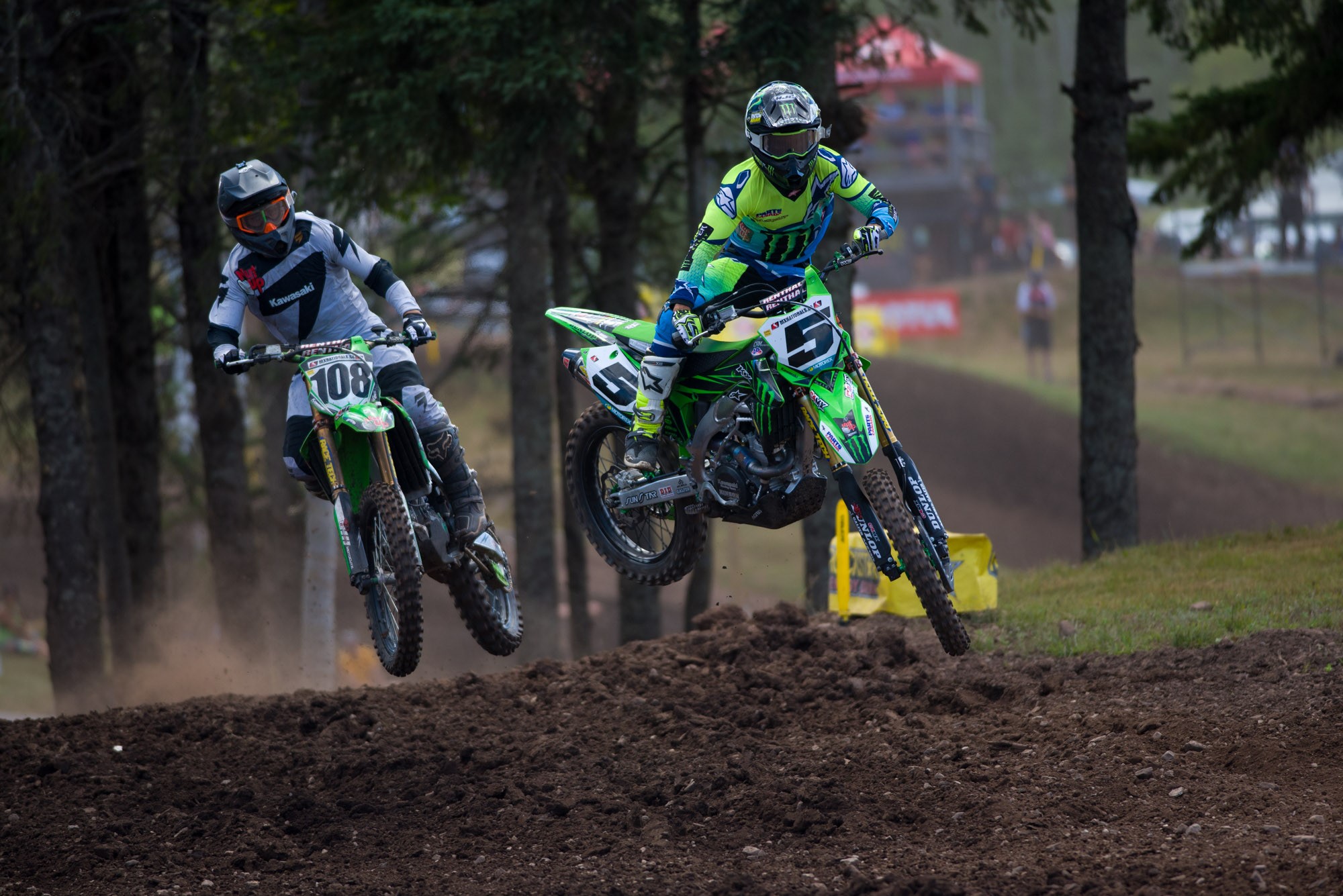 MX2
After capturing the red plate in Round 7, MX101 FXR Yamaha Team's Shawn Maffenbeier showed why he deserves to be running it after being the fastest MX2 qualifier during the morning sessions. Maffenbeier took the lead early on the first lap of Moto 1 and put on a clinic on route to a wire to wire win. Shawn again found himself in the lead on the fifth lap of Moto 2 after making a clean, safe pass on his teammate Jess Pettis, and posted the fastest lap of the moto. On the podium, after going 1-1 for the day, Maff said, "I felt like I had a couple of cool, crafty lines out there today," and now leads the series by 46 points with only two rounds remaining.
In just his second race back after suffering a broken collarbone, MX101 FXR Yamaha Team's Jess Pettis qualified second, ran the entire first moto in second place where he finished, and posted the fastest lap of Moto 1. Pettis grabbed the holeshot in Moto 2, his first this season, and led for four laps before being passed by Maffenbeier and finishing the moto in second. Jess now has three podium finishes this season after competing in only 6 of 8 rounds, and sits seventh in the series standings.
Monster Energy Alpinestars Kawasaki's Jacob Hayes qualified third and went 3-3 on the day for his second consecutive podium finish, and his third this season. Hayes had a good battle with Dylan Wright on the opening laps of Moto 1, and after making the pass into third on Lap 3 looked like he might make a run at Pettis for second. In Moto 2, Jacob came around the first lap in second before being passed by Maffenbeier and running the rest of the race in third.
After finishing on the podium in each of the last four rounds, Honda Canada GDR Fox Racing's Dylan Wright saw that streak come to an end this weekend when he went 4-4 for fourth overall. Wright rode by himself most of the day and spent all but three laps in fourth position, as well as qualifying there. Dylan now finds himself third in the series standings and is only 1 point back of second place Ryan Surratt.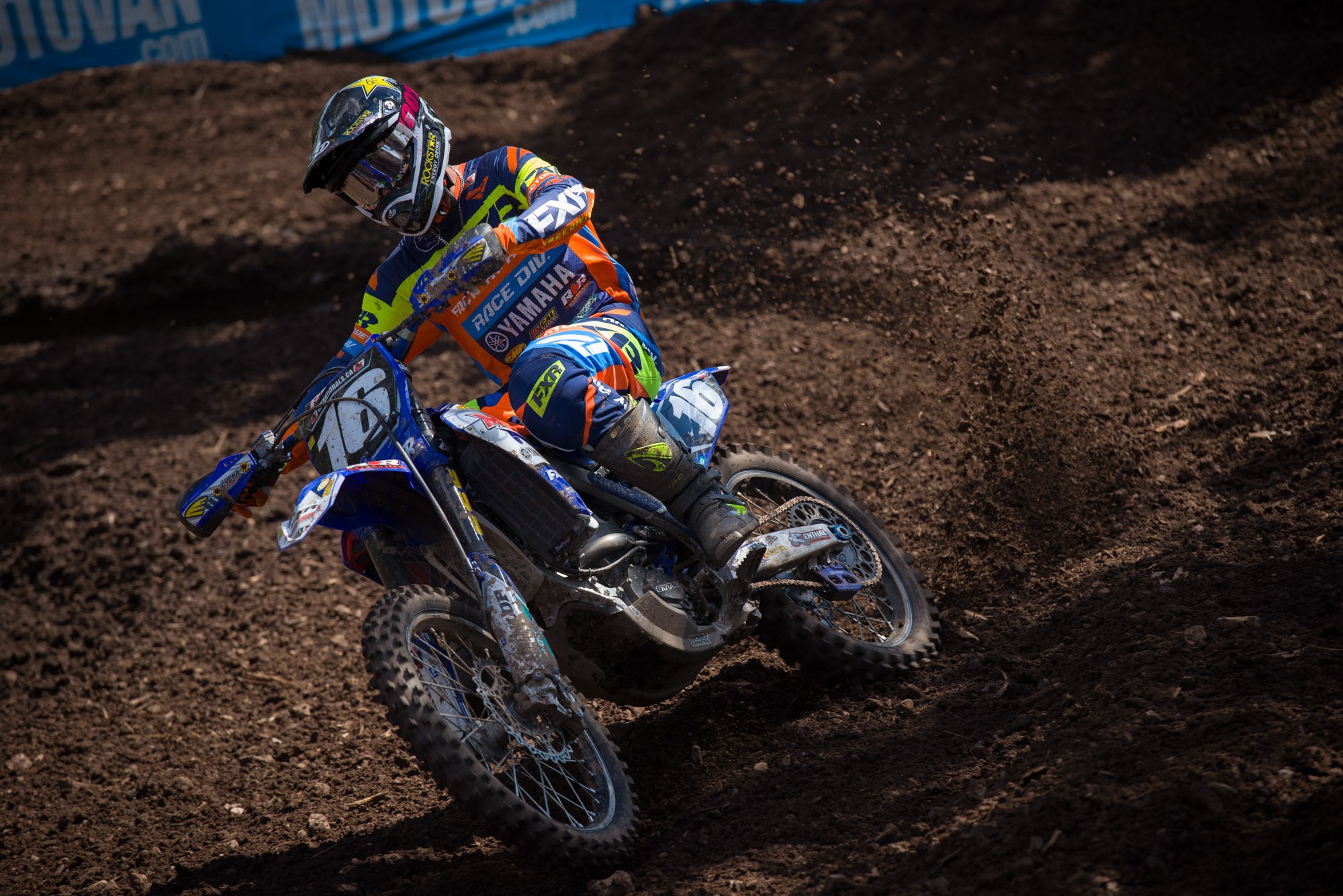 Nut Up Industries Kawasaki's Ryan Surratt qualified sixth and failed to get a good start in either moto like we are used to seeing from him this year. Surratt had to come from outside the top 10 in both motos and make a lot of passes to finish 5-5 for fifth overall. Ryan sits second in the series standings and is now 46 points back of the leader with only two rounds remaining this season.
It was nice to see Redemption Racing KTM's Josh Osby back on two feet after that horrible crash that ended his season last weekend in Truro. Josh was in the booth helping with the commentary during both MX2 motos, and said he is looking forward to coming back in 2018 and fighting for the MX2 Championship again.
Next weekend, the series moves to Deschambault, Quebec, just outside of Quebec City, as Round 9 of the 2017 CMRC sanctioned Rockstar Energy Drink Motocross Nationals presented by Motovan will take place next Sunday, August 6th. Next weekend's National caps off one of the busiest weeks of racing in Canada this year as the CMRC Eastern Canadian Amateur National will run prior to Round 9. If you are in another part of the country and are unable to attend the race, you can see all the action live by downloading the free Conx2share app or logging on to www.conx2share.com and live stream every moto on either your mobile phone or computer.
MX1
| | | | | |
| --- | --- | --- | --- | --- |
| OVERALL FINISH | RIDER | MOTO 1 | MOTO 2 | BIKE |
| 1st | Christophe Pourcel | 2nd | 1st | Husqvarna |
| 2nd | Matt Goerke | 1st | 2nd | Yamaha |
| 3rd | Mike Alessi | 3rd | 3rd | Kawasaki |
| 4th | Kyle Chisholm | 5th | 4th | Honda |
| 5th | Tyler Medaglia | 4th | 5th | Honda |
| 6th | Colton Facciotti | 6th | 6th | Honda |
| 7th | Cade Clason | 10th | 7th | KTM |
| 8th | Jesse Wentland | 9th | 8th | Suzuki |
| 9th | Keylan Meston | 8th | 9th | Yamaha |
| 10th | Tim Tremblay | 11th | 10th | Yamaha |
MX2
| | | | | |
| --- | --- | --- | --- | --- |
| OVERALL FINISH | RIDER | MOTO 1 | MOTO 2 | BIKE |
| 1st | Shawn Maffenbeier | 1st1 | 1st | Yamaha |
| 2nd | Jesse Pettis | 2nd | 2nd | Yamaha |
| 3rd | Jacob Hayes | 3rd | 3rd | Kawasaki |
| 4th | Dylan Wright | 4th | 4th | Honda |
| 5th | Ryan Surratt | 5th | 5th | Kawasaki |
| 6th | Davey Fraser | 9th | 6th | Husqvarna |
| 7th | Tanner Ward | 8th | 7th | KTM |
| 8th | Hayden Halstead | 10th | 8th | Yamaha |
| 9th | Bobby Piazza | 7th | 12th | Husqvarna |
| 10th | Jeremy Pronovost | 13th | 9th | Yamaha |
MX1 Championship Standings
| | | |
| --- | --- | --- |
| STANDING | RIDER | POINTS |
| 1st | Matt Goerke | 425 |
| 2nd | Christophe Pourcel | 406 |
| 3rd | Mike Alessi | 366 |
| 4th | Colton Facciotti | 366 |
| 5th | Tyler Medaglia | 355 |
| 6th | Dillan Epstein | 328 |
| 7th | Kyle Chisholm | 298 |
| 8th | Tim Tremblay | 263 |
| 9th | Cade Clason | 248 |
| 10th | Nathan Biles | 208 |
MX2 Championship Standings
| | | |
| --- | --- | --- |
| STANDING | RIDER | POINTS |
| 1st | Shawn Maffenbeier | 388 |
| 2nd | Ryan Surratt | 342 |
| 3rd | Rylan Wright | 341 |
| 4th | Josh Osby | 307 |
| 5th | Cole Thompson | 298 |
| 6th | Jacob Hayes | 286 |
| 7th | Jesse Pettis | 259 |
| 8th | Davey Fraser | 250 |
| 9th | Casey Keast | 249 |
| 10th | Hayden Halstead | 238 |