Denmark Captures 2017 FIM Junior Motocross World Championship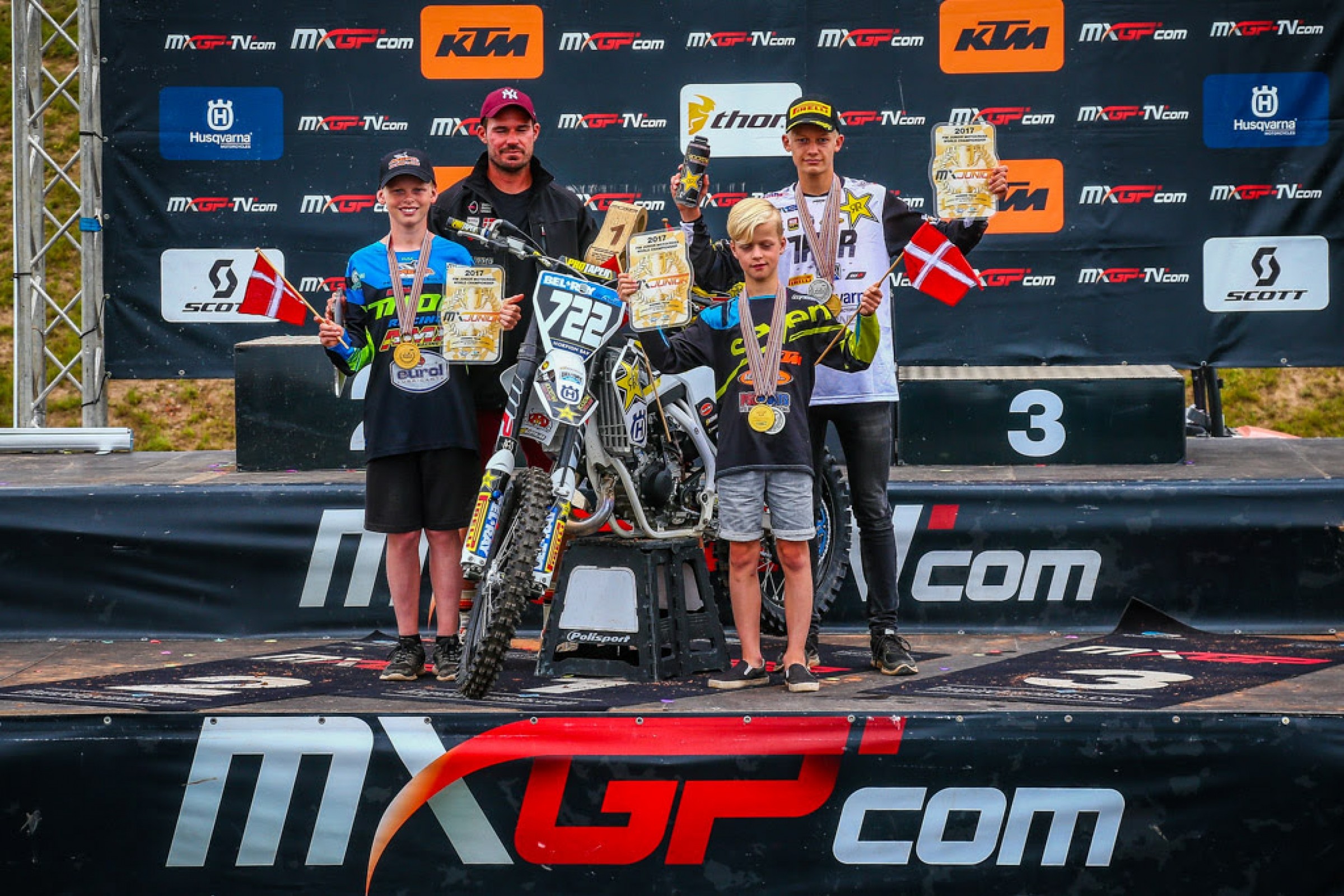 (TARTU) Estonia - Perfect temperatures this morning encouraged 80 eager youngsters to race for the win today in the 2017 FIM Junior Motocross World Championship as another 40 fought for the 65cc FIM Junior Motocross World Cup. Coming out on top of the world in their respective classes were Gianluca Facchetti, Eddie Jay Wade, and Ivano Van Erp.
125cc Junior Motocross World Championship
The youthful racers of the 125cc World Championship launched off the dirt start of the Lange Motokeskus circuit and the #22 of Gianluca Facchetti led the field across the Fox Holeshot line. Facchetti was closely followed by Brian Moreau and further back was Rockstar Energy Husqvarna Factory Racing's Mikkel Haarup running third.
While Facchetti started to pull a gap on Moreau the Frenchman settled into second. With Facchetti out of sight Haarup locked in on Moreau and patiently closed onto the back wheel of the #225 machine.
It wasn't until the later stages of race that Haarup made a pass to secure second, eventually finishing only 4 seconds back of Facchetti.
Kevin Horgmo was charging the entirety of Race 1 putting in a late charge to post his fastest time on the 15th lap of 16 total. Horgmo finished the race in 4th and Matteo Pucinelli rounded out the top five.
For Race 2 Facchetti had another good jump off of the gate but was beat around the outside of the first turn by Jeremy Sydow. Fachetti didn't wait to take the lead however and at one point had a 16 second gap.
Early in the race Haarup ran second but a mistake on the back side of the track handed the position to Horgmo. Haarup remounted his Husqvarna quickly, losing only the single position that he was unable to take back. Race 1's third place finisher, Moreau, didn't have the start he wanted in race 2 but rode to a strong 4th while Rick Elzinga took 5th.
In the overall Facchetti's 1-1 was the clear winner and Haarup's 2-3 beat out Horgmo's 4-2. Facchetti in the press conference said, "I'm so happy about this race, it is amazing that I am World Champion. I've dreamed so much about becoming a World Champion this year and thank you to everyone who has helped me."
Mikkel Haarup in the press conference said: "I rode good I would say but Gianluca was just faster than me which I have to accept. I wanted to win but obviously that wasn't possible this weekend, I know I did everything I could and that's why I am happy with my second."
125cc
| | |
| --- | --- |
| OVERALL FINISH | RIDER |
| 1st | Gianluca Facchetti |
| 2nd | Kevin Horgmo |
| 3rd | Mikkel Haarup |
| 4th | Brian Strubhart Moreau |
| 5th | Rick Elzinga |
| 6th | Andreas Hiiemagi |
| 7th | Tim Edberg |
| 8th | Rene Hofer |
| 9th | Raivo Dankers |
| 10th | Emilio Scuteri |
85cc Junior Motocross World Championship
The 125cc class wasn't the only one that saw dominance as the 85cc Champion Eddie Jay Wade also took commanding double victories.
Race 1 was perfect for the Brit when he took the Fox Holeshot by a relatively large margin and then led every lap to the finish. In second was Noel Nilsson who early in the race was right on the lead pace.
Nilsson looked as if he would catch Wade but never came close enough to make the pass. Team Sweden not only had Nilsson up front but also Max Palsson in a lonely third. 4th and 5th were Netherland's Kay Karssemakers and Germany's Constantin Piller.
In Race 2 Wade was beat on the start by Magnus Smith but #17 kept the winning form from Race 1 taking the double victory and the overall. Nilsson had a similar story with a bad start and after passing several riders again found second.
The race for the 3rd was a 4 way battle between Kay Karssemakers, Florian Miot, Magnus Smith, and Kay de Wolf. The 4 racers shifted positions back and forth with the Holeshot winner Smith fighting to stay up front. Karssemakers took 3rd while Smith held on for 5th behind Miot but ahead of De Wolf.
With the 1-1 Wade was crowned World Champion with Nilsson 2nd and Karssemakers 3rd. Eddie Wade in the press conference said: "It feels really special to win for Great Britain, I can't express how much it means to me."
85cc
| | |
| --- | --- |
| OVERALL FINISH | RIDER |
| 1st | Eddie Wade |
| 2nd | Noel Nilsson |
| 3rd | Kay Karssemakers |
| 4th | Florian Miot |
| 5th | Max Palsson |
| 6th | Magnus Smith |
| 7th | Kay de Wolf |
| 8th | Piler Constantin |
| 9th | Adam Zsolt Kovacs |
| 10th | Andrea Roncoli |
65cc Junior Motocross World Cup
The youngest riders were the little 65cc warriors fighting for the FIM Junior Motocross World Cup.
In race 1 the #47 of Alessandro Gaspari took the FOX Holeshot. Team Netherland's Ivano Van Erp positioned himself well behind Italian Ferruccio Zanchi. Zanchi who had the fastest qualifying time of his group Saturday lead the first laps before fall left him 29th.
After Zanchi went down Van Erp took over the lead and never looked back winning the race 8 seconds ahead of the newly crowned EMX65 champion Mads Fredsoe Sorensen.
Poland's Maksymilian Chwalik had a comfortable race of his own for third ahead of team Australia's Kayden Minear and Finland's Saku Mansikkanäki.
Race 2 was almost identical up front with Van Erp in the lead ahead of Mads Fredsoe all the way to the finish.
Kayden Minear however moved up a position this time edging out Chwalik. With the two tying in points the final podium spot went to Minear with the better result in race 2 and Mansikkamaki took fifth overall. Van Erp in the press conference said: "This is something very special, my weekend was really good."
65cc
| | |
| --- | --- |
| OVERALL FINISH | RIDER |
| 1st | Ivano Van Erp |
| 2nd | Mads Fredsoe Sorensen |
| 3rd | Kayden Minear |
| 4th | Maksymilian Chwalik |
| 5th | Saku Mansikkamaki |
| 6th | Jet Alsop |
| 7th | Wal Beaney |
| 8th | Kirils Maslovs |
| 9th | Aleh Makhnou |
| 10th | Kasimir Hindersson |
Junior Winning Nations
The best overall team went to Denmark with 10 points, barely besting team Netherland's 13 point score, while Italy was the team taking the 3rd best spot. The last competition to be decided was the Ride Green Cup which was based on environmental friendliness of the team in combination with the promotion of the cause through social media and Team Japan took the title.