You may remember Dillan Epstein as a promising young amateur rider set to make his professional debut in 2013. Rumor had it he'd be aboard Monster Energy/Pro Circuit Kawasaki equipment too—he was already testing and practicing on team bikes—but things ended up falling through and Epstein found himself stepping into professional competition on his own program with support from Team Green.
Since then he hasn't done much in the way of making headlines, but that all changed last week when he put in a perfect 1-1 performance at Pleasant Valley MX Park at the Canadian Nationals. The win itself is impressive—he went through names like Matt Goerke, Christophe Pourcel, Colton Faccioti, Mike Alessi, Tyler Medaglia, and more—but it's downright exceptional when you consider what Epstein's gone through in the last five years.
The trouble started in his rookie year when he badly dislocated his knee at Southwick in 2013, and in Epstein's words, "started a whole chain of events that made it feel like the injuries were nonstop from that point forward." After healing up Epstein raced a few Nationals in 2014, even scoring a 12th overall at Hangtown, but ended up going to work in construction for his dad. When an opportunity came up a few months later to race a pair of Canadian Nationals, Epstein dropped his carpenter's hammer in the hopes of dropping the racing hammer up north. Unfortunately he ended up blowing out the same exact knee, prompting a return to working construction and "doing normal life stuff."
Epstein's racing window wasn't closed just yet though, and in 2015 he got the chance to go race KTMs in Europe, only to learn this blessing was actually a curse in disguise.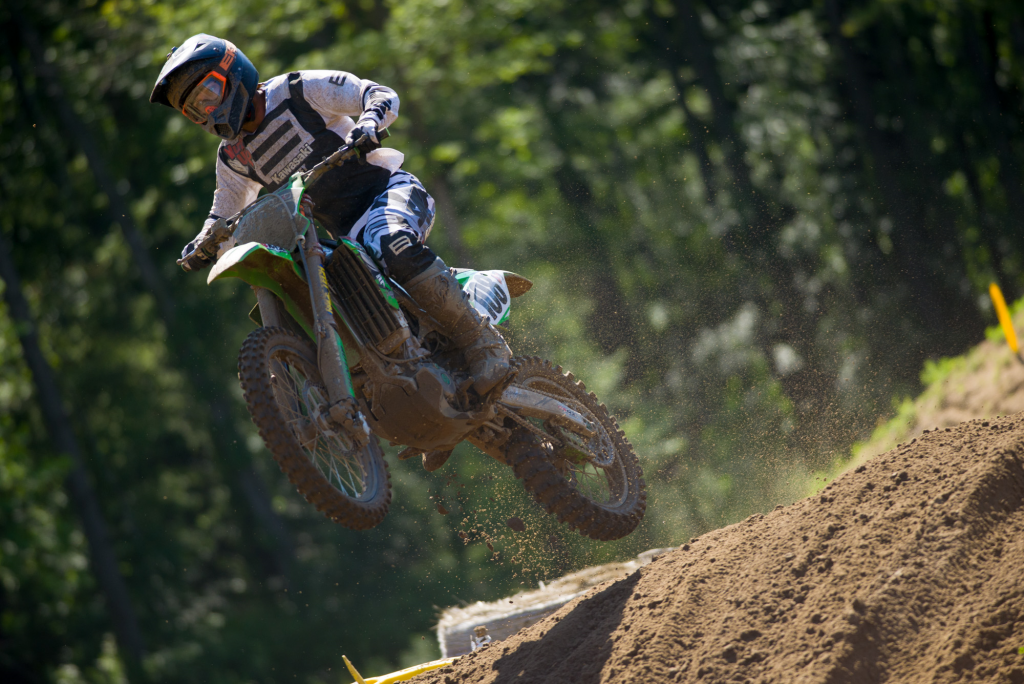 "In 2015 I did a warmup race at the Czech Republic, my first one back, and I got cleaned out on the face of a tabletop. The race was just for fun and to get the ball rolling again. I was going to stay out there and do German Supercross and all the European supercross stuff to get things going again," Epstein recalls. "Then that warmup race I did I got taken out. I was doing well but I got collected when a guy cross-jumped me over a tabletop. I dislocated my collarbone, collapsed both lungs, and one of my ribs broke and punctured my stomach. It was a whole nightmare from that point on. That was the first crash that scared me, as far as getting hurt. I've never been scared to get hurt before that. Sitting in the hospital for days, I was thinking, 'I'm done. I'm over this. Every time I touch a motorcycle I get hurt.'"
Obviously Epstein did end up touching a motorcycle again, but it didn't happen overnight. After deciding he wasn't done racing, Epstein wasn't initially able to get a program put together and with the 2016 season just weeks away, he resigned himself to going back to work construction yet again. Then the phone rang and Epstein found himself going racing with Nut Up Industries, but the results just weren't there.
"My whole season was kind of a mess," Epstein says. "It was a new team and not all the puzzle pieces were put together. We didn't have great chemistry. It had nothing to do with the owner or anything, just the people involved at that particular moment in time."
Fast forward to 2017. After racing some supercross races "for fun," the decision was made to race Lucas Oil Pro Motocross and Epstein buckled down hard with riding and training. His goal? To be a top-10 guy in the 450 Class, something he feels he could have achieved with better starts at Glen Helen, where he went 18-12 for 16th overall. He probably would have gotten that top 10 at some point this summer, but he and the Nut Up Industries Team instead went to Canada, where Epstein promptly won the first moto of the season in Kamploops. Then, at the seventh round last weekend, he went out and dominated to notch a perfect 1-1, the first of his professional career.
"All that work I'd put in all this time over the last five years, it paid off. Even though it's Canada, I still beat some serious dudes, they're no joke."
"I got pole position, rode the way I was supposed to ride, and I just went out and did my thing," Epstein says. "It felt so good and I knew I could do it. I set that goal, set that bar, for myself, and went out and achieved it. But honestly it wasn't as emotional for me as winning that moto in Kamloops. That win was the first win I'd gotten in five years that was important. I was like, 'Wow, I just won!' I couldn't even believe it for a minute. All that work I'd put in all this time over the last five years, it paid off. Even though it's Canada, I still beat some serious dudes, they're no joke. Overcoming the injuries and all of that over the last five years, it's one of the best feelings in the world."
So what's next for Epstein? Although he doesn't have anything on paper just yet, he says he's looking at a few offers from teams to race Monster Energy Supercross in 2018, and when he's done racing the Canadian Nationals this summer, he'll head back to America to once again get the knobby rolling.
Epstein would like to thank NutUp Industries, RBI Motorsports, Shift, Fox, C4MX, Race Tech, EKS Brand Goggles, ODI, SKVI, Kawasaki of Modesto, Dunlop, Dr. Terry Weyman, NoToil, MotoCutz, Rekluse, Works Connection, Boyesen Factory Racing, Vortex Ignitions, VP Fuels, Yoshimura, and his dad.