Glendale, AZ
Glendale
Monster Energy AMA Supercross Championship
On paper a twelfth place finish virtually goes unnoticed, but in Dillan Epstein's case it felt like a win. One year ago Epstein didn't think that he would race professionally again. He had fought through countless injuries, loss of support, and basically had to rebuild himself.
When we called the Nut Up Industries/RBI Kawasaki rider on Tuesday morning to check in on his Oakland finish, we didn't realize the wild story we would actually get. As you'll find out, Epstein ended up spending a nightmarish nine days in a Czech Republic hospital with limited English translation after an overseas race gone wrong in 2015. It was just another scary setback at the time.
Those injuries cost him the entire 2015 season, and he would struggle to find the purpose to come back to the sport he loves. He decided to come back after getting a call from his team in the hopes to settle some unfinished business. This is one of the wildest stories you'll read in the sport this week.
Racer X: First, I have to commend you for finishing twelfth in your first main event of the season.
Dillan Epstein: Yeah, it was sick! I didn't really get any supercross training in before the season either. I only raced supercross in 2013, so it's still new to me. To get in the main event like that and finish twelfth feels really good. It's like the pieces of the puzzle are starting to come together for me. It's taking a little bit longer than I'd like, but Oakland was good for me.
We haven't talked to you since 2014 and haven't seen you at the races. Where did life take you in 2015?
In 2015 I didn't do any races at all and I was living a normal life. I guess you could consider it a normal life because I'm not sure what other people consider normal. My switch from normal would be not getting on a motorcycle everyday. I was working for my dad and his construction company. I was going to go to school for business and try to take over the company. I got the call to come race supercross and that's what ended that.
Prior to that I had gotten a call to race in the Czech Republic from a close friend of mine. He had a bike and I was going to race some GPs and other little supercross races. I went for about six months and the first race I did, just for fun, one of the guys swept me off the face of the jump. I had no bike under me and I hit the ground. Long story short I was airlifted, got surgery on my shoulder, and it was pretty scary for a while. I almost gave up racing because of this crash. In the hospital I was just thinking about whether or not racing was really worth it anymore.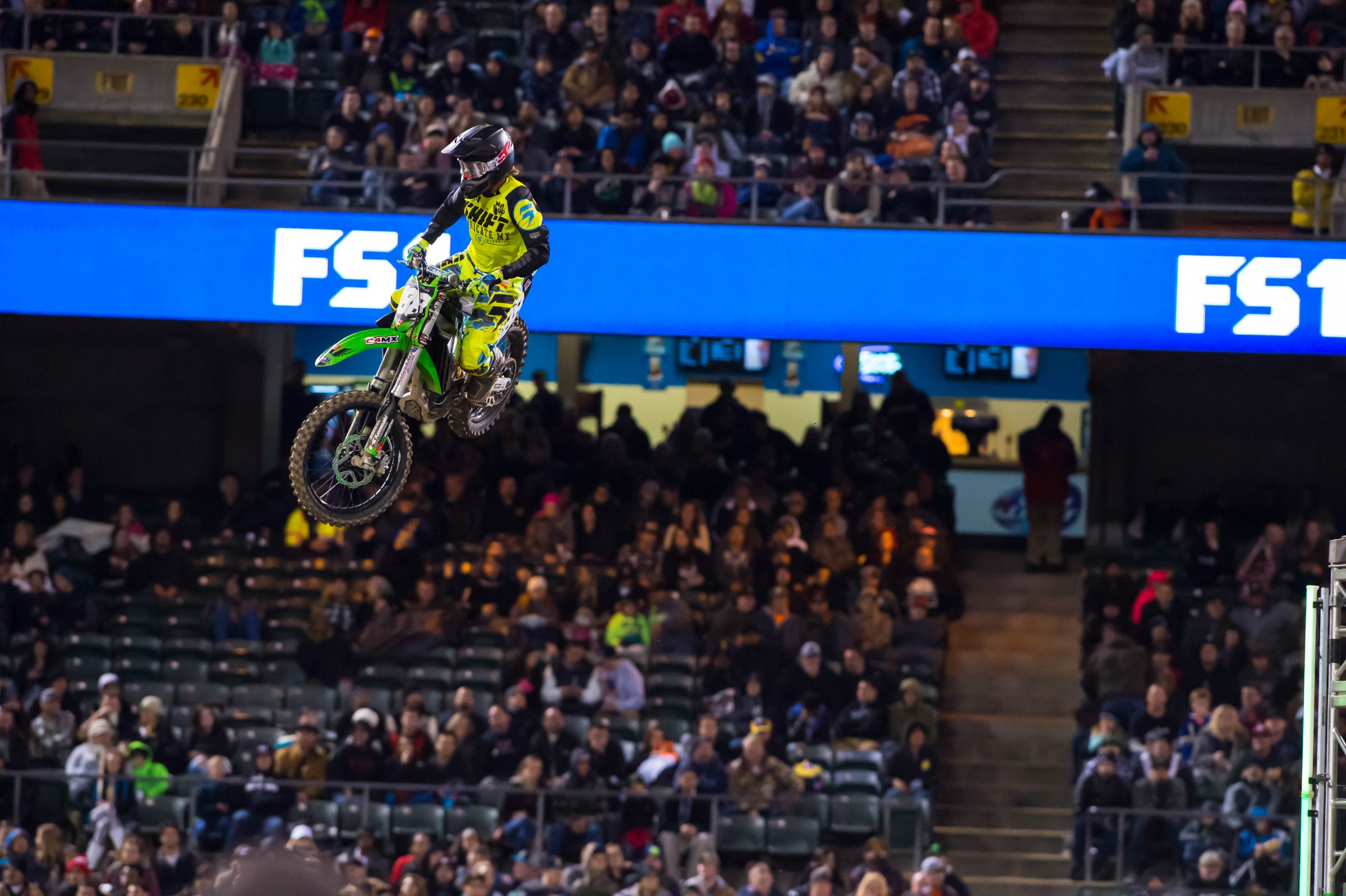 To be in the hospital in the Czech Republic was probably sketchy for you. Do you care to elaborate?
Oh man, my friend had to translate everything. The reason I was airlifted was because I couldn't breathe. Both of my lungs had collapsed. His mom was one of the head surgeons at one of the hospitals, but the first hospital I was at was just keeping me for money. They just kept pumping me full of drugs.
That sounds like the basis of a horror movie!
Well, the guy in the ambulance just had a heart rate monitor to check your pulse. I didn't have any pain medicine until the helicopter came. When I got to the hospital they told me what I had broken. As the days went by there was always something different that was wrong with me. They would tell me that I needed more surgeries. My buddy from Czech went to one of the nurses and asked them what the deal was. He wanted to know why I wasn't transferred to his mom's hospital. The nurse told him that they were keeping me there for money because the hospital was going under. I was American and they figured I had a ton of money. In the Czech Republic the American dollar converts to a lot of their money.
The story goes on too! When I was being transferred the guy who was driving almost rolled the ambulance. They looked back at me after it almost happened and gave me thumbs up, like you good?
The love for the sport and being on a motorcycle is what keeps me going. The feeling racing gives me is something that I can't get in going to school or working construction.
I'm sure you answered back, "Yeah, bro, I'm great."
[Laughs] I can look back now and laugh but at the time my shoulder was popped out and I was pissed off. When I got to the next hospital my buddy's mom fixed me up and that was fine. However, they ended up overdosing me on anesthetics. They had no one who could translate to me how I felt. After I overdosed they gave me nothing.
At this point I don't even know how to respond to what you're telling me.
I know it sounds crazy, but it's all true. Before the injury I got to see Europe and experience life outside of motocross. Coming back to racing you appreciate the little things a lot more, like a twelfth place finish in a supercross. [Laughs]
For all of the adversity you've been through in your professional career that had to feel like a win.
To be honest it did. To see how happy my performance made everyone, like my dad, was great. Before I was so used to doing well that a twelfth a few years ago was like, what are you doing? Now it's awesome. My family has watched me come back from injury, being out of shape, and not riding. Now I'm putting the work in and it's coming together. I haven't seen my dad smile like that in a long time and it was cool to see him so excited and happy. Even for myself, I came off of the track after riding the best that I could and that's where I finished.
How was it being in the main event after everything you've gone through?
It's a step in the right direction. I finished one spot behind Jordon Smith and that felt good. For a while there I had started to doubt myself. I didn't feel comfortable at all on the bike. It started to get really stressful. Finally I had a breakthrough with suspension. I don't know even how I like bike in supercross because I've never raced it before. I have a platform to build off of now, which is great. Oakland was pretty cool.
[Track Epstein's journey back to supercross with the mini-series The Life of Eptimus Prime on YouTube.]
Are you completely healthy right now?
Yeah, my knee was my biggest issue. I'm sure anyone with a knee issue knows what I'm talking about. It's such a big deal because when we ride it's our main support. After the first knee surgery something didn't feel right. My second knee surgery was a fluke because I didn't even crash. My foot came off the peg in Canada when I was racing for the Monster Energy Kawasaki team up there. I was worried about that, but I also had hurt my shoulder, which is held together by pins. It affected my collarbone too. The ligaments that I had torn are healed, but because the pins are in there the ligaments don't need to be in there. My shoulder should never pop out again.
Going through all of this adversity to start your pro career what keeps you going in this sport? Why keep going through all of this pain when you could just go to school and run a business?
The love for the sport and being on a motorcycle is what keeps me going. The feeling racing gives me is something that I can't get in going to school or working construction. I feel like motocross is my escape. We are a bunch of rebels that no one understands and that's what a lot of athletes feel like. I saw the partying side of school and that doesn't attract me. I don't need that. My close friends today are still doing the same stuff they did in high school and it's like when are you going to find something different? If I have the opportunity to race then I'm going to take it until I absolutely have to give it up. For a while there I felt like I had to, but I was never really happy with how I left it. Motocross is one big family and at the end of the day everyone is there for one another.
Dillan would like to thank: Nut Up Industries, RBI Motorsports, Kawasaki of Modesto, C4MX, Noleen Suspension, Shift, Fox, HeadHunter Industries, GotCSI.com, SKVI, Showyourpro, and his family.