Millville, MN
Spring Creek (Millville)
Lucas Oil AMA Pro Motocross Championship
After a Monster Energy Supercross season that saw him win three races, Shane McElrath was expected to be a contender in Lucas Oil Pro Motocross. Instead, the Troy Lee Designs/Red Bull KTM rider has struggled to get with the lead pack, logging no better than sixth in any moto this year, and he only did that once. For the most part, the friendly North Carolinian has been stuck around the 9-11 spot.
That changed at Millville, when he finally got a good start and finished third in the second 250 moto. Is this a sign of good things to come?
Racer X: I thought the first 16-1 moto finishes in the history of the sport might have been in play. You were matching [Joey] Savatgy for a bit.
Shane McElrath: I felt good. I was more so just wanting to stay with those guys. I had a few lines that were pretty good, and we'd get right up on Joey. Then a lapper kind of got in my way in the sand and held me up, so I lost a little bit of that tow. But the main thing was I just wanted to stay up there and finally put a good one together. Felt good, I just need [that to happen] more.
First moto wasn't as bad as the 16th makes it look?
Yeah, I fell in the sand and was stuck under my bike. Took me a long time to get up. I think I was top 10.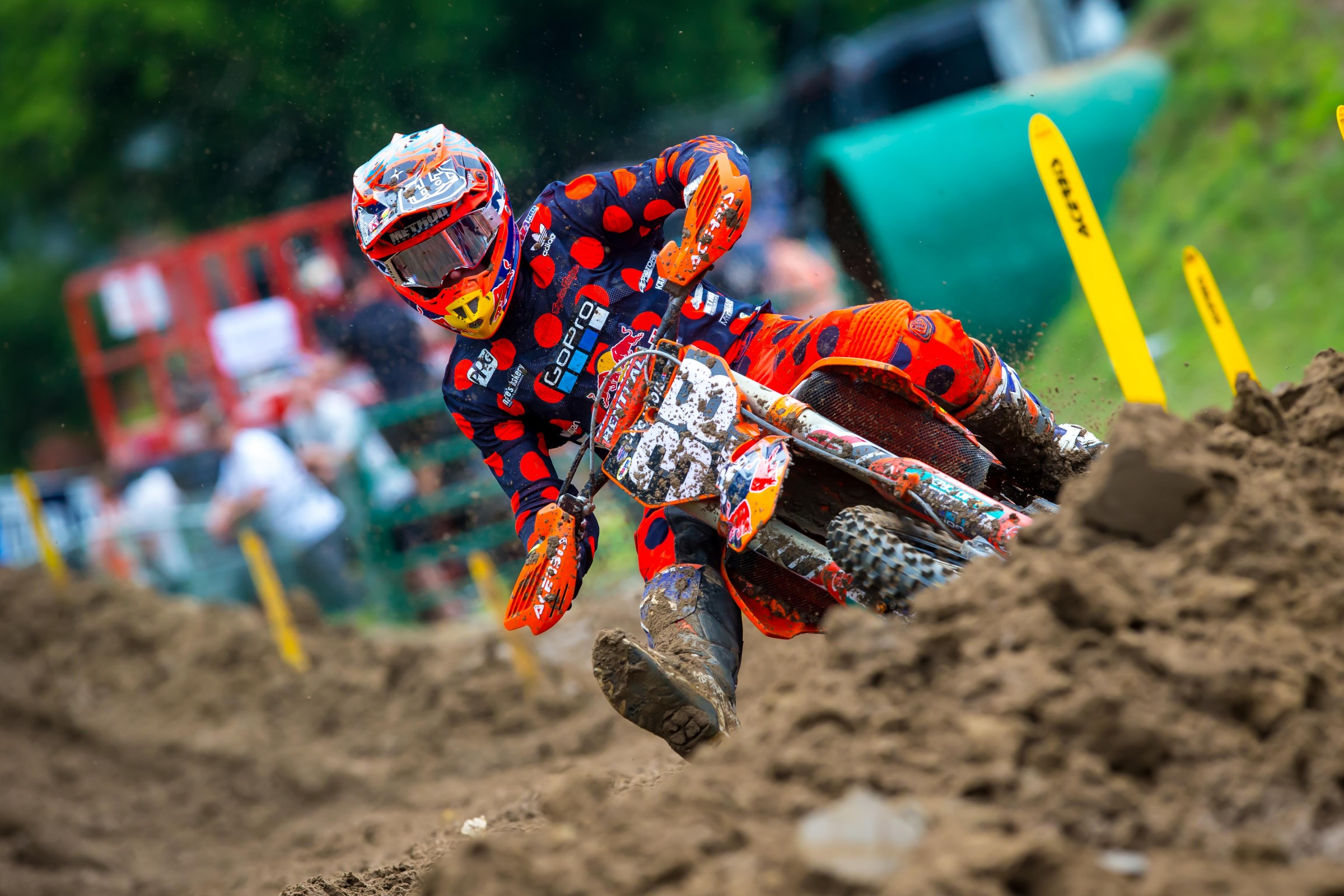 So is this just about finally getting a good start, or are you riding better and feeling better in general?
My starts have been horrible this year. We're still trying to figure some stuff out with the bike. It's frustrating and it's a big hit on my confidence, too, because I'm normally a good starter and I enjoy doing starts. This year I just haven't been able to get good starts, and it's frustrating, because it's hard to pass those guys! Everyone is riding good and going fast. For me, it's been embarrassing. I just wanted to get one, and when I did, I felt comfortable. I felt like I was putting in half the effort to go twice as fast.
Rough season so far outdoors, but you got engaged over the weekend and now you had a good race. Is there a chance that made all the difference?
Um, that's been something I've been going back and forth with. It's been more of a spiritual battle than anything. You start to overthink it, but I just wanted to do it right. I was thinking about it for a while.
You mean how you planned to propose?
No, just should I do it or should I not. I'm so glad I did. I'm happy and she's happy.
How long have you been together?
Two and a half years.
I could see the dilemma—it could be time, but you could also wait a little bit longer.
Right.
So back at Muddy Creek you told me injuries from the end of supercross were holding you back at the start of the Nationals. Are you all healed up now?
It's not too bad, but there are certain things I will do when I still feel it. This morning in practice, when it was really soft and my feet were dragging, I had to paddle my way up, I thought I might have pulled some hip muscles and some groin muscles. But it wasn't too bad.
You had handguards on in that second moto?
Yeah. I had them on all day.
I told you, man, just run them all the time.
You know what? I didn't even ask for those this weekend. I just showed up and they were on. I said "Andy! You nice!"
And you know they're going to take them back off at the next one.
We'll see about that!