Loket, Czechia
MXGP of Czech Republic
FIM Motocross World Championship
If the Red Bull KTM duo of Antonio Cairoli and Pauls Jonass go on to win their ninth and first FIM Motocross World Championship titles in MXGP and MX2 respectively in 2017, then their victories at Loket for the Grand Prix of Czech Republic—a weather-swept 13th round of 19 and the first fixture after a mini summer break—will be somewhat symbolic.
First, Cairoli. The Sicilian has openly stated in the past that the swirling, tight, narrow, stony, and slippery hard-pack does not rank as one of his favourite tracks. Cairoli had not won in the Czech Republic and for what is the definition of an old school motocross layout (although that distinction does carry a certain amount of charm and challenge) since 2012. Cairoli had owned the previous two meetings in Italy and Portugal and rode to a hat-trick last Sunday at a venue where he had been modestly aiming for a podium finish and is now openly talking about preservation of his 90-plus points lead in the premier class standings—effectively a Grand Prix-and-a-half with just six remaining.
Next, Jonass. The 20-year-old standout leader of the MX2 division abruptly ended his second season as a works rider (and in Grand Prix) at Loket in 2016 by getting out of shape on the notoriously steep step-down and sustaining a concussion that meant waving goodbye to the rest of the GP term.
"When I did the track walk many guys were asking me how I felt about the jump, but I actually did it on the first lap of practice," the likeable Latvian said Sunday evening. "It is quite a small jump but last year it was my stupid mistake; I wanted to go too fast and scrubbed it too much. It [the 2016 crash] was not in the back of my mind; I focussed on the race and it was alright."
Arguably the most identifiable element of the serpentine course the daunting step-down features a blind approach and demands commitment. The landing can involve heavy braking and a plough through braking bumps. This section of the track—that ended Josh Coppins World Championship dreams in 2007—carried extra and heart breaking poignancy after the fatal crash of 85cc Moldovan Igor Cuharciuc on Saturday evening. The youngster was immediately attended to by doctors and paramedics after allegedly coming up short on the landing, but a 45-minute resuscitation period was tragically unsuccessful and left the Grand Prix paddock shell-shocked Saturday night. FIM CMS president Tony Skillington—a man who could not beat a drum on motocross safety any louder or more frequently in his official capacity—called the incident a "very unfortunate racing accident."
"I'd like to dedicate this victory to Igor Cuharciuc," said Cairoli post-race. "It was a difficult night for everybody and riding the bike on the spot of the accident was not easy. I want to say we are thinking of the family."
MX2 first race winner (logging a great run through the slick mud after a heavy rain storm Sunday morning helped soften and churn the hard-pack) Rockstar Husqvarna's Thomas Covington said that due care and attention had been paid to the hotspot for the race program.
"I think they actually did a good job keeping it smooth on the landing today and for the second moto it was completely flat, which was good and if that hadn't have been done it would have been very sketchy going into the braking bumps. If they want to make it safer [for the future] then they could round-off the landing a bit more because it is quite peaked and if you clip it then it's not good."
"For MX2 and MXGP guys it is not too bad, but for 65s and 85s you need to be very precise coming out of the corner to jump it," said Jonass.
This year was the second year that European Championship classes in 65 and 85cc had run at Loket and surely the venue for the young talent looking to catch the eye of the teams and factories will now be considered for another site, even if the perils of the sport and motorsport generally can never be eradicated.
Aside from the second EMX85 moto, the racing went on and Sunday's fare in front of a big crowd (Loket is a staple date on the MXGP slate) threw up the second motos in each class as the action highlights. The drying dirt was partly responsible and on such a playing surface good starts of all four motos were nigh-on essential.
The first MXGP affair saw little engagement. Red Bull KTM's Glenn Coldenhoff miscued his start and Suzuki's Arminas Jasikonis demonstrated a classic rookie tendency toward inconsistency by following up his top three potential from Italy and Portugal in the last two rounds with a brace of falls that cast him to the nether regions of the field. World Champion Tim Gajser had some brief heat from Monster Energy Kawasaki's Desalle, but remained imperious—even through pockets of busy backmarkers—to notch his first race win in three months. Cairoli made gains on Rockstar Energy IceOne Husqvarna's Gautier Paulin to slice into third, and then caused Desalle to make a final lap hurry-up after he'd stopped making mistakes and eased some arm-pump issues.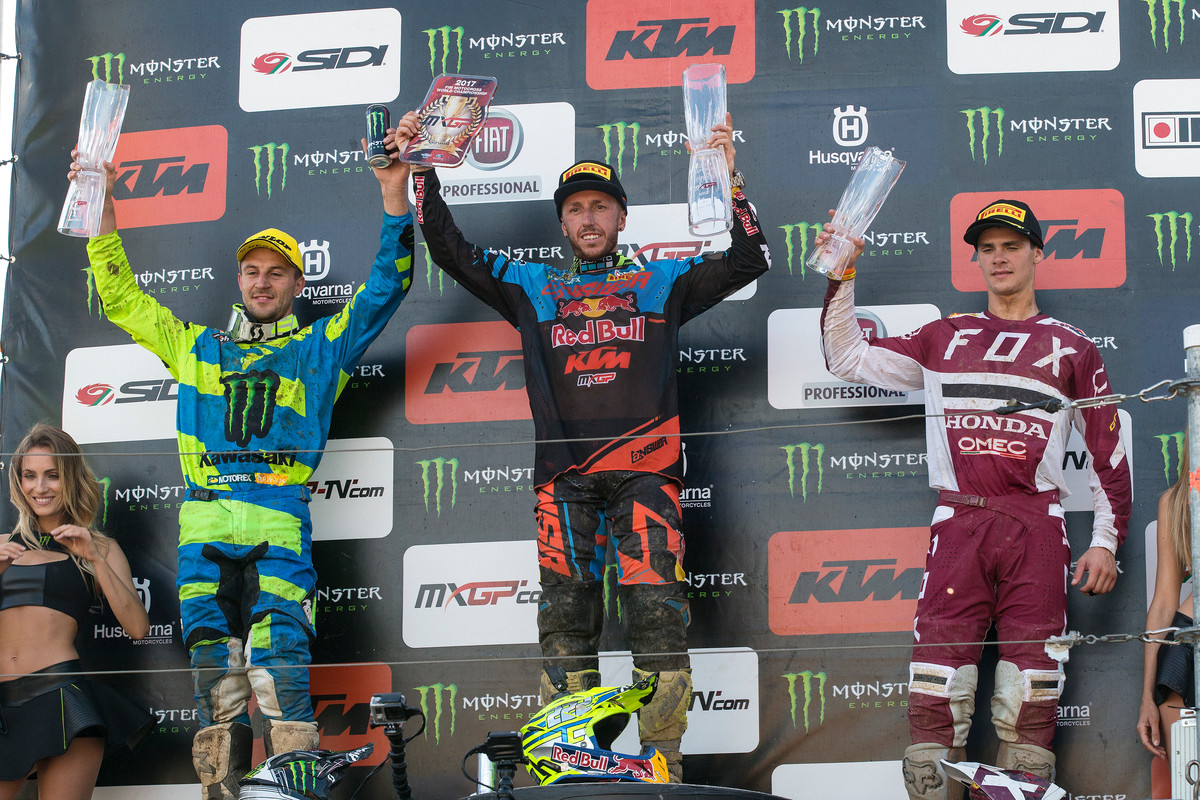 Cairoli slotted into second place behind Gajser in the second moto and the Slovenian was no match for his elder rival. Gajser curiously lacked the strength and speed that made his 2016 form so impenetrable and he slipped back into a frantic tussle for second place with Desalle, Paulin, Monster Energy Yamaha's Romain Febvre, and a bustling Jeffrey Herlings, who rued his performances out of the gate as a reason for missing just his second podium appearance from the last eight rounds. Desalle was the consistent force. His 2-2 meant Cairoli's small milestone (83 career triumphs in the bigger picture) turned into a gain of just one point. Tony seemed relieved and a little bemused to have won for the sixth time in 2017 and with nine moto checkered flags, but the only rider who came close to his level of control was Covington.
The American's technique and throttle control allowed him to dispense with the KTMs early in the first MX2 moto—Jonass habitually accompanied by 16-year-old rookie teammate Jorge Prado for at least the first laps of every race—and his success set up another chance to chase two wins in a season. However a tackier second moto belonged to Jonass, who was more daring from the outset (an exhausted supply of tear-offs and delay in overtaking Prado in the first moto causing the championship leader to finish second) while Covington was pushed wide on the start and then baulked several times on the opening lap to stand outside the top 20. A comeback ride to 10th position surprisingly yielded third place overall and Covington is now the third most successful MX2 rider in terms of trophies behind Jonass and Jeremy Seewer.
Seewer admitted that he didn't know a second place (like Desalle, conceding minimal points to his opposition) could feel so terrible. Seewer, normally so placid and humble, was undone by his first moto start. After struggling to get past Prado for second place in the second dash while Jonass departed, he publicly praised the Spaniard's skill and resilience while also slightly damning the tactics employed by the KTM pair with Jonass allegedly sweeping by far easier than the Suzuki or the prowling Kemea Yamaha of Benoit Paturel.
For Prado's part this was a much-needed return to form after a couple of weeks where the youngster has looked breathless and powerless to see out a two moto program. Jorge is a championship winner, but 2017 is still only his second on a 250 four-stroke and this is without a doubt the longest competitive campaign he has had to tackle.
Loket provided both talking points (Herlings even voiced his concern that the 450s were now too fast for the track and they were restricted by the historic, but condensed trajectory) and topics where words barely seemed necessary. In view of the MX2 and MXGP title tales it was another event chalked off the agenda and with no major upheaval in the championship standings.
In contrast to the formulaic unwinding of proceedings, the FIM Women's World Championship continues to keep fans and riders on their toes. New Zealand's Courtney Duncan won in the Czech Republic largely on the back of her excellent stalk of Kiara Fontanesi and passing the Italian's lagging Yamaha two corners before the flag in the first moto. Duncan's second triumph from four rounds with two still to go gave her the red plate. Duncan, Fontanesi, Livia Lancelot, and Nancy Van der Ven are separated by only 12 points the WMX .
The word Lommel causes riders to tense muscles at the mere thought of the sand that awaits at the Grand Prix of Belgium. Not for the first time, MXGP throws up some delectable diversity from one round to the next with the tracks and surfaces. Lommel might sound vaguely similar to Loket but they could not be more disparate. Cairoli and Jonass will be favourites again come August 6 but there will be fresh opposition, especially from within their own Red Bull KTM team.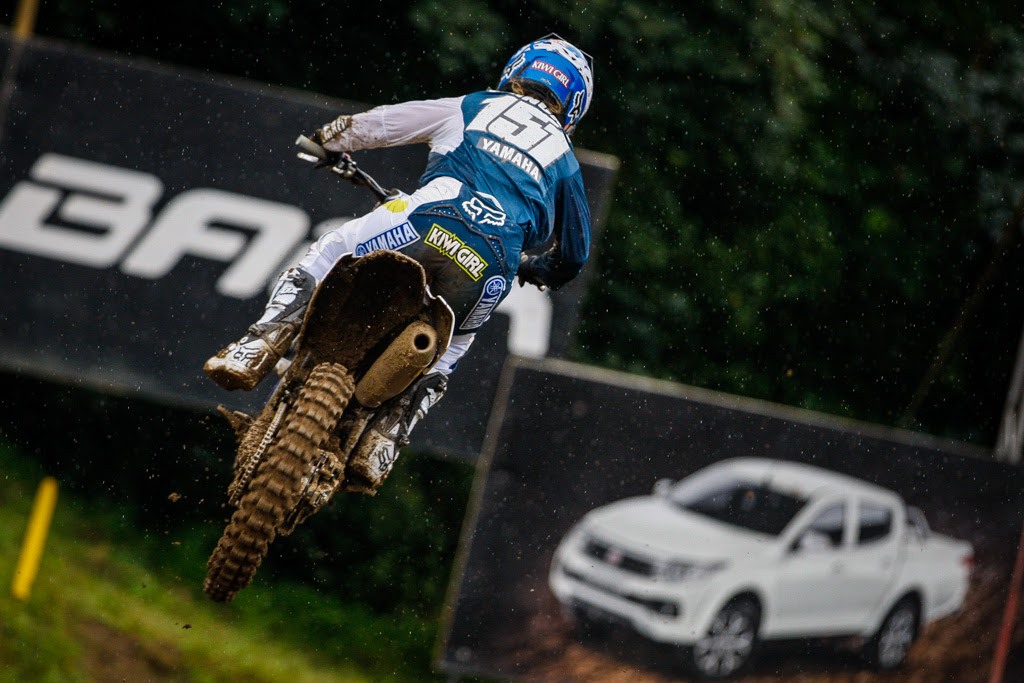 MX1 Overall Finish
| | | | | |
| --- | --- | --- | --- | --- |
| POSITION | RIDER | RACE 1 POINTS | RACE 2 POINTS | BIKE |
| 1st | Antonio Cairoli | 20 | 25 | KTM |
| 2nd | Clement Desalle | 22 | 22 | Kawasaki |
| 3rd | Tim Gajser | 25 | 18 | Honda |
| 4th | Jeffrey Herlings | 16 | 20 | KTM |
| 5th | Gautier Paulin | 18 | 16 | Husqvarna |
| 6th | Romain Febvre | 14 | 15 | Yamaha |
| 7th | Jeremy Van Horebeek | 13 | 14 | Yamaha |
| 8th | Arnaud Tonus | 15 | 11 | Yamaha |
| 9th | Glen Coldenhoff | 10 | 10 | KTM |
| 10th | Evgeny Bobryshev | 7 | 12 | Honda |
| 11th | Max Nagl | 11 | 8 | Husqvarna |
| 12th | Kevin Strijbos | 12 | 6 | Suzuki |
| 13th | Arminas Jasikonis | 1 | 13 | Suzuki |
| 14th | Alessandro Lupino | 9 | 5 | Honda |
| 15th | Tanel Leok | 6 | 7 | Husqvarna |
| 16th | Max Anstie | 0 | 9 | Husqvarna |
| 17th | Jordi Tixier | 8 | 0 | Kawasaki |
| 18th | Jose Butron | 4 | 3 | KTM |
| 19th | Ken de Dycker | 2 | 4 | Honda |
| 20th | Rui Goncalves | 5 | 0 | Husqvarna |
MX2 Overall Finish
| | | | | |
| --- | --- | --- | --- | --- |
| POSITION | RIDER | RACE 1 POINTS | RACE 2 POINTS | BIKE |
| 1st | Pauls Jonass | 22 | 25 | KTM |
| 2nd | Jeremy Seewer | 16 | 22 | Suzuki |
| 3rd | Thomas Covington | 25 | 11 | Husqvarna |
| 4th | Benoit Paturel | 15 | 20 | Yamaha |
| 5th | Jorge Prado | 20 | 15 | KTM |
| 6th | Brian Bogers | 14 | 18 | KTM |
| 7th | Hunter Lawrence | 13 | 13 | Suzuki |
| 8th | Thomas Kjer Olsen | 18 | 8 | Husqvarna |
| 9th | Marshal Weltin | 10 | 10 | Kawasaki |
| 10th | Conrad Mewse | 11 | 9 | Husqvarna |
| 11th | Julien Lieber | 3 | 16 | KTM |
| 12th | Jed Beaton | 7 | 12 | Honda |
| 13th | Michele Cervellin | 8 | 7 | Honda |
| 14th | Brian Hsu | 12 | 3 | Husqvarna |
| 15th | Darian Sanayei | 0 | 14 | Kawasaki |
| 16th | Calvin Vlaanderen | 9 | 0 | KTM |
| 17th | Morgan Lesiardo | 0 | 6 | Kawasaki |
| 18th | Iker Larranaga Olano | 6 | 0 | Husqvarna |
| 19th | Brent van doninck | 0 | 5 | Yamaha |
| 20th | Vas Vaessen | 4 | 1 | Suzuki |
WMX Overall
| | | | | |
| --- | --- | --- | --- | --- |
| FINISH | RIDER | RACE 1 | RACE 2 | BIKE |
| 1st | Courtney Duncan | 25 | 22 | YAM |
| 2nd | Amandine Verstappen | 15 | 25 | KTM |
| 3rd | Nancy Van De Ven | 20 | 20 | YAM |
| 4th | Kiara Fontanesi | 22 | 15 | YAM |
| 5th | Livia Lancelot | 18 | 16 | KAW |
| 6th | Nicky van Wordragen | 14 | 18 | YAM |
| 7th | Shana van der Vlist | 12 | 14 | KTM |
| 8th | Emelie Dahl | 11 | 13 | YAM |
| 9th | Larissa Papenmeier | 16 | 7 | SUZ |
| 10th | Madison Brown | 9 | 10 | YAM |
MXGP Championship Standings
| | | |
| --- | --- | --- |
| STANDING | RIDER | POINTS |
| 1st | Antonio Cairoli | 523 |
| 2nd | Clement Desalle | 431 |
| 3rd | Jeffrey Herlings | 418 |
| 4th | Gautier Paulin | 417 |
| 5th | Tim Gajser | 353 |
| 6th | Romain Febvre | 338 |
| 7th | Max Nagl | 308 |
| 8th | Jeremy Van Horebeek | 294 |
| 9th | Evgeny Bobryshev | 286 |
| 10th | Arnaud Tonus | 279 |
MX2 Championship Standings
| | | |
| --- | --- | --- |
| STANDING | RIDER | POINTS |
| 1st | Pauls Jonass | 548 |
| 2nd | Jeremy Seewer | 501 |
| 3rd | Thomas Kjer Olsen | 403 |
| 4th | Benoit Paturel | 398 |
| 5th | Julien Lieber | 374 |
| 6th | Thomas Covington | 339 |
| 7th | Brian Bogers | 273 |
| 8th | Jorge Prado | 268 |
| 9th | Brent Van donink | 226 |
| 10th | Hunter Lawrence | 225 |
WMX CHAMPIONSHIP STANDINGS
| | | |
| --- | --- | --- |
| STANDING | RIDER | POINTS |
| 1st | Courtney Duncan | 155 |
| 2nd | Kiara Fontanesi | 152 |
| 3rd | Livia Lancelot | 148 |
| 4th | Nancy Van De Ven | 143 |
| 5th | Larissa Papenmeier | 122 |
| 6th | Amandine Verstappen | 121 |
| 7th | Nicky van Wordragen | 119 |
| 8th | Shana van der Vlist | 89 |
| 9th | Francesca Nocera | 77 |
| 10th | Virginie Germond | 70 |