Millville, MN
Spring Creek (Millville)
AMA Pro Motocross Championship
After Marvin Musquin struggled at the High Point National, and word surfaced that he had suffered a torn meniscus in his knee, everyone braced themselves for the "Musquin Out for Season With Knee Surgery" press release. Even his trainer, Aldon Baker, was worried, but when his surgeon looked into it after the race, they realized the tear was small enough that surgery wasn't—and will not be—necessary. The bigger problem Musquin was dealing with was a stretched ligament. That didn't make the knee weak or painful like you would think—it actually made Musquin lose his muscle memory, which led to trouble with balance and coordination with his leg.
"It's the muscle memory, and teaching the leg to fire again," explained Baker after Musquin's 1-1 on Saturday at Millville. "Because the body, it tries to protect itself, so it tries not to use the ligament. With the rehab, you have to get the body to relearn how to fire those muscles."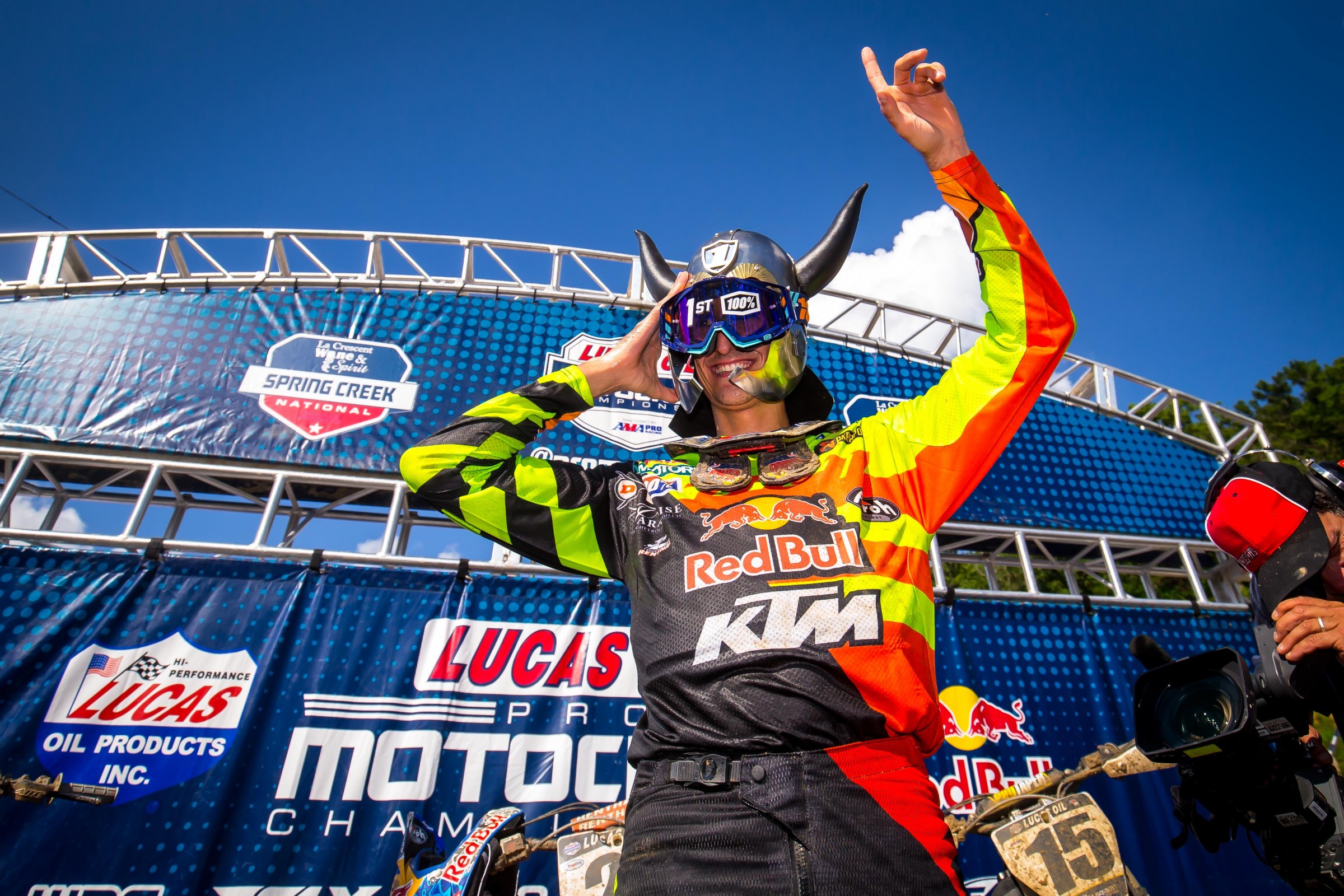 Baker said that therapy sessions weren't just about rebuilding strength or flexibility in the traditional sense. He worked through a series of balance and stability exercises. On his right leg, Musquin could easily stand on a balance board and maintain his balance. But with the injured leg, he was suddenly all over the place, barely able to stand—with Baker demonstrating with some appropriate dance moves to show how Musquin struggled to stay upright with the bad leg.
For strength, Musquin couldn't just do a bunch of squats or leg presses. Instead, they used bands, which are a safer because they provide progressive resistance, preventing him from overdoing it and reinjuring himself. But the strength was only secondary to the muscle memory and coordination—it's truly amazing how quickly the body can lose all of that, and how hard it is to get it back.
"I was riding my dirt bike and the confidence was just gone, especially in the leg on the left turns," Musquin explained. "It was terrible. I couldn't believe how bad it was. It was painful, but it was more strength-wise. It was really bad."
Baker credits Musquin for doubling up on his workload during this process, doing his knee therapy while also maintaining most of his standard training and riding schedule. Surely there had to have been some mornings of struggles where all hope seemed lost—but the extra time invested a month ago paid off with a quick return to 100 percent, and his first ever 450MX 1-1 overall sweep.