RedBud Track 'n Trail
Buchanan

,

MI
RedBud
Lucas Oil AMA Pro Motocross Championship
RedBuuuuddddd!!!! The sixth round of the Lucas Oil Pro Motocross Championship took place this past weekend at the facility that pretty much everyone agrees is the crown jewel of the series. It's also the halfway point of the championship and we're starting to see some things develop so we can start making some easier predictions from here on out.
I don't think it's just the Fourth of July holiday that makes RedBud what it is. I mean, that's got something to do with it, but it can't be everything. I think the goal of MX Sports (a sister company to Racer X) should be to try and make every National just like RedBud. Well, yeah, Matthes … like, duh. I know, I know. So here's some tips for the folks at the other tracks and MX Sports on how to make this happen.
Embrace the party. Due to some incidents over the years, a lot of tracks have cut way down on the party atmosphere at the Nationals. Now, I'm not saying it's cool to have cop cars rolled over and other stuff that happened over the years, but look into having a designated party spot like RedBud does with it's infamous "Lot B." For a lot of fans, the race is secondary and let's get back to what the Nationals used to be about for a lot of people. Heck, High Point tried that this year with RV's Happy Hour and the crowd count was as high as it's been in recent years. Maybe even get a band or something? Perhaps some pit bike racing?
You've got to put up some bleachers at your track, as many as you can fit and don't charge extra to sit in them…. I'm looking at you Glen Helen. People don't want to hang onto a fence all day. It's 2017, you've got to make it convenient.
Highlight your track by putting said bleachers by the big signature jump that you have at your track. This always works well, everyone loves to see big air, bro.
The riders and teams don't want you to wreck the track by having amateur races on it so whatever you can do to have another track somewhere on the property to hold some amateur races on, try to make it happen. I think a lot of tracks moved away from this when the Nationals went to a one-day format on Saturday, but get it back.
Have the race on a holiday. Well, this is much easier said than done.
Something that is not easier said than done—get Grant Langston to host the Friday night festivities.
There you go, step-by-step instructions to get your National on the level of a RedBud. You're welcome.
Okay look, I'm up in Canada visiting mom so you're getting an abbreviated version of Observations today. Just deal with it. Here's what I liked and didn't like from Michigan.
ME LIKEY- TOMAC TAKEOVER
The #3 Monster Energy Kawasaki went 1-1 on the day and in his words he "didn't dork out" early in the race when he didn't grab the starts that he wanted. They weren't bad, but we had seen him have some early race falls. At RedBud he was simply better than everyone else. I know that Blake Baggett caught him in the first moto in a nice ride, but some lappers held Tomac up and he wicked it up at the end. Think of that, you've just done 30 minutes plus one lap on a 450 wide open and then on the last lap you set your best time? Tomac was ruthless at RedBud in both motos, just slowly moving up and taking control. His reward? The red plate for the points lead and I don't think he's going to let it go.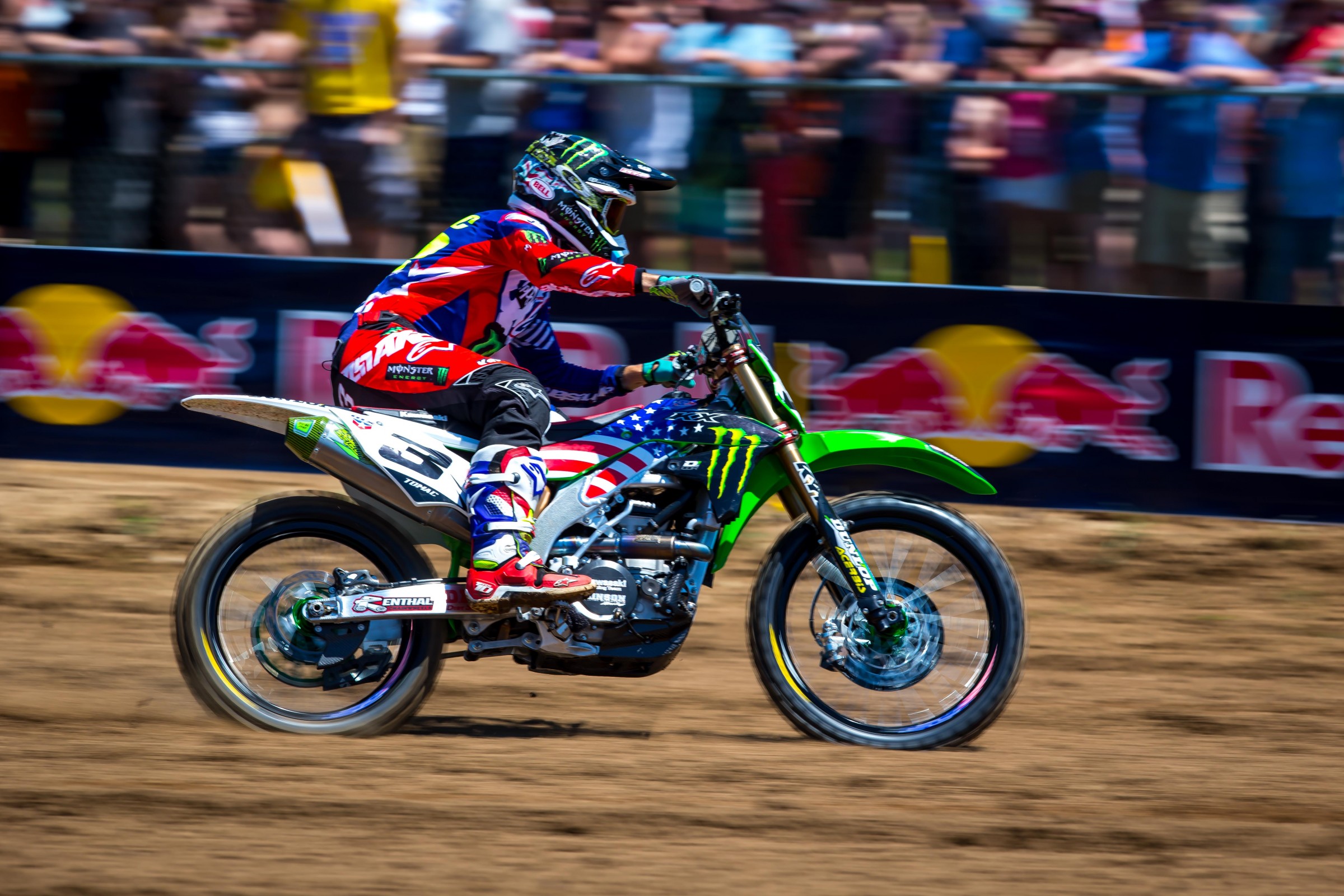 ME LIKEY- NYK
Yeah! Nick Wey came out for his first National in a long time and first race in 2017 (seriously, I want my money back for THIS column I wrote on the dude). It was great to see the #27 out there in both motos just grinding away to a 22-20 finish and a battle with Dakota Tedder in the second moto, a rider that he currently coaches! Try to find someone in the pits who will say something bad about Wey … go ahead and just try. I think he's back into the world of retirement now, but you can never say never with this guy.
ME NO LIKEY- TROLL TRAIN
I mean, Alex Martin did go 3-3 on the day and took second overall, but after the race he was lamenting the lost points to Wacko Zacho (Zach Osborne) in the title chase. A-Mart was poised to go 3-1 to Zacho's 2-2 and win the whole shooting match until he tipped over in a turn with about a six second lead and six laps to go. "We" really needed a win out there and couldn't make it happen. So yeah 3-3 is good, but he had the overall win in the bag.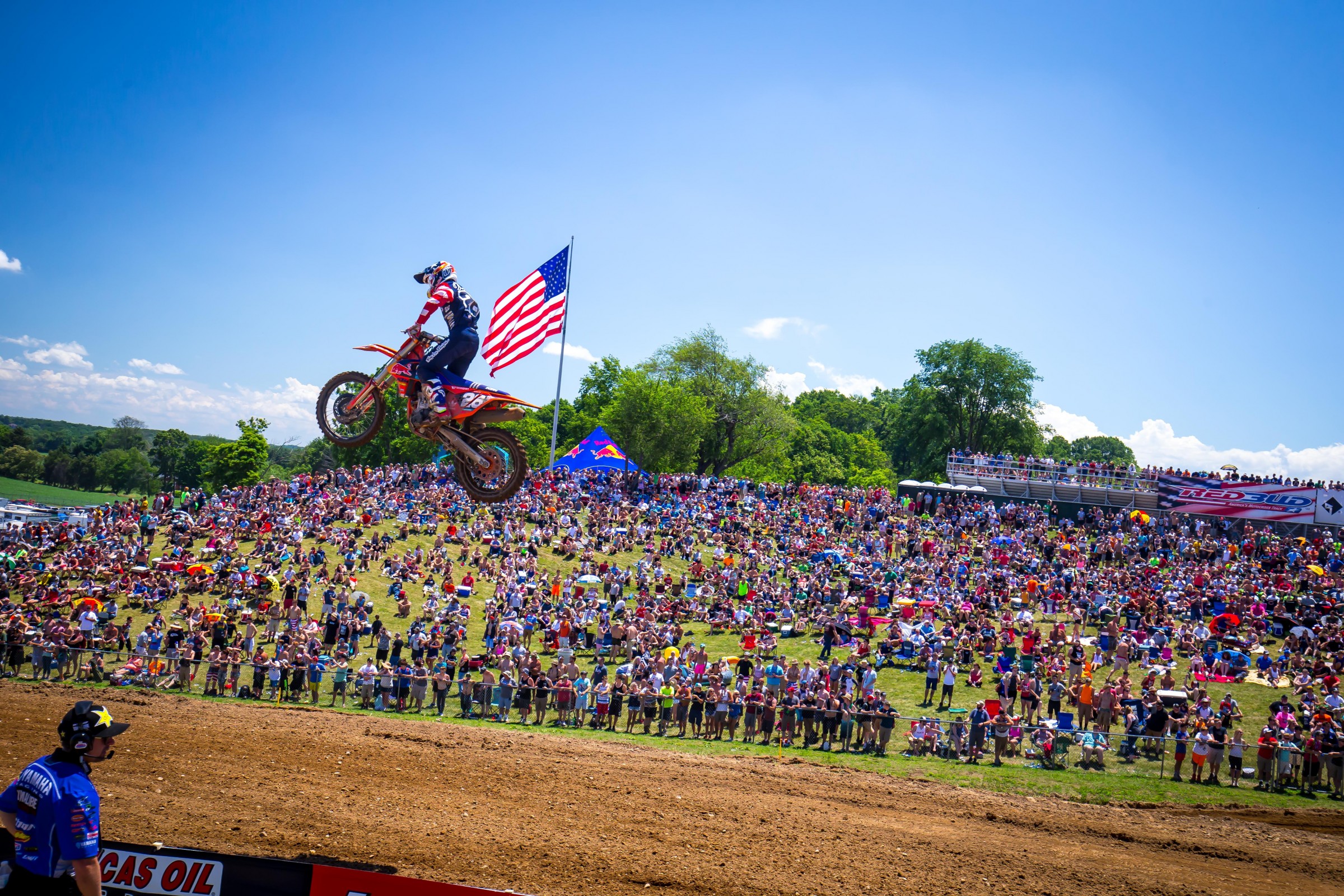 ME LIKEY- ANDO FIRST MOTO
An amazing ride by Jason Anderson in moto one where he was involved with a bunch of other riders in a first turn crash (the combined salaries on the ground in that one was greater than the GDP of Finland). The #21 picked his bike up, climbed to 19th after lap one and then kept on trucking to fourth place. And I was watching him move through the pack with a bunch of other managers, wives, girlfriends (sometimes both!), and assorted hanger-ons and pointing out his charge to the front. No one seemed to notice. It was great!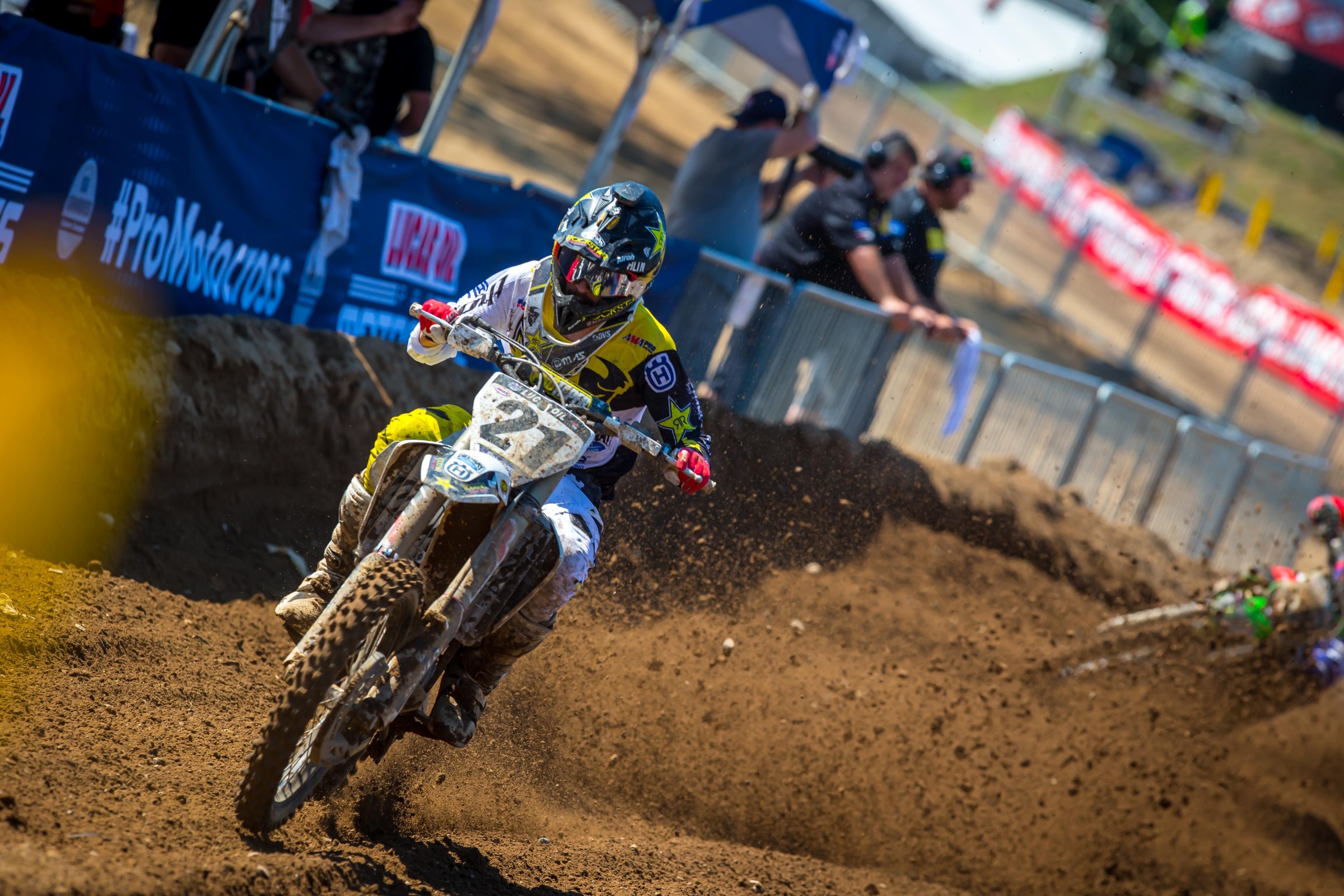 ME LIKEY- DUDE IN CROWD
I thought the guy wearing an eagle head and some sort of clip on wings in the crowd was a really strong look. Runner-up was the guy in full Indian head-dress and tassels on who was pretending to chop away.
ME LIKEY- CC
Christian Craig came back after basically missing two races, grabbed another holeshot and led some laps. Like, how in the heck does that happen, right? He looked a bit winded in the second moto, but to come off the couch and get a strong moto finish being a bit rusty is pretty amazing.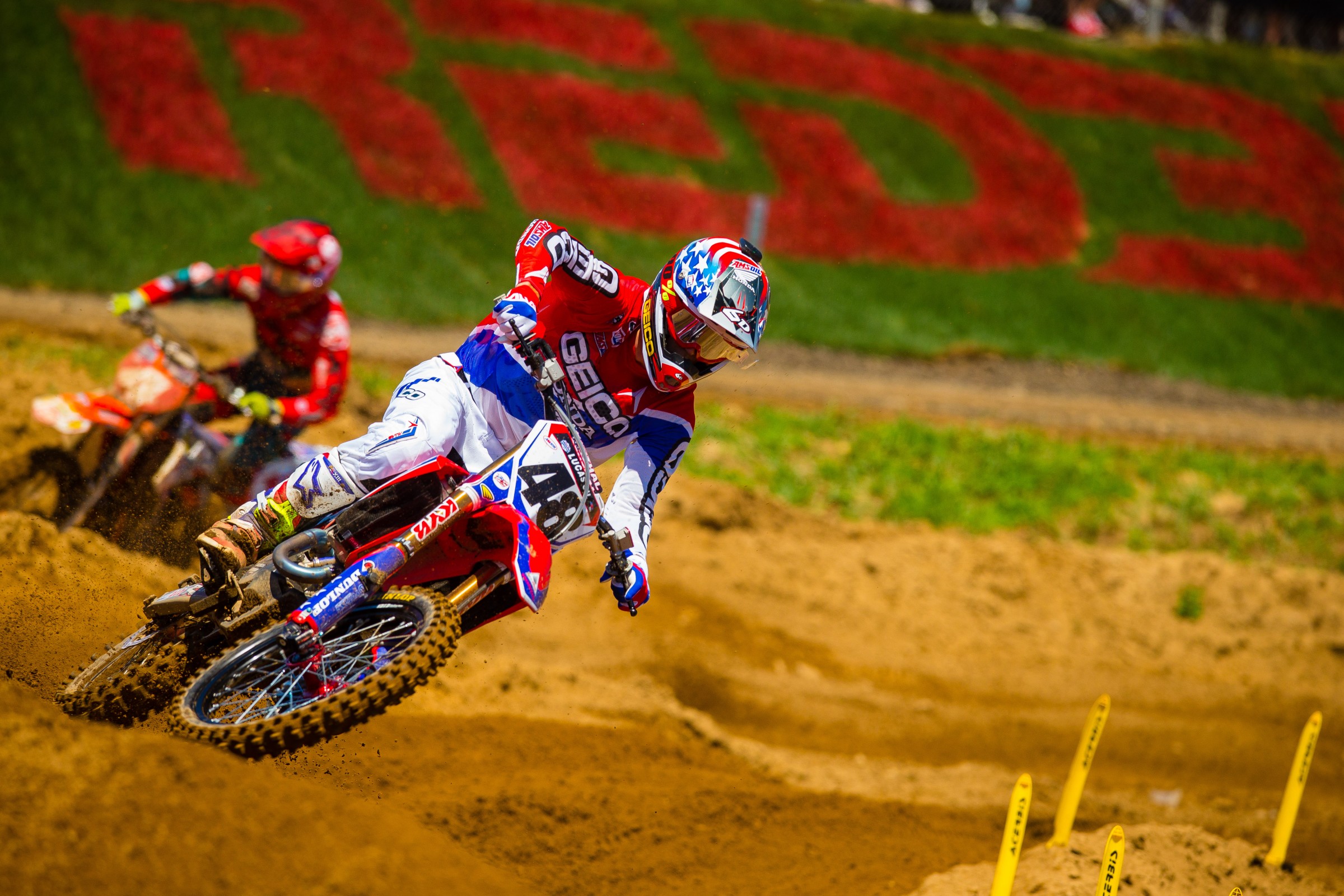 ME LIKEY- RAINING YELLOW
It's not like Suzuki is racking up podiums and wins left and right, but they have some podiums with Broc Tickle and a moto win with Justin Bogle and have you noticed that Tickle, Bogle, Weston Peick, and Justin Barcia have all been running up front lately? Quite a change from Roczen being the only guy out there on yellow. And when "Filthy" Phil Nicoletti comes back for Washougal or Unadilla, it'll be one more guy up there.
ME NO LIKEY- GEICO HONDA BIKES
Well, I don't care all that much about the team bikes, but I bet RJ Hampshire doesn't like his bike very much right now. Hampshire's GEICO Honda has broken in three out of the last four motos. Ouch, bro! That sucks and as a former mechanic, I can sympathize.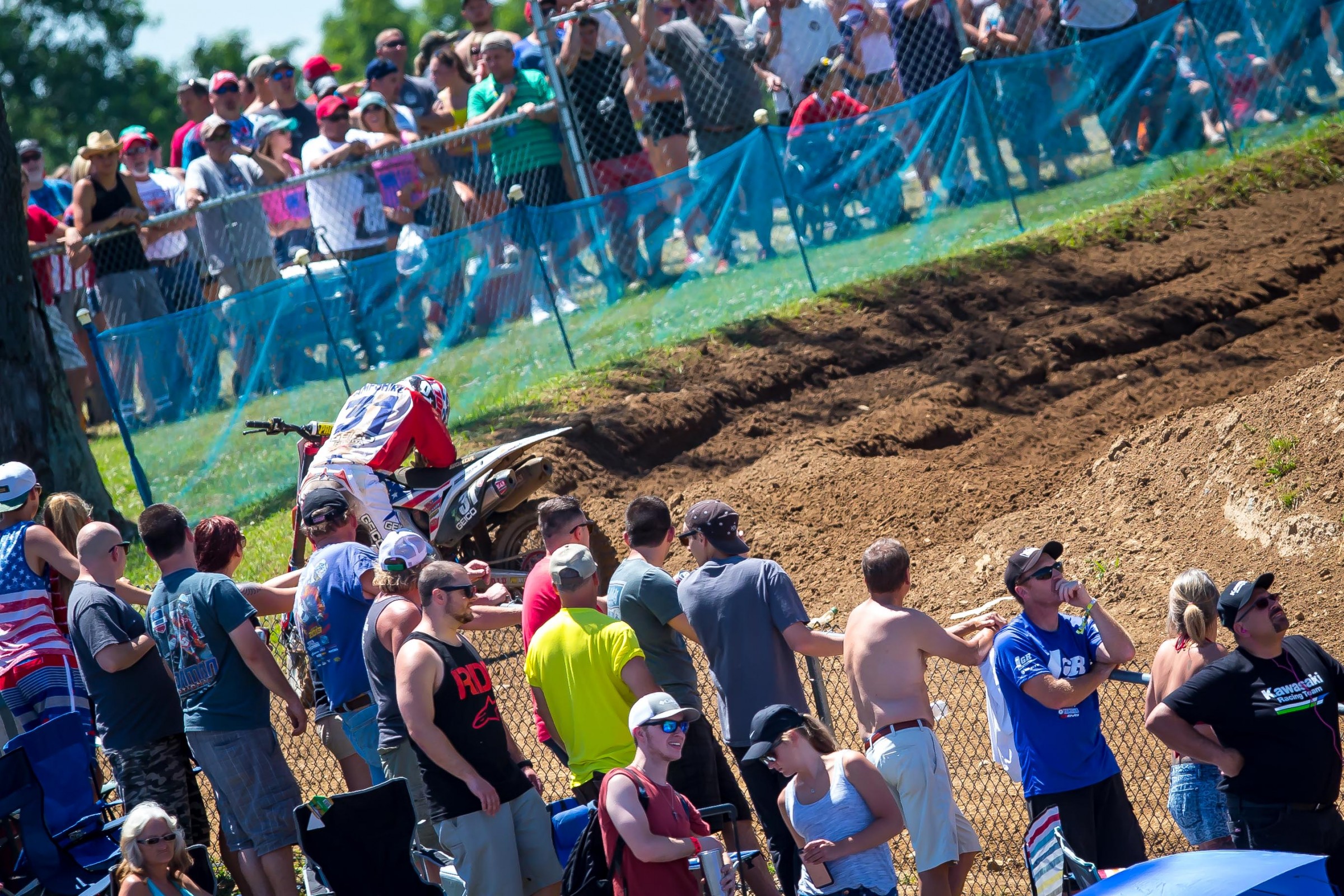 ME NO LIKEY- COOP CAUGHT IN WEBB
Cooper Webb's in a deep, dark place right now. Finally getting a good start, he high-sided hard going into the second corner and hit the ground very forcefully. The team said his LitPro device registered some crazy amount of g-forces as well. We thought Webb was coming around after Lakewood second moto and High Point, but it's back to the grind for Webb to try and get some magic going.
ME LIKEY- WACKO
I know it's like beating a drum here, but Zach Osborne has just been the best 250 rider all year round. He can limit the damage when he's not on point and on days like at RedBud, he takes the win when A-Mart tips over with a nice lead. He's earned the moto gods bestowing him some luck. But hey, even if A-Mart wins the moto, he gains one point on the #16. Osborne was great at RedBud and is working on clinching his first 250MX title to go with his first 250SX title and then a spot on the MXoN team, I think.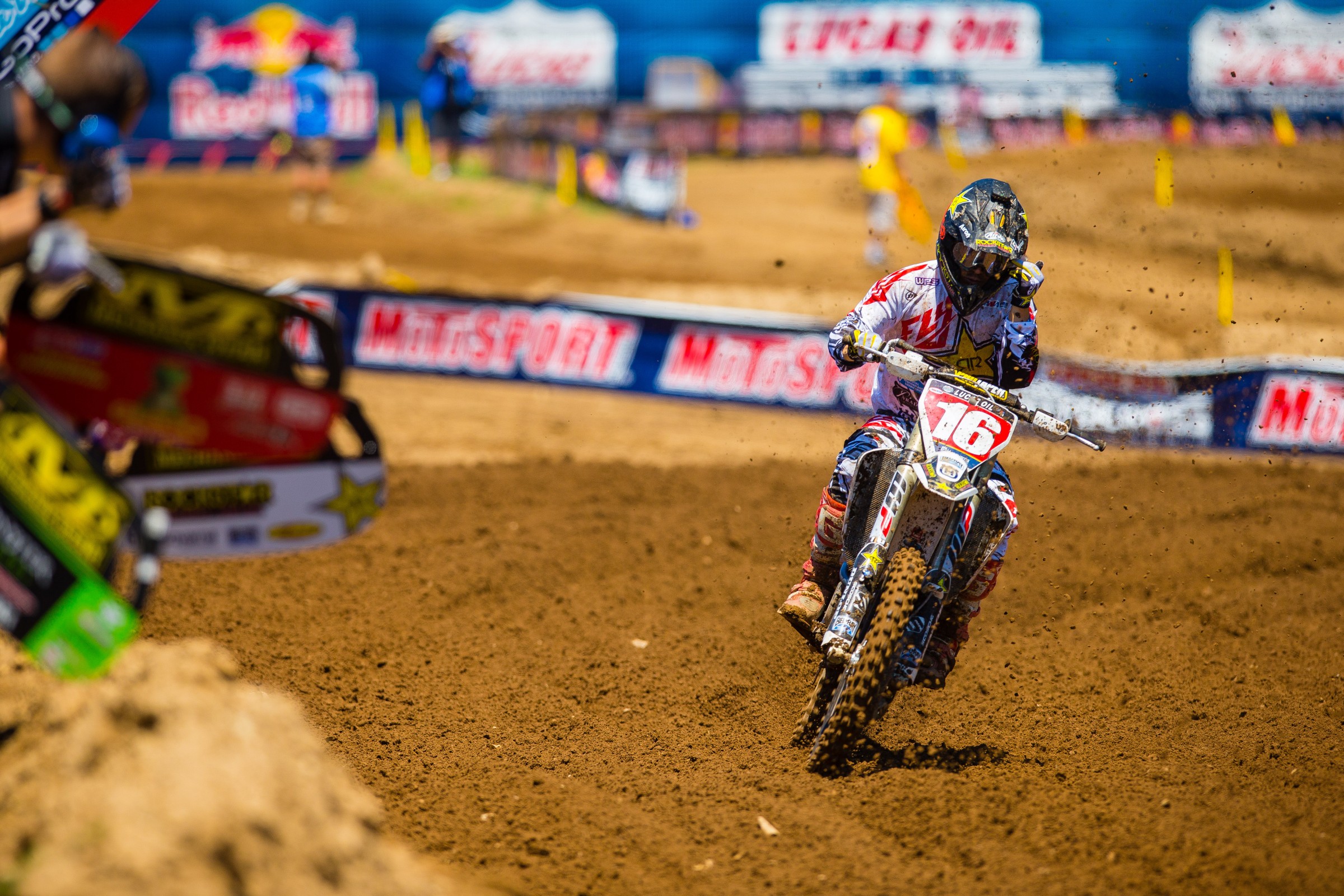 ME LIKEY- AC
I know Adam Cianciarulo went 8-13 at RedBud and that's not good, but what I liked about his day was that before practice I looked over at the Monster Energy/Pro Circuit Kawasaki truck and AC, while riding the trainer bike, flipped me off. And in front of a lot of fans at that. To an esteemed member of the media such as myself, it was a personal insult. So what happened then? He forgot to shift in gear off the start off moto one and then moto two was a disaster. The moto gods got him back, oh yes they did. I like that his rudeness caught up to him.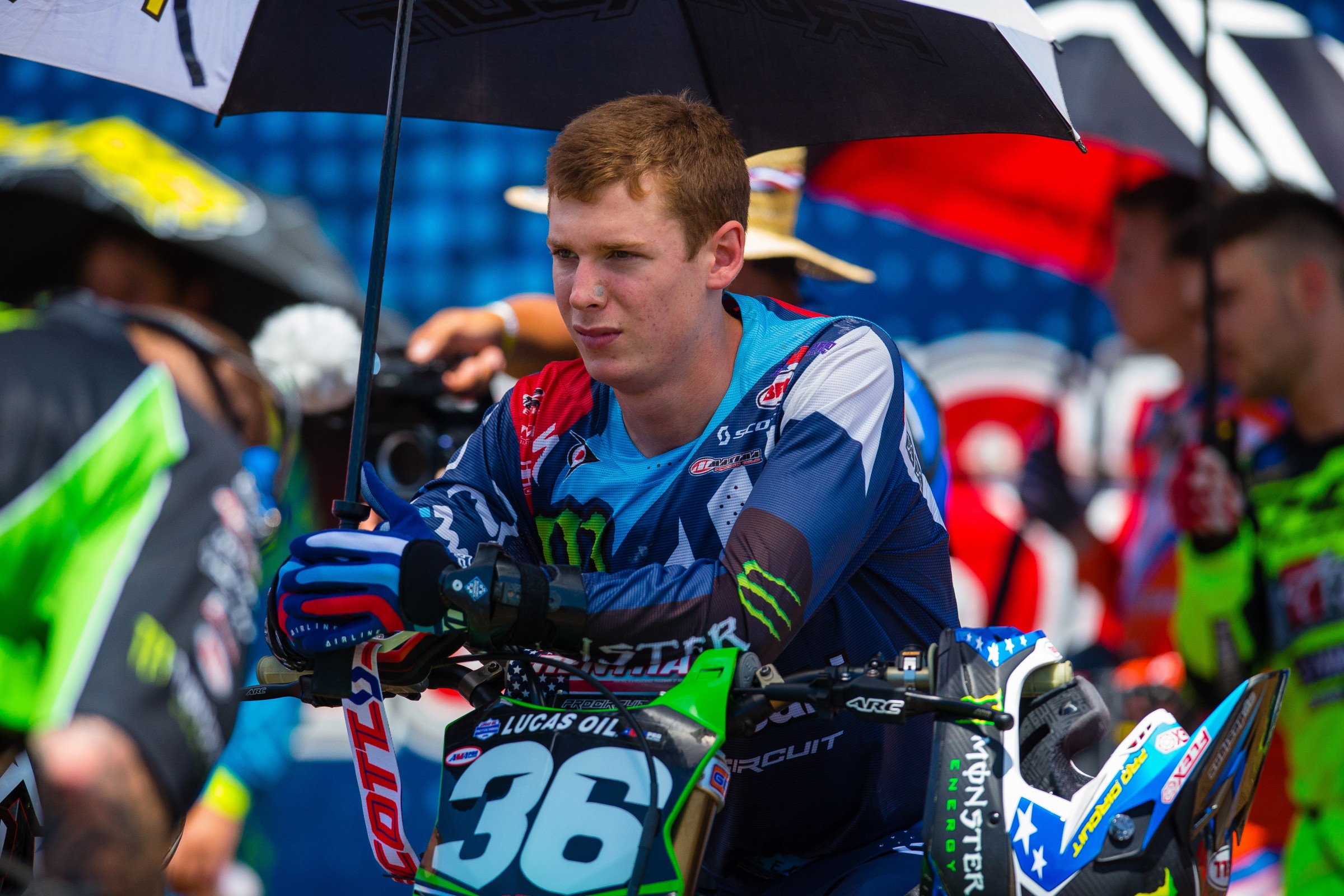 ME LIKEY- SIX-TIME AND THE O'SHOW
It's pretty cool that the announcers tower at RedBud has a spot where a lot of us can watch the races and it's pretty cool that Jeff Stanton and Johnny O'Mara were hanging with me and I got to chat with both guys for a long time. Super dorky I know, but it's still sweet.
ME NO LIKEY- KAWI KOFFEE
I don't know what it is, but the coffee machine in the Kawasaki truck wasn't working again and for the 84th time this year I had to get Big B to help me fix it. I like to duck in there quick and grab a java, but then the machine is never working and I have to draw attention to myself by asking someone to help me. I might have to head over to Honda if this keeps up.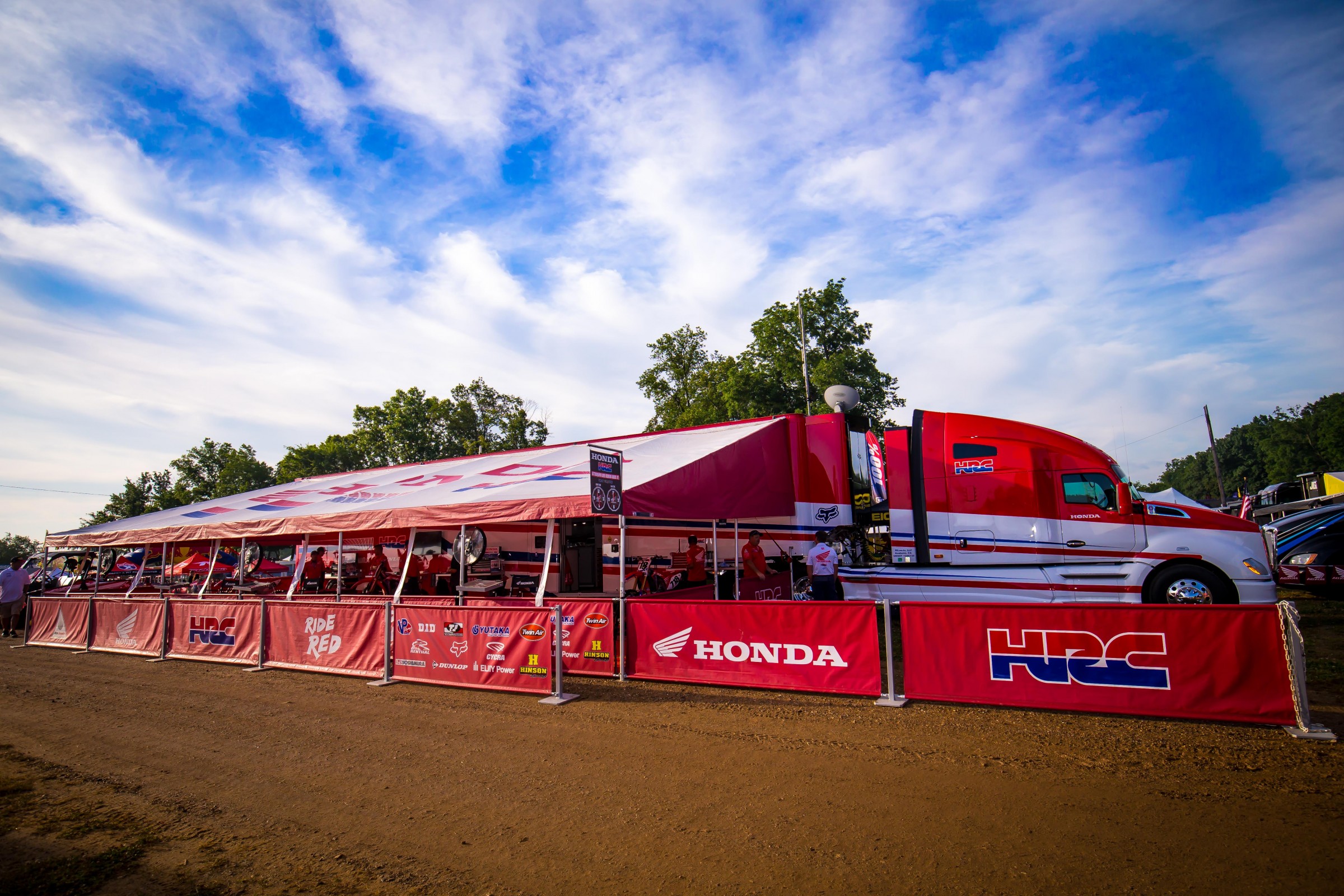 ME LIKEY- FAST FREDDIE
I like the original Swedish miracle Fredrik Noren. Dude epitomizes working class hero in motocross. You could probably serve Freddie a poop sandwich and he'd smile and say "Thank you." He's a good dude and last week he had his best National yet and at RedBud he did pretty well also. He's the top privateer in the 450 Class and I heard that he's got a few more Honda goodies on his bike also.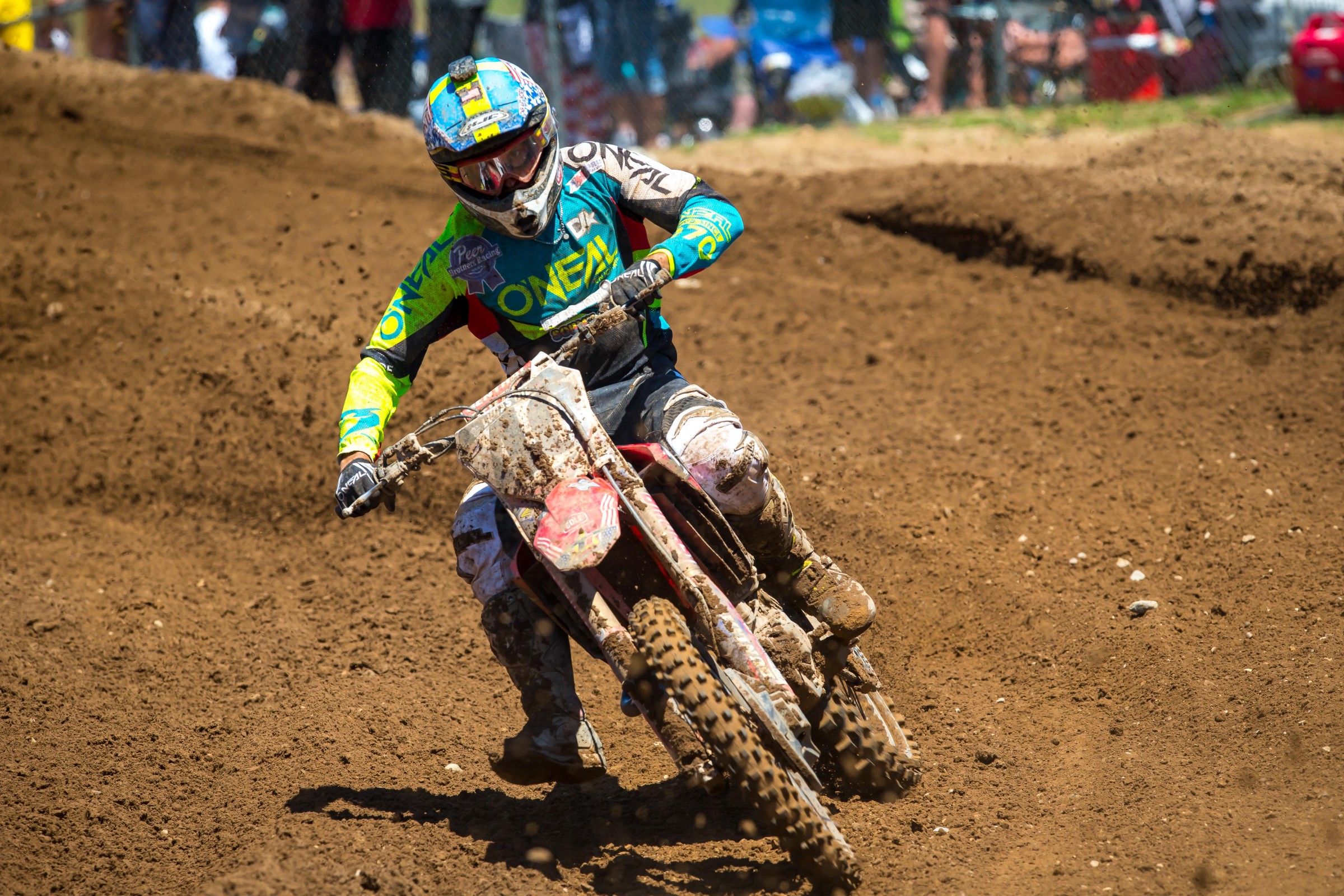 ME LIKEY- THE FORCE IS WITH LUKE
Luke Renzland got a great start in the second moto (benefitting from the Jeremy Martin crash) and ran top three for a long time, then top five, and ended up sixth. It was his best moto finish of the season (and I think career) and it was good to see. I don't know who was riding his bike to start the year (maybe Weege?), but he's been good lately.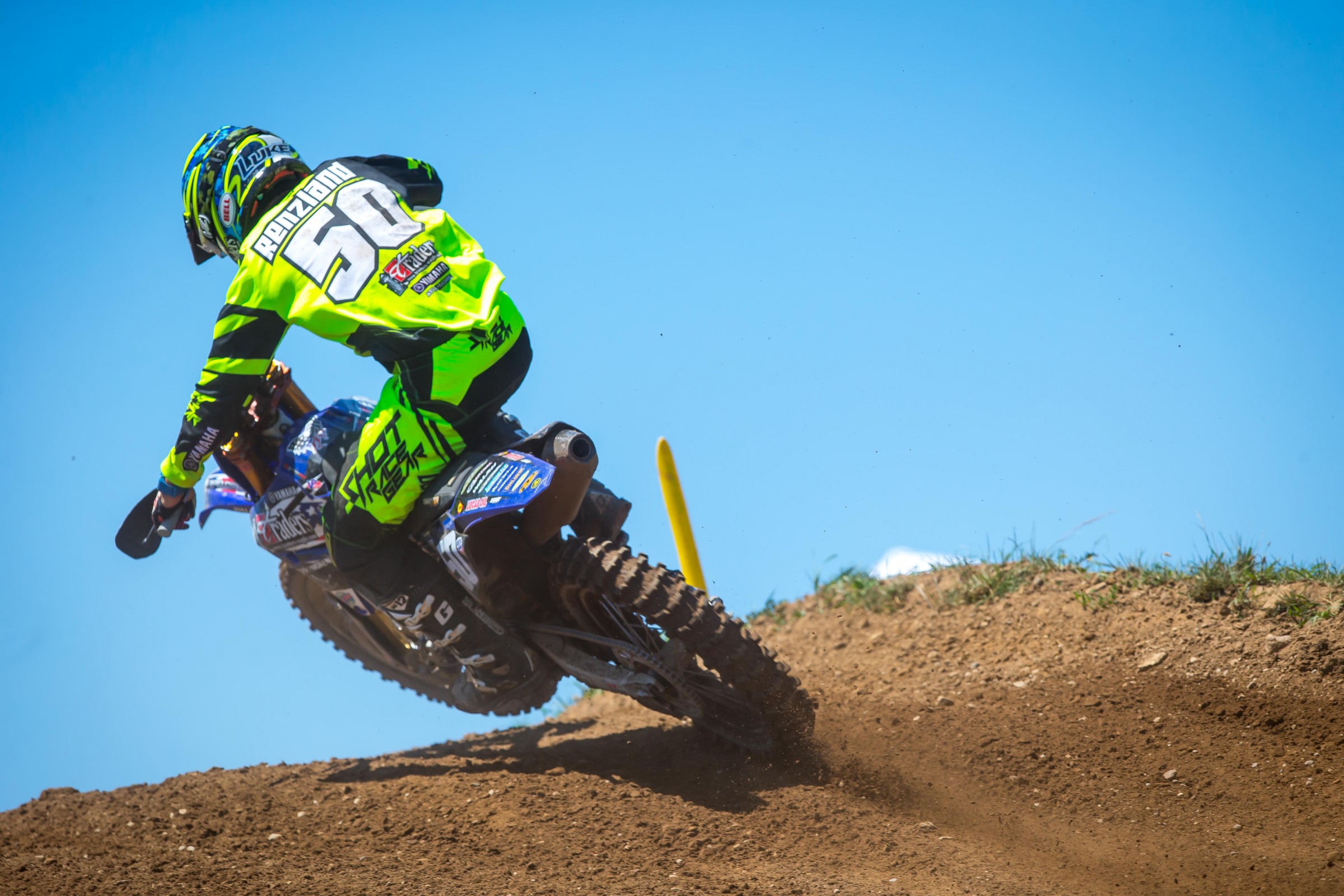 ME NO LIKEY- JUMPING JOEY
Maybe the dude or alien that was riding Renzland's bike the first few jumped on the back of Joey Savatgy's after Lakewood? Savatgy didn't have a great RedBud and just add that to the list of races that Savatgy hasn't been the same guy as we saw last year. He's too good of a rider and on too good of a bike to keep riding to 10ths and 11ths so I'll wait here while he tries to figure it out. Mitch Payton told me that the team is still working on getting a chassis set-up that he likes.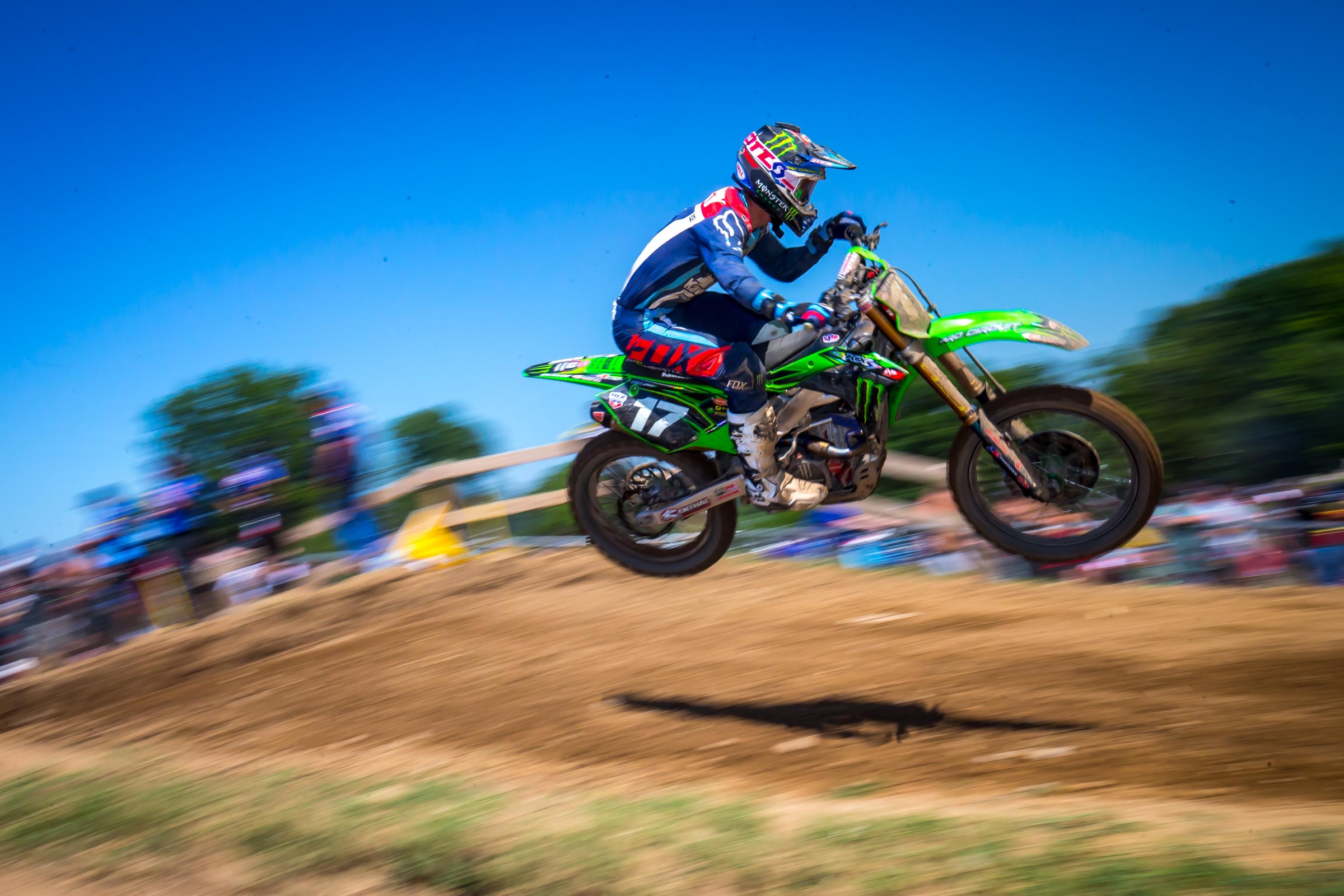 ME LIKEY- MOVING MARV IS MOVING AGAIN
Marvin Musquin is finally able to practice again and he made the podium this week. He looked approximately 300 percent better than he had been since hurting his knee. I'm surprised to be honest, I thought he was headed into surgery for a clean up, but he's managed it and hopefully he's back in the mix for podiums and wins the rest of the way.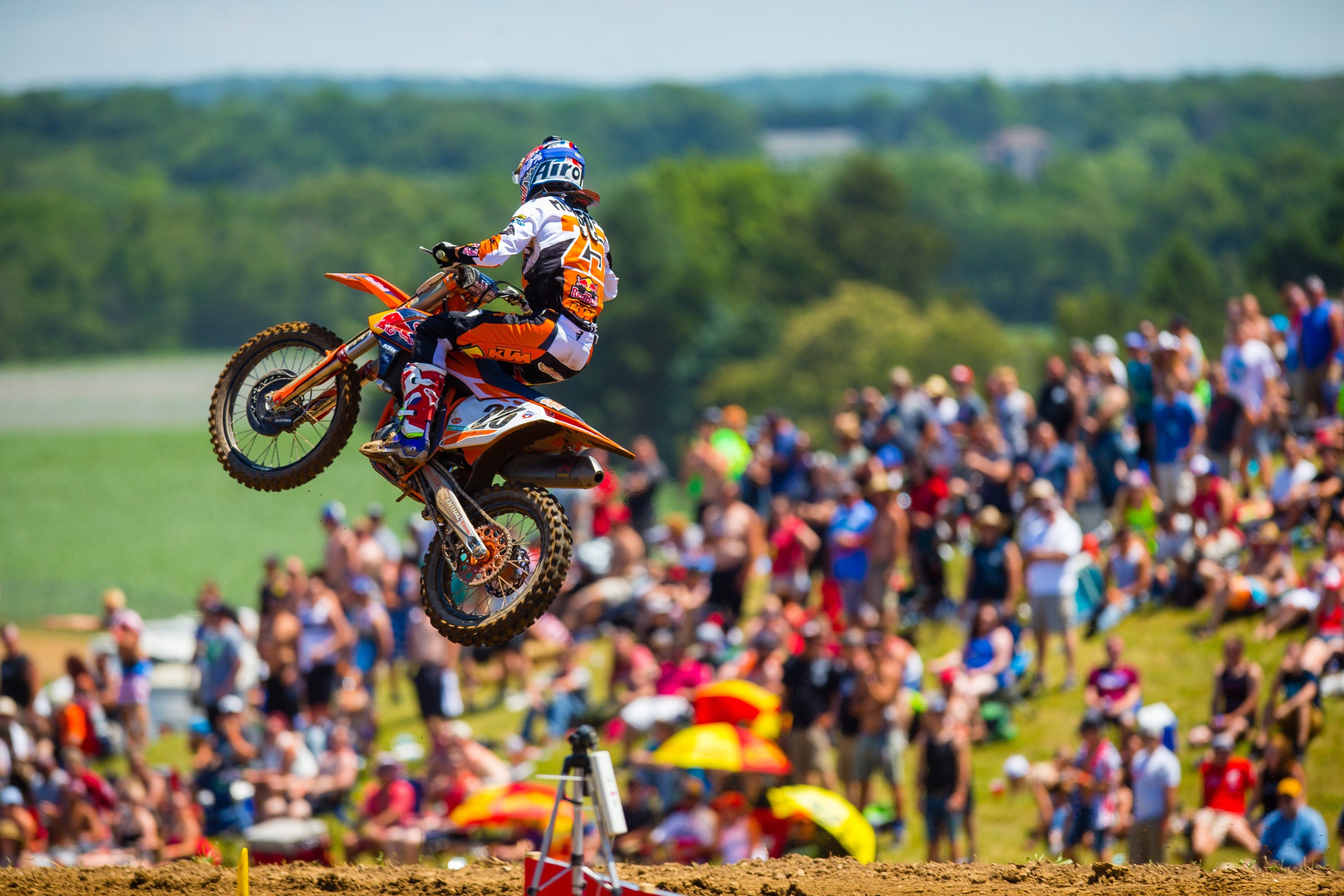 Thanks for reading, appreciate all the notes about this column, the show and everything else. Drop me a note at matthes@racerxonline.com if you want to chat about this column or anything else.