Buchanan, MI
RedBud
Lucas Oil AMA Pro Motocross Championship
Even when a rider has a big day, it's amazing how one small thing can change it all. The official results will show Eli Tomac and Zach Osborne grabbing the wins at the Rockford Fosgate RedBud National, victories that change the look of the championship in both classes. For Osborne, his third overall victory of the year stretches his 250MX points lead to over 40 points. For Tomac, the win vaults him back into the series' lead, which he lost at round two at Glen Helen. Tomac went 1-1, and Osborne 2-1, and they looked strong doing it. But it almost didn't turn out that way.
For Tomac, his first-moto victory was a statement-style ride, as he started behind his championship rivals Marvin Musquin and Blake Baggett and passed his way to the lead. Baggett didn't let him off easy, though, launching a furious late-race charge that took the race down to the wire—and gave the fans the Tomac versus Baggett battle they had wanted to see. It didn't disappoint, with Tomac winning by about a second, and the promise of another battle in moto two loomed. Baggett grabbed the holeshot, but Justin Barcia got around him after the first turn, and Jason Anderson snuck through, too. Then Anderson and Baggett came together, and Baggett got the worst of it and went down, dropping him from third place to last place. With that small, yet big, moment, Baggett's points lead was gone, and Tomac's championship stock went up, as he then passed Anderson, and rode past a downed Barcia. Once he had the lead, Tomac took off for the moto win. The momentum the 450 class was hoping to prevent Tomac from grabbing has now officially swung his way.
"It was something we were looking for, just a mistake-free day," said Tomac. "Had to work for it. We were a little bit behind on the start there. The second moto it was a better start but ended up being on the outside in the second turn there. Got passed by a few guys and had to work our way up. It was our first win here, so that was pretty cool. The fans are awesome here."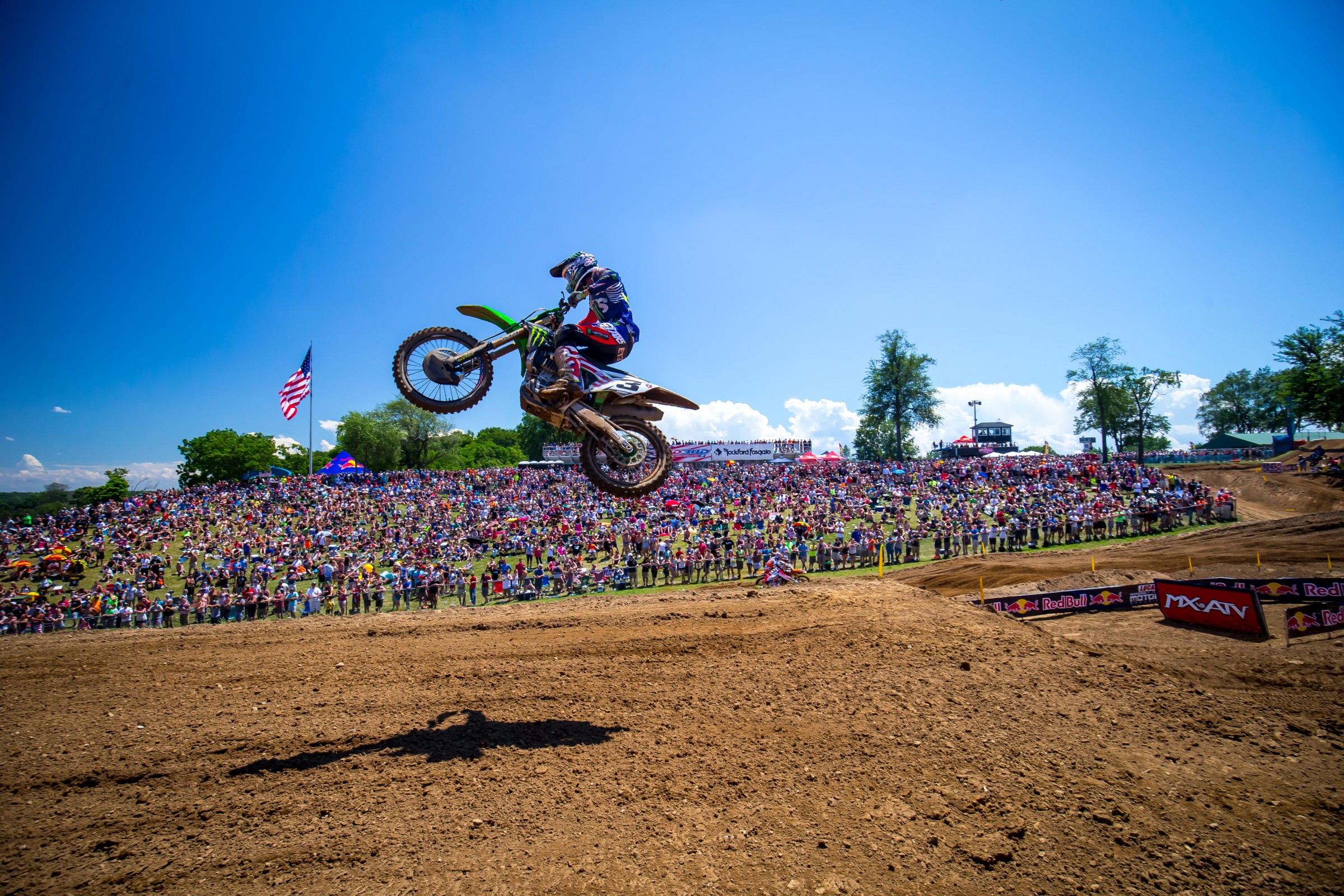 Anderson wasn't able to keep Tomac in his sights in the second moto again, but continued his podium run (five straight) with 4-2 scores and second overall. He came from way, way back in that first moto for the fourth.
"Yeah. The first start, all I saw was bikes flipping and I got hit by someone and fell down," said Anderson. "I got back up and fell again by myself in the second corner. Then made my way up. I was able to make way up to forth and it wasn't bad. Kind of had to work pretty hard to pass all those guys. In the second moto, I started up front and I was in that battle between me, Barcia and Eli. Eli got the best of us again that second moto. I feel like I stayed close better this weekend. I just need to keep working and try and just be better next weekend."
The day wasn't without some drama, though, as the Anderson/Baggett collision in moto two will probably have plenty of opinions on either side. It appeared the lines came together and Baggett's front wheel hit Anderson's rear wheel, as a simple racing incident, but Baggett fans would probably claim Anderson gave him a small brake check. The real damage wasn't just that Baggett dropped all the way to last place. He hurt his thumb in the incident, too. His Rocky Mountain-WPS KTM team says X rays at the Alpinestars Medical Unit came back negative, but Blake's thumb is at least sprained. Blake will get MRIs on Monday to learn more. In pain, he managed to come back to tenth, passing Christian Craig and Trey Canard on the very last lap to salvage two more spots. Tomac, though, now holds a 13 point lead on Baggett.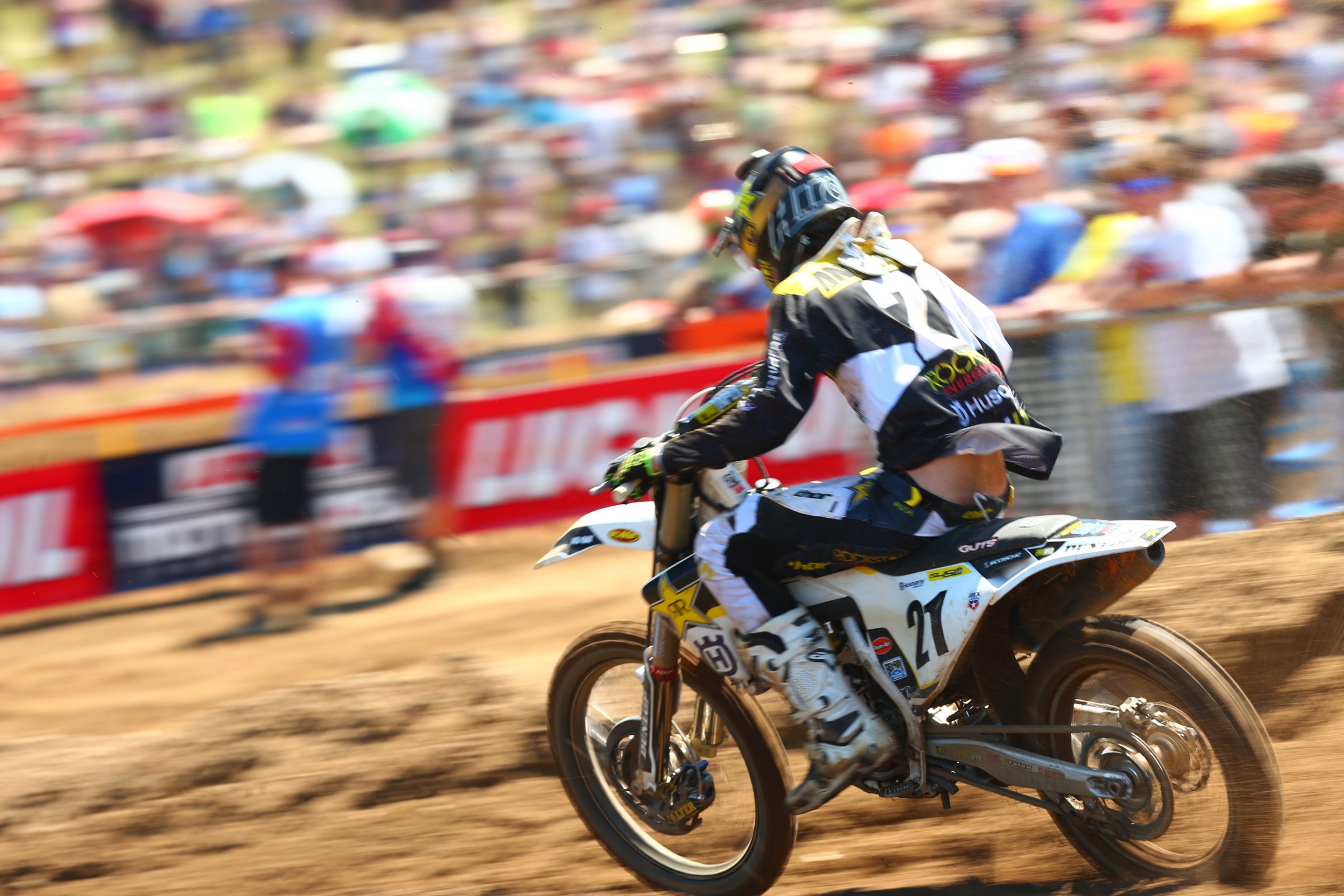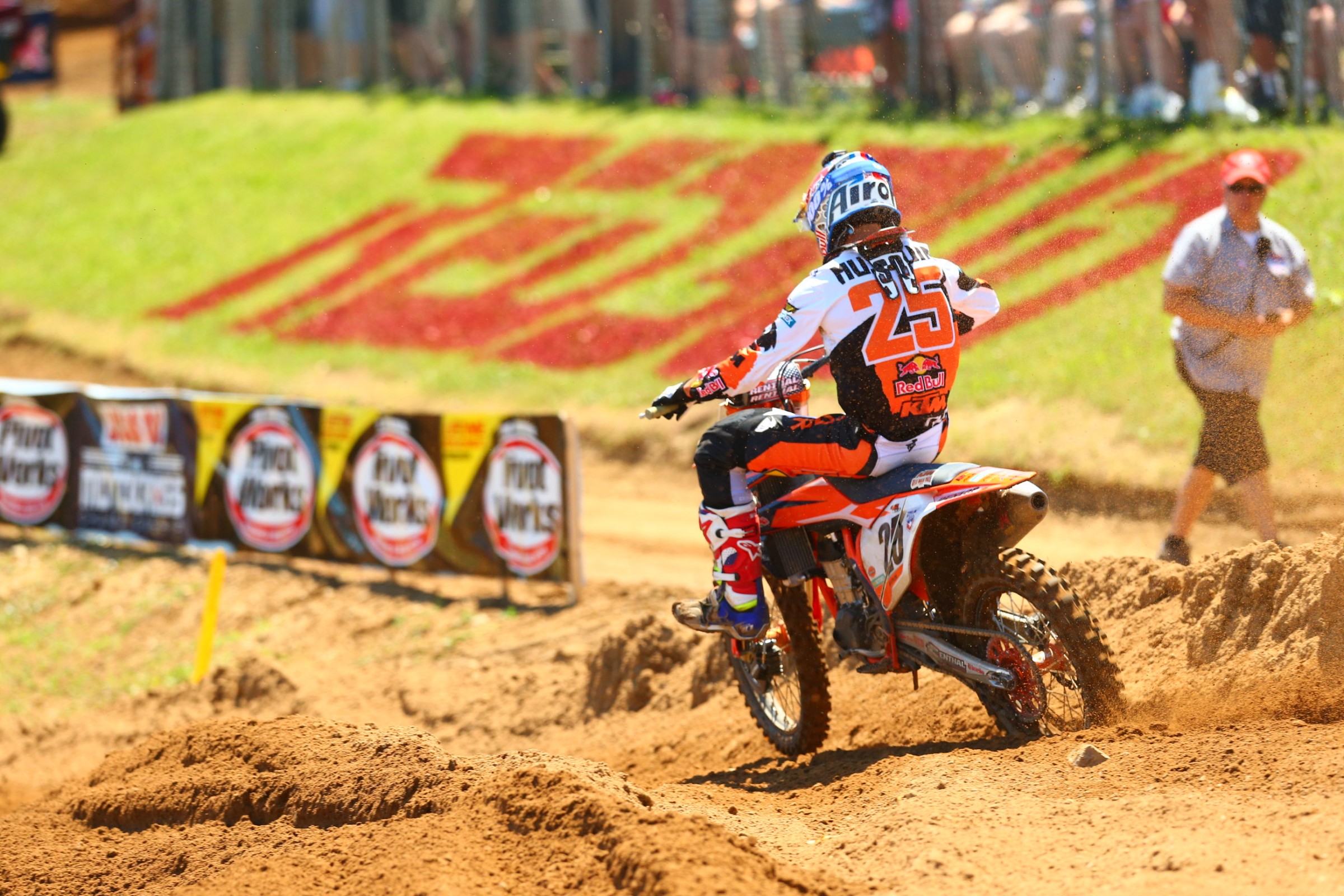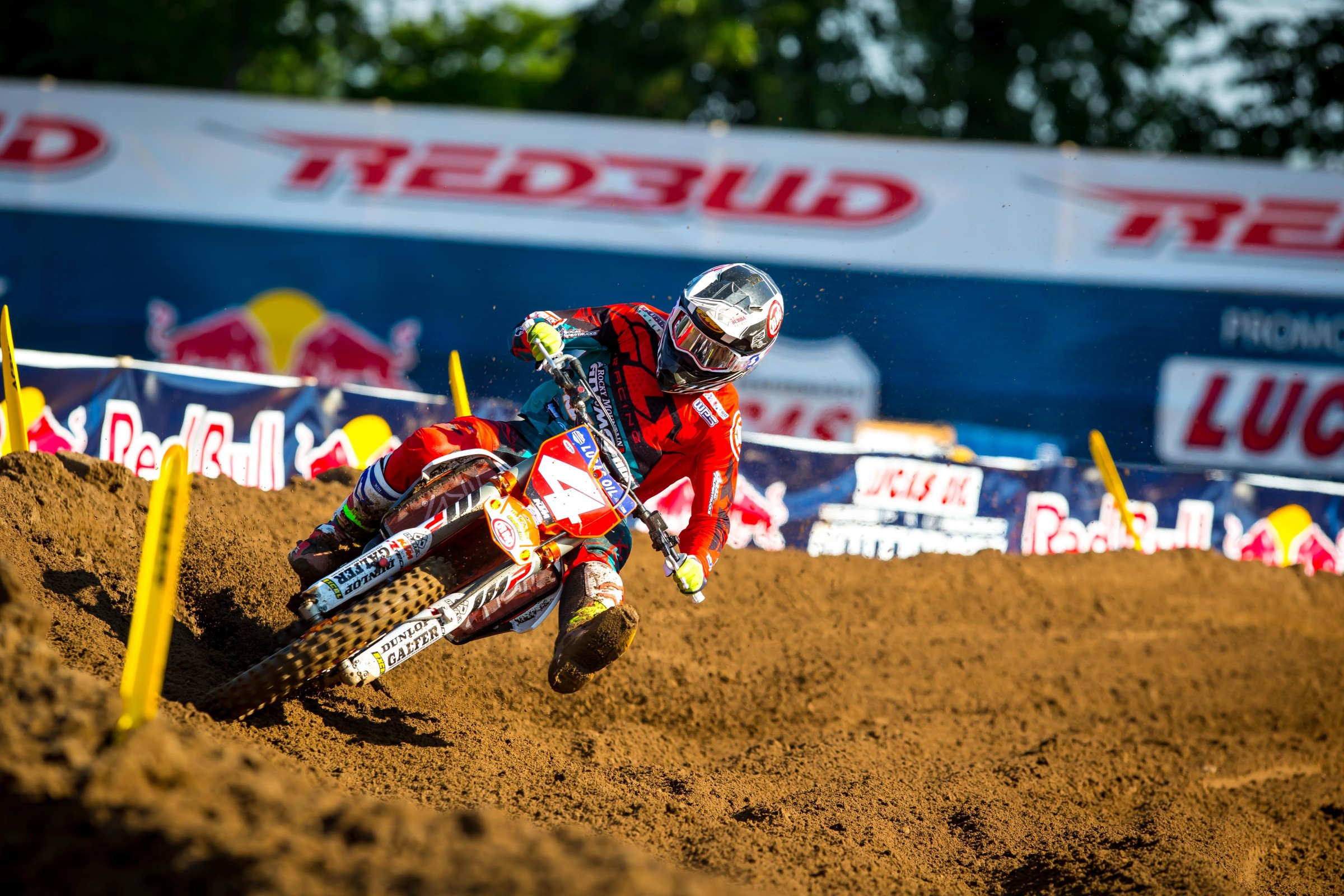 Marvin Musquin is back in the hunt, the Red Bull KTM rider's knee is feeling much better, and he led quite a bit of the first moto before letting go of the furious Tomac/Baggett pace. In moto two, he worked his way to third again, getting around Barcia and Weston Peick to do it.
"For sure. It's a big difference," said Marvin of the knee. "Obviously, this week at practice, so the speed was getting better and the confidence is back. It's crazy how much you can lose with a little injury like that, lose anything – lose speed, confidence and all that. It was a difficult time, but I feel like I'm going over that and getting better. It's good to first of all in practice put in some good laps and being able to turn left again, because of the knee. I was just not comfortable on the left side. Just basically pulling the leg up and doing stuff like that. It was tough at the beginning. It's night and day right now. So, I'm really happy about that."
The Tomac/Baggett points chase swung on one fall from Baggett in the second moto. The story was similar in the 250 class, where both Jeremy and Alex Martin looked to have clear paths to victory at different times, only to suffer routine crashes to end it all. Jeremy Martin holeshot moto one on his GEICO Honda. He never broke under race-long pressure from Osborne, and grabbed a big moto win. He holeshot moto two…and washed the front end in the first turn, going down. This left his brother Alex up front with a path to a 3-1 overall victory…until he washed out and gave the lead away late in the race! Both Martin boys had a shot at gaining ground on Osborne in the points, but it didn't work out.
"Yeah. I'm obviously bummed," said Jeremy Martin. "I would have liked to have gotten up there further, or not even gone down at all. I made one mistake today and that was in the second turn in moto two. Otherwise it was a good day. I felt really good in the second moto. I felt like I was riding better in moto two. I would have liked to have been up there with the boys battling, but I was in the back ripping tear-offs and eating roost."
"RedBud's one of my favorite venues, so really looking forward to coming here," said Alex Martin. "Obviously, that first moto we were all 1, 2, 3 in the points. It was solid. Not much passing going on. Typically, you'd expect Red Bud to kind of be more of a gap between the top guys. For the most part we were just 1, 2, 3 right there the whole moto. So, that was a little bit of a bummer because you're kind of looking for that advantage. We were all so evenly paced and matched. But then second moto I was able to get out front and get the holeshot right after he tipped over. It was a picture-perfect race and I just kind of threw it away. So, I'm pretty disappointed with that because it could have been 3-1 for the overall. So, a little bit bummed with how that went, but these guys are tough. We've been consistent for the most part. It's been fun."
Osborne responded as he has all season, taking advantage of the situation to win the moto and the overall. Once Alex Martin went down, he had to fight his way past a surging Mitchell Harrison, who was in the lead and logging the best moto of his career. Osborne fought past him to pull it out.
"The first one [moto] was good," said Osborne. "I started second and I was right behind Jeremy. All three of us were kind of freight-training there for a little while. He would get away. I'd come back. He'd get away. I'd come back. And Alex was right there the whole time. So, it was a really good race. It sucks to lose, but if you're going to lose to be on the pace and be right there and only lose a few points, it's not a huge deal. It was a good moto. To run with the first, second and third in the points and have a duel like that and to do it here at Red Bud was pretty cool, I thought."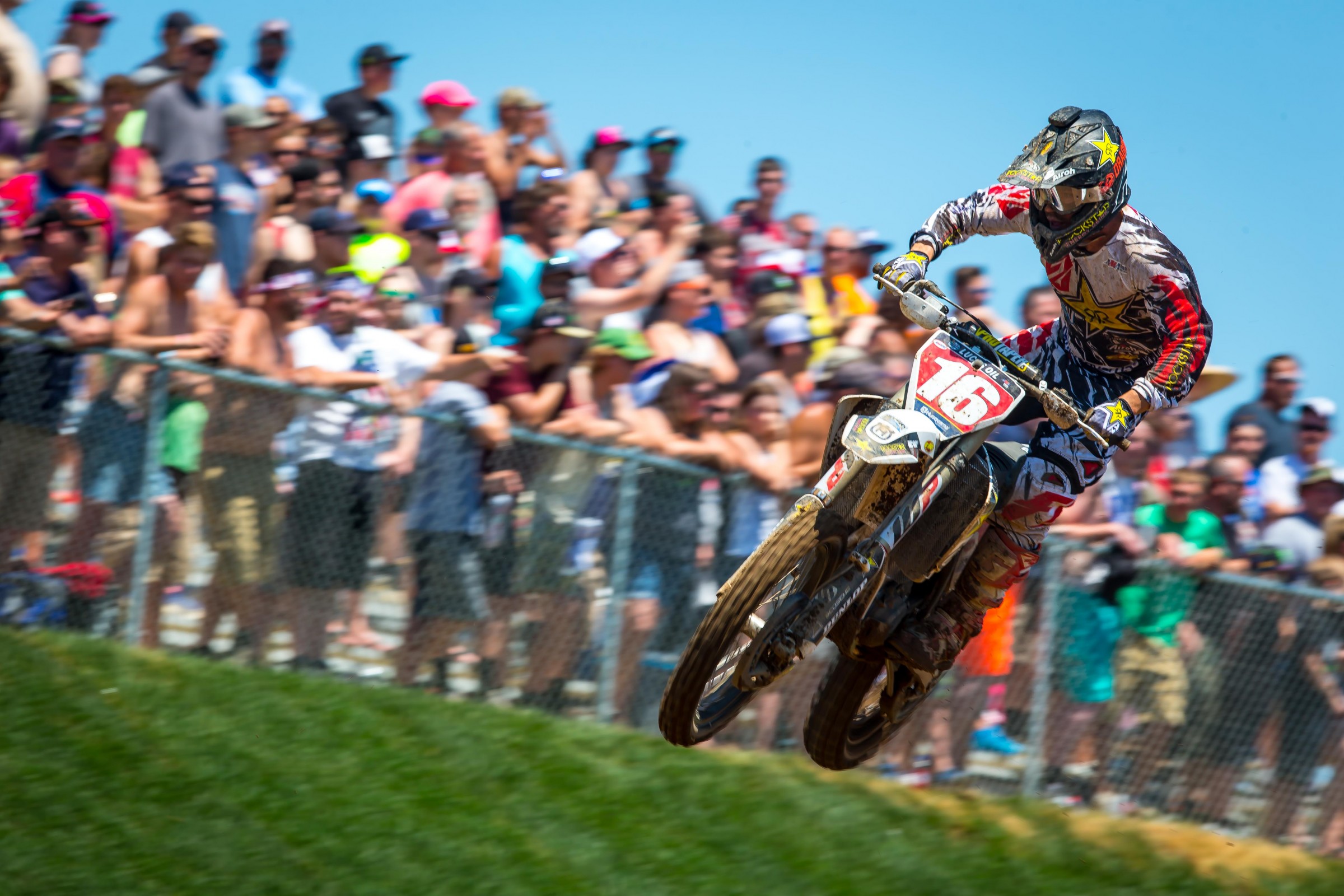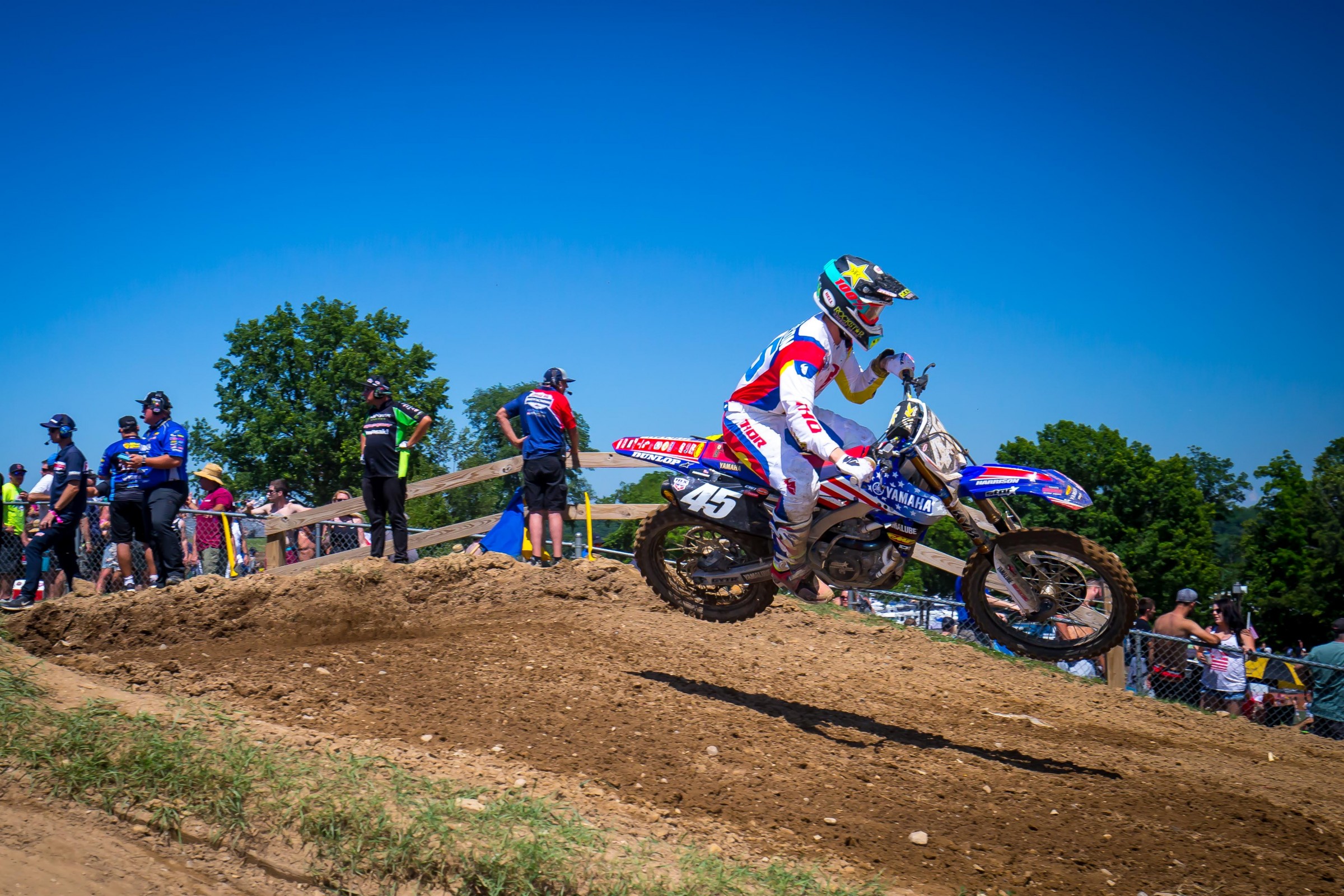 450 Class Overall Results (Moto Finish)
Eli Tomac, Cortez, Colo., Kawasaki (1-1)
Jason Anderson, Edgewood, N.M., Husqvarna (4-2)
Marvin Musquin, La Reole, France, KTM (3-3)
Blake Baggett, Grand Terrace, Calif., KTM (2-10)
Justin Barcia, Greenville, Fla., Suzuki (7-6)
Josh Grant, Riverside, Calif., Kawasaki (10-5)
Cole Seely, Newbury Park, Calif., (6-9)
Justin Bogle, Cushing, Okla., Suzuki (9-7)
Dean Wilson, Glasgow, Scotland, Husqvarna (8-8)
Weston Peick, Menifee, Calif., Suzuki (14-4)
450 Class Championship Standings
Eli Tomac, Cortez, Colo., Kawasaki - 241
Blake Baggett, Grand Terrace, Calif., KTM - 228
Jason Anderson, Edgewood, N.M., Husqvarna - 216
Marvin Musquin, La Reole, France, KTM - 201
Justin Bogle, Cushing, Okla., Suzuki - 163
Dean Wilson, Glasgow, Scotland, Husqvarna - 163
Broc Tickle, Holly, Mich., Suzuki - 146
Weston Peick, Menifee, Calif., Suzuki - 137
Josh Grant, Riverside, Calif., Kawasaki - 133
Cole Seely, Newbury Park, Calif., Honda - 132
250 Class Overall Results (Moto Finish)
Zach Osborne, Abingdon, Va., Husqvarna (2-1)
Alex Martin, Millville, Minn., KTM (3-3)
Jeremy Martin, Millville, Minn., Honda (1-8)
Mitchell Harrison, Brighton, Mich., Yamaha (7-2)
Dylan Ferrandis, Avignon, France, Yamaha (5-4)
Aaron Plessinger, Hamilton, Ohio, Yamaha (6-11)
Austin Forkner, Richards, Mo., Kawasaki (4-14)
Shane McElrath, Canton, N.C., KTM (9-9)
Chase Sexton, La Moille, IL., Honda (12-7)
Joey Savatgy, Thomasville, Ga., Kawasaki (11-10)
250 Class Championship Standings
Zach Osborne, Abingdon, Va., Husqvarna - 254
Alex Martin, Millville, Minn., KTM - 216
Jeremy Martin, Millville, Minn., Honda - 209
Aaron Plessinger, Hamilton, Ohio, Yamaha - 190
Austin Forkner, Richards, Mo., Kawasaki - 184
Adam Cianciarulo, Port Orange, Fla., Kawasaki - 168
Joey Savatgy, Thomasville, Ga., Kawasaki - 165
Dylan Ferrandis, Avignon, France, Yamaha - 152
Mitchell Harrison, Brighton, Mich., Yamaha - 147
Colt Nichols, Muskogee, Okla., Yamaha - 144