RedBud Track 'n Trail
Buchanan

,

MI
RedBud
Lucas Oil AMA Pro Motocross Championship
Welcome to Racerhead, and welcome to the biggest annual celebration of America and motocross, RedBud National weekend. It happens every year on America's birthday, and the fans and campers come out in droves. The catchall shouts of "Reeeedddd Buuudddd!" will be ringing through everyone's heads in that part of the country for days to come, and so will the buzz about whatever it is that happens tomorrow during the motos. And as you've probably already noticed, we're having a heck of a series so far in both classes—and we've only reached the halfway point!
Last weekend at Muddy Creek in Tennessee, all of the doom-and-gloom storm predictions thankfully were what one might call "fake weather" and it just didn't happen. That in turn made for an interesting track in that, unlike High Point, where the rain did come and saturated a deeply plowed track, ruining amateur day and the early part of Saturday's National, Muddy Creek was rolled in and sealed, and thus it didn't have the ruts, bumps and berms we saw at High Point—and it didn't have the racing either, as NBC Sports host and Racer X senior editor Jason Weigandt pointed out on the Fly Racing Racer X Podcast with Steve Matthes and Jason Thomas. The lack of track chop and diversity made for a lack of close racing for the most part, which is always a consideration. But we did see a return to form by Eli Tomac in the 450 Class, an epic comeback by series points leader Blake Baggett, and yet another new moto and overall winner in the 250 Class with Yamalube/Star Racing Yamaha's Aaron Plessinger getting his first outdoor win of the year after finally scoring two good starts.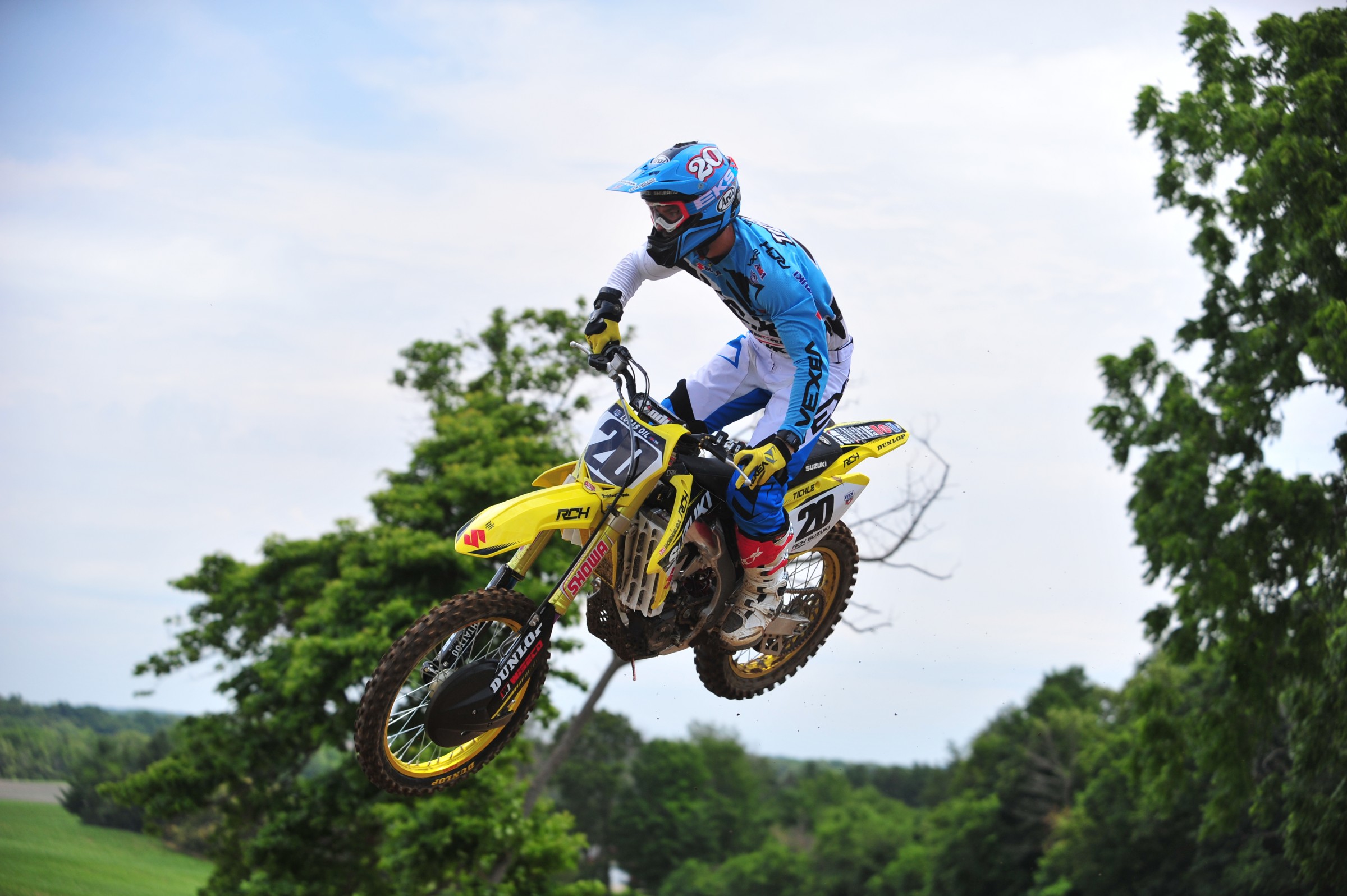 Now we move on to RedBud, where a new LaRocco's Leap awaits them. Tim Ritchie decided to move the original leap after an tornado caused some unexpected renovations, but he was so worried about the tradition of the leap that he had it professionally surveyed, using lasers to guide the tractors to the exact pitch and distance of the original! It should be interesting to see how it all shakes out tomorrow.
Unfortunately, I won't be there as I am on my annual family vacation, my one week away from motocross in the summer, though I will be watching on NBC Sports Gold while the kids play at the beach. I expect to see all of the principals up there in the 450 Class, and maybe yet another new winner in the 250 ranks. No matter, it should be quite a spectacle, jam-packed, and as red, white and blue as motocross can get.
Here's more from the week in racing...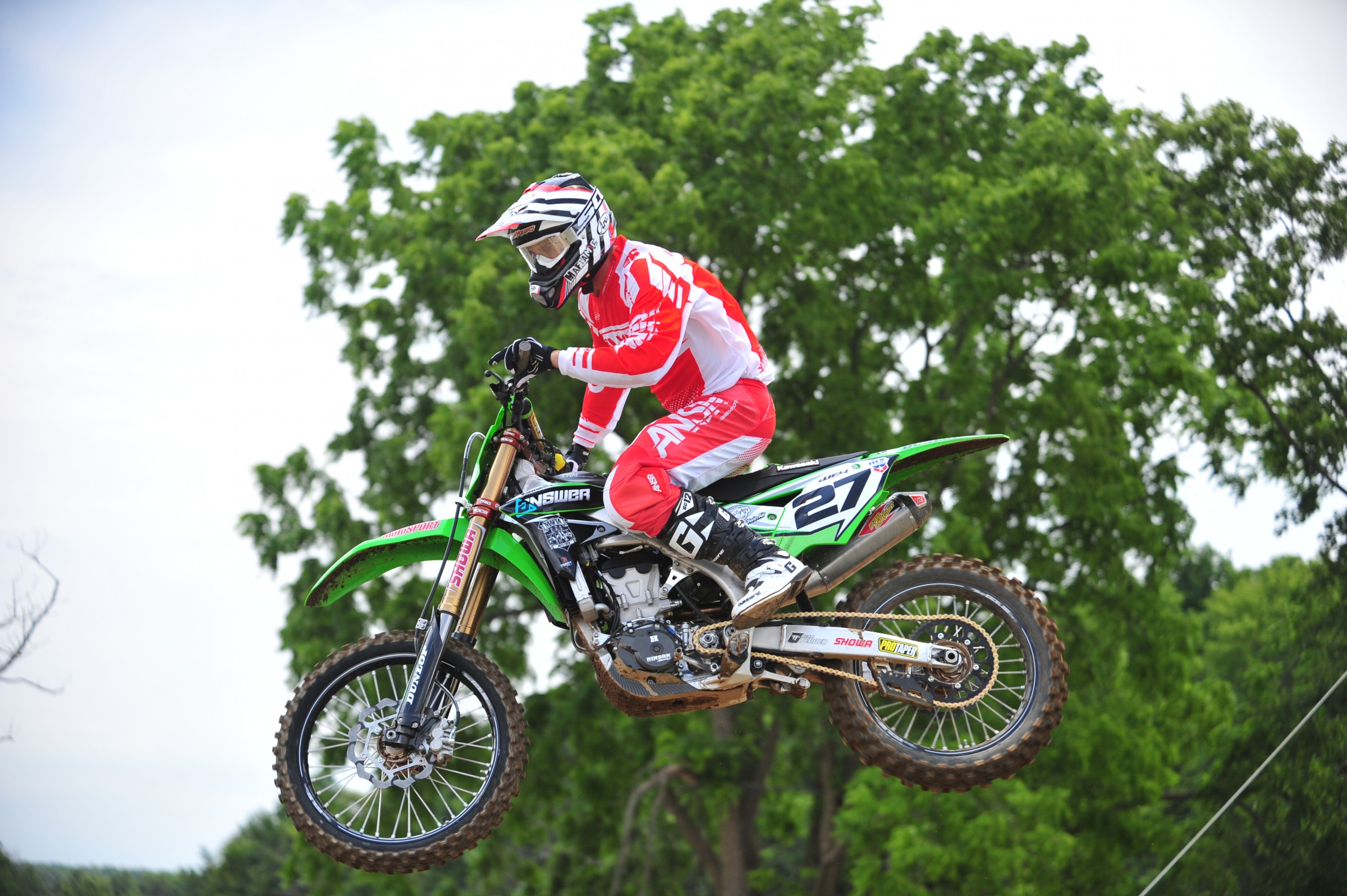 Press Conferences (Chase Stallo)
From Ken Roczen showing up in a suit at Anaheim 1, to Ryan Dungey's #thereisnocrown, to Blake Baggett's comments after Thunder Valley, we've actually seen some personality from riders in 2017. And it's great.
For years, boxing, and now the MMA, have thrived off hyping their fights with press conferences. While those tend to lean toward WWE-style, it drives interest in the sport. The NFL, NBA, MLB, you name it, when athletes show their true personalities and actually say what they feel, fans tend show more interest and enthusiasm toward them.
Remember back in 2014, when Cooper Webb was catching flack for things he said post-race? At the time—and I still believe it to be true—I wrote that people want riders to say how they feel...until the riders actually do and say something they don't agree with it. Then it's full on attack mode.
Blake Baggett is probably experiencing some of the things Webb went through back in 2014. (Remember, Webb actually referenced Baggett after a moto at Muddy Creek.) He's been honest after his motos, but he's certainly taken some heat for it. After High Point, Jason Anderson put out a tweet that was directed toward him. Anderson was asked about it in the post-race press conference following Muddy Creek.
Jason, last week after High Point you put out a tweet that said: "It's crazy how much shit someone starts talking with more confidence." Can you kind of elaborate more on that or share your feelings?
Anderson: The guy to my right [Baggett] has some pretty bold comments sometimes. I think we [I] can speak for basically the whole line [the whole class]. The dude rips for sure. He's won the last couple races, but at the same time I feel like some of the comments are pretty bold. He didn't break us today.
The next question asked Baggett and Eli Tomac if they'd like to respond. Here is what Baggett had to say:
Blake or Eli, do you guys have anything to say?
Baggett: We've been racing each other for a long time. It's fun racing. All three of us got the best job in the world. We race motorcycles for a living, what people go out and do on the weekends. We get to do it every day. All the sponsors here are behind us 100 percent. So, I think it's all fun. We're at the top of the 450 class and I think that's an amazing goal and something that I don't know if any of us thought we'd ever get to when we were four or five years old. Something you've got to look on and appreciate it.
Anderson: I will say though, the green guy to the right of me [Tomac], he liked my tweet. [Laughs]
While Baggett has been bold with his comments--including saying the goal was to break Tomac at Thunder Valley--Anderson is certainly no stranger to controversy either. He even told us in a Racer X Illustrated magazine feature earlier this year that he'll sometimes purposely put stuff on social media just to get a rise out of people.
As for Tomac, well, he takes a different approach, saying, "For me it's just small talk. I just let my racing do the talking."
Three different personalities with three different takes. A rider saying what they mean is great. Hopefully it will continue. If not, it was fun while it lasted. Back to thanking sponsors.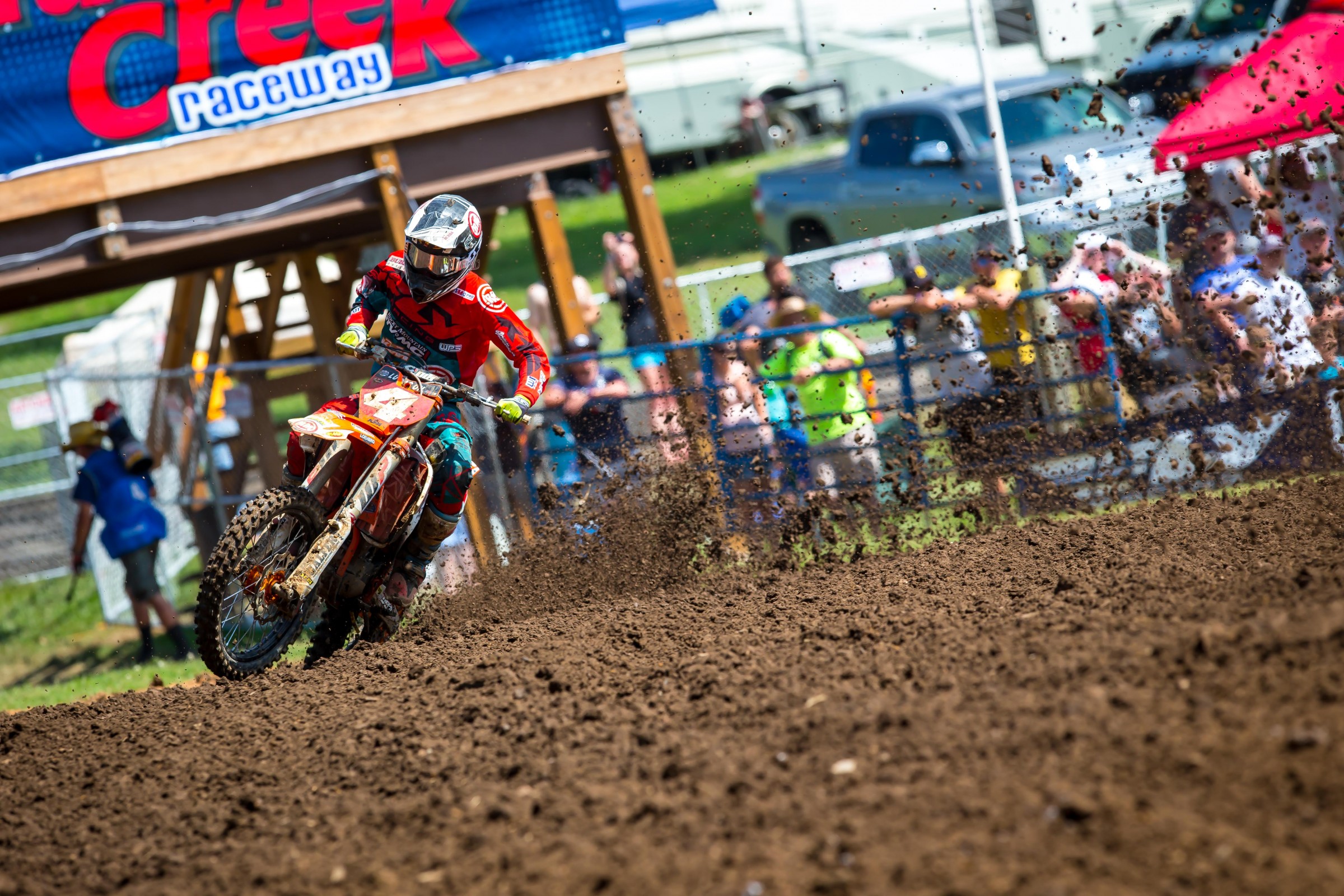 THE NUMBER: 4 (Andras Hegyi)
Yamalube/Star Racing Yamaha's Aaron Plessinger won last weekend at Muddy Creek, marking his second-ever overall win. As a result, Yamaha is the fourth brand to win in the 250MX class this year. Rockstar Energy Husqvarna's Zach Osborne won the first two rounds; Monster Energy/Pro Circuit Kawasaki's Joey Savatgy won in Colorado and GEICO Honda's Jeremy Martin won at High Point. The last time four different brands won an overall in the 125/250 National happened was 2006. And in the history of the 125/250 Nationals, which began in 1974, there are eleven seasons in which four different brands won races.
By the way, the top five in points right now are all on different brands, too. Here are the previous seasons with four different brands winning races.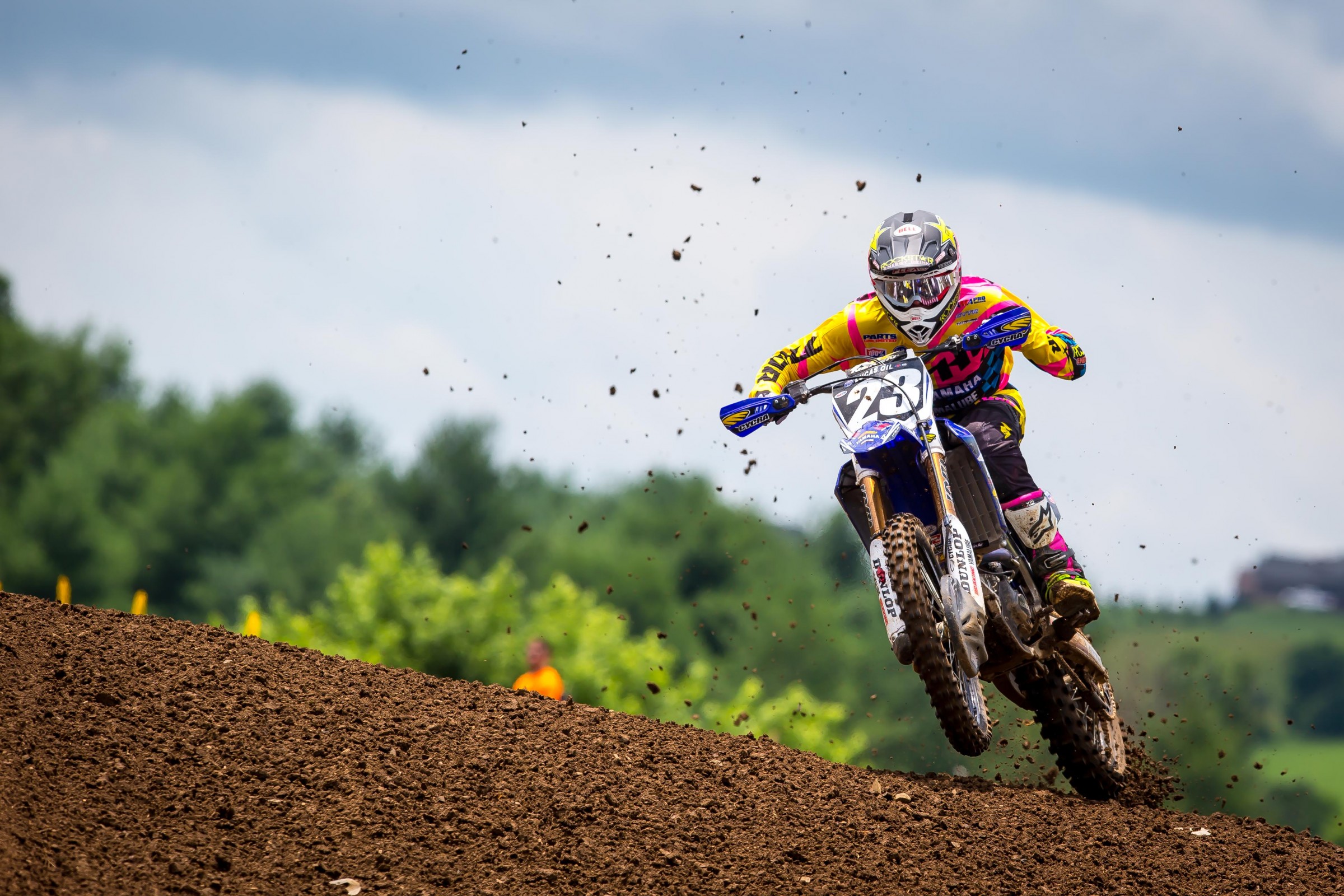 1978: Yamaha, Suzuki, Honda, Kawasaki
1983: Yamaha, Suzuki, Honda, Kawasaki
1986: Yamaha, Suzuki, Honda, Kawasaki
1991: Yamaha, Suzuki, Honda, Kawasaki
1994: Yamaha, Suzuki, Honda, Kawasaki
1998: Yamaha, Suzuki, Honda, Kawasaki
2000: KTM, Yamaha, Suzuki, Honda
2001: KTM, Yamaha, Suzuki, Kawasaki
2005: KTM, Kawasaki, Honda, Suzuki
2006: KTM, Kawasaki, Honda, Suzuki
2017: Husqvarna, Kawasaki, Honda, Yamaha
Helping Jimmy Wilson (Chase Stallo)
Jimmy Wilson grew up in Willis, Michigan. He began riding at the age of 4 and was soon competing in the AMA Amateur National Motocross Championship at Loretta Lynn's. He made 12 appearances at the event between 1989-1998 with his best finish a third in the 250/Open A Stock Class in 1997.
Wilson turned pro in 1998 competing in the PJ1 Arenacross Series before making his AMA Supercross debut in 1999. He raced professionally until retiring from the sport in 2005. While his best finish was a 13th in 125SX in 1999, Wilson was more known as the all-time winningest racer of the Racer X Gas Card, which used to be given out at every race to the rider who came up just short of making the main.
In May 2017, Wilson was unfortunately diagnosed with testicular cancer. Immediately he began an aggressive chemotherapy treatment, which consists of eight hours a day, five days a week. While Wilson and his doctors are optimistic about his long-term prognosis, the Road 2 Recovery has setup a fund to help Wilson. You can donate here if you wish.
This weekend at RedBud, Wilson will be honored by the Legends and Heroes Tour. Everyone here at Racer X is wishing the best for Wilson and his family during this tough time.
Hey, Watch It!
In case you missed it, check out last week's Remastered film from Muddy Creek featuring music by Blake Wharton, "Explain Insanity," and film and edit by Tommy White.
Check out the Best Post-Race Show Ever with Jimmy Albertson and Jason Weigandt from Muddy Creek. As usual, there's a bit of talk about racing but much more talk about stuff like trash talk, partying with Grant Langston, and more. We just hope GL made it back from the party to get to RedBud this weekend.
[Note from Weege: He was spotted today. But making it to RedBud probably means more parties!]
Cool video local news station WNDU did on LaRocco's Leap.
Take one lap around RedBud with Weston Peick and the Vital MX Garmin.
Random Notes
Would you like to be a part of one of the nation's #1 racing awards suppliers and work in a fun and energetic atmosphere? Race Awards, supplier of Loretta Lynn's, GNCC and numerous MX national awards, is looking for a motivated, enthusiastic graphic artist to join our family.
Job duties will include:
Designing unique custom awards and t shirts on a daily basis
Small machine operation (decal printers, laser engraver, etc.)
Required Skills:
Strong work ethic
Strong computer skills using Photoshop and/or Corel Draw
Ability to work in a team environment
High level of detail and accuracy
Ability to prioritize projects in a changing environment
Ability to provide creative solutions to projects
Compensation:
Competitive Pay
Paid Vacation
401K & Health Plans Available
Contact Logan@RaceAwards.com if you have any interest.
Nitro Circus and Ethika are introducing the new Ethika x Nitro Circus Collection, available online at www.ethika.com. Three styles, appropriately titled I Believe I Can Fly, You Got This and Nitro Doodle Print are available in Mens and Boys sizes in both the U.S.A. and Canada.
100% are presenting their first ever Pop Up Shop in Düsseldorf, Germany for the Grand Depart of the 2017 Tour de France. 100%'s new Speedcraft eyewear collection & limited edition @petosagan products are on display and available for purchase. They will also do some stage viewing, offer coffee and refreshments, and host a contest to win Peter's Speedcraft P1 limited edition with a signed World Champion jersey.
Headed to the RedBud National this weekend? Be sure to stop by the Racer X Booth in Sponsor Village, and subscribe to Racer X Illustrated for as low as $10 to receive a FREE $20 Motosport Gift Card, a one-year subscription to Racer X Illustrated, an extra copy of Racer X, the official event sticker, and Racer X stickers.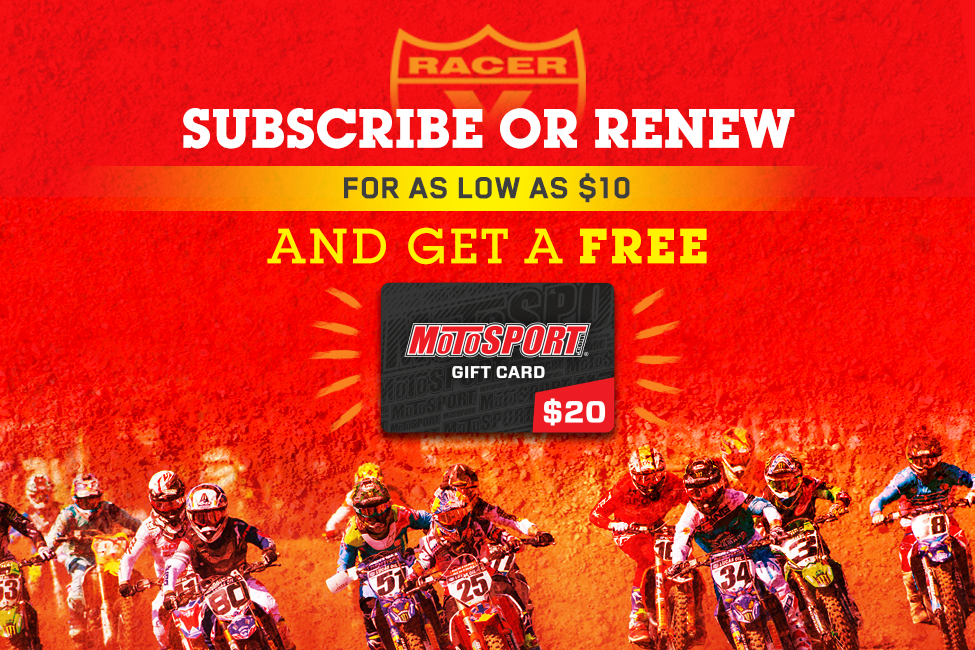 Going to RedBud this weekend? Want to be able to get into the pits all day?
The only way to cruise the pits whenever you'd like is with the Racer X All-Day Pit Pass, but quantities are limited! Get yours today while they're still available and get all-day pit access plus a one-year subscription to Racer X Illustrated for just $50. Preorder ticket sales end Thursday, June 29th at 11:59 PM. So, that means you missed that but our guys Dustin and Justin are armed and ready at the Racer X booth all weekend, so hit them up and get in the pits!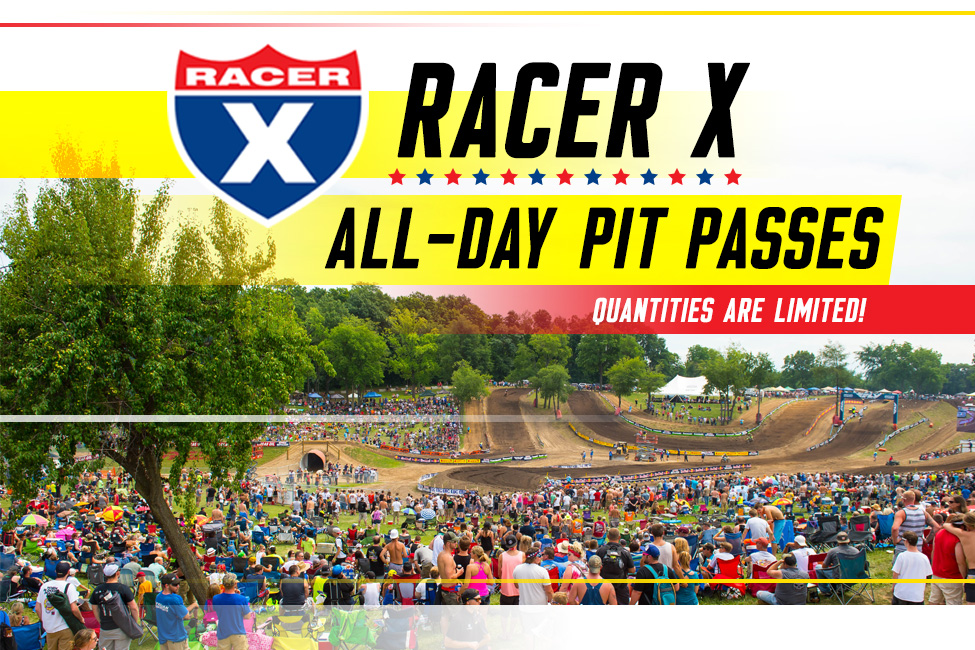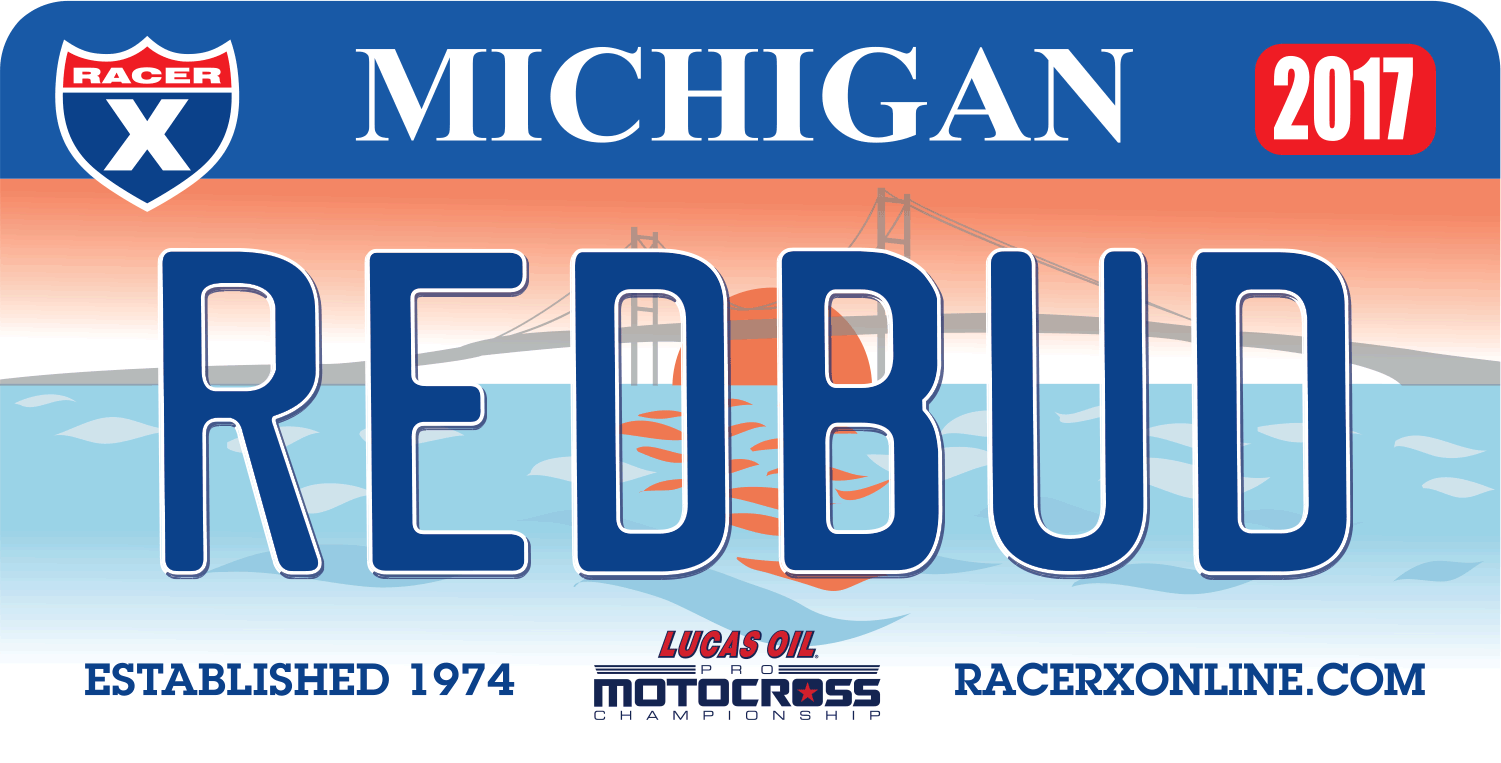 If you preorder online for this event, you'll need to pick your Racer X Pit Pass up at the Racer X booth, which will be located at the main Pit entrance, where you'll also receive an extra copy of Racer X, the official event sticker, and Racer X stickers.
Subscribe now for only $9.98 and receive a FREE Alias T-Shirt plus access to our current digital edition.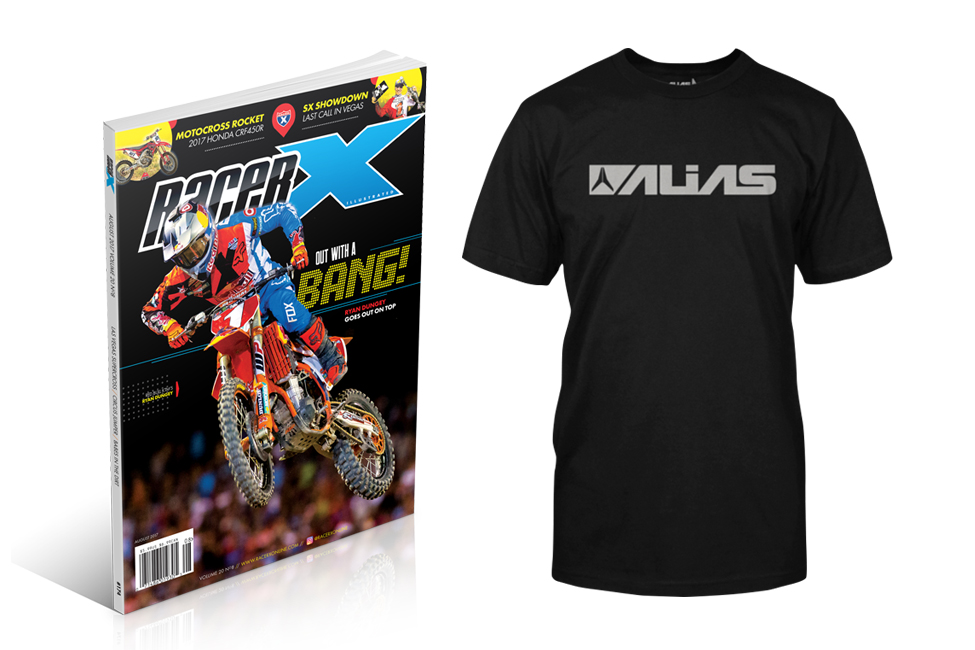 That's all for now—thanks for reading Racerhead. See you at the races.