High Point Raceway
Mt. Morris

,

PA
High Point
Lucas Oil AMA Pro Motocross Championship
After starting the season with 6-8-8 finishes, Blake Baggett has finished no worse than third in the last five motos and following consecutive overall wins—the first of his 450MX career—he now holds an eight-point lead over Marvin Musquin and is 11 clear of Eli Tomac. High Point was big for Tomac after #brakegate in the second moto at Glen Helen and problems with arm pump in Thunder Valley. Tomac got off to a good start to the day, running second early in the first moto, before sliding out and remounting on lap one. He put in a strong charge to get back to 12th and rebounded in the second moto to grab his first win since the opener.
"I'm glad to finish today with a win," Tomac said in a statement. "It was unfortunate to have that crash in moto one, but shook it off and pulled off a big win in the second moto by 20 seconds. That feels good. Looking forward to doing it again in Tennessee."
There's a war of words brewing between Tomac and Baggett, which follows this strategy: Baggett talks some trash, Tomac is silent and tries to let the riding do the talking. The second High Point moto, then, became pivotal as Baggett climbed to second and tried to run Tomac down. He immediately cut three seconds into Tomac's 12-second lead, but Tomac saw it coming and upped his pace, basically stabilizing the gap. If you're on Team Tomac, you will say that the moto victory proves you're the real winner. Baggett's camp says he didn't have to win the moto to get the overall, and it wasn't worth the risk. On to the next race we go!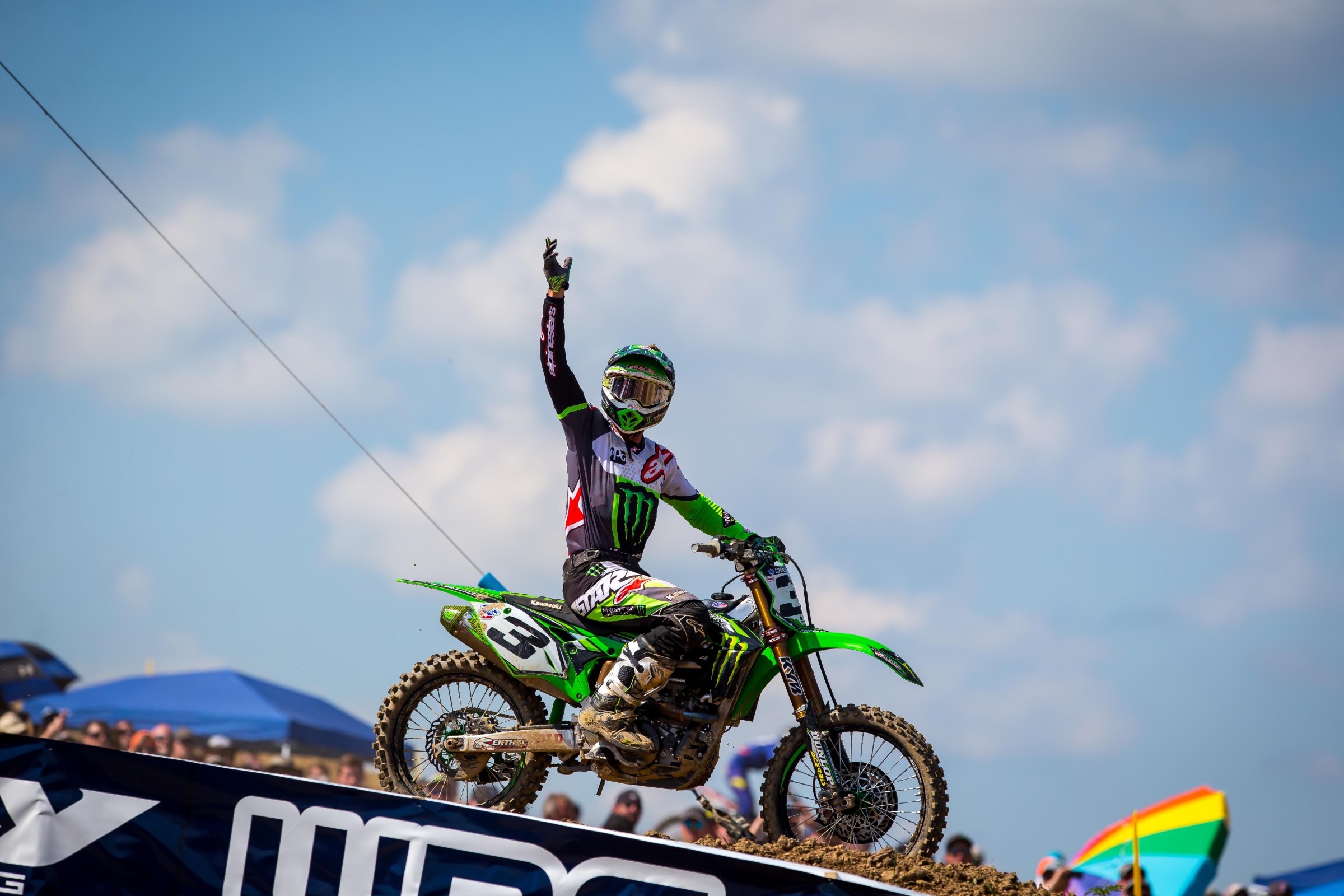 This title might be between Tomac and Baggett, because, as we initially reported over the weekend, Red Bull KTM's Marvin Musquin sustained a torn meniscus in his left knee on Thursday prior to High Point. After riding just a few laps in practice, Musquin rode to 16-6 finishes to salvage a ton of championship points. His injury will certainly play a factory in the championship, but we won't know how big until we see how his knee responds over the next few rounds.
"This week was all about salvaging points in the championship," Musquin said in a team statement. "I hurt my left knee so knew it was going to be tough coming into High Point especially since we were coming in with the red plate. I had to ride both races with my feet on the pegs basically unable to put my left leg out which obviously restricted what I was able to do on the track, it was tough. But I gave it everything I had and we leave here second in points so it could have been a lot worse. I guess the next few weeks will be about salvaging points and I will just keep trying to do my best."
Josh Grant continues to put in great rides. In the first 450 moto, the veteran led four laps before eventually finishing third. It was his fourth podium of the season, which ranks fourth in the class only behind Baggett, Musquin, and Tomac. Grant was up front early in moto two but said had a few bike problems, telling us his bike would pop into different mapping between gears, making it hard to predict the power delivery. He tried to nurse it along until he was passed by Musquin. Grant tried to wick it up and re-pass the KTM rider, and he ended up crashing.
"The day started off great," said Grant in a Kawasaki statement. "My starts were on point today with pulling a holeshot in the first moto and finishing third again. I got another great start in moto two, but just had a few little mistakes that held me back from the podium."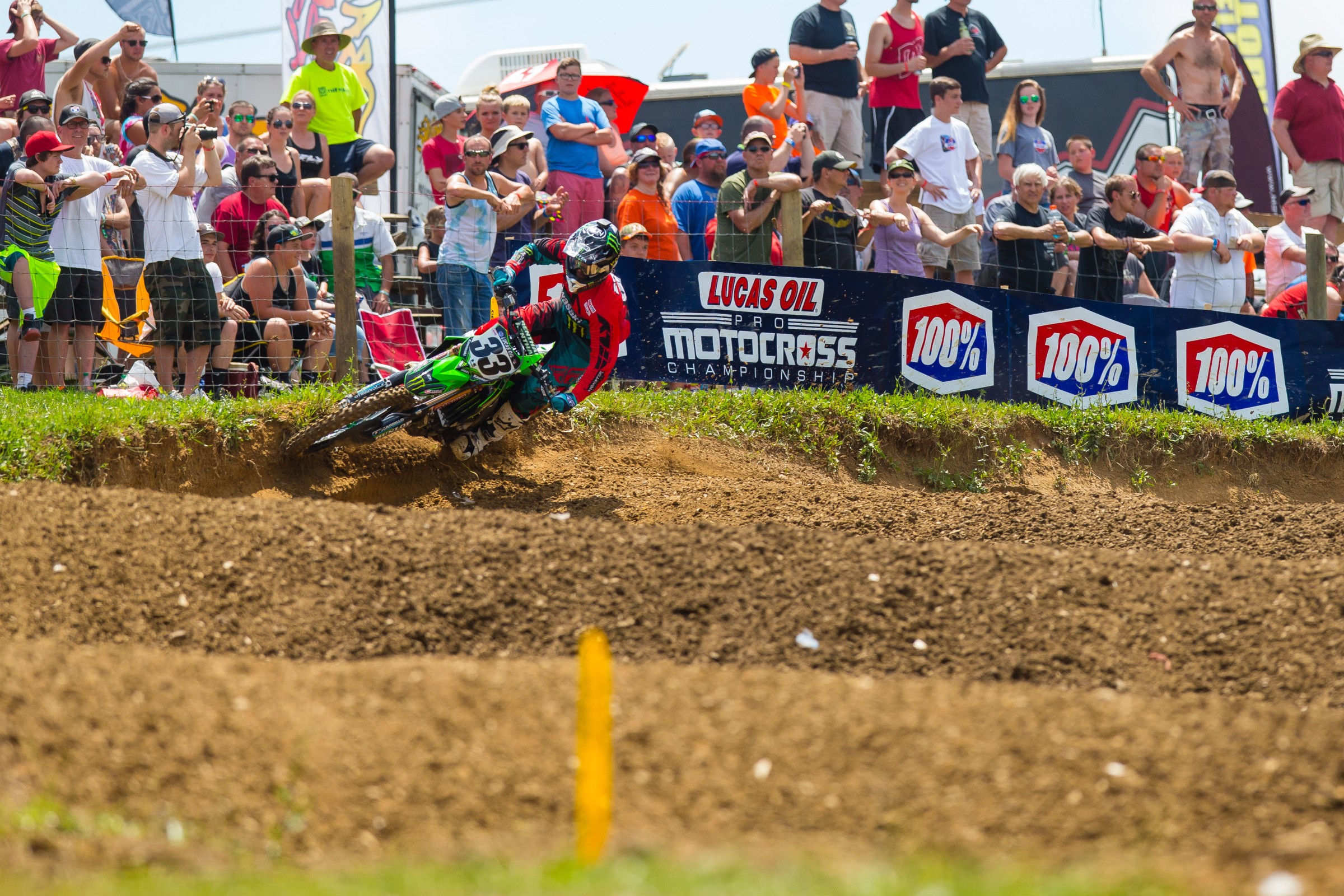 Following a challenging start to the season, Cooper Webb is beginning to turn the corner in his rookie 450MX season. In the last three motos, Webb has gone 4-6-5 and has a home race coming up this weekend at Muddy Creek. "Getting better and better each weekend and that's all I can ask for," he wrote on Instagram. "Gonna work on some flaws and move forward to Muddy Creek this weekend."
A week after winning his first career moto, Justin Bogle had a quiet, yet productive day at High Point. He went 7-9 in the motos for ninth overall, and could have been better in the first moto if he hadn't been knocked down by the always-aggressive Jason Anderson. Through four rounds, Bogle has only finished outside the top 10 in one moto (moto one at Glen Helen). "It was a good day, but I was hoping for a little more," explained Bogle. "The track was rough and muddy. I had a really good first moto going but ended up getting together with another guy and going down. I was running up front at the time and only ended up losing a few spots, but that was still the end of any chance for a podium. I struggled a little bit in the second moto and wound up ninth. Wasn't the final result I was hoping for but they knew we were there. We'll get back to work this week and be ready for Muddy Creek."
Honda HRC's Cole Seely has set up camp down in Florida at the Nest and is training alongside his teammate Christian Craig. He only had a few days of riding on the East Coast as he was waiting for his bike to arrive from California. He went 10-8 at High Point, but said he was happy with the way he rode. "My day went okay all in all, but I definitely didn't get the results that I wanted. I felt like I rode pretty well in the second moto after not getting a good start. I made my way up to sixth and almost had fifth before making some pretty bad mistakes the last few laps that cost me a lot of time and positions. My results don't show it but I'm happy with how I rode in that race. I'm taking steps in the right direction and I think my move to Florida is going to continue to help me get faster and stronger. I also need to work on improving my starts. It's hard to fight for good positions when you're starting outside the top 10."
When we talked to Craig on press day Thursday, he seemed confident his hand would hold up just a little over two weeks after having surgery to repair of boxer's fracture. He jumped out to a great start in the first moto, but he was only able to put in eight laps before pulling out of the moto. Due to his injury, he wasn't able to line up for the second moto. In a team statement, Craig made it seem like he will try and race Muddy Creek this weekend.
"Today didn't go as planned, unfortunately," said Craig. "I think I should've given myself another week to get more time on the bike and build up strength in my hand. I was able to ride two partial days leading up to the race and press day, but the intensity of the race pace and track conditions made it really hard to hold on. I think the biggest positive is that I started back up front, where I was before the injury. I got a great start in the first moto and was running a good pace before I just couldn't hang on anymore. I went down before the mechanics' area and decided to call it a day, to not risk something worse happening. I'll take it day by day but will be back strong and get better results next week."
With temperatures in the low-90s and humidity around 60 percent, riders got their first real test of the summer on Saturday. One rider who may have overextended himself was Troy Lee Designs/Red Bull KTM's Alex Martin. In the first 250 moto, Martin went down in the first turn and came from dead last to an impressive seventh. A little over an hour later he had to deal with heavy pressure from his brother Jeremy and after getting passed by the eventual winner things came unglued and he fell back to fifth. We saw Alex after the race and he admitted he got tired in the second moto after working so hard in the first. "I definitely spent a lot of energy in that first moto to make it back up to the front after going down," he said in a team statement. "I felt good in the second moto but the track was super challenging with its hard ruts. I know we can be up front and I think we can prove that next weekend."
Prior to the start of the Lucas Oil Pro Motocross campaign, many questioned how Yamalube/Star Racing Yamaha's Dylan Ferrandis would acclimate to the heat. Ferrandis, who says he's from a hot part of France, passed his first test at High Point with impressive 4-4 scores for fourth overall. Despite his crash in the opening moto of the 2017 season, Ferrandis has been rock solid for the team winning one moto and placing inside the top 10 in the last six motos.
Recommended Reading
GEICO Honda FINALLY got some good news in the injury department over the weekend with both RJ Hampshire and Chase Sexton making their 2017 Lucas Oil Pro Motocross debuts. Hampshire, who has been out since Toronto with a broken tib/fib, was solid in his return finishing eighth overall. He had this to say in a press release:
"Both motos I had good starts. First moto I got that good start and was so excited to be back racing, I was letting it hang out," said Hampshire. "Then I got passed by four dudes in one lap! I had to calm it down or I wouldn't have made it. Once I settled in I started putting good laps together and pulled back up to the pack right behind [Austin] Forkner. Ran there for a few laps and then went down. Second moto I had another good start, but didn't want to blow it like I did first moto so I rode cautious and that bit me. I made so many mistakes! Pretty sure four guys passed me again in one lap! Once again, I had to settle back down and start putting laps together. I felt good and made a pass on Savatgy late in the race, then with one to go I had a run in with a lapper on a downhill, we both went flipping. Got up in 8th. But getting eighth in my first race since my injury, I'll take it. I'm just happy to be back at the races and having fun again. I like Muddy Creek so looking forward to this weekend!"
Sexton, who won the 2016 AMA Horizon Award, was expected to make his pro debut at Unadilla a season ago but missed the final three rounds due to a knee injury. He never made it past practice in supercross either, after breaking both wrists prior to the season then his femur in Atlanta. He was finally back at High Point and finished 13th overall. It was an impressive performance considering he was down in the first moto with [Alex] Martin in the first turn.
"First moto wasn't what I wanted," said Sexton. "I went down with A-Mart in the first turn and I couldn't get up. I was probably 30 seconds behind everybody else. I was probably 16th or something and I fell over and I ended up 19th. Then second moto was better. I think I started off 16th or something and came to 10th, so it's alright. I want to be top 10. I think I can be there for sure. Biggest surprise was probably that I wasn't surprised with the speed. I think my speed's fine. The starts, it's chaos in the first couple of laps. They go for it, for sure. I've just got to learn that. I haven't raced in eight months or something, so it just feels nice to race and get a race in."
It wasn't all good on the injury front, though. Cameron McAdoo attempted practice but pulled the plug on motos due to a shoulder injury sustained a few days after Glen Helen—McAdoo told us he was actually okay after the Glen Helen crash, and he expects to be back this weekend at Muddy Creek.
Troy Lee Designs/Red Bull KTM was hoping to have Jordon Smith back for High Point but he had a big crash in practice and wasn't able to line up for the motos. He tweeted the following after the race: "Had a crash in practice today.. got a little black eye and twisted ankle. Decided wasn't worth trying to race today. We will be back." We'll provide an update on his status for Muddy Creek later this week.