Anyone who reads Racer X Illustrated or who hunt and packs their way onto this here website is well versed on the racing life and times of Mike Alessi. While having never won an AMA title during his 13-year professional career, on many occasions the #800 rider was very much in the hunt, and if you look under his name in the Lucas Oil Pro Motocross Championship media guide, you'll see that he won five AMA Nationals and placed third overall in the national championship on three separate occasions.
But that's only part of the story. One of the most controversial, and, at times, enigmatic racers in modern American motocross history, Mike Alessi also created story lines wherever he went and wherever raced.
After the running of the recent FMF Two-Stroke Invitational at the FMF Glen Helen National (which he won) we caught up with Mike and talked about a prism of topics, the foremost being his coming assault on the 2017 CMRC Rockstar Energy Drink Motocross Nationals, the 10-round affair which will start this weekend at Whispering Pines Raceway in Kamloops, British Columbia, Canada.
Racer X: Okay, Mike, David Pingree once said something that stuck with me. In essence, he said, "No matter what the race or the place, it's just nice to win." You won the FMF Two-Stroke Invitational race at Glen Helen on Saturday. Do you feel the same way as Ping?
Mike Alessi: Man, for sure! It's always nice to win. The two-stroke race was fun. I really wanted to do the Two-Stroke National in April, but I got hurt with my collarbone and that kind of forced me to not be able to race it. For me, the race on Saturday was one of those things where I wanted to get back behind the gate and to start and go into the first turn and ride the first lap or two with intensity. I was able to knock the rust off and to be ready for next weekend. It was fun to get out there and just have a nice little race.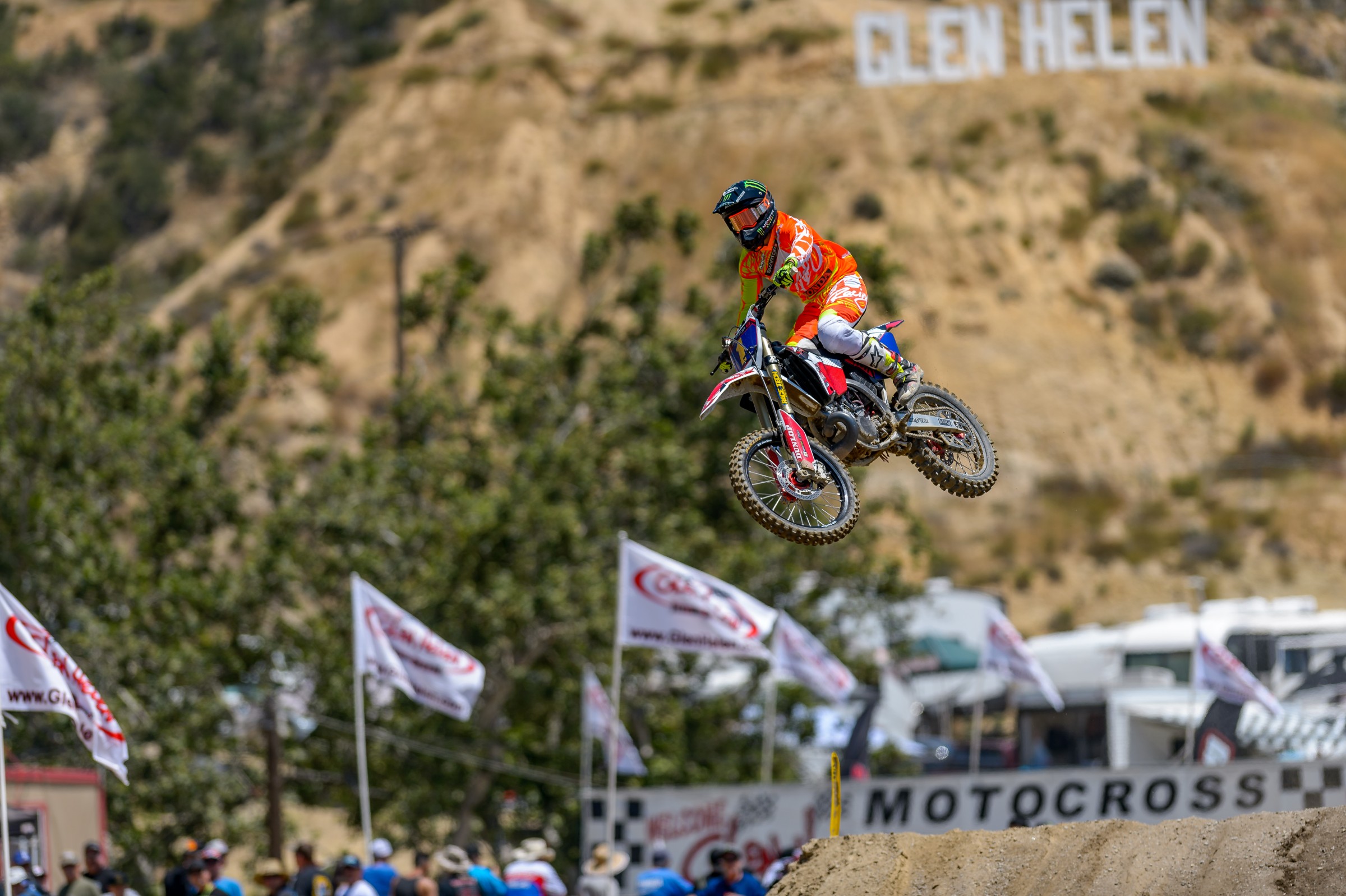 And you won it.
Yeah, exactly. The last race I did was the Detroit Supercross and that was the end of March. I haven't raced in two months and my season is getting ready to start this coming weekend in Kamloops, so like I said, I just kind of wanted to knock off the dust and the rust a little bit and get rid of the nerves and just be ready to go into the first round not too overly excited and pumped up and not have a good race. So I got that out of the way and now I'm ready to go have a good season.
How was it riding a 250cc two-stroke around that wicked-ass Glen Helen track?
It was fun. It was different. The track was pretty dang rough, I will say that. Even for our race, it was rough. It's just so much fun riding a two-stroke. I really enjoy it. It takes a certain type of rider to ride the bike with a certain powerband that the two-stoke requires. With a four-stroke you can use the power to pull you through a corner when you're kind of lugging, but with a two-stoke you can't do that because you have to keep momentum constantly in the corners and down the hills. It takes a unique rider to be able to ride a two-stroke properly and fast.
Tell us about the race program you have set up to contest the CMRC Motocross Nationals.
I got hurt in supercross and that sort of stopped everything. Supercross was pretty much over for me, so I just started focusing on the outdoors. I got a deal working with Jason Hughes to ride for the Monster Energy/Alpinestars/Kawasaki team and the first round is this weekend and then we'll go four races in a row. After that, we get Fourth of July weekend off. After that we do six in a row and then it's over August 13. It does go by very quickly. Before you blink, summer will be over, but during that time I'll be enjoying my time up in Canada and having a good time racing the competition and traveling through Canada. I really enjoy it up there, the people are awesome, the scenery is great, and the weather is—for the most part—awesome because most of the time the temperature is, like, 60 to 65 degrees. That's a perfect riding condition. It's all just a good time.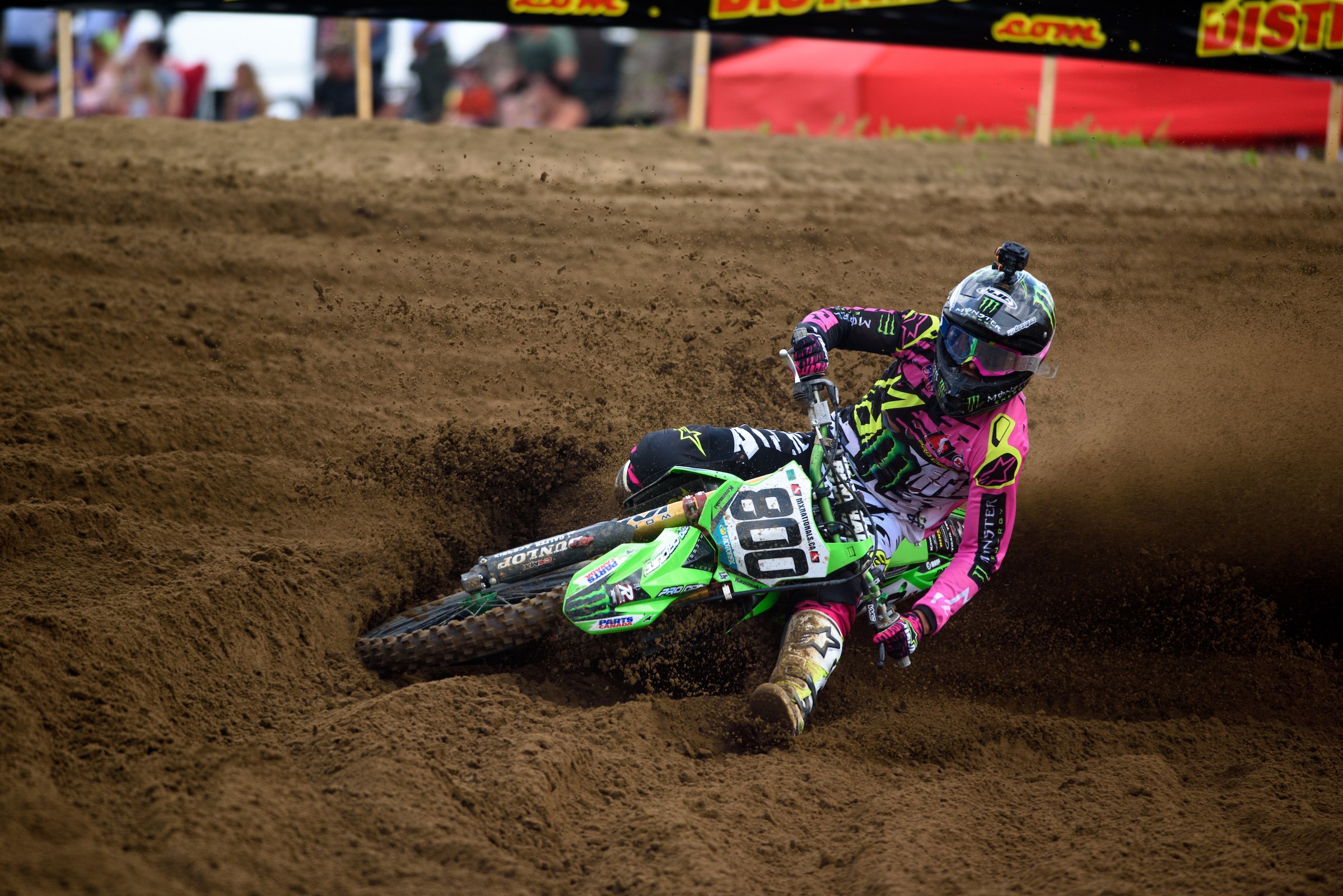 If the opportunity would have presented itself, would you have wanted to line up for the Lucas Oil Pro Motocross Championship this summer?
Well, the thing with Smartop/MotoConcepts is that they only race supercross, so if I want to continue to racing the rest of the year and ride motocross, I have to go find my own deal. That's what I was able to do with Jason Hughes last year. I rode with him in '16 and now I'll ride for him this year in '17. I mean, I always wanted to come back and race the Nationals; I think the last National I did was in 2013 [Note: At Lake Elsinore], so it's been quite a few years since I raced a National. Like I said, I had to go find my own thing for the summertime and I enjoy working with the Monster Energy/Kawasaki/Alpinestars team. They do a great job and I'm looking forward to another good summer up there.
What's the Mike Alessi battle plan for Canada during the next three months?
First and foremost, the battle plan is to stay injury-free, to have fun, and to try and win races.
I've never been to a Canadian National. How is the competition at those events? Is it serious racing?
It's pretty serious, honestly. There are some good guys up there. You have a couple of good guys up there in [Christophe] Pourcel, [Colton] Facciotti, [Matt] Goerke, [Kaven] Benoit, Kyle Chisholm…. There are some good guys. I mean, it's not like it's a walk in the park for anybody. It's always good racing. The guys are fast and they're competitive. They want it just as bad as they want it down here.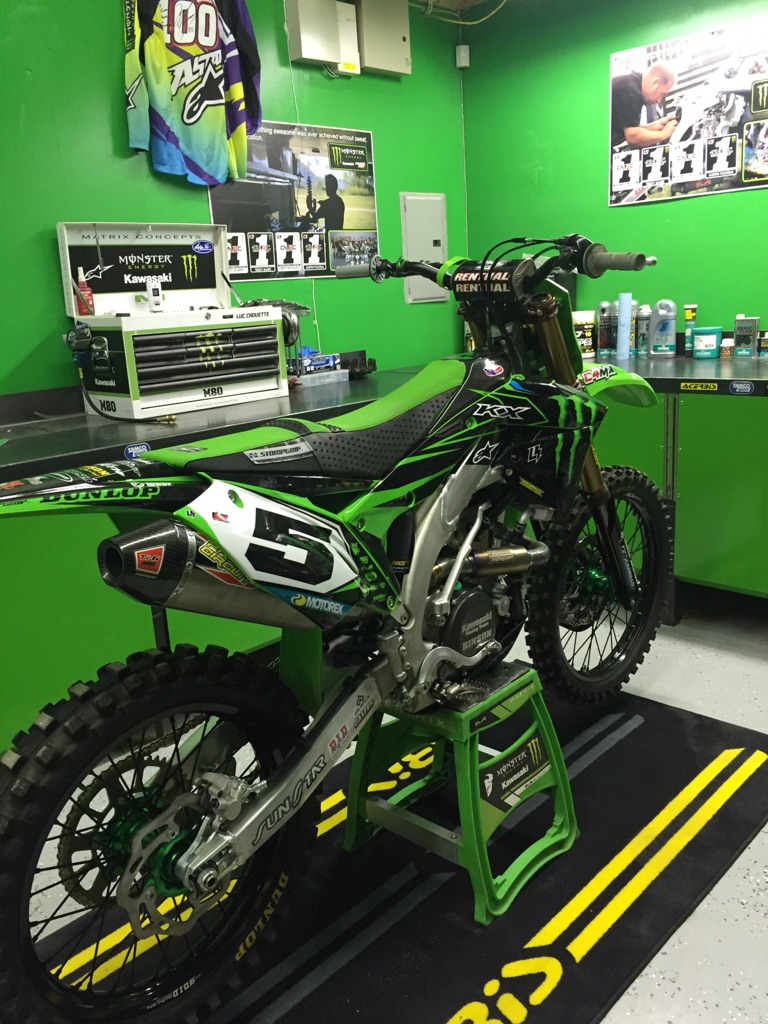 Getting back to the United States, would you like to give the Monster Energy Supercross Championship another run come 2018?
Well, like you and I were talking about the other day, I'm not too sure, you know? I'd kind of like to weigh out the options come August when the season is over and I'm back home in Florida. When I'm there, I can think, "Do I want to do another year of supercross, or do I maybe want to ride the Canadian Nationals for two or three more years and just enjoy my last couple years of racing?" I don't know. I'm 29 right now and I'll be 30 next year, so I don't know. It's hard to say. I still enjoy it and I still love it, but supercross is not an easy game. There are a lot of fast dudes and at this level you really have to hang it out to be competitive in the 450 class. Like I said, there are a lot of fast guys and you just have to go for it. We'll see what my feelings are when August comes, and we'll make a decision then.
You've proven that you are still very competitive in supercross. To that end, the stakes are high in supercross and, well, it's an interesting era that we are in, huh?
It is. And like you said, I can still go out there and compete and possibly win heat races and semis, but you really have to risk life and limb to be competitive in the 450 Class. For me, if I'm not going to go out there and give it my all, or if I can't try to fight to be in the top 10 or better, I feel like I'm just kind of cheating myself and kind of cheating the team that I'm riding for. I want to be competitive and I want to go try and fight for heat race wins and semi wins and top 10s. That's the goal. We'll see what happens and how it all pans out come September.
Would you rather it work out to where you can race supercross?
Oh, I would love for it to work out. I feel like my supercross skills have gotten so much better over the years in the whoops and the rhythm sections. I've really tried to fine-tune my supercross skills and that's something I struggled with since the beginning of my career. Ever since I started working with Michael Byrne, I feel like that really was the turning point in my supercross technique. Now as a supercross rider, I can say I'm pretty dang good at it and still good enough to be inside the top 10.
Recommended Reading
A few days before the Glen Helen race you were talking to me about the good, the bad, and even the nasty moments and periods of your career. All in all, I was really impressed about how honest you were about all that stuff. You've had good days and you've had bad days and you're not afraid to talk about any of it.
Well, I appreciate that. You know what? With racing and this career, it's like a roller coaster. There are ups and there are downs and there are peaks and there are valleys. You just kind of have to roll with it and take the good with the bad. That's part of the sport. In 2009 I won four motos in a row and two overalls and had a great shot at the championship…. It just seems like people kind of forget that all happened. People's memories in this sport are kind of short and they don't remember things like that showed what I accomplished and who I am. Yeah, I was 20 or 21 years old back then and I'm almost 30 now. It's like people forget and it was like it never happened. From time to time there were some flashes of brilliance and speed from me. And it's still there. The Mike Alessi speed is still there and I'm just as competitive.
Team Alessi certainly played a part in a host of controversies in the decade of 2000, but having said that, you guys were always there and racing your hearts out. You guys fought hard and there is a lot to be said for that, huh?
You can't be everybody's buddy and you can't please everybody. I feel like as long as I can look myself in the mirror and know that I'm a good person and that I'm doing the best I can to be a good person, that's all I can ask for. To be a good husband and to be a good friend to my dad, that's what it takes to be a good person. I may not have won a lot of titles and championships, but at the end of the day, I'm happy with the person I am when I look at myself in the mirror.
But don't sell yourself short. You won a lot of races and you were always there during a significant number of championship battles. And come to think of it, you never really complained about anything. You never made excuses when things didn't turn out your way.
Here's the thing with complaining: It gets you nowhere. You just kind of have to roll with the punches. You have to take the good with the bad. When things aren't working, you just have to figure out a way to make them better. Sometimes you have to dig for it and you have to work for it, but it's there. Complaining is not going to get you anywhere. You have to man up and figure it out.
I've known you for a long time now and you have always been a guy who will race anyone, anywhere, and at any time. You've been at it virtually your entire life.
That's one thing about me: I'll race any time, any place, anywhere. I'm not afraid. I'm not scared. I'll do it. That's who I am. It's just as I get older, I start to kind of realize the book is kind of closing and maybe it's kind of getting closer to be the time to start a new chapter with a family and kids and just being home. I kind of feel that chapter of my life is getting closer and closer as I get closer to 30 years old. You have to kind of weight out the options and look at the risk versus reward and look at the values of what you want to do with life after racing.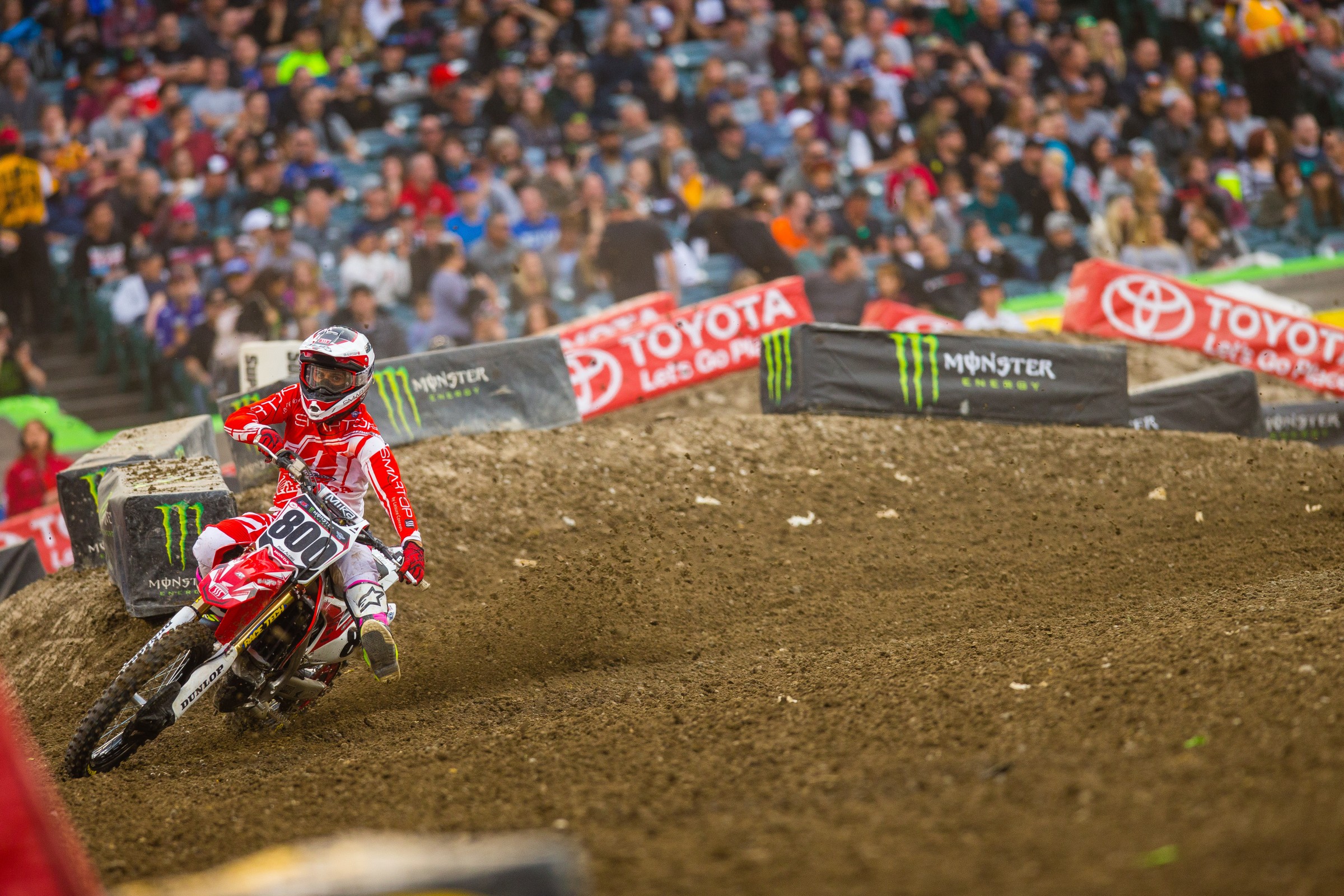 Looking back on it all, who are the one, two, or three racers that you have respected, if not admired, the most?
Oh, first and foremost when I was racing, [Ricky] Carmichael in 2007. I would say, for sure, he's number one. I think Bubba [James Stewart] is number two. Those are the two guys I most respected just with how great they rode. At the end of the day, they're the only two riders in history to ever go 24-0 and I raced them and I got on the podium with them in 2007. I went to RedBud and I went 3-3 behind Stewart and Carmichael and just to be able to have the privilege to race those guys when they were in their prime … man, that's enormous. I would say a third place podium guy for me and a rider I respect a lot is Ryan Villopoto. I raced him my whole career, from amateur into the Lites Class and into the 450 Class. All those beatings that I gave him in the amateurs, it just made him tougher and just gritty. He just never quit. I think it was like, "Man, Mike Alessi beat me again and he beat me again…." He just kept working and he kept at it and he became one of the top riders ever in the sport and you have to respect that. I definitely respect him as a rider and a person. He just never quit.
Do you ever cross paths with Ryan?
Yeah, every now and then when I see RV at the track I'll wave to him and walk over and say hello and we'll just kind of kick it for a few minutes and talk about life and then we go on with our own day. You know, life moves on. It's just racing at the end of the day; it's just a motorcycle and a rider and you go and do the best you can and sometimes the chips fall differently for other riders and they have a little bit more luck, but at the end of the day, that's racing and that's part of the sport.