Glen Helen Raceway
San Bernardino

,

CA
Glen Helen
Lucas Oil AMA Pro Motocross Championship
1.) Compared to Hangtown, who will make the biggest gain at Glen Helen?
Chase Stallo: Justin Hill and Joey Savatgy. Yep, I'm picking two. Hill rode to a very quiet eighth overall at Hangtown. In 2015, Hill went 13th overall at Hangtown and the following week took second overall at Glen Helen. In the pre-race press conference, Hill said that despite holding a significant lead in supercross, he continued to focus on supercross instead of changing to motocross. So, I think we'll see a much better version of him this weekend with a race under his belt.
Savatgy won Hangtown in 2016, but just didn't seem to click with the track last weekend. Fortunately for him, a 7-7 isn't a huge hole dig out of in the long run. But he needs a good weekend—and he knows it—at Glen Helen. I think he bounces back in a big way.
Jason Thomas: I think Jason Anderson will be right back in the podium mix for Glen Helen. He was fast all weekend at Hangtown, but a rock to the face has a way of taking you off your game. Look for JA21 to be a podium contender all season.
Steve Matthes: Well, I'll go with Yamalube/Star Yamaha's Dylan Ferrandis who went DNF-DNS at Hangtown due to a crash; his assistant team manager, Wil Hahn, says he thinks he'll race this weekend. Can't do much worse than how Dylan did, right? How's that for a technicality? But seriously, the Frenchie was very fast in the first moto before a bit of a weird crash took him out. Three Star Yamaha's in the top 10 in Hangtown, do I hear four for The Helen?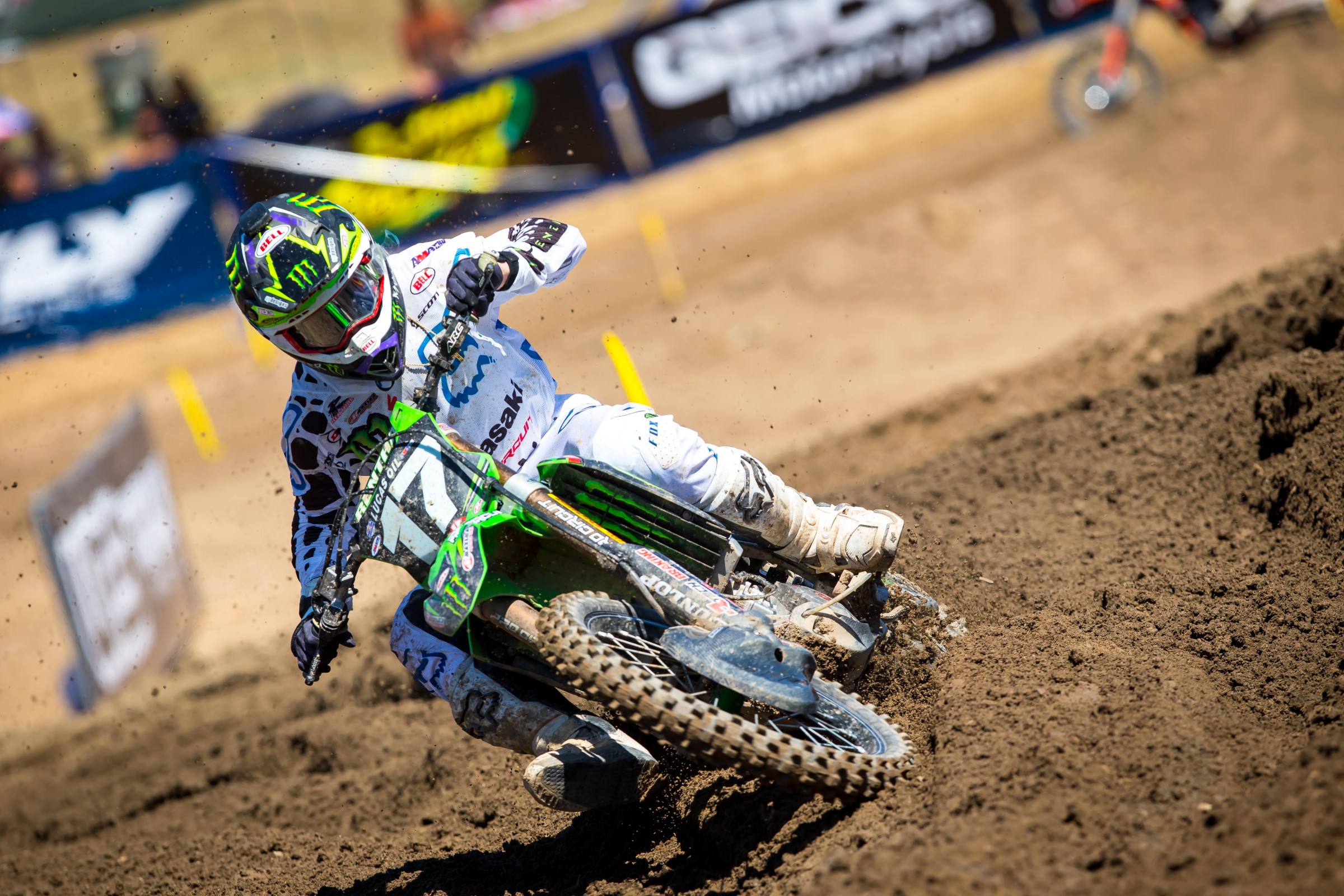 2.) Did Marvin Musquin's second-moto challenge for Tomac make you more or less convinced that someone can run with Eli this summer?
Stallo: Neither. It's short sighted to think Tomac is just going to cruise through all 24 motos. He'll have challenges—from either Musquin or Jason Anderson or Blake Baggett or Cooper Webb or Josh Grant or whomever—but I think he'll have a lot more motos similar to the first moto rather than the second.
Thomas: I don't think the "challenge" meant a whole lot. Eli took his time and methodically passed Marvin. He had several opportunities to force a pass, but I don't think Eli felt any sense of urgency at all. The track was sketchy and favored finesse over force. If Eli needed to pass Marvin sooner, he could have.
Matthes: Can I take neither? Tomac fell in moto one, he didn't get the start in moto two and then took a while to move up. Those two examples right there are why I think any 24-0 talk is pretty silly. He'll win this title if he doesn't get hurt but I really believe Musquin, Anderson, Baggett, and Webb (at some point) will put some heat on him and take some wins here and there. We saw the dominant speed we thought we'd see at Hangtown, but we also saw the reasons why Tomac will be challenged here or there.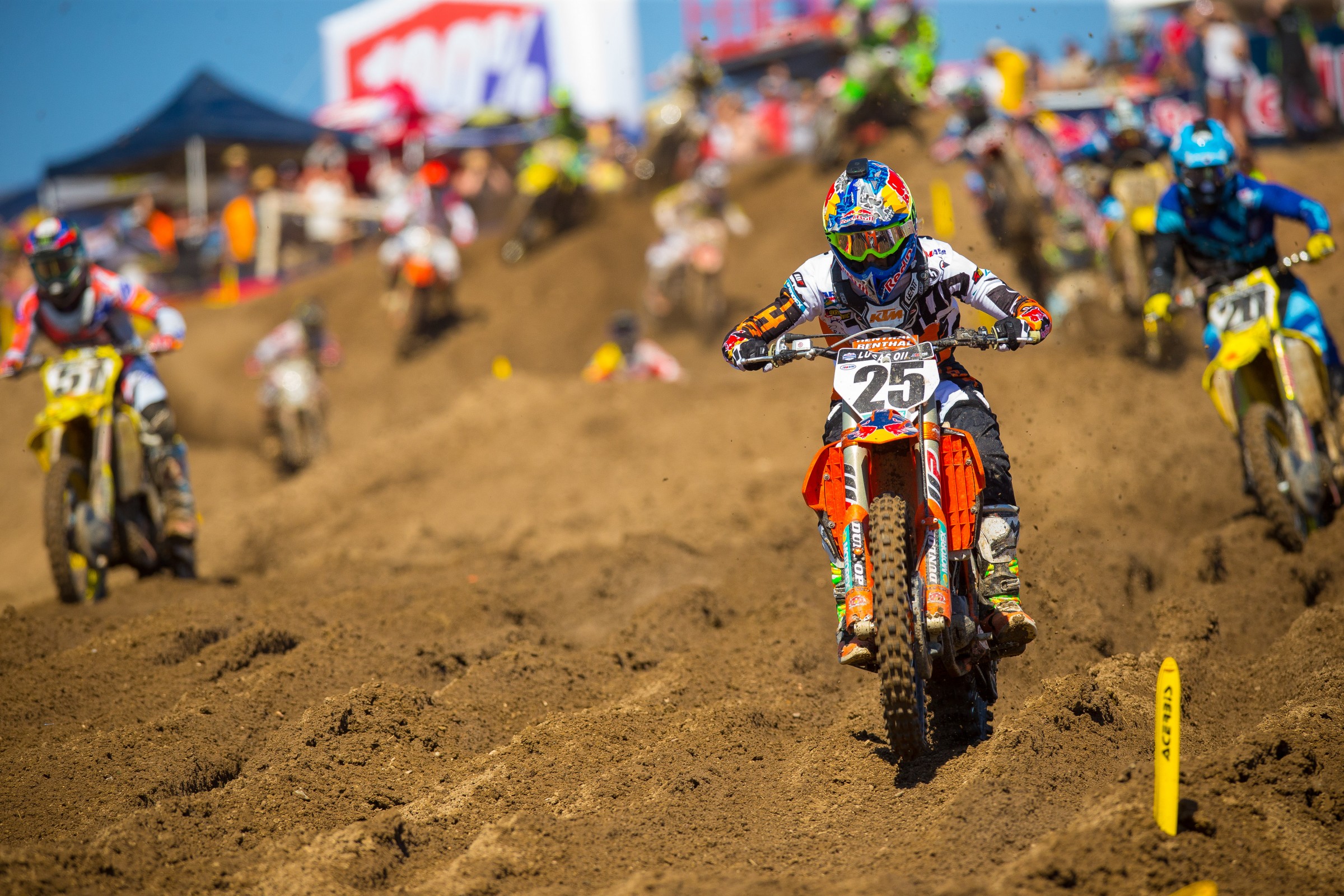 3.) What was the most underrated ride at Hangtown?
Stallo: So many options here. Pick any of the ones we listed in our Online Poll and I'd have no argument against it. Since our focus on that question was on the 450 Class, I'll switch it up and mention a 250 ride I though was underrated.
In his first pro race, Michael Mosiman put in a helluva performance in the first moto. He was way, way, way back and charged hard up to 12th. In a deep 250 Class, that's impressive. I'm not sure if he'll be a top 10 guy this year or not, but after Hangtown I'm leaning more toward the former.
Thomas: I will say Broc Tickle. Coming in, I didn't even know he was ready to race yet. He was dealing with injuries that sidelined him for the last couple of supercross events so his whole program was a question mark for me. He was fast in qualifying and rode to solid 7-7 scores. His fitness is never in doubt so the conditions certainly favored him, but I still didn't expect him to be that solid that early. He didn't win or even podium but for a rider that I wasn't even sure was healthy, it was a great ride.
Matthes: Tickle's a good one for sure, no one was really talking about him and he was fifth overall. Solid ride for the vet and don't forget before he got hurt last summer, he had made two podiums in a row in the 450 Class. And Chase talked about Mosiman in 250s; he was lost a bit because of Sean Cantrell running up front in the first moto and finishing better overall but as referenced, he came from far back and looked great.