Before we go into the weekend (where we will all just guess who will win the 250 class. Seriously, no one knows. We're just guessing) I just want to share my Ryan Dungey story. I first remember Ryan while interviewing him on the podium when he won his only AMA Amateur National title at Loretta's—the 2005 125 Schoolboy class. I've done hundreds of these interviews, but I'll always remember this one because one quote stuck out.
"The last few years I was coming here and getting 10ths and now all of a sudden I'm winning!" said Dungey, who was super-pumped before we had the term super pumped.
That struck me. In my mind, it was the whole point of Loretta's—that an unknown kid can come out and make a name for himself. To go from someone getting 10ths to someone who could win? It was the type of Cinderella story amateur racing is supposed to be built around.
Just check out these results from an absolutely loaded 85cc (12-13) Stock class from Loretta's two years earlier. There's Dungey, finishing ninth—and you could easily say that all eight riders that finished ahead of him were considered better pro prospects at the time. Even Filthy Phil was ahead of him!
Even better, years later I talked to then-Suzuki amateur team manager Cole Gress, and he admitted they were actually interested in the Dungey family due to Ryan's brothers. His younger brother Blake, for example, had finished third in the 65 (7-9) stock class in 2004. Interest in Blake led to some Suzuki help for Ryan, too. Ryan turned that into the unlikely Schoolboy title in 2005. Still, he was far from a can't-miss prospect, as he only finished fourth in the other Schoolboy class that year. That's why I'll always remember the next time I heard his name surface.
During the 2006 season, at Unadilla, word started to surface that Suzuki's Broc Hepler might be moving to Yamaha for 2007. I was big believer in Hepler. When I first got this job at Racer X, my first assignments were to go cover local races in the Morgantown, West Virginia, area, including the Coombs-run tracks at Steel City and High Point. Hepler was the local hero at that time, tearing up the B class weekly with a factory Suzuki ride. He would turn that into a bunch of Loretta's titles and a big-dollar pro factory ride alongside another Suzuki prospect, Davi Millsaps.
For the 2005 season, Suzuki not only had Ricky Carmichael onboard, but with Hepler and Millsaps, probably the best young tandem in the sport. They were definitely fast, but a little inconsistent with the results. Millsaps ended up moving to Honda for '06, and Hepler got hurt in '06, allowing the Ryan Villopoto/Mike Alessi rivalry to take over the class. Hepler finally started to recover from his foot injury partway through the Nationals, but Yamaha had already swooped in to sign him for 2007. Now both he and Millsaps were going to be gone. What the heck was Suzuki doing?
I asked team manager Roger DeCoster that day at Unadilla. He said they were bringing in a young kid from the amateurs, Ryan Dungey, to take the factory 250F spot for 2007. Huh? Ryan Dungey?
"He's very young and we feel if we work with someone at a very young age maybe we can influence him a bit," said DeCoster, who also told me he had gotten frustrated working with Millsaps and Hepler.
It was one of the craziest things I had ever heard. Suzuki had parted with Hepler and Millsaps, two of the greatest talents of their generation, for the dude that "was getting 10ths" a few years earlier. Dungey was only a B rider at the time, but DeCoster wanted to get him to some pro races, so they signed him up for Millville, Minnesota, as a pro. Dungey didn't even complete his qualifiers for Loretta's as a B rider, instead he focused on his pro debut.
A few days before that, Dungey was a guest on the DMXSRadio.com show and sounded like a nervous wreck. David Izer, one of the show's hosts, called me and said, "I'm not sure the kid is ready!"
I was the live announcer for the AMA Nationals back in 2006, usually working alongside Rob Buydos and each track's local announcer. Millville's local announcer, a guy named Guy, invited young Ryan Dungey up to the tower on Saturday for an interview. (What's funny is that Guy always pronounced the last name as dun-JEE instead of the DUN-jee that everyone else used. Maybe that's a Minnesota thing?) Again, young Ryan was a nervous wreck. He was friendly and polite, but it sure didn't seem like he was ready for pro racing.
One rider I knew would be ready was Josh Hill. He was also making his pro debut that weekend, but was coming off of two championships and the AMA Horizon Award a week earlier at Loretta's. Hill was a killer at Loretta's—really one of the best I've ever seen down there in Tennessee. Yamaha was so pumped that they had revived a factory 250F program for him, and would also put Hepler alongside as a teammate for '07. I was certain Hepler and Hill would form a dynamic blue duo. Dungey? Yeah, he wasn't on that level.
That day at Millville—also famously the day Carmichael lapped the field in the 450 class—Dungey actually rode well, with 8-8 moto finishes. But that was his home track. Hepler won the race, while Hill struggled to 22nd overall. The next weekend at Broome-Tioga in New York, Hepler won again, and Hill was a solid third overall behind Villopoto. Dungey went 13-13. The natural order had been reestablished. Further, after the race I spotted Hill and Hepler talking in the pits, introducing their parents to each other. These boys were getting a relationship started for their '07 season together under the blue tent.
The future was all around. Villopoto battling Alessi, Millsaps already up to 450s and going fast, Hepler and Hill waiting in the wings. The sport was going to revolve around these names in the future. Dungey, meanwhile, failed to crack the top 10 again in any motos for the rest of the season.
Suzuki doubled down, though. When the brand introduced an all-new RM-Z250 for 2007, they made Dungey the focal point in the TV commercials. That was the bike Hepler or Millsaps should have been riding. This was all so strange.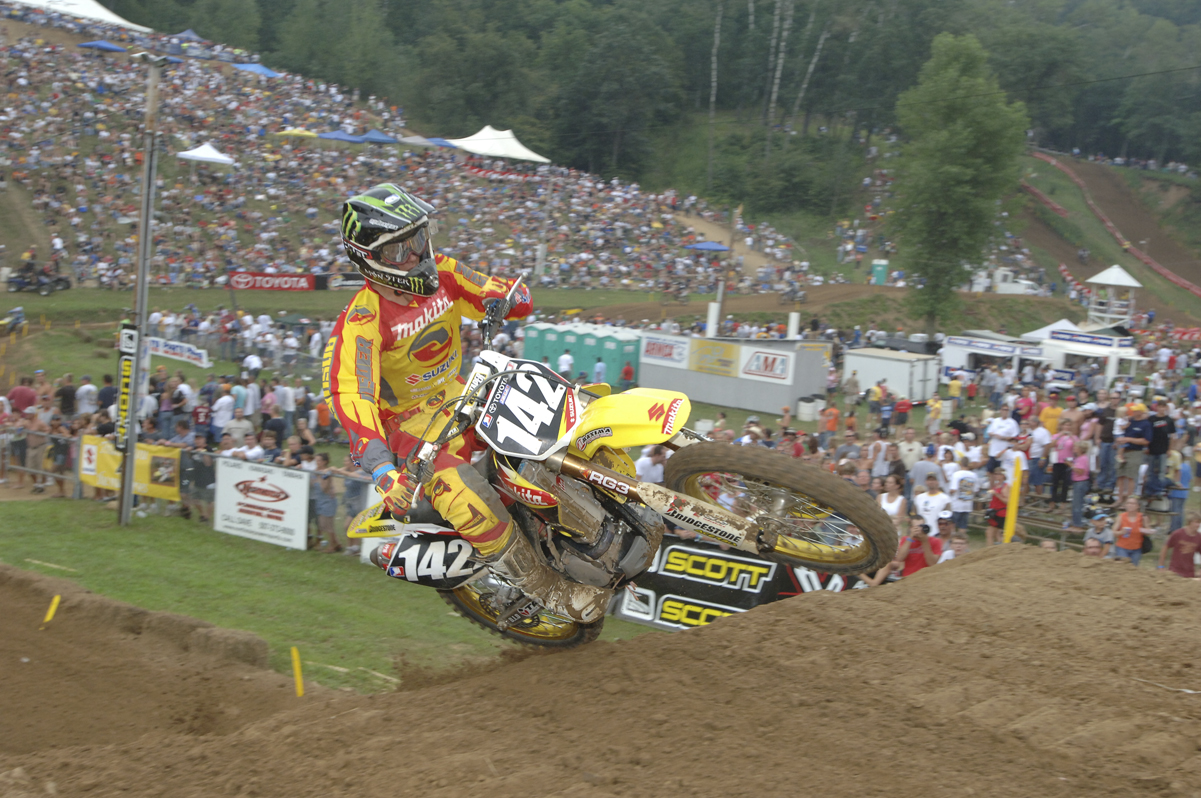 Obviously, we know how this turned out. Dungey very quickly leapfrogged all of those riders—sans Villopoto, who has his own tale of being considered "not as good as the other guy" in the amateur ranks. I next saw Dungey at the Toronto Supercross in December, and he looked much happier and more confident. He landed on the podium that night, and then in his first points-paying AMA Lites Supercross in Atlanta, in February '07, he freaking won. He was on his way, and somehow Roger DeCoster's crazy bet was about to pay huge dividends. Dungey kept Suzuki's title run going even after luminaries like Carmichael and Chad Reed were gone, then he later followed DeCoster to KTM, taking a brand that had never won into a brand that now wins all the time.
All that from a kid that was once "getting 10ths." It has to be the greatest job of talent scouting in motocross history.