Hangtown Motocross Classic
Rancho Cordova

,

CA
Hangtown
Lucas Oil AMA Pro Motocross Championship
Welcome to Racerhead and the start of the second season, the Great Outdoors. Lucas Oil Pro Motocross kicks off tomorrow with the 49th running of the Hangtown Motocross Classic. The Dirt Diggers North M/C has once again gone above and beyond to roll out the red carpet for the riders and the race teams, as well as the fans, on what should be a very warm weekend. And if yesterday's press day riding is any indication, it should be rough as hell, too.
It's also the beginning of a new era, the post-Ryan Dungey era. The Red Bull KTM rider called it quits on his Hall of Fame career on Tuesday in what someone described as the "worst kept secret since Ken Roczen signed with Honda." RD5 was the consummate professional and a pleasure to work with at every level. He worked his butt off for everything he accomplished and deserves the time he decided to take off and focus on whatever he and his wife Lindsay decide what's next in life. We'll all miss working with the man, because if there's one thing I learned in the last decade, it's the fact that we could always count on Ryan Dungey.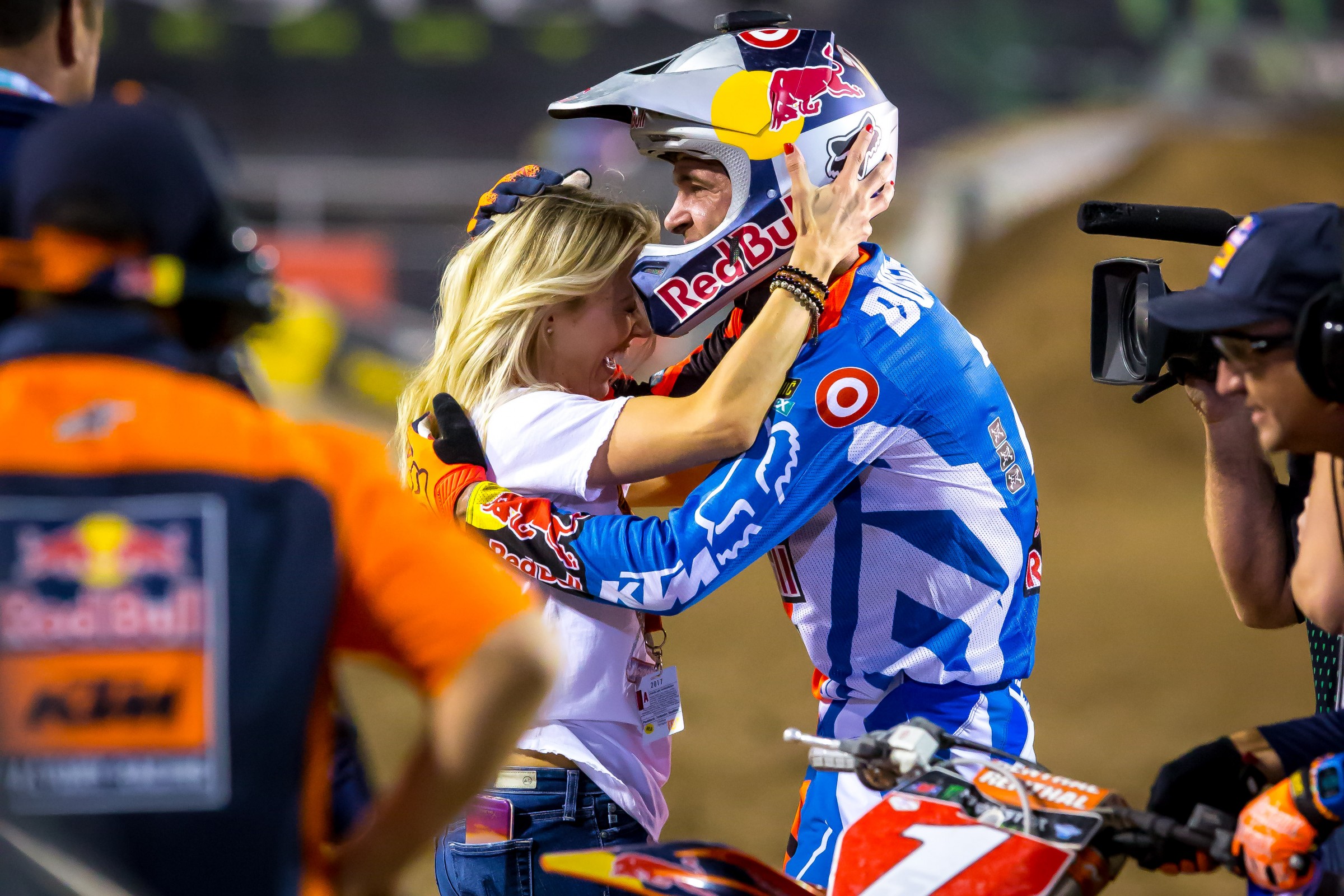 In and email exchange/bench race with Youthstream's David Luongo, he said of Ryan: "He was a great champion and for sure one of the best ambassador of our sport, very professional, always polite and helpful, he will miss our sport but he deserved a good rest!"
Dungey did the Motocross of Nations for six straight years, tying Jeff Emig's record for consecutive appearances. And like Emig, the teams he rode for had three wins, three losses. Personally, I had Dungey down as Tomac's teammate for 2017, along with maybe a Jeremy Martin, Zach Osborne, or Joey Savatgy as the MX2 rider. Now I think Jason Anderson might be next in line, and as he proved last year, he can rise to the occasion…. Wait, random question: Would Osborne be eligible for the team—didn't he race for Puerto Rico once?
We can also always count on the name James Stewart coming up anytime a ride opens up or a new series starts. Alas, he's not coming to Hangtown, and from what his agent told me a few weeks ago, he's already trying to line something up for SX '18. When I spoke to Roger DeCoster on the phone last week about Ryan's retirement, I told The Man I had James' number if he needed someone for the summer, but Roger just laughed and said it was a little late for that—and he's got two seats to fill. (My guess is that Blake Baggett might just get called up before too long from the Rocky Mountain ATV/MC KTM team… That's a lot of capitol letters right there.)
I'm also curious to see how Joey Savatgy and Eli Tomac recover from their respective defeats at the very end of the Monster Energy AMA Supercross Championship. The endgame wasn't kind to either of them. Everyone in the world (including me) has Tomac down for winning, and winning big. And Joey sounds pretty good too, as you might have read in Eric Johnson's interview with him earlier in the week, though he will have his work more cut out for him, what with Zach Osborne on a roll, Jeremy Martin bent on getting back on top, Aaron Plessinger and his teammate Dylan Ferrandis looking good, Alex Martin back on the gas on the TLD/Red Bull KTM and Savatgy's own Monster Energy/Pro Circuit Kawasaki teammates Austin Forkner and Adam Cianciarulo healthy….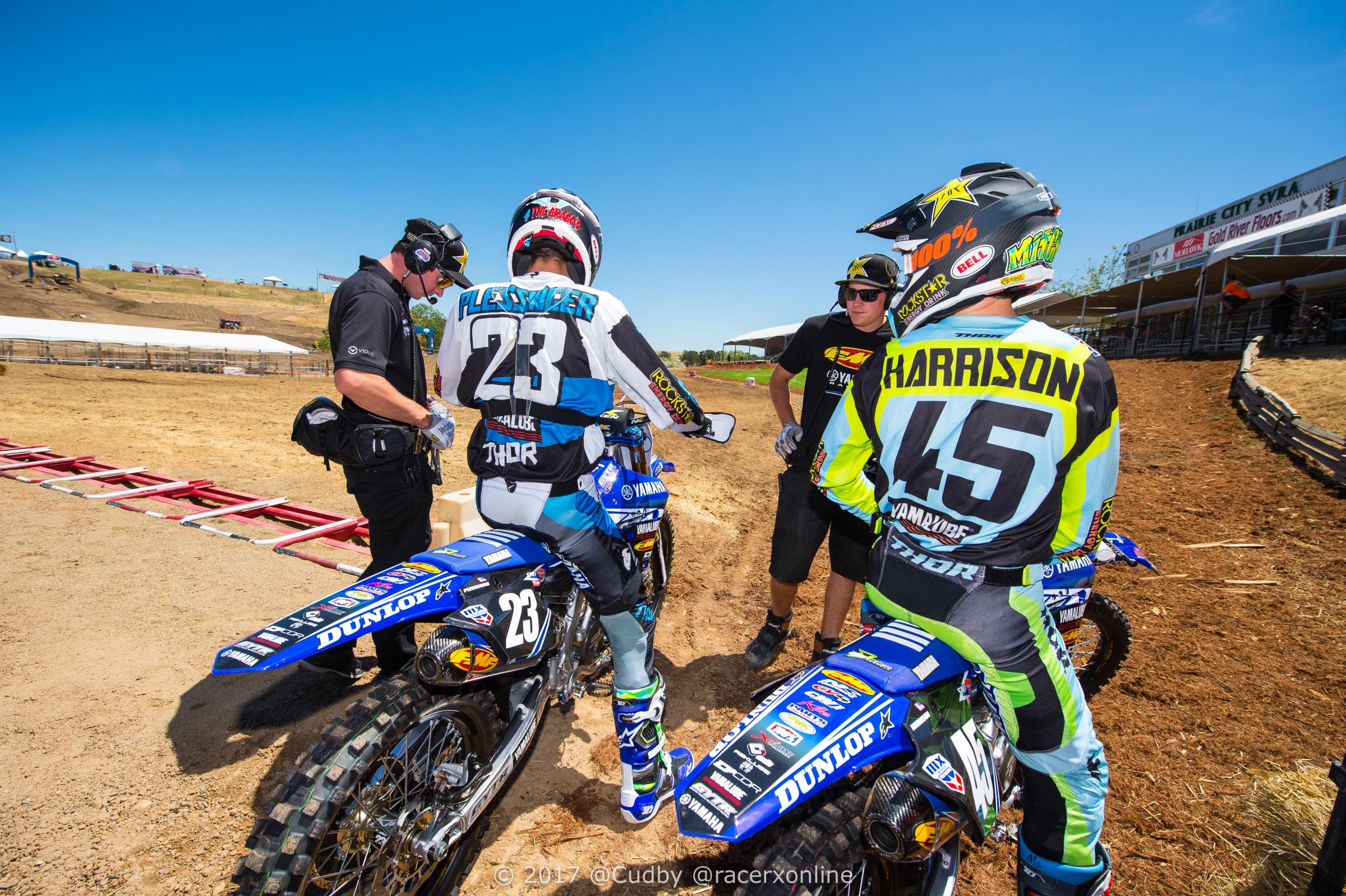 One man Savatgy won't have to worry about is Jordon Smith, the other rider who left Vegas disappointed. Jordon came out for press day yesterday and tried to ride, but his back is still sore from his main event crash, yet another man to add to the injury list before this series even starts.
Here's a link to the How To Watch guide, and make sure you sign up for NBC Sports Gold, which is the one and only way to watch it stream live online, as well as the morning practices and qualifiers. It's $49.99 for the whole season, a bargain for watching it live or seeing all of the archives, which go up right after the races are complete.
Now, to the bad news…
NICKY (DC)
Sadly, terribly, tragically... the news out of Italy regarding former MotoGP Champion and all-around great guy Nicky Hayden is not getting any better. In fact, it's grim. Hayden was riding a bicycle along a roadway when an automobile struck him. He went into the windshield of the car and suffered severe cerebral damage and multiple traumatic injuries. It was so bad that doctors have so far been unable to relieve the pressure of the hematoma that has swollen. The entire motorcycling world—from the pavement crowd to flat-trackers to pretty much everyone in motocross and off-road—have been hoping and praying for signs of improvement, but so far to no avail.
"The clinical conditions of Nicky Hayden remain extremely severe," said the hospital in a statement. "The young man, who is still recovering in the Resuscitation Unit of the Bufalini Hospital of Cesena has suffered a severe polytrauma with consequences of severe brain damage. The prognosis remains reserved."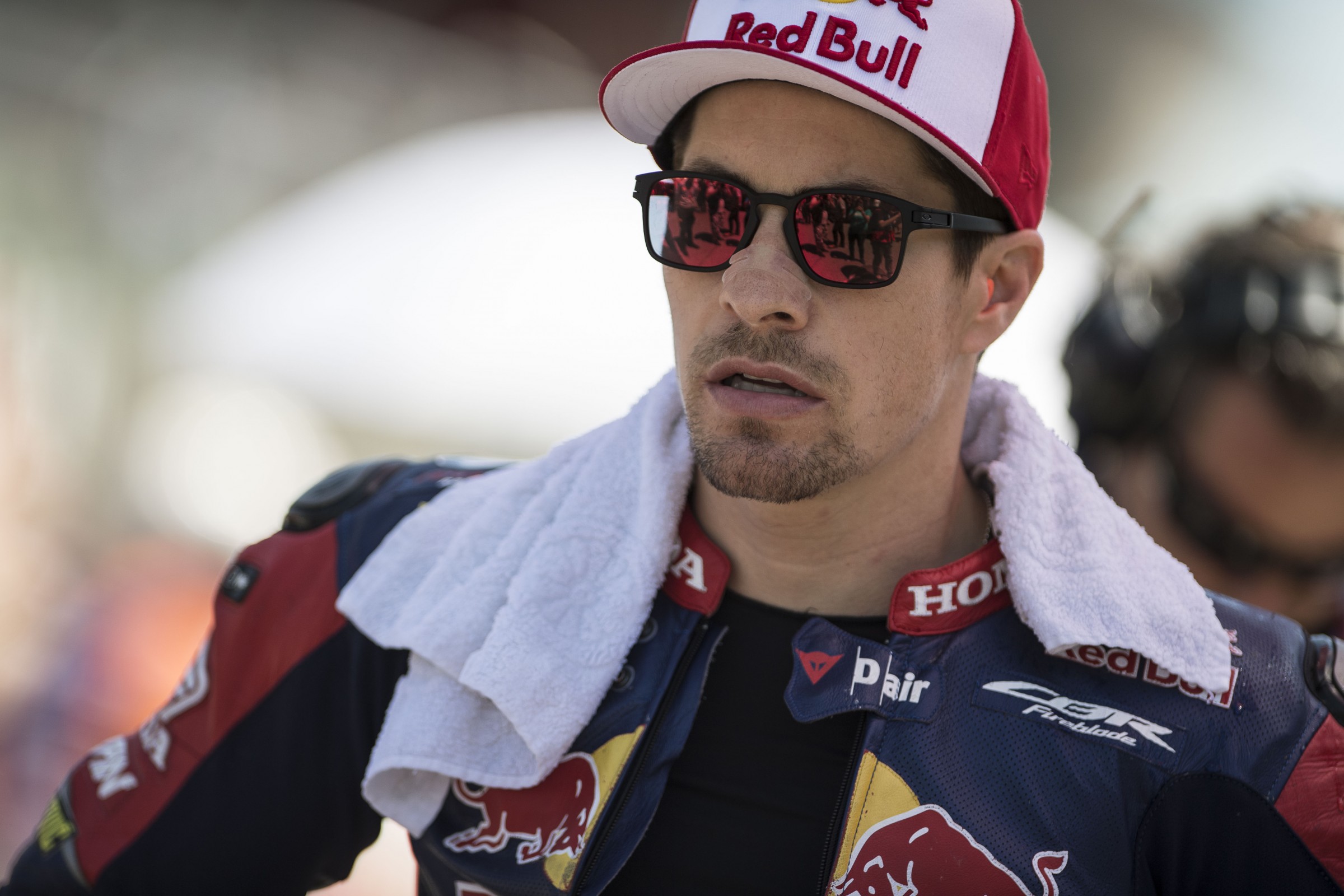 If you ever met Nicky Hayden, and lots of us in motocross have, you know all about his engaging smile, genuine charisma, and overall demeanor. He rose from the dirt tracks around Kentucky to a global MotoGP superstar, never losing track of where he came from and how fortunate he was to get to race motorcycles for a living. He was the last American to win the MotoGP Championship, and no less a figure than Valentino Rossi calls him his best friend in the paddock. Now he's fighting for his life, and millions upon millions of people are praying for the Kentucky Kid and the OWB. He's one of the very best among us. Stay strong, Nicky. God help you get through this #69....
Pro Perspective (Jason Thomas)
It's time to head outside, folks. Pro motocross is all about ruts, bumps, and brutal heat. This year won't be easing anyone into summer, as we will be over the 90-degree mark as the motos kick off Saturday at Hangtown. If you're not ready, there will be no hiding the fact. Last year saw a cool day and a very smooth track due to the threat of rain. Oh, how the tables will be turned this year. The second half of the motos will be a true testament to riders' work ethic and planning in the months of April and May. For the riders who were fully consumed by their supercross seasons, this may be a rough weekend. And riders like the Martin brothers may have a big advantage as they have been zeroed in on this race since they bowed out of SX.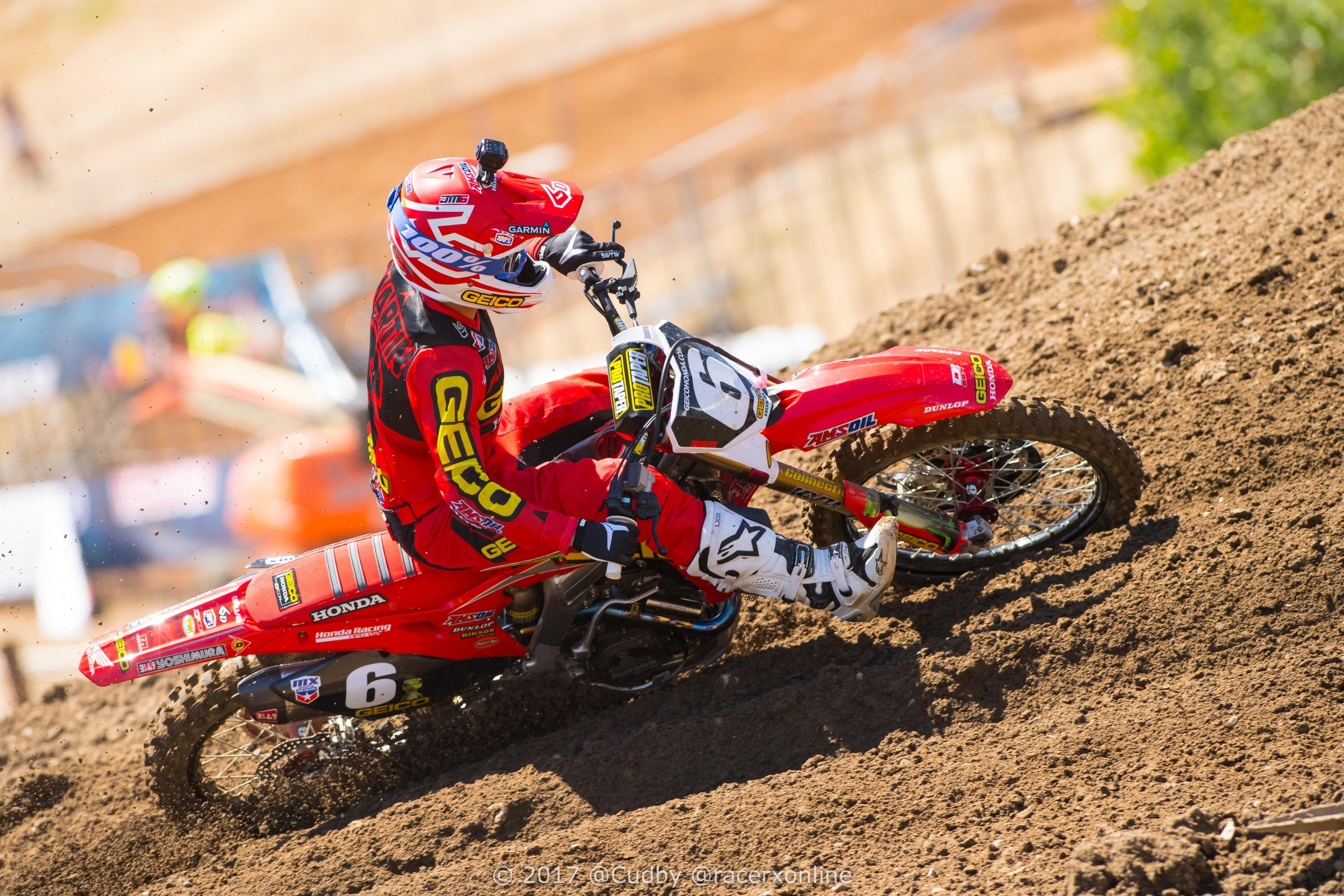 For me, it was always a work in progress at Hangtown. I rode supercross right into Vegas, hoping to move up in the points and fight for privateer awards. That only gave me 10 days or so to fully engage the outdoor season before the gate dropped and my results were mixed accordingly. I usually maintained a pretty high fitness base so that helped but my comfort level, lack of testing time, and raw speed were all a vulnerability at the first round.
On Saturday, that's what I will be watching for. Will the riders like Zach Osborne and Joey Savatgy suffer from the supercross fight they just emerged from? Will the others like Dylan Ferrandis, the Martin bros, and Austin Forkner, who were not in title contention, have any edge in these early rounds? Look for atypical results for these early weeks compared to the final points standings. It seems to shape up that way every year. Riders seem to find their groove after a couple of rounds, but this first race will be chaos at its finest.
THE GREAT OUTDOORS (Steve Matthes)
Ah yes, motocross is here! Supercross is always cool to watch but near the end of that series, as terrific as this year was, I'm ready for some motocross. (Same thing near end of the outdoors, I start longing to see triple jumps and whoops.) Standing beside the track while these guys fly by in fourth gear is a shock to the senses at first.
Tomorrow Lucas Oil Pro Motocross kicks off in Hangtown and from what I hear, it's going to be a heater. I don't think anything will top 2000 for heat, but this track's never fun for the riders when it gets that hot. Hangtown is choppy, and has square-edge bumps while you're hauling ass down a hill. Hope your suspension is on point, boys!
Some random thoughts on the series:
– We did our 250 and 450 preview podcasts and there was some serious, fun debating in there about what us "experts" think is going to happen. I'm on the Alex Martin bandwagon while it seems the guys that lean on the buzz from the Stopwatch Nationals (IE: the practice tracks the last two weeks) seem to think Dylan Ferrandis is going to surprise.
– As far as the 250MX title, though, four of us were split between Jeremy Martin and Zach Osborne as to who will hold the #1 plate at the end of 24 motos.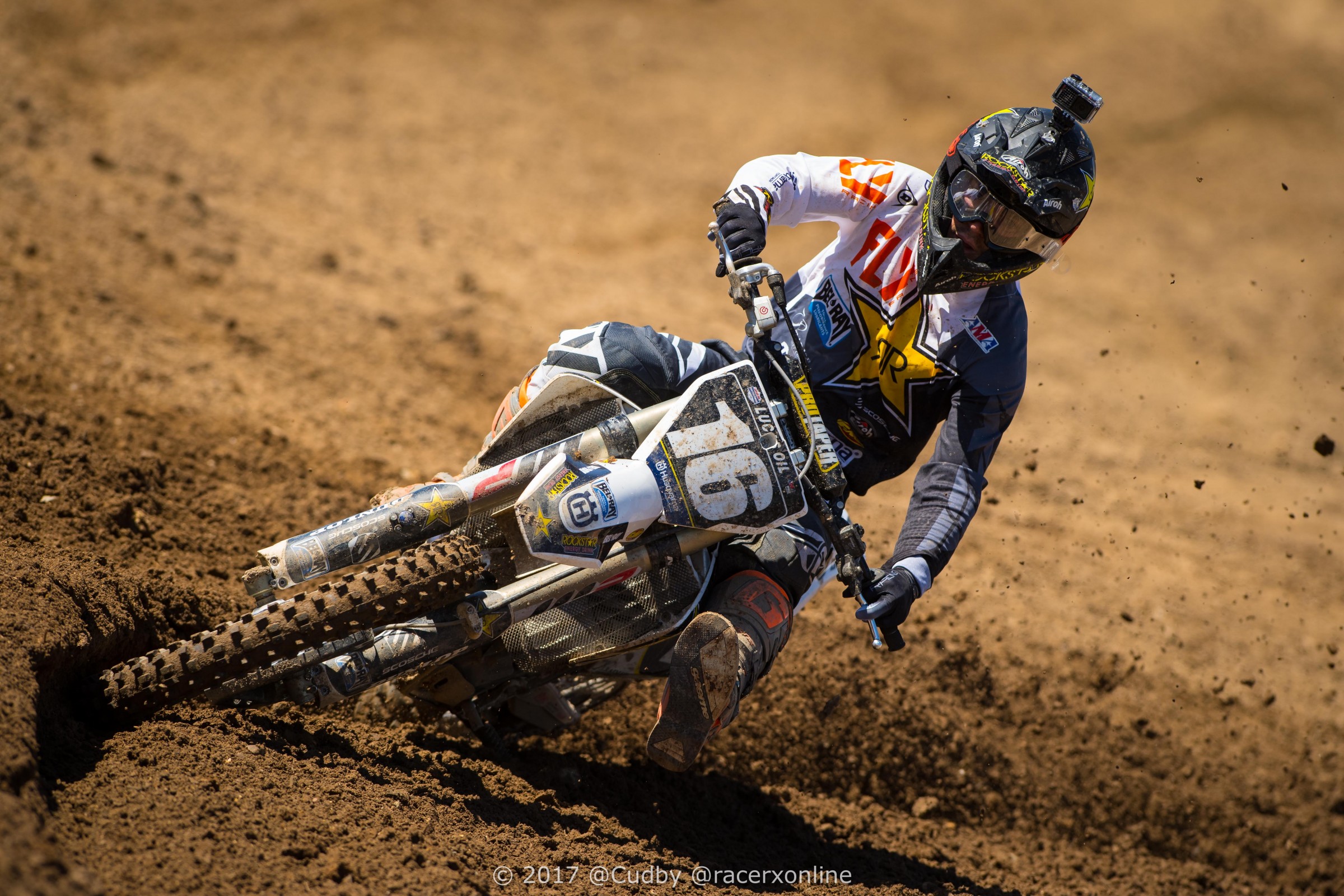 – We all think that Eli Tomac will win the 450 Class this weekend and the title as well, but who will capture the most motos after the #3 is up in the air. I'm thinking we could see some surprise rides from Cooper Webb as he's been riding outdoors for a while and I think he'll rise above the other contenders (Blake Baggett, Jason Anderson, Marvin Musquin) as the series gets deeper and further east.
– I picked Heath Harrison as a 450MX sleeper and everyone thought I was a bit nutty, so there's that.
– Weege was supposed to arrange a factory Husqvarna from Bobby Hewitt for Muddy Creek and he forgot, so if the old #3 isn't out there, blame him.
– Our Word of the Day for this weekend is a bit controversial (although we were all clueless about this fact), so not sure if Weege will work it in or not.
– The first round of the FMF 125 Dream Race Invitational Triple Crown kicks off this weekend, and it should be cool to watch. Is Ping racing? Does anyone know? After watching 450s go through their practices, seeing the 125s will be a bit like seeing dirt bike racing in slow motion, but it should be fun.
– Oh, and I talked to Jesse Wentland about his supercross season, what he's doing this summer and more.
Enjoy motocross everyone, it's pretty rad.
9 LIVES (Andras Hegyi)
For Zach Osborne this 2017 supercross season has been a memorable and historic series. He became the first Husqvarna champion in the small-bore division, which was started in 1985. In addition, he became only the third Husqvarna-mounted champion in AMA professional motocross and supercross history. Before Osborne, Gary Semics was the 500cc Supercross Champion in the saddle of Husqvarna in 1974 while Kent Howerton was the 500cc National Motocross Champion with Husky in 1976. That was back when the bikes were made in Sweden and Finnish rider Heikki Mikkola was battling Roger DeCoster and Gennady Moisseev for world titles in Europe aboard Husqvarnas.
Osborne has another record: He is the rider who needed the longest time to become a champion in 125/250 SX. There are riders who managed to be champion immediately, like Bobby Moore (1985), Eddie Warren ('85), Donny Schmit ('86), Damon Bradshaw ('89), Brian Swink ('91), the Costa Rican Ernesto Fonseca ('99), and Trey Canard (2008) who were all able to get a small-bore supercross title in their rookie season.
On the other hand, it takes some riders a long time to capture a championship. Jimmy Gaddis, Tim Ferry, Nathan Ramsey, and Malcolm Stewart got their titles in their sixth seasons. Travis Preston had to wait to be a champ for a longer time: it took him until his seventh season. Preston was a record-holder for a long time, but the record now belongs to Osborne, who raced in his first professional 250SX event in 2006. He took part in supercross in two separated installments. The first period lasted between 2006 and '08. Then the Virginia native moved to Europe, to race the FIM Motocross World Championship from 2009 to '11. He returned to the U.S. in 2012. Osborne was able to secure his maiden supercross title in his ninth season.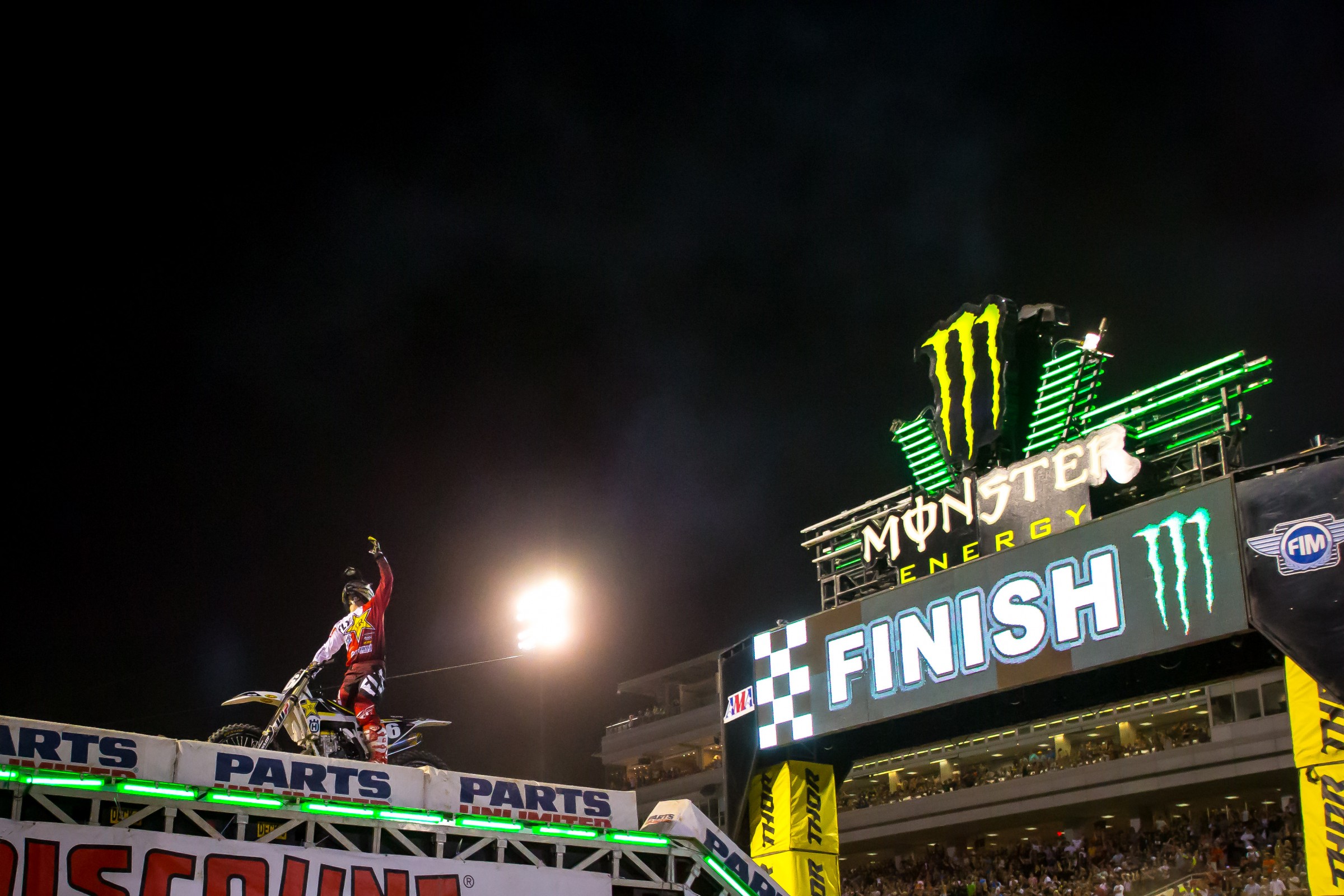 Zach Osborne's 250 supercross seasons
2006: 29th 250SX East (KTM)
2007: 17th 250SX East (KTM)
2008: 25th 250SX West (Yamaha)
2012: 13th 250SX West (Yamaha)
2013: 7th 250SX West (Honda)
2014: 8th 250SX West (Honda)
2015: 3rd 250SX West (Husqvarna)
2016: 4th 250SX West (Husqvarna)
2017: 1st 250SX East (Husqvarna)
Photos from Press Day at Hangtown
Simon Cudby was out at Hangtown yesterday and grabbed some photos from the practice sessions. You can view that gallery here. And here's some behind the scenes photos from Davey.
DIRT DIGGER GOLD (DC)
Today Bob Messer is the race director of the Dirt Diggers North M/C, the club that runs the Hangtown Motocross Classic. The Dirt Diggers are a dyed-in-the-wool bunch of dirt bike enthusiasts that have all been around dirt bikes for pretty much their whole lives. And if you don't believe that, check out the cover of Cycle News from 40 years ago this week—that's Bob Messer on the cover, after he won the Fort Hood ISDT (back then it was still that and not the ISDE it is today). Bob was on a Maico that day, riding for Team Army. Thanks to Mike Brown of Colorado2Day.com Dual Sport Ride for spotting this.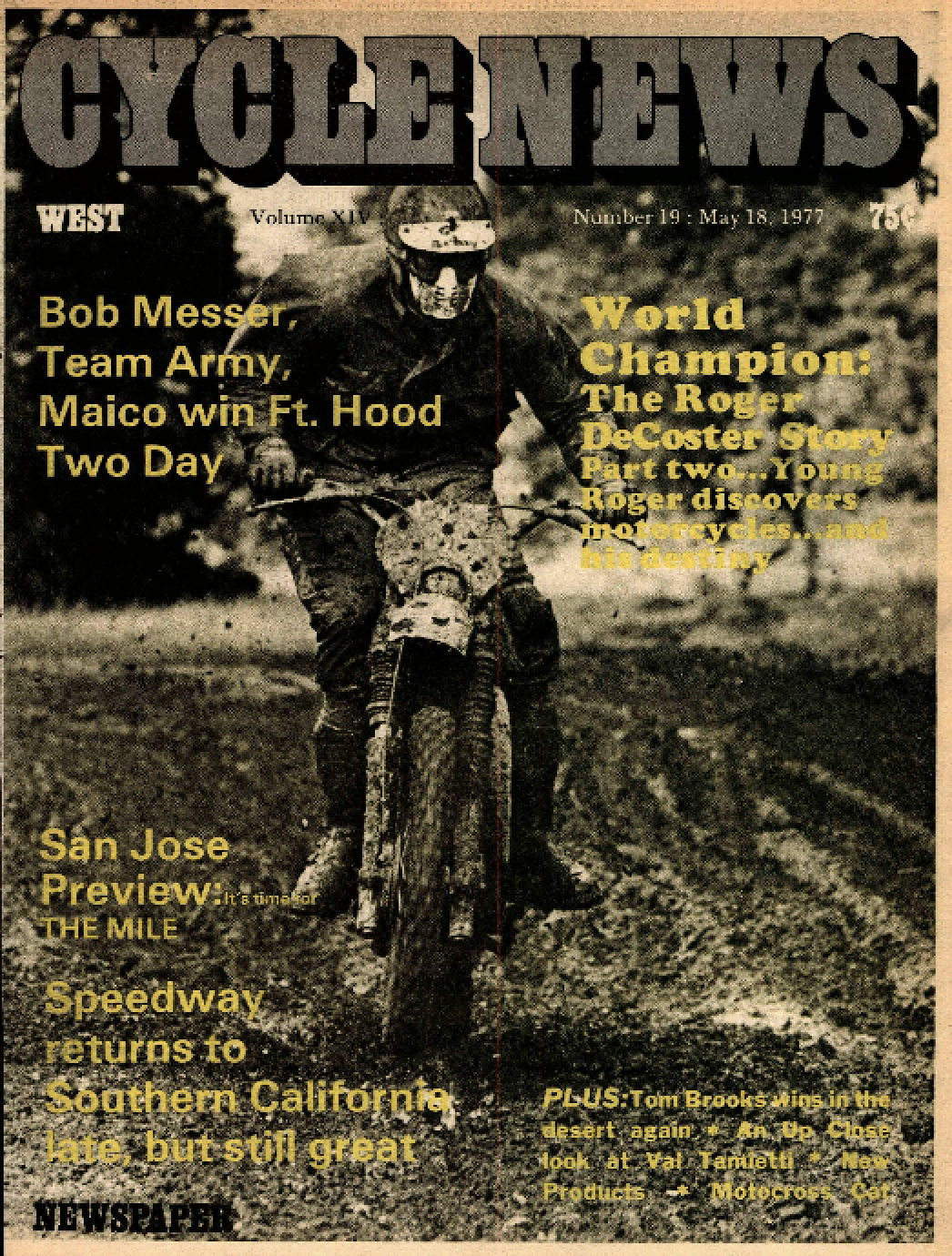 Hey, Watch It!
Racer X Films: Hangtown Press Day
Racer X Films: Lindsay Dungey on Ryan's Retirement
Racer X Films: Traders Racing Yamaha
MX Sports Pro Racing used Facebook Live for the press conference yesterday. So far the live/archived video has reached 150K people, 49K views, 414 comments. NBC Sorts/Racer X's own Jason Weigandt hosted and spoke to some big-hitters: Eli Tomac, Cooper Webb, Marvin Musquin, and several 250 Class favorites.
Monster Energy Supercross' tribute to Ryan Dungey
Random Notes
Want to be able to get into the pits all day?
The only pit pass that lets you cruise the pits whenever you'd like is the Racer X All-Day Pit Pass. Get yours tomorrow at the Racer X booth in Sponsor Village to get all-day pit access plus a one-year subscription to Racer X Illustrated for just $50. You'll also receive an extra copy of Racer X, the official event sticker, and Racer X stickers. Quantities are limited, though, so get yours ASAP.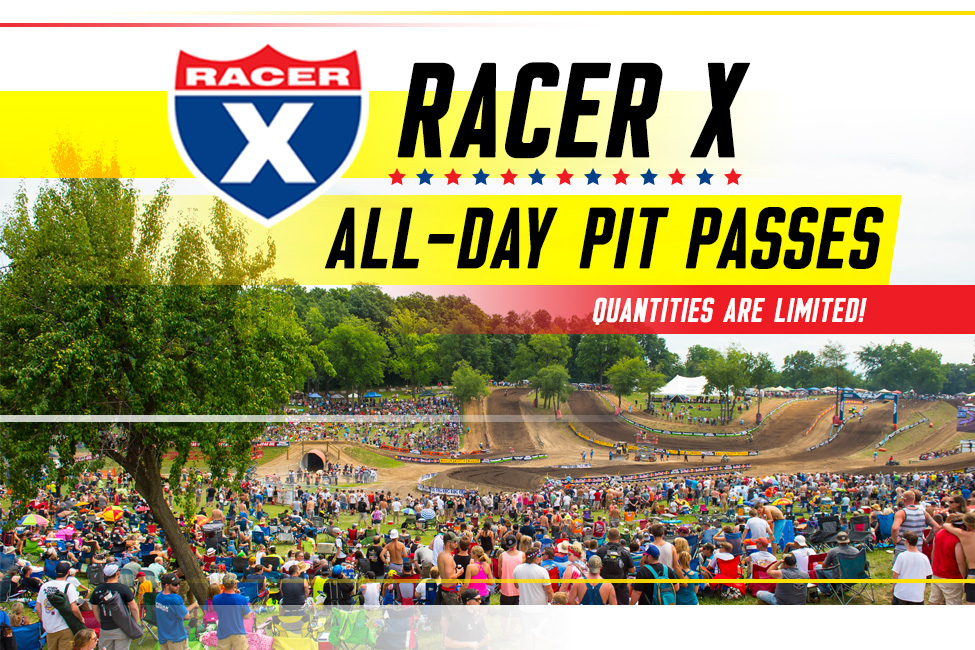 Would you rather get a $20 MotoSport gift card? You can get one of those at the Racer X booth by subscribing for as low as $10 to receive a free $20 Motosport Gift Card, a one-year subscription to Racer X Illustrated, an extra copy of Racer X, the official event sticker, and Racer X stickers.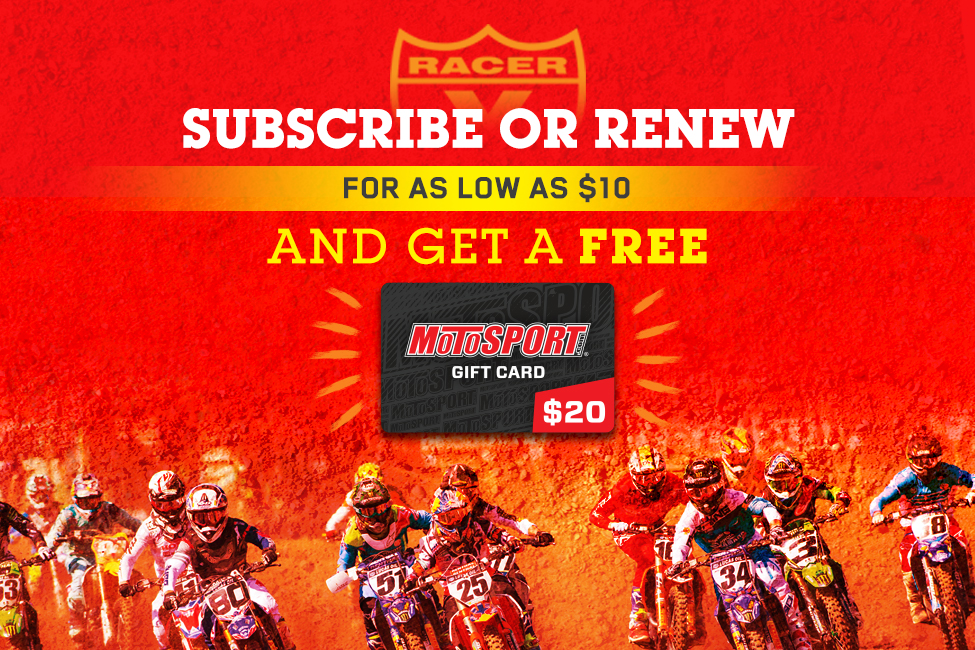 The Racer X booth will also be stocked with a limited supply Racer X Brand merchandise, such as shirts, hats, koozies, trailer stickers, and much more, so don't hesitate to grab some gear!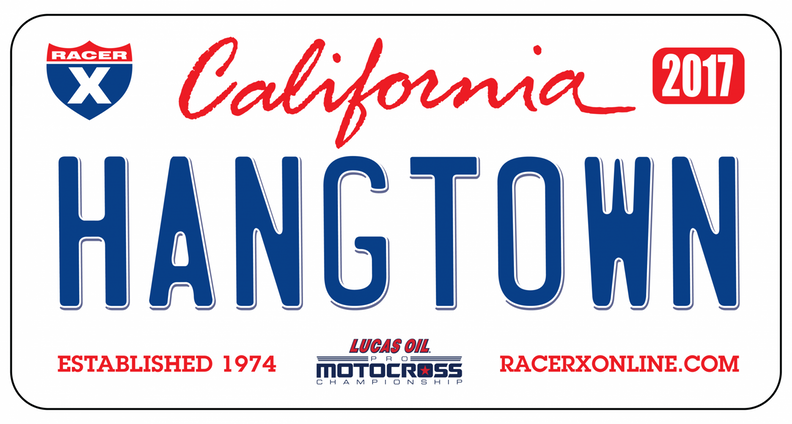 Looking for some autographs before the Glen Helen National next weekend? Make sure you put Malcolm Smith Motorsports on your calendar, next Friday afternoon/evening.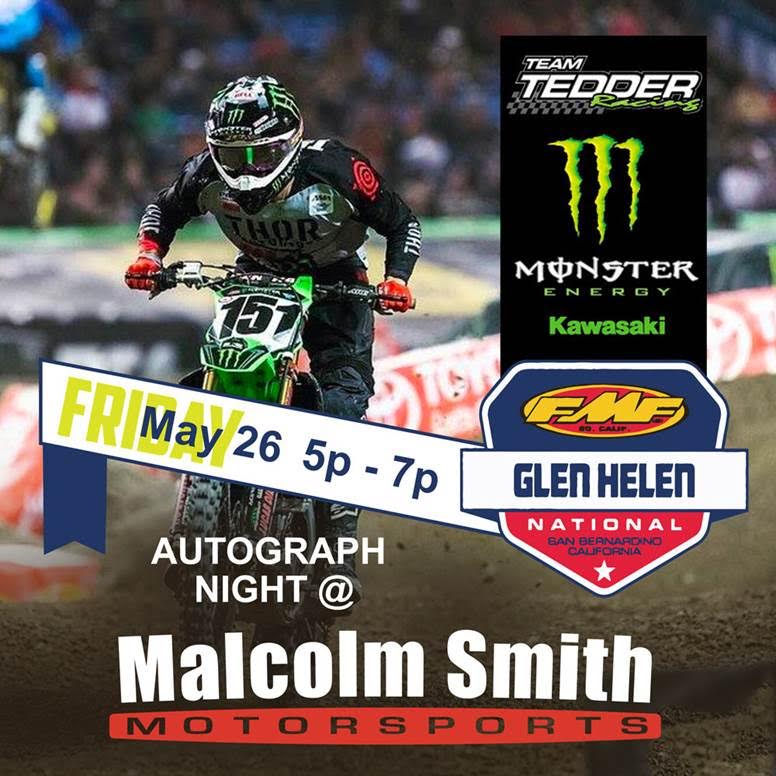 Shane McElrath on the Dirt Cool cover.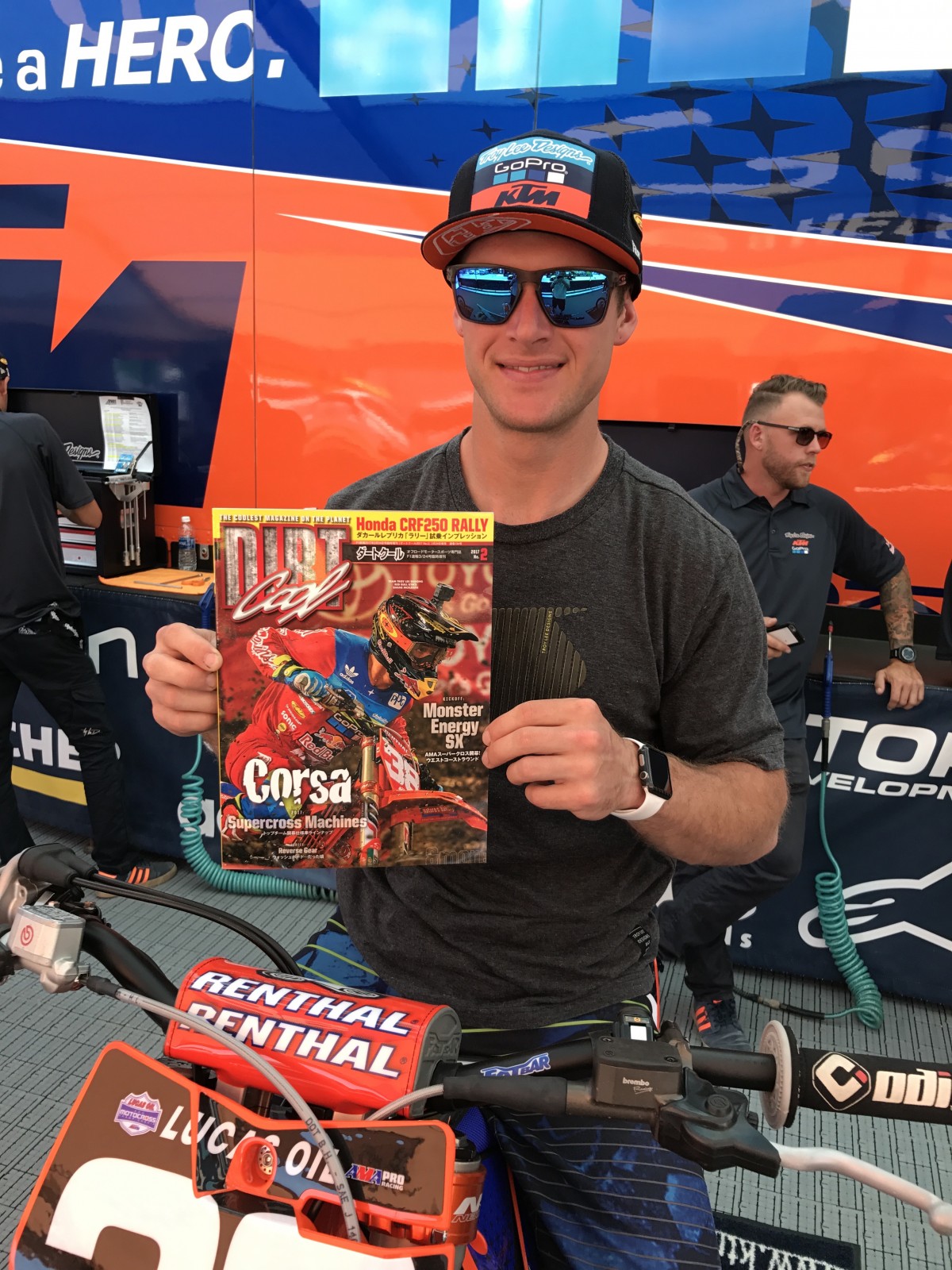 Thanks for reading Racerhead. God bless Nicky Hayden. See you at the races.