Las Vegas, NV
Las Vegas
Monster Energy AMA Supercross Championship
Good news! Monster Energy/Pro Circuit Kawasaki's surprising title drought is over thanks to Justin Hill's 250SX West Region Championship. Happy days are here again! Kawasaki: The Bike That Builds Champions! Let The Good Times Roll!
Well, that wasn't quite the vibe over at the Kawasaki rigs on Saturday night in Las Vegas. Two weeks ago, while Hill was celebrating that West title, Kawasaki KXFs also held the red plates in the other two supercross divisions—Joey Savatgy in 250SX East Region and Eli Tomac in 450SX. The plates came off at the New Jersey round, with Tomac crashing and taking eighth, and Savatgy crashing, getting penalized and also taking eighth.
They were right back in the thick of it in Las Vegas, though, with the championships coming down to the final lap. Ultimately, those titles were cinched by what's called the KTM Group—the co-brands of KTM and Husqvarna, via Ryan Dungey and Zach Osborne.
While the Red Bull KTM truck was going crazy over Dungey's trophy I headed over to the Kawasaki compound in the pits to check on the other side. The atmosphere was much different. They were not happy.
Here is the recent run down for Kawasaki: Savatgy was penalized in New Jersey, Savatgy was taken out by Osborne on the last lap in Vegas, Marvin Musquin moved over for Dungey in New Jersey.
Taken separately, each of these decisions can be defended. Savatgy's track-cutting penalty is pretty clear in the AMA rulebook. It's hard to definitively prove Musquin used team tactics. And while Monster Energy/Pro Circuit Kawasaki protested Osborne's pass, rough-riding penalties this season have been all over the map, and there's very little history of actually stripping points from a rider due to a dirty pass. The chances of Osborne being stripped of the title where slim to none. So, Kawasaki came out on the wrong end each time.
I've been around enough trucks for enough years to know reactions to penalties and rough-riding incidents will always be taken personally, and harshly. Kawasaki was no different here. In fact, Kawasaki Racing boss Bruce Stjenstrom started pointing toward the AMA/FIM truck and saying there's a severe lack of leadership over there, and then also, while infuriated, asked me to print some very unprintable quotes about some of the officials. He was hot. I'll spare him and not use the quotes because they'd need to be censored. Just know he was very, very, very unhappy.
It's times like these that you have to remember two things can be true at the same time. Kawasaki and the Tomac camp are not happy about Musquin moving over for Dungey last week—but that doesn't mean they're blaming that for losing the title. Tomac knows he made mistakes that Dungey didn't, and that was the real damage in the championship. He doesn't have to like the KTM tactics last week, though, and I am fairly certain he wouldn't have used the #BunchUp strategy in Las Vegas if he wasn't super mad at KTM from New Jersey. Some have now called Tomac a hypocrite for using his own race-fixing strategy after complaining about KTM using one. He wouldn't have done his without the other happening first.
Two things can be right at the same time for the Savatgy/Osborne situation. Surely everyone over at Kawasaki, including Savatgy himself, knows there were plenty of blown points opportunities throughout the season. They don't have to blame Osborne's pass for everything, but they don't have to like it, either.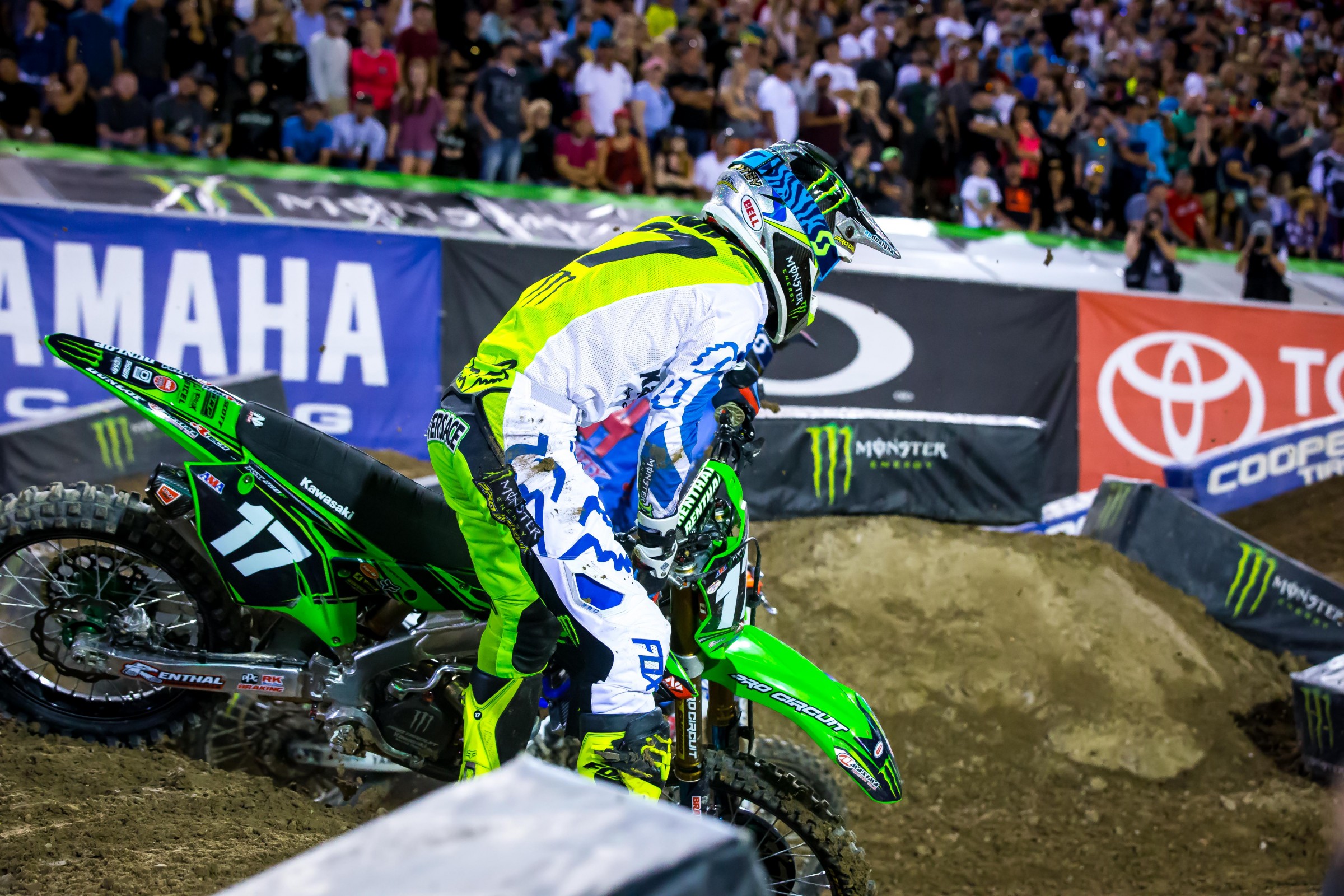 On Saturday, the Pro Circuit team protested and yes they're aware Osborne already got a warning for the practice run in with Adam Cianciarulo at Indianapolis. While the KTM and Husqvarna trucks were on fire with the partying, Osborne was in the AMA rig getting a talking to, and now, a $7,500 fine. So we now have the officials saying Osborne's move was wrong, but not wrong enough to take away the position, points or title, which then means it was worth it. I doubt Kawasaki is any happier now.
The KTM Group ended the night celebrating two championships, Kawasaki has a new one on the door for Hill, but space was reserved for two others. That's going to sting for a long time.