Las Vegas, NV
Las Vegas
Monster Energy AMA Supercross Championship
There was one last chance to get testy as the finale of Monster Energy Supercross looms. Eli Tomac and Ryan Dungey have shown complete respect for each other all season, and that's not surprising because controversy is not in their nature. However, in yesterday's press conference, we asked Tomac if he knew about last week's race for the win—Marvin Musquin making a convenient mistake on the last lap and letting his teammate Dungey go past. Tomac finally had a topic the led him to vent.
"Yeah, after the fact I obviously knew about it," Tomac said. "That was tough to see also, you know? If the championship does come down to those three points, that's a bummer, a bummer for everyone. But, hey, if you want to take that home and sleep on it knowing someone pulled over for you, well then, that is what it is."
As for the other controversy from the weekend—Tomac's own troubles in the main event that led to an eighth place finish—it wasn't surprising to hear that he didn't follow the week long narrative that said he choked away his points lead.
"The whole day was a little bit of a struggle, technical track and conditions were soft," he said. "But it wasn't anything we haven't dealt with in previous rounds, we had Seattle and other races on the East Coast that were soft. I don't know—it was maybe the spongiest track we've ridden going into the main event, but I put myself in the right position, then I was the guy to make the mistake and washed the front end out. Yeah it would have been cool to have the hero ride and come back after that crash, but you crash like that on the second or third lap, it's tough to make that ground charge all the way to the front and tough to push it and hopefully not make another mistake, and I did it once, going off the track on that triple. It was a tough one to swallow, crashing early like that."
What about the pressure of carrying the solo points lead solo?
"No, I didn't feel any added pressure, the week before, I had the red plate at the same time [Note: Tomac and Dungey were tied for the points lead in Salt Lake City], so it wasn't about the color of the red plate for me," he said. "It was a tough race track for one, and it was just me making the mistake and sliding out. I don't know what else to say, I tipped over. I had a lot of good races before that, and wins, but you can only do so much."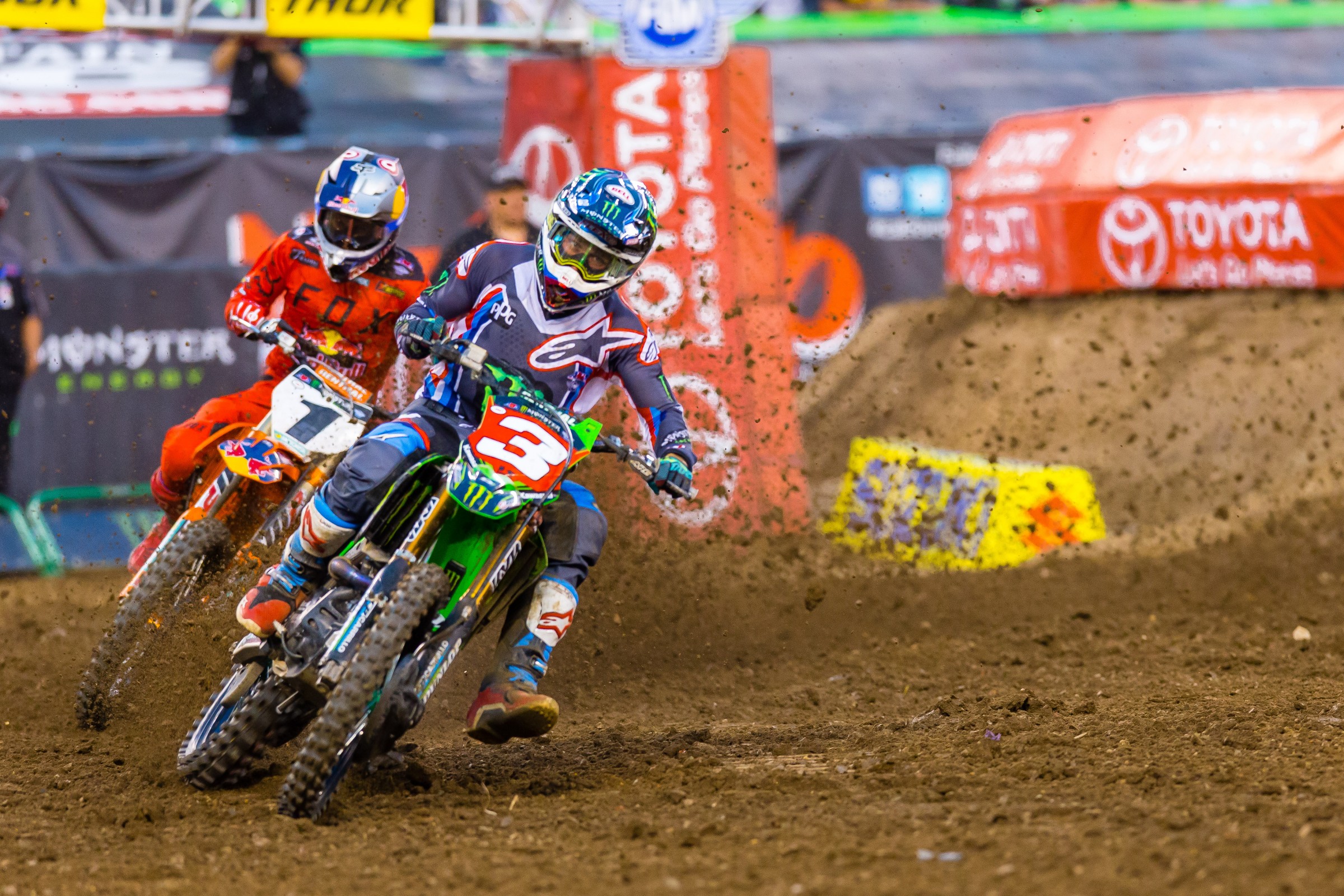 Tomac's Monster Energy Kawasaki team folks tell us the key was to move on from the New Jersey race, quickly, and just focus on getting win number 10 this weekend in Las Vegas. That's the only hope, to win, get maximum points, and hope luck falls into place. Dungey needs to finish fourth or best to win the title, and fourth is his magic number, because he hasn't finished worse than that since 2014.
Dungey says his goal is to concentrate on himself instead of the points, try to approach this like any other race, and even go for the win if it's there. It's the same mantra every racer in his position lives by: Approach this race just like all the others. Once you start riding defensively, everything can change for the worst.
By the way, the Kawasaki folks told us that was Tomac's approach was last week. Even though he had finally wrestled the points lead away, he approached New Jersey just like every other round, with the goal to try to win the race.
Sometimes that works, sometimes it doesn't.