East Rutherford, NJ
East Rutherford (New Jersey)
Monster Energy AMA Supercross Championship
I checked in on Zach Osborne at the Rockstar Energy Racing Husqvarna truck before the night show in East Rutherford. For several weeks of this 250SX East Region Championship, Zach had been the fastest rider in the class, but a first-turn crash in Detroit and an illness in St. Louis had ruined any momentum he gained early in the season. He hadn't won a race since Indianapolis on March 18, and he desperately needed another while facing a 12-point deficit in the series. Osborne told me he needed to make up seven points on the night. That would put him in contention to make up the rest in Las Vegas next weekend.
He indeed won, but the way he won made it even more impressive. There's been so much controversy and drama recently in Monster Energy Supercross that his ride nearly got overlooked in the shuffle. Osborne's start was horrible on Saturday night. By my count, he hit the first jump in the first rhythm section in 14th place, and every other fast rider was in front of him: Joey Savatgy, Adam Cianciarulo, Jordon Smith, Christian Craig, Dylan Ferrandis, and more. On the first lap, he made a ton of passes, including a slick move using the left side of the whoops, and the outside of the following turn, to pass Smith, a championship rival. Zach kept using that same line to make passes, and soon he was into third.
"There were two ruts really close together and I felt like that I was just kind of waiting on them the whole time around through there, so I just started jumping out and not following people," said Osborne. "Like you said, it allowed me to pass three or four guys there in that one spot. When you have something like that on the track and you know where it's going to be, you don't have to panic the whole rest of the lap trying to make something happen. You can just pick your spot and make it happen there."
From there, Osborne dispatched Cianciarulo and Savatgy to take the lead. He made it from 14th to first in just eight laps.
"I was surprised whenever I got into the lead, we did like three more laps and then they gave me the halfway sign," said Osborne to our Steve Matthes. "I was like, uh, did that just happen?"
"Zach was right in front of me on the first lap. He was riding unbelievable," said Smith. "I tried to latch onto him as good as I can, but he was on another level tonight. I don't think I rode bad. I feel like I rode pretty good. I don't have the speed right now to run those guys down like Zach down. He's a little bit faster than me right now."
Eli Tomac's charge last week in Salt Lake is still fresh in our minds, so maybe that overshadows Osborne's run a bit. We've got high standards for comebacks at the moment, but the facts are that Zach started 14th, he passed each of his championship rivals straight up, and he won. It was a clutch performance.
Further, he got more help when Savatgy crashed while running second, and then was penalized for re-entering the track further down from where he crashed. Osborne wanted to make up seven; he ended up gaining 12 on Savatgy. Smith holds the points lead, but the gap between all three is just one total point. It's going to be winner-take-all in Las Vegas.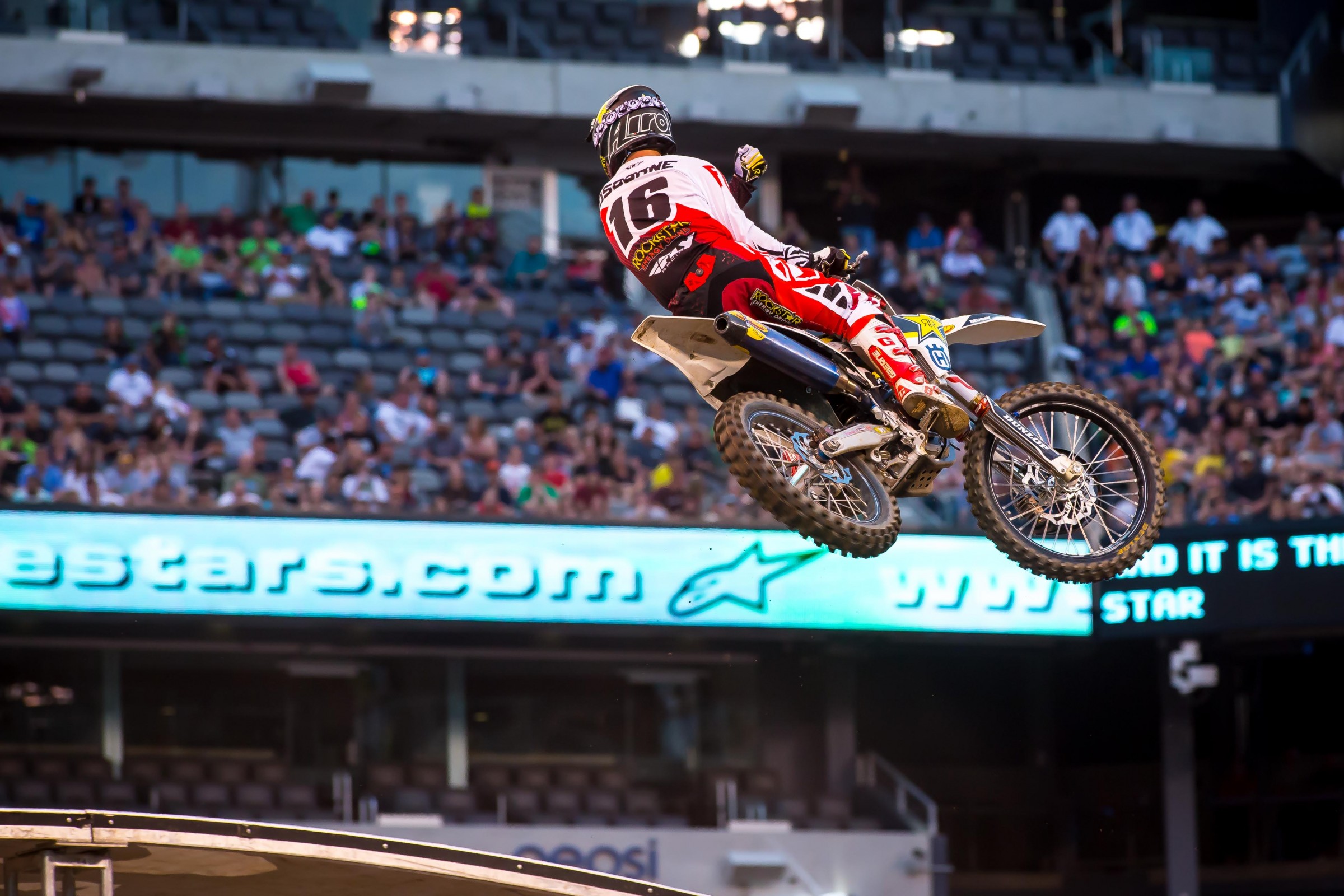 The 450 class just showed us anything can happen (again) in racing, and that is especially true once the 250SX West Region riders are added to the mix this weekend. But Osborne is only back in contention because of his clutch ride this weekend.
"That was the only option really, was to win tonight," he said. "And to come from 10th or wherever I started, to do it was pretty special."