East Rutherford, NJ
East Rutherford (New Jersey)
Monster Energy AMA Supercross Championship
We have a new 250SX East Region points leader, and it wasn't a guy many people talked about at the beginning of the year. After two up and down seasons with GEICO Honda, Jordon Smith signed with Troy Lee Designs/Red Bull KTM and has put in his most consistent season as a pro. And, following Joey Savatgy's penalty after East Rutherford, Smith enters the final round in Las Vegas with a one-point lead over Savatgy and Zach Osborne. We spoke to him after the race, before he found out about the penalty.
Racer X: It looked like a rough track for you. It appeared a little rough. Maybe you didn't get along with it?
Jordon Smith: Yeah, it was tough out there for everyone I think. Everyone was struggling a little bit. I think the biggest thing, I was off in practice a little bit, which every weekend I'm a little off and it doesn't really bother me. I know that whenever I get to the race everyone else is going to back it down a little bit because they have to do that for the full amount of time, and I can kind of run that pace. I don't think that I really struggled too bad in the races. In the heat race I had a really good start and got bumped out. Then I made a couple passes and ended up getting around Joey [Savatgy] in the heat race and came back up to third. In a five-minute plus one lap race it's kind of hard to catch a guy like Zach [Osborne] or Christian [Craig] that are out front. They're really good riders and it's almost impossible to catch those guys in five minutes. I had a good heat race and I was happy with how I was. The main event I got off to another really good start and I knew that I needed to get a good start. That was the one thing. I got off to a great jump and was in the lead coming into the first turn. AC [Adam Cianciarulo], we were all battling for the holeshot. That's a big deal on a track like tonight. We got together a little bit in the first turn and he bumped me out and I lost positions. From there it's just damage control. Not necessarily damage control, but you have to make up time, especially whenever you can see Joey in the lead and you know that that's the guy that I need to beat. And Zach was right in front of me on the first lap. He was riding unbelievable. I tried to latch onto him as good as I can, but he was on another level tonight. I don't think I rode bad. I feel like I rode pretty good. I don't have the speed right now to run those guys down like Zach down. He's a little bit faster than me right now. So, I have to rely on my start a little bit more and my consistency. I was pretty tired at the end of the race, but a lot of guys were.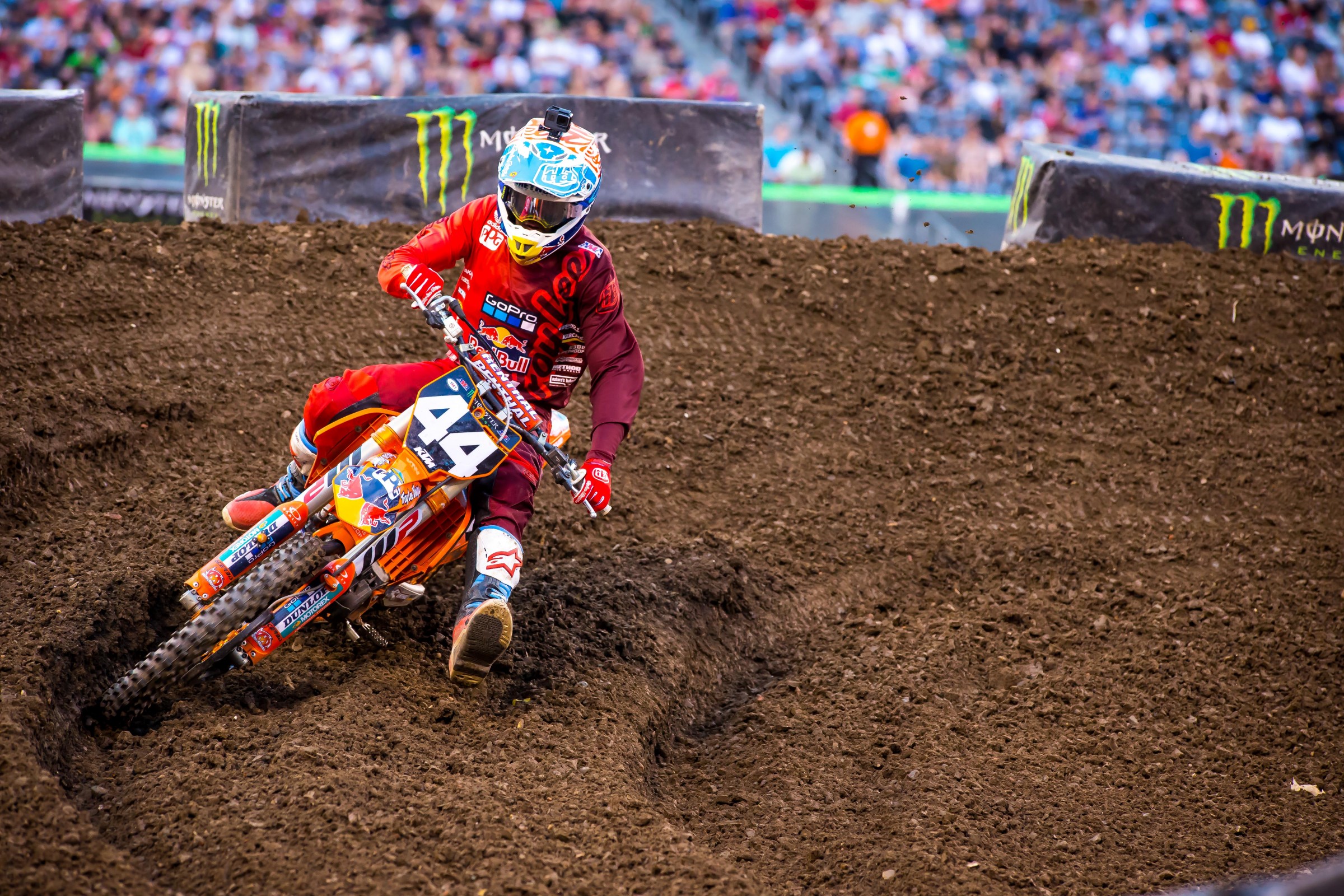 There's potential for you to actually be the points leader. Did you see what happened with Joey and what do you think? I don't think this is something that happens often. How should it be handled?
I didn't see what happened. I've only heard. What it sounds like to me, if they do the right thing I think they gave my teammate—whenever he was in the championship battle earlier this year—a penalty for going off the track or something. I just want them to keep it consistent. You can't do it for one guy and not for the other whenever you're in the same position. As long as they keep it consistent and do the right [thing]. I'll go back and watch it and see what I think, but there's nothing I can really do about it. I rode the best race I could, and what happens happens.
For you to be in that position, I think you said earlier, no one really expected this. Did you expect this out of yourself coming in?
Yeah, I did. I knew that I could be here. I didn't fully expect that I would be in this position. I knew that I could if everything went right like it has this year. I was really comfortable and really happy with the bike and the team coming into the season. I was ready for it to get started. We got off to a really good start. I got some race wins these last couple races and closed that points gap. For me, that was the goal this season, to get some wins and try to be as consistent as we could on the podium. I think I've done a good job of that this year. It's been a successful year for me. Whether I win the championship or whatever place I get, it's been a great year for me. I'm just going to see what happens in Vegas and see what I can do.
A learning year. You can take this, and now you won't point out even if you do win the championship. What can you take from this year specifically that you learned and can apply going forward?
I've learned a lot being up front a lot more, and not only up front, but whenever I do get a bad start like tonight. Before I would get together with someone, or something happened every time. This year I've been able to stay out of the trouble and just work my way to the front the best I can. That's what I've been working on this year. I've kind of tried to watch [Ryan] Dungey and see … Obviously, the guy is unbelievable. He's won the last two championships. He does it by consistency. On his nights that he can win he goes for it, and on the nights that he's a second or third place guy, he gets second or third place. So, you know that's kind of the mindset I've had this year is just do what I can do and not over-push it. I think it's been really good.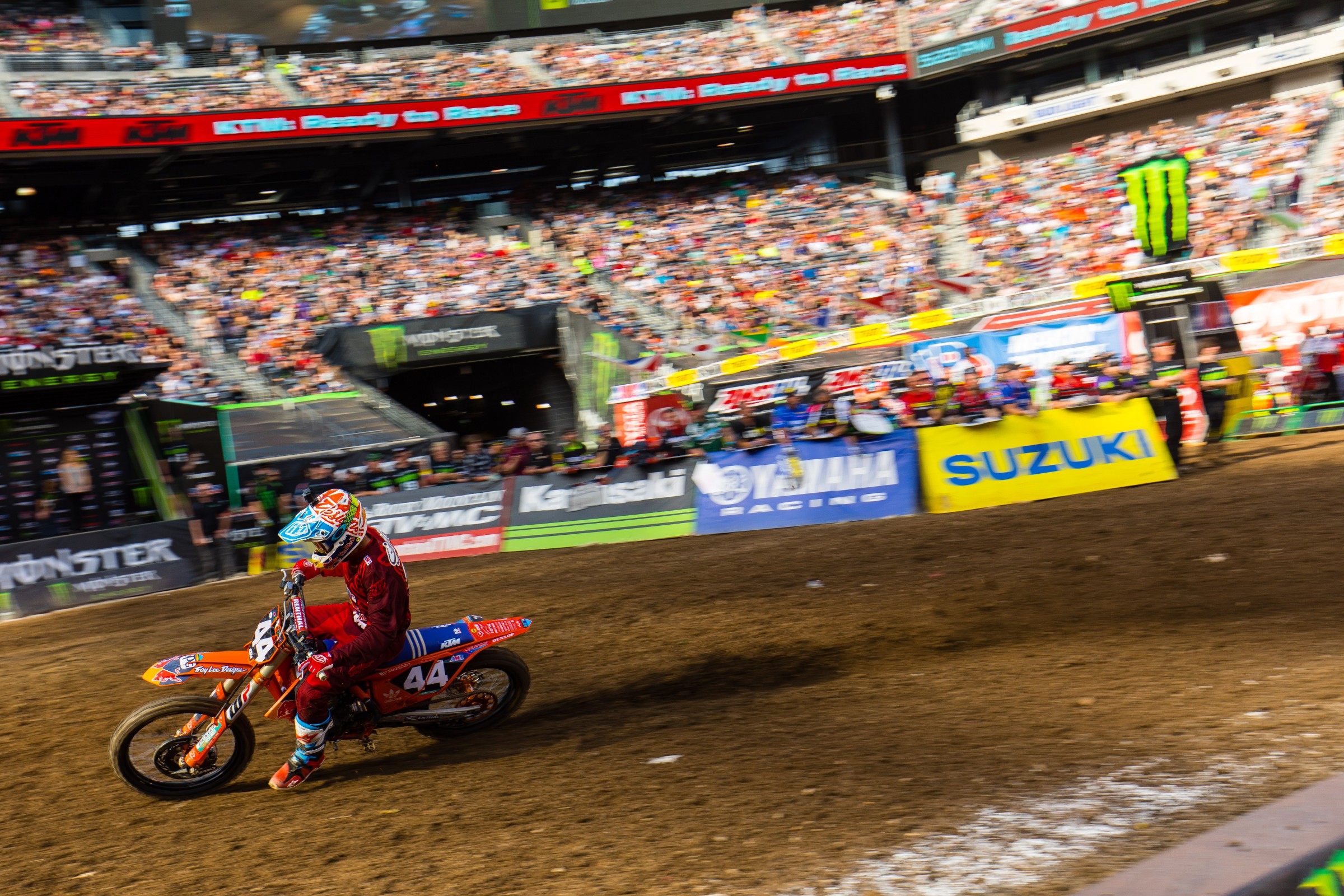 I think the consensus when the 250SX rules changed [last week] was someone in your position, it shouldn't happen [getting bumped to 450 class in 2018 for winning title in third year in class]. Is that something you followed and something you were aware of? Obviously the talks came way before the AMA actually announced it, but were you aware of the situation and what they may be changing?
Yeah, I had heard the talks, the rumors that they might be changing it but for me, you can't bank on them changing or them not. You never know what they're going to do. But either way, I'm out here to win races. My team's never won a championship and that's what I want to ultimately do is give them their first championship. Whether they change the rule or not, my mindset was the same—win races and be as good as I can every weekend.
Do you think the changes are fair? Do you agree with what they decided to do in the end?
Yeah. I think it helps me out. If I do win the championship this year I think that it would suck for me to have to move up. So, I think it's good for me. There's going to be fair sides and unfair sides either way you look at it. Either way, you have to deal with whatever comes to you. It doesn't really matter too much to me.
---
Monster Energy/Pro Circuit Kawasaki's Adam Cianciarulo dealt with a virus prior to East Rutherford and wasn't able to take advantage of a strong start. He still finished fourth—after Savatgy's penalty—and is currently fourth in the 250SX East Region points with one round to go. We spoke with him after the main event on Saturday.
Racer X: Take us through the night. That track looks ridiculous right now.
Adam Cianciarulo: Yeah, the track, even for the 450s. They always work on it before the 450 LCQ and I think it's pretty good for the first five or six laps in the main for us. For the 450s I feel like they don't even touch it at all. It's definitely gnarly. You see those guys the last few laps and they're really getting creative with their lines. The track was gnarly, but I felt really good today from practice into the heat race and even the first little bit of that main. Just felt super good, in my comfort zone. I was able to kind of find a little bit of a flow on a track that really didn't have any. So, I felt good from that aspect. But the track was tough and it made it difficult for sure. If you got off-line and started dragging your feet and your pegs in those ruts, it could definitely spell disaster for you.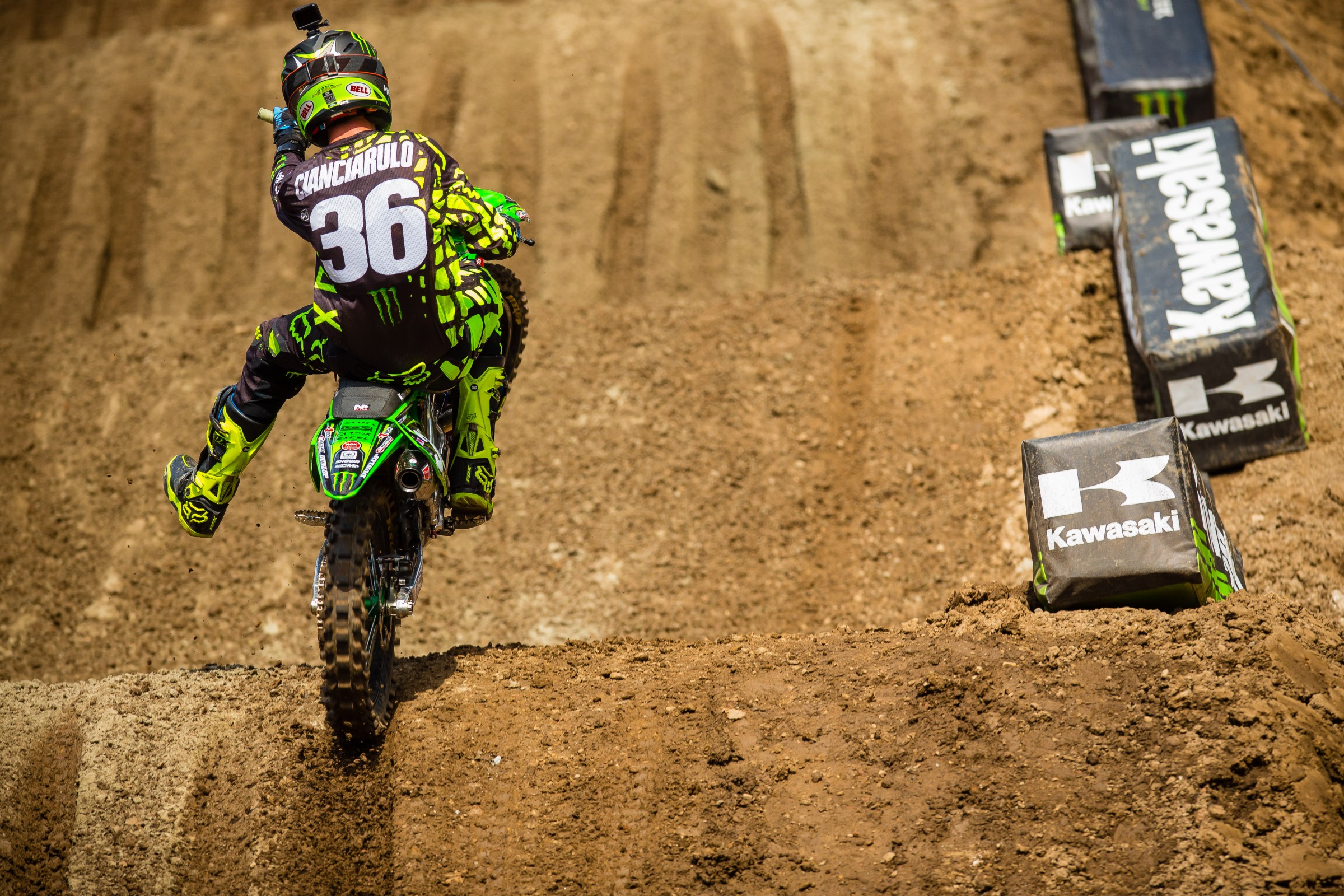 It looked deceptively tricky, is what I would say. The obstacles, some of them looked a little basic but it was hard. You guys were struggling with them.
The faces of the jumps, I would say they were pretty small and they were soft and spongy at the same time, so if you really didn't carry your momentum through them it kind of wanted to bog your bike down and kind of send you a little bit forward. It kind of reminded me a little bit of Minneapolis. Minneapolis was like that. It was definitely deceptive and you had to be on your toes.
Is that what happened? You started well and then kind of hit a mid-race slump and then came back.
I think for me, I hate to be the one that makes excuses because I'm a fan of the sport and I have been around long enough for enough interviews to know that I don't like to hear somebody make excuses. I had a virus this week. I was kind of pooping my pants and throwing up. I felt just drained today. Even after my heat race, I felt like my heart was beating out of my chest. It sucks because I did feel so good today. Even when I was behind Joey in the beginning of that main event. I felt really in my comfort zone. I was struggling a little bit in the whoops because they were a lot different than they had been all day. Just felt really good. Felt like I had a couple spots on the track where I was faster than them. I felt super solid in my starts and all that today. Just didn't have enough in the tank. You got to be fit with these guys. The field is deep. You've got to be fit to battle for podiums and for wins. I had the speed to do that today just like I said, a virus kind of took it out of me.
Did the heat make a difference? It was hot.
No. I practice in Florida. It's been like 95 degrees every day. Two weeks ago I felt better than I ever have fitness-wise on a motorcycle and then something like that happens last week.
That's what I mean, as far as a virus, when you have a virus and it's hot it's a lot worse than when you have a virus and it's cold, right? Not that the heat affected you, but since you had the virus.
It's funny because I really had a good couple weeks after St. Louis. Obviously, I had that big crash in St. Louis in practice and it kind of screwed me up all day for that. I was starting to feel good a couple of weeks after that. I felt unbelievable. Then last week rolls around. Wednesday I get sick. Thursday my chain derailed in a rhythm section when I was practicing supercross and I'm just thankful to be alive. It just seems like right before the race is about to start all this stuff happens to me. But it's at the point now sometimes I just laugh at it. I feel like something is trying to get me down, and I just won't let it. I still have so much fun. It sucks. I'm competitive and I want to win, but sometimes you just got to laugh at it.
When does outdoors start for you? Have you already started preparing?
I've been riding a lot of outdoors these last few weeks. I've ridden a week of supercross, maybe three days of supercross before this event. So, I'll go back to California from here actually and probably do a couple days of outdoor testing, and then ride probably a day of supercross before Vegas. Then right into outdoor testing the Monday after Vegas.
Does this schedule help you guys? You've got seven races, a couple weeks off, so you're not necessarily tired. Some of the 450 guys may be just a little over it by now. You actually got a break and got a little refresher.
For me, I've been on the couch so much the past few years it's like, any chance there is to race I feel like I'm so down [wanting to do it]. I am so down. But definitely for these guys, these guys have been doing it for a long time. I'm sure they appreciate the weekends off. For me, I had a couple little things that were bothering me at St. Louis so it was good to have a little bit of time off there for me just to kind of reset everything. Unfortunately, like I said, didn't reap the benefits of that today, but there's always next weekend. Going into outdoors I'm feeling confident.