Salt Lake City, UT
Salt Lake City
Monster Energy AMA Supercross Championship
1.) Christian Craig will ride a 450 for Honda HRC this weekend. What do you expect out of him?
Jason Thomas: I don't expect anything crazy. He will make the main event and finish somewhere between 11th and 16th or so. He will flash some speed at times, but I feel the biggest struggle will be the 25-plus laps the 450 main event will see this weekend. He hasn't trained for 450 main events so he can't just snap his fingers to gain that extra fitness. He could be a contender for a semi win or something similar, which is worth the effort for HRC.
Steve Matthes: He'll be good but it's not like he's been killing it on the 250 so I don't look for him to be in the mix for podiums or even top five. But I could see him finishing in the top 10 or 12 pretty easily. One thing is for sure, though, he'll lay down a very fast lap in practice that might have the fantasy SX players speculating on what he can do. CC can ride a bike, bro.
David Pingree: I wouldn't be surprised to see him inside the top 10. He certainly has the talent to be up there, but he will need to get a start and be tough mentally to stay up there.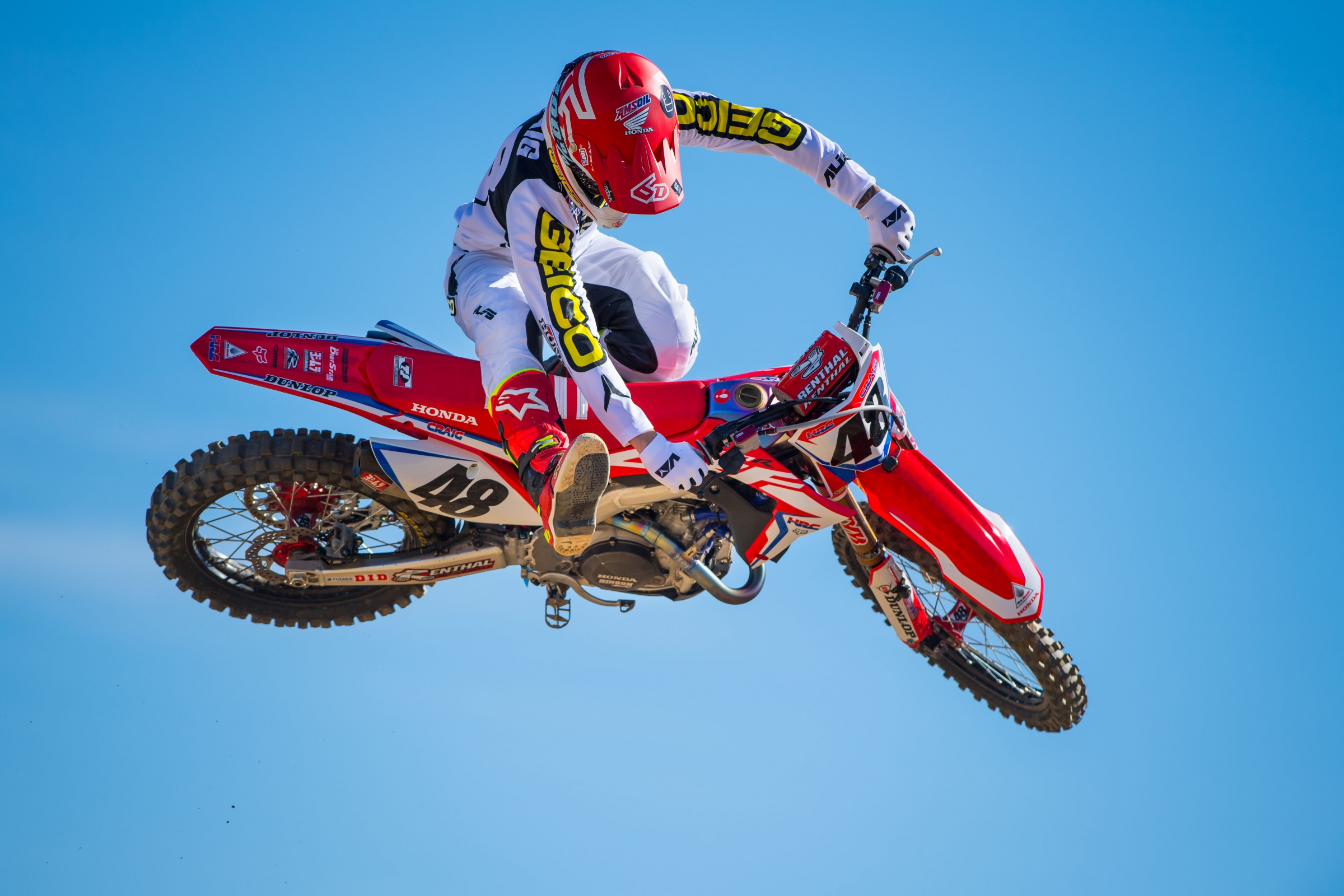 2.) Who benefited the most from the week off: Eli Tomac or Ryan Dungey?
JT: I would have to think Dungey did, right? When your last eight finishes are 1-2-1-1-1-1-1-2, I don't know how a break can be a benefit. Even if Dungey only had a chance to regroup and take a deep breath, that would be more beneficial than anything Tomac gained. Tomac is red-hot and probably wants to race these last three in consecutive days.
Matthes: Definitely Dungey. If you were Tomac, why would you want anything to stop? I know the week after the Seattle Supercross Kawasaki was in Colorado doing some outdoor testing with Eli so there's a danger of stopping all the momentum that Tomac had built. He even said on the Pulpmx Show after Seattle that he didn't want to stop right now. For Dungey maybe he could step back, get away from riding for a few days and regroup. I don't know if the break changes anything, but if it does, it'll help the defending champion.
Ping: Dungey, no question. Tomac only stands to lose momentum with the break while Dungey could take a breath and reset his brain. Ryan's ship has been taking on some serious water for the past couple months and maybe, just maybe, he can use this two-week gap to refocus and come out firing this weekend. As for Eli, I don't expect him to be any different than he was when we left off in Seattle. He'll be very fast.
3.) No rain expected this weekend, but highs around race time are expected to be in the 40s. Does that matter to riders?
JT: The cold weather doesn't matter too much. If it was in the 30s, that starts to be annoying but for the most part, riders will hide out inside their heated semi trailers until the last minute and then head down to the staging area. They will have winter jackets on until the engines are fired so their body heat stays constant. Between warming up on bicycles/rowers, racing during the night, heated semi trailers, and heavy jackets, they will be ready to roll when the gate drops. Besides, most California races in January dip into the 40s at night, anyway. No biggie.
Matthes: Nah, but what if it starts snowing really bad like it did a few years ago? That wouldn't be sweet for the racers, but it would be really cool for me! Makes for great photos as well. More of a factor for the racers will be the elevation of SLC that makes the bikes feel pretty slow. The advent of EFI on the machines has lessened this factor from the old days, but the bikes are still pretty sluggish. But weather? I don't think that's a factor.
Ping: No, not really. Riders spend a good deal of time warming up and they will most likely layer their clothing if the temps are that low. They also have semis and buses to hang out in so it isn't like the old box van days where riders were huddled around a space heater trying to stay warm before the main. Rain or snow would have been interesting but cold is a non-starter. Even the elevation, in the 450 class, doesn't really make a difference in these bikes.