What Brands Are Cool?
In an attempt to find out what teenagers think is cool, Google asked 1,000 teens to rank brands by their "coolness" and released the finding in a document called "It's Lit: A Guide To What Teens Think Is Cool." (According to Urban Dictionary, lit is "when something is turned up or popping." Ex: The party last night was lit. Now you know.) A few things stuck out at me from the findings, which I've outlined below.
- No surprise here, teenagers are most aware of Racer X and think it's the coolest. (Note: We can not say for sure Racer X was part of this poll. We can also not say for sure that it was not part of this poll. Legally, we'll go with the former.)
- Vice, the news organization which brands itself as being the "cool" option, is not that cool amongst teens.
- Matthes will love this: Chick-Fil-A is cooler than Instagram, Starbucks, Coca-Cola, Pepsi and many others.
- Vans is still very cool, which is cool for all action sports.
- GoPro is still very cool, which is cool for all actions sports.
Take these results as you wish. Don't shoot the messenger. To check out the full 10 page document, with a bigger image, go here. (Also the placement of Racer X amongst the other brands may or may not be a legitimate stat from this study.)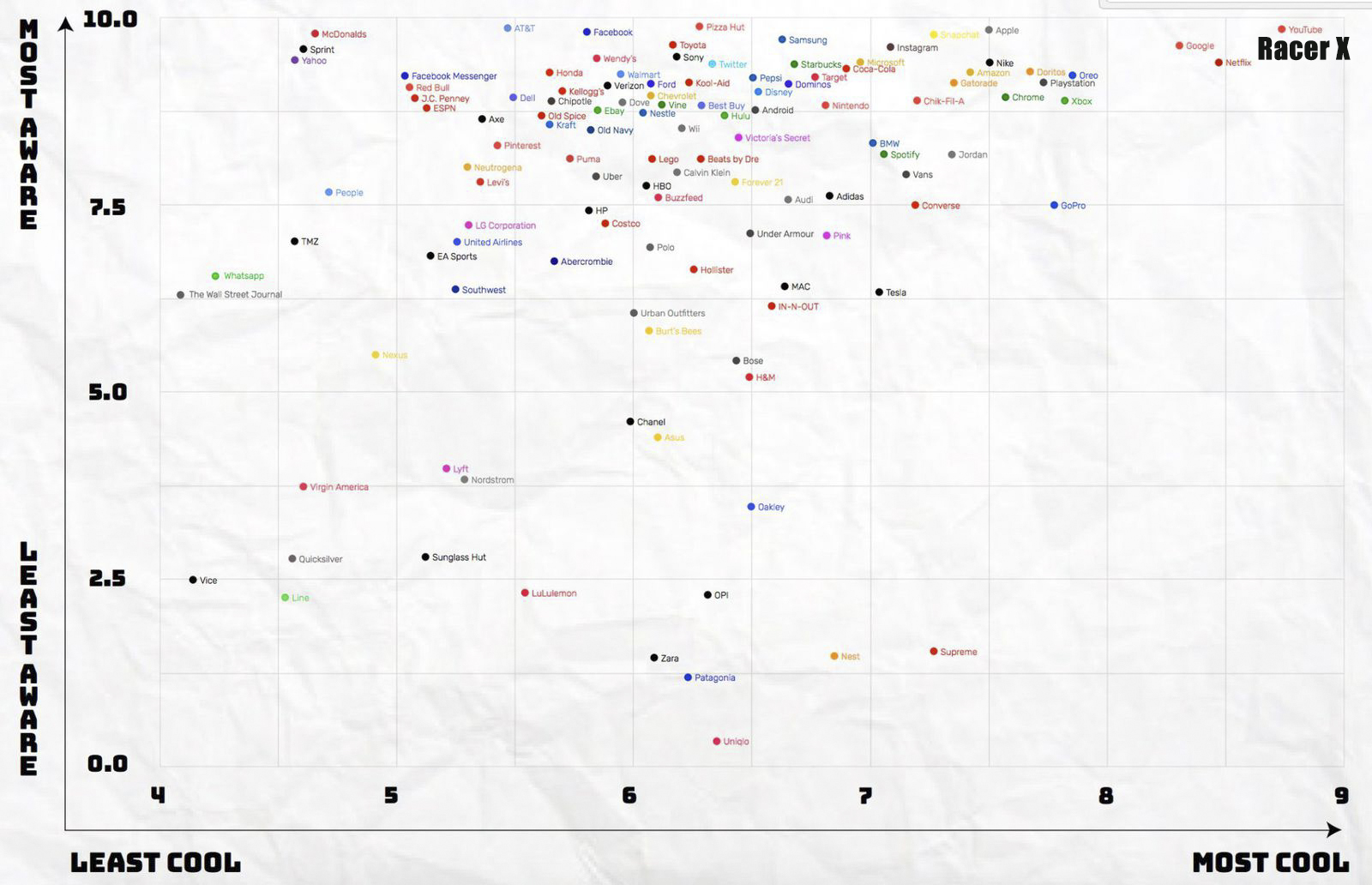 Amazon Streaming NFL
After just one season, the NFL has dumped Twitter as its live-streaming partner for its Thursday Night games. According to Sports Business Daily, Amazon outbid Twitter, which paid $10 million for the rights last year. Amazon also beat out Facebook and YouTube with a bid of—get this—$50 million. Keep in mind, this is only for 10 games, not 17. More from the report:
Amazon has wanted to put sports rights on its Amazon Prime video service, and the NFL deal will allow the company to do that, essentially putting the streams behind a paywall where they will only be available to Amazon Prime subscribers. The NFL already has an existing deal with Amazon for the series "All or Nothing," which is produced by NFL Films. The NFL wanted to finalize a deal in the spring to give Amazon a chance to sell advertising around it. Amazon's deal ends Twitter's one-year run with the league. Both Twitter and NFL executives say they were happy with the streams, which averaged 265,000 viewers on an average minute basis during the season. Twitter was especially happy that the deal allowed it to increase its distribution on connected TVs, while the NFL liked Twitter's young (70% were under 24 years) and international (25% were from outside the U.S.) audience.
Ducati On Fire
In qualifying at the World SBK round in Spain last weekend, Ducati rider Javier Fores was forced to jump off his bike after it caught fire. The Daily Mail reported that Fores suffered burns to his neck. He went on to compete in both races in Aragon, finishing 18th and sixth. If you recall, this also happened last year to Chaz Davies.
Must Reed
Tired of debating and reading about the Ryan Dungey and Chad Reed incident? I feel ya. But, aside from the stories here on Racer X by Jason Thomas, Steve Matthes. and Jason Weigandt, I felt it was worth passing along the work of Racer X contributor Brett Smith, writing for Revzilla. In my opinion, it's an honest look at the incident. You hear from FIM race director John Gallagher, along with the King of Supercross Jeremy McGrath and The Beast from the East Damon Bradshaw. Here's a snippet, check out the rest at Revzilla.
When asked why, after two and a half laps of blue flags being waved at Reed, he didn't call for number 22 to get a black flag, Gallagher cautioned that it wasn't such a clear situation from his vantage point. He's thrown three black flags in his 17 years as the Supercross race director and coincidentally two of them had Reed on each side of the infraction. One was for Reed when he clearly retaliated against Trey Canard in 2015. Another was for Kyle Chisholm, when he (while being lapped) attempted to T-bone Reed in Salt Lake City in 2009, when Reed was locked in a championship battle with Chisholm's teammate, James Stewart.
Dungey Featured in Auto Week
Let's move on from Reed-Gate and take a look at another feature on Ryan Dungey. Auto Week recently spent time with the 450SX two-time defending champion, and while the story isn't groundbreaking for SX fans, any time our athletes are featured in other genres, it's cool. Here's a small sample, check out the full thing on Autoweek.com.
Tim Ritchie and his family have known Dungey since he was a teen. Ritchie's parents, Gene and Nancy, founded the now-world-famous RedBud MX motocross track in Buchanan, Mich., on the west side of the state, in 1973. Tim and his sister, Amy, now operate RedBud, following Gene's death in 2016.
Dungey has raced at RedBud numerous times.
"I really think Ryan's grandmother taught him how to live," said Tim. "Ryan gets way more satisfaction in giving than receiving. He is the face of the sport, a really good person. One of the most intelligent riders ever. Always in the title hunt. I've never heard a bad thing about this guy."
Weege and Baggett
If you haven't noticed, our own Jason Weigandt and Rocky Mountain ATV/MC-WPS-KTM's Blake Baggett have a unique relationship, that is borderline strange at times. Earlier this week, a reader named Jack sent along this hilarious photo of Weege and Baggett from the Weege Show episode last year, where Weigandt challenged someone to photoshop his hair onto Blake's head. (If you have awesome stuff like this, please send to me chase@racerxonline.com. I'll will find a good home for it.)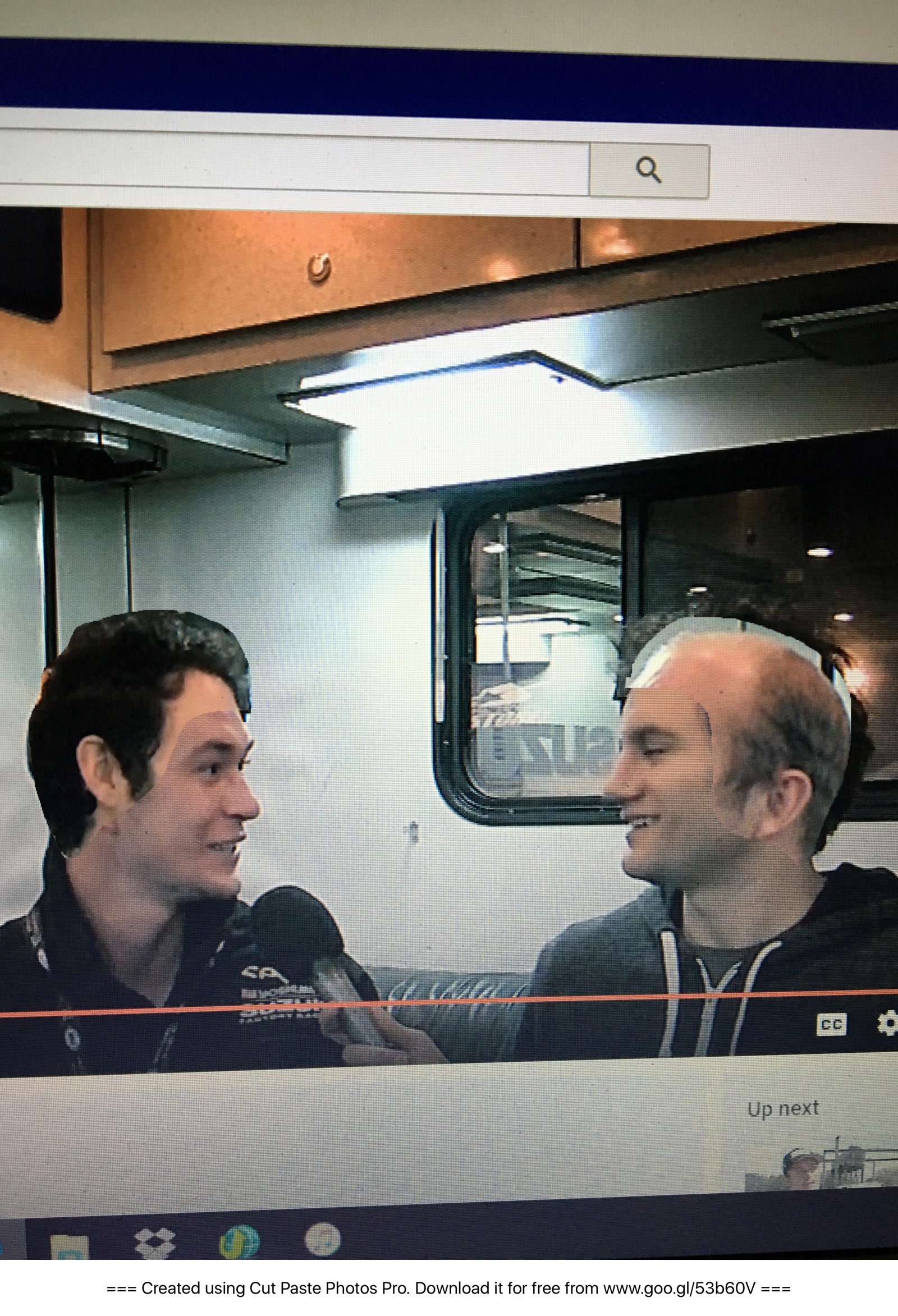 If you haven't watched the episode, you need to, it helps explain the photo:
For more of Weege and Blake, check out a recent tour of the El Chupacabra Ranch.
So, This is What People do in Minnesota in the Winter
F1 Going Bigger
The 2017 Formula One season is underway and this year it features bigger g-forces. At the season opener in Australia, F1 put this year-over-year g comparison together for the pole lap of the season of Mercedes driver Lewis Hamilton. Hamilton pulls more than 6g through turns 1 and 11, which is absolutely insane.
Front Flip … On Accident
Last week we featured Lee O'Donnell's insane front flip in a Monster Truck at the Monster Jam World Finals. It was the first time anyone has ever pulled off a front flip in Monster Jam, and it was all by accident—kind of. As Fox Sports found out, while O'Donnell had been planning on doing the trick, he actually accomplished it by accident. "The only thing I remember going through my mind [during the front flip] was the mud that was all on the floor was now all over my shield and I was worried that, when I landed, I wouldn't be able to see," he said. Here's more from the interview:
"We were trying to accomplish a front flip," said O'Donnell in a telephone interview with FOX Sports, "I had tried a maneuver in Detroit a few weeks earlier and it didn't work out so well. But right after reviewing some footage and thinking if we had had a different ramp, there was something there, we knew we could get a front flip out of it.
"Now with that being said, I didn't think it was going to turn out the way it did. I thought we were going to kind of ride the slap-wheelie, hit the ramp, go to the front bumper and then back to the wheels again. That's what we thought was going to happen, and then obviously we had a little bit too much speed, so it kind of worked out for the better."
You can read the entire story here.