Just a few weeks ago, news broke on social media that multi-time AMA Motocross champions David Bailey, Doug Henry, Jeff Ward, and Micky Dymond would be teaming up to compete in one of the most grueling and difficult bicycle endurance racing events—the Race Across America (RAAM). Last week, we spoke with David Bailey about how the team came together.
This week we looked up David's first pick, Doug Henry. Like Bailey, Henry suffered a career ending injury while racing and will be riding alongside Bailey on a custom built "factory" handcycle. During the course of his racing career, Henry was always able to dig deep, winning three AMA Motocross Championships and an AMA Supercross Championship along the way. On more than one occasion, Henry passed out after a race, giving everything he had to the track, and often winning.
And although he's still fiercely competitive, Henry has never done a race like this. We gave him a call to get his thoughts on the event and find out what he's been up to.
Doug Henry and the team are hoping to raise $100,000. You can help by donating to their cause right here.
Racer X: Doug, big news that you're doing this. How did it come about?
Doug Henry: David [Bailey] called me out of the blue, asked me what I had going on. I told him I was going to race the X Games, and then he asked me to do this bicycle race. I said "Yeah, definitely, that sounds cool" before I looked into it very much. I had always looked up to David so much since I was a kid. He has done so much in his life, so he has been a big influence. After he asked me then things snowballed. We talked about other teammates, and I thought maybe Micky [Dymond] would make a good one. I had spent some time with him in Sturgis just around the time he did the race before, so I knew he was capable and that he knew what it takes. So basically, David put everything together.
So, did you have any idea of just how gnarly it is?
Honestly, no! I really had no idea how crazy it was until just a few weeks ago. I went on YouTube, and watched that 11-part series that Micky Dymond did. Then I started seeing some other things on it, and then I realized just how serious and hard it is. But it's not that I wanted to back out or anything, I just didn't realize how tough it was. I was a little worried about my elbow, as I've been having some issues with it.
What happened with your elbow?
Well, two years ago I crashed on my motocross bike. I shattered my elbow and had surgery. The doctor did the best he could at the time and put in a plate and some screws. But my range of motion isn't that great and I've had some issues with it. So I need to get it fixed right. It's mainly that my extension is really limited, and for me, that impacts my movement. It basically makes all of my transfers much harder. So I need to get it sorted, and I was going to do that after the X Games, but now I am going to wait until after this race as well.
During your career, I know you did some cycling, but maybe not at this level. What do you see as some of the biggest differences for doing this?
Well, it is definitely a different type of training. For me, it has been fun trying to reach physical small goals that I never really went for. I never did much cycling when I was racing; it was just more like cross-training and I certainly have never done a major event like this.
Are you still riding your motocross bike?
I am! I still have my adaptive bike. But I probably won't ride it until after this whole race is over. Our riding season is just getting started here in Connecticut, so I will miss that, but that's ok. I will be riding at X Games, though.
I didn't realize you were still doing the X Games stuff. How did they go for you this year?
They have the adaptive Snocross class, and it's been going on every year for a while now. They pretty much invite the same crew every year, and I really enjoy it. This year, for me, it was pretty neat, as my son had just graduated high school, so he drove out to Colorado with me. It was just the two of us in my mini van with two snowmobiles. He was pretty pumped, as he got to ride a snow bike for the first time. As for my results, I didn't do as well as I wanted to, but I got a fourth. I've been doing it now since around 2008, and I think I only missed one year, due to my elbow.
Going back to the RAAM, did you know David very well, or was his call out of the blue?
I knew David a little bit; I spoke with him several times over the years. He was doing TV work when I racing, so that's how I kind of met him. But since my injury, we've spoke quite a bit and are good friends. When you have an injury like this, it's nice to have positive role models around you. And someone like David, he is just really good and positive energy. He is always someone I could call, no matter what the question was.
What about your time on the handcycle? Have you done much of that?
I've ridden one before, but I never rode with a regular pro like David. I have done some charity events, but never anything competitive with one. So far, my experience has been great. But most of my time has been spent sitting on a trainer on my porch. We recently all met out in California, all four of us, and went on our first ride. I have to say that just being around that company, it's just amazing. I've watched all of those guys win races, and now to do a race with them is just awesome.
You were sort of a generation after those guys. Do you remember watching them, before you were a pro rider yourself?
Yeah, they were all a generation ahead of me. I remember watching Micky with the #1 plate at Southwick. That was cool, as I wanted to be like him, and then a few years later, I was out there with the #1 as well. I also remember racing [Jeff] Ward at my first supercross, and just being in awe of those guys. I did race with Wardy and Micky in supermoto as well, and we had really good clean races.
What are you expectations for the race?
Let's see: I'm expected to ride six hours a day, so I am expecting it to be really hard, both physically and mentally. That's the biggest thing, just getting my mind around all that stuff. I'm also expecting some great stories from the past and present, and really just looking forward to a great experience, and pushing myself, as well as learning what I can.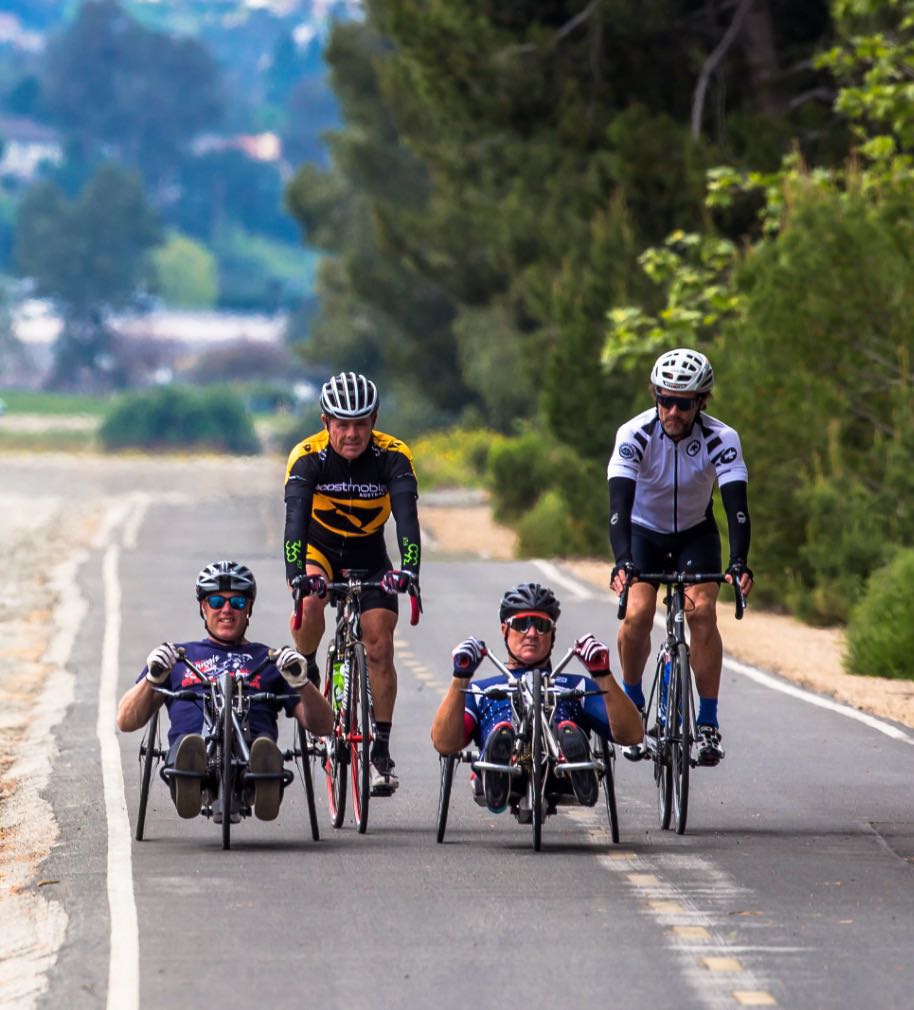 You obviously know how to push yourself, but how does something like this vary from motocross?
Well, the risks are way less in terms of an injury, so that's the biggest thing. On a hand bike, you can push yourself much harder. Suffering a crash on a big downhill double is different than falling over on a bike. For me, it's been nice to have something where I really push myself. I spent most of life pushing myself physically, and then when you fall out of it, you forget what it is like. I like the feeling of readiness and anticipation for the event. I guess I didn't realize I missed it as much as I do! So it's been fun to get back in a groove.
What else have you been up to? How are things on the farm?
Everything is going well. This year my son Ian graduated from high school. He is really into competitive jump rope, so we have been doing a lot of that. He has been into that since the third grade. But he recently broke his ankle, so he is taking a break from that. My daughter Brianna is doing well, she is going to college now in Charlotte, and she is a junior.
As for the farm, things are good. I love it there. We are all rebuilt from the fire, though my house is now in a different spot. I guess the big project I've been working on is opening a farm brewery on the property. I have been working with the town to get all the permits and what so I can open that up. So I guess I am going to be a hops farmer! The plan is to turn the old barn, the one that has been in all those photo shoots, into a brewery. Thinking of what my next steps are in life, I just love my property and being there, so this is a good way I can make money off the property.