Edward Jones Dome
St. Louis

,

MO
St. Louis
Monster Energy AMA Supercross Championship
1. Can Dungey Hang On?
Chase Stallo: It's beginning to look more and more likely that he won't. This season reminds me of those years where no matter how consistent Ryan Dungey was, it didn't matter, because Ryan Villopoto was going to click off a ton of wins and make podiums irrelevant. Dungey will podium you to death most years, but when you have a rider as dialed in as Eli Tomac is right now, it's hard to stop. Were Dungey not a three-time 450SX champion, I would give him a five percent chance of holding off a red-hot Tomac. But, Dungey is battled tested and will fight to the end. To me, this is where Aldon Baker earns his money. If you've watched the recent post-race press conferences, Dungey appears to be reverting back to his old ways of questioning everything. Baker was a big part in reeling him back in. And, as we saw with Osborne this weekend, sometimes things can change in an instant. With all that said, it's possible Tomac could hold the points lead going into the break. If that happens, the series is his.
Jason Weigandt: I've long been a proponent that race wins equal championships. We all talk about consistency and podiums, but the bottom line is the rider that wins the most races usually wins the title. Go ahead, bro, come at me with "But what about Damon Bradshaw in 1992!?" I'll gladly give you that one year against my data from the last 25. Oh, Chad Reed won the last six in 2003 but came up short. So that's twice, like, ever. I know Tomac was way down in the standings, but as long as you keep winning everything usually takes care of itself. Not only do you score max points, but the other riders leave the races a little deflated, which leads to frustrations and problems.
If Tomac keeps this train on the tracks, he's got it. At this stage in the season, I can't see Dungey finding a massive chunk of speed and turning the tables that way. The only chance? I still believe there will be one crazy moment left in this championship, though, and it will be on Eli to handle it properly.
Jason Thomas: I picked Dungey to win this title in our preview shows back in December. I also picked him in 2015 and 2016 so it's safe to say I've been a believer. This season has been a bit different, though. I haven't seen the razor sharp Dunge that I'm accustomed to. He hasn't had the next level fitness nor the incredible ability to always be up front early. His first lap positioning has been worse than any season in recent memory and that's hurting him badly. Eli has found all of the momentum and has shown no signs of slowing down now. That 29-point lead he had just a few weeks ago has now shrunk to seven with five races still left to run. I can't say it's completely over because this is racing and we should know better, but it sure looks bleak compared to a month ago. To hold onto this title, Dungey needs to somehow get back to the level we saw from him before and win races. There's also the "cross your fingers and hope for a mistake" strategy, but Eli looks strong and steady at the moment. As Weege said, the guy doing the winning usually ends up with the title.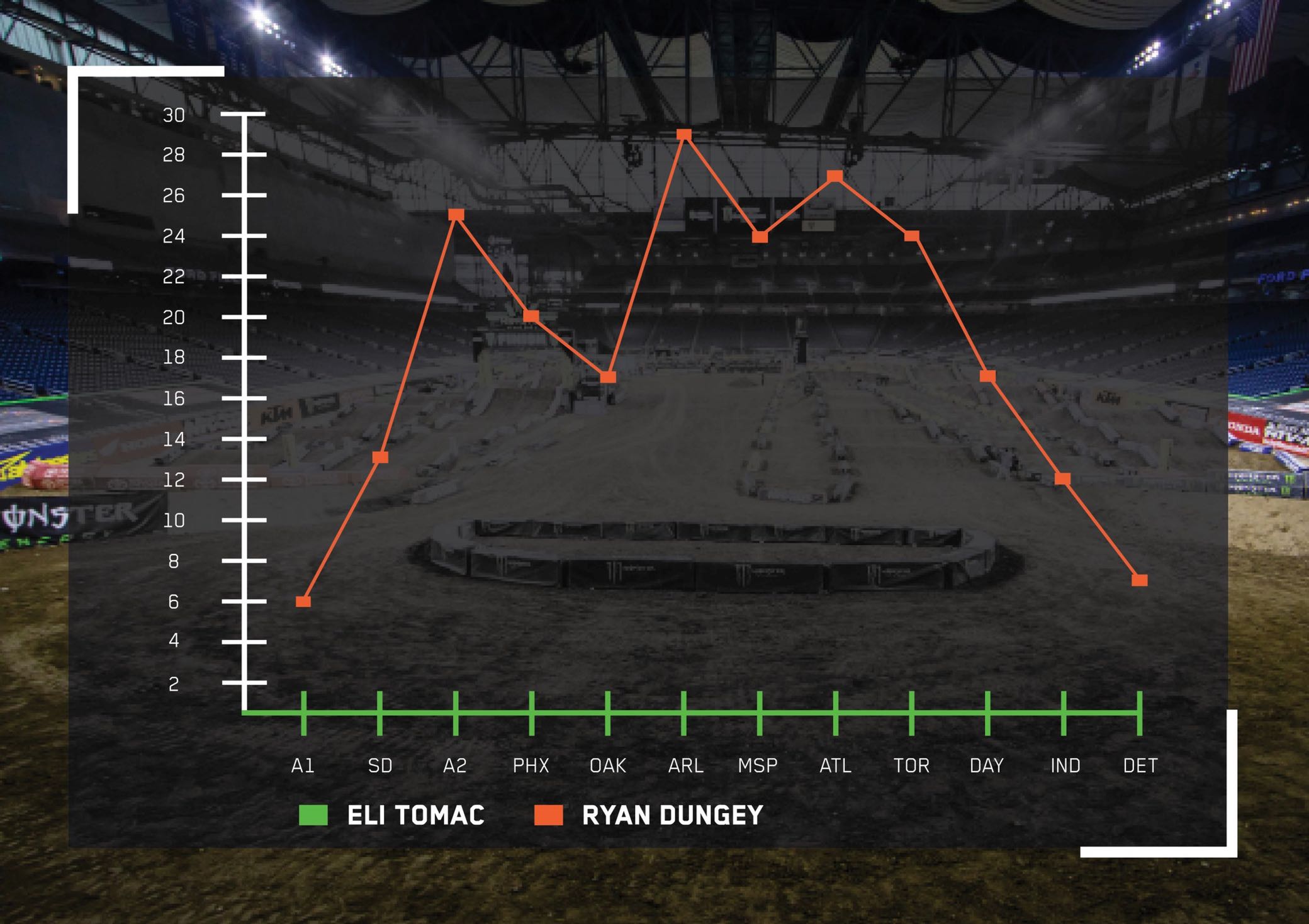 2. Who wins the 250SX East Region?
Stallo: I have no idea, and that's what makes this series so exciting. Zach Osborne is the fastest guy right now, but making up 10 points in three rounds is no easy task. He'll be helped by the Las Vegas Supercross being East/West combined, but I'm not sure that puts him over the top. Since his mistake in Toronto, Joey Savatgy has gone 2-2-2, and seemed to find a bit of extra speed last weekend. Without his crash, you could argue he would have won. As we witnessed last year, Savatgy seems to step it up when the pressure is on, so if I'm being forced to pick, I'll go with him.
Weigandt: Like I said with Tomac/Dunge above, I think the fastest rider usually wins. Osborne has been the fastest rider with the most wins this season, so as long as he can continue to be that, I think he can still win the title. But staying the fastest rider when the pack is this close won't be easy!
JT: I'm sticking with Zacho. I think he's the fastest and most fit in the class. In the 250 class, results vary widely so I don't see 10 points as a huge gap at all. Look back through the top five's race results and the story tells itself. The only thing predictable about this class is unpredictability. Zach will win because he will win the most races.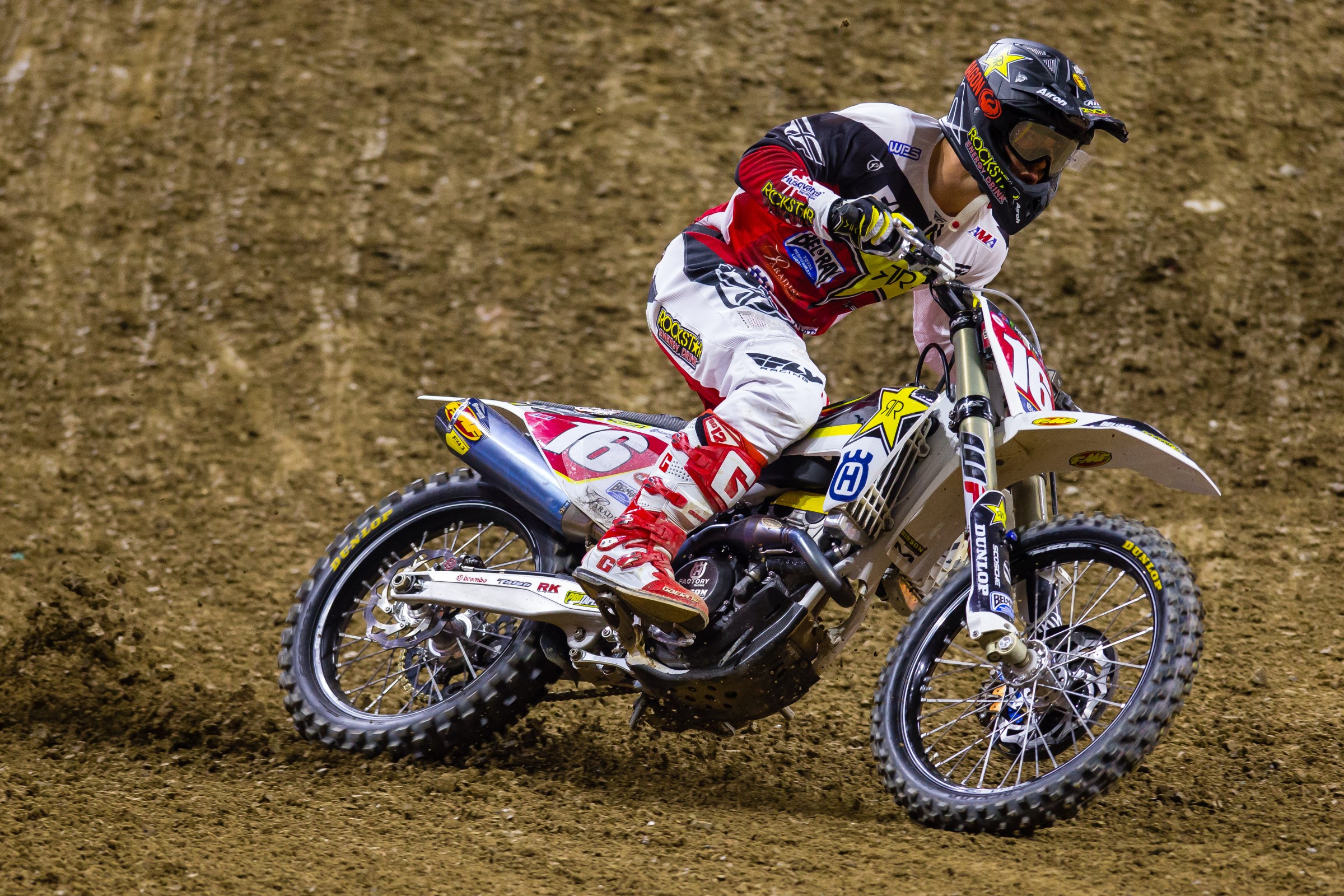 3. Craig fine/penalty fair?
Stallo: Christian Craig was definitely made the sacrificial lamb in what has been a long season of questionable decisions on the track. Was it fair? I have no idea. What am I comparing it to? When we consistently fly by the seat of our pants in regards to fines/penalties, it's hard to gauge the fairness of any penalty. I don't see a major difference in what Osborne did the week prior and what Craig did. In the case of Osborne, there was no penalty/fine handed out. In the case of Craig, he was fined $3,000 and received last gate pick in the main event. To me, we first have to find a way to stay consistent, and then go from there in regards to how much riders should be fined and what the exact penalties should be. I can tell you, riders and teams are justifiably getting annoyed with the discrepancies.
Weigandt: Sure. I know some people are pissed that Craig got a penalty in Detroit but Osborne didn't get one for hitting Adam Cianciarulo in Indy practice, but remember, AC ran it in on Osborne first. Poor Alex Martin did nothing malicious to Craig. Plus, practice stuff is exacerbated. If Craig were battling Martin in a race, Martin probably would have "felt" a block pass coming and maybe gotten on the brakes. Instead, he was just riding, with no idea that was coming, so he got on the gas like usual and disaster ensued. The practice stuff has got to stop so I don't mind the FIM's John Gallagher throwing down.
JT: I do think something needed to be done. The 250 class has spiraled into the Wild Wild West, so more than anything, this was a shot across the bow to the entire class. Christian was made an example and even if the penalty was harsh, he was definitely deserving of a reprimand of some sort. He is sharing some of the blame for Zacho and AC's run-in at Indy, but he wasn't in title contention anyway. I hope the message was interpreted by the 250 class in the same manner I did, "guys, chill out!"