After nine professional seasons, Wil Hahn announced his retirement from professional racing at the end of last year after competing in Australia. Hahn, the 2013 250SX East Region Champion, spent much of his career with GEICO Honda (2010-2014) and post-retirement signed with the team to serve as their amateur coordinator, working with their amateur athletes as well as a test rider for the GEICO Honda race team.
Wil is moving up the ladder pretty quickly post racing, as earlier this week it was announced he had taken a job with Yamalube/Star Racing Yamaha as their assistant manager.
Hahn enjoyed his time at GEICO and spent many years with the team, but a great opportunity came about that he couldn't pass up and he's trading in his red shirt for a blue one and moving into a leadership role with Star Racing, which will start immediately. We caught up with Hahn to talk about how he transitioned from racing into an industry job, how the new deal came about, and what the future looks like for him.
Racer X: How is departing with GEICO going?
Will Hahn: It's good. They're really happy for me, so it's something that I didn't want to leave on a term that was negative. Especially with them, because not only post-career, but in my career, they were very, very loyal to me and I didn't want it to ever be like a negative thing.
You guys have had a long relationship.
It was a relationship that was kind of up and down in my career and they stuck by my side and saw me through it and helped me make a name for myself. So to me, my biggest concern was not to leave there on a negative term. I wouldn't have been able to do it.
You guys are cool?
Yeah, everything's good. As far as Ziggy [Rick Zielfelder] and Jeff [Majkrzak], they understood from my side of it why it would be intriguing to want to take this. I think as hard as it was, they understood. At the end of the day they were very supportive of it.
Why did you want to take this?
When I stopped racing my main goal was to be team manager, not that I didn't enjoy the amateur side of things. The first thing I even told Star was I haven't had a bad day yet. I expected to have days where maybe I missed racing and this is hard work, or whatever might cross your mind, and I haven't had that yet. It's been all pretty smooth sailing. There are days where it's harder than others, but nothing's been negative.
So you've had a good time since you retired?
Yeah. It's been a really easy transition. I wanted to make that clear. I wasn't trying to leave, but if there was something that was presented to me that I felt like was better for me and my career, then I don't know if I had a choice. At the time right now I feel like this is something that I had to do. Like I said, this is a position that I kind of dreamt of when I was done.
Do you think this opportunity happened a lot faster than you maybe would have expected it to?
Yeah, big time. Also because I didn't know how fast it would come about, and then not only that, even if you're up for that position, that position doesn't come up very often.
What it's been like being on the other side of the gate this year?
I think for me it's just been enjoying … I don't want to say life more, because I had a great time racing and not racing. But I think that more than anything for me it was just a lot of pressure taken off from me. I think anybody that races or is around it knows that at times … you get paid to perform and it starts getting stressful and you put a lot on yourself to get better or figure it out or whatever. Then the injuries obviously add up too, and it's frustrating and hard to take at times. But I think the biggest thing for me is it's been nice to go to dinner after work and have a beer. I don't want to go out and party. It's not something I've ever really been into, but it's nice to not be so strict on yourself. I think even if I was racing it wouldn't hurt me to go out and have a drink—and I did while I was racing, but it's just different without that kind of guilt. I'm still trying to find that, going and having a beer and not feeling guilty for it and just relaxing a little bit.
Do you feel that old racer mentality coming through still even though you're not racing?
Yeah, there's still days if I go have a couple beers or whatever and relax and the next day I train pretty hard. I'm still finding myself doing that and I'm like, "What am I training for?" Even though I'm still pretty fit, and obviously the biggest thing for me is I still want to be a positive role model to the guys I'm working with and trying to help. I hate to say "lead by example," but kind of like that in a way. I want them to respect me as well, as much as I respect them.
Have you been riding very much?
The last two weeks, no. Before that, yeah, pretty full-on with GEICO obviously before my departure. There I think I was riding more than I would have been had I been getting ready for the season. But not in a negative way because I feel like I was able to just ride in my comfort zone, which still isn't that bad of a pace because it's not like I retired for a year and then came back to it. So that's been cool too because I still get to enjoy riding an awesome dirt bike. I'll still get to enjoy that, but without any of the pressures of either performing or having to be faster that day or whatever.
It must have been the perfect transition for you, ending your racing career and transitioning into an industry job that required you to ride. Will you still be doing a bit of both with Star?
Yeah, I think that's the biggest thing for me. When I'm done I wasn't like cold turkey done riding. I was still riding quite a bit, and around people that I know and like and like being around. That was a big thing I think that ended up really being positive.
How has having a real job been?
It's funny because I think as a racer you start at a young age and you know how to work hard, but that's different. I almost look at it like I have a little bit more time for myself type of thing, instead of always being go, go, go and stuff like that. It was definitely different because there wasn't any of that time. By the time you get home and shower and eat some dinner it's pretty much time to go to bed and do it again the next day. But it's been a good transition. I'm just fortunate enough that GEICO was in a position where they could give me this opportunity, honestly. I think that for me was … I was in a point in my career where obviously I needed to do something different. I wasn't happy racing. I was just at that point where I didn't want to risk anymore. I'm really glad I made the decision because obviously it's opened this door up too, but it made me kind of realize when the gate dropped at Anaheim 1, as hard as it was to take and me not being out there, it made me really realize that it was time, because I didn't really feel like I needed to be out there.
So you are happy with your decision to not race?
Yeah, which I was questioning up until then. Was this a good call? Was it not? At that moment I really realized I made the right decision.
You've been in your current role with GEICO for about six months. When you took the position, how long did you foresee yourself in that job?
I didn't see myself leaving definitely nowhere in the near future. Even when this [Star Racing assistant manager position] first came about I was kind of hesitant just because of what they've [GEICO Honda] done for me in the past. I go back to how loyal they've been, not only in my career, but post-career. The last couple years I was racing they had told me that there was a job there waiting for me when I was ready. It's hard to really put that into words how much you appreciate knowing that, and making an impact on them while I was there enough to where they wanted me back there. Not to race for them, but to be around. So I saw myself being there a long time, but at the same time my selfish side was telling me that I needed to go get some experience, and if this was the role that I saw myself wanting to be long-term in the sport and be a team manager, this was something I needed to do.
How did this opportunity come about with the Yamalube/ Star Racing team?
It's funny because I was actually talking to Dan Reardon at I believe it was Dallas Supercross. I became pretty close with Dan while I was in Australia. We lived in the same town and became pretty close friends and sort of trained together and stuff like that. It just came to the point where I was over there talking to him. Bobby [Regan, team owner] had mentioned to me that I'm interested in doing something. I didn't think much of it because honestly I was like, "I'm pretty set where I'm at. No offense, I appreciate it. It's flattering, but I'm pretty happy where I'm at." If anybody knows Bobby, once he gets something in his mind he's not going to really stop. Like I said, it was a lot quicker than I anticipated it happening.
So Star been pushing you a little bit? Like, "Hey, let's do this."
Yeah, he was definitely interested and he had made it clear that if I was serious about doing something that he was all for it. I kicked around for a couple days thinking about it. It wasn't something that I ever hid from Jeff and the team, either. I was very clear about it and wanted to let them know. As a close competitor to them it's not something I wanted them to think that I was going behind their back and something like that. That's not something I would ever do to any team. So I tried to be clear about that situation and let them know. I said I would hear it out. From the get-go Jeff was just like, "You need to hear them out and see what they have to say." So that's just kind of what I did. I went back and forth with him. It definitely happened quicker than I thought it would.
What will your responsibilities be as the assistant manager?
I think the biggest responsibility for me is just at the moment kind of gain the trust and relationship with the riders and just get to know them well. I'm still learning a lot. I was a rider for a long time and I know the sport really well, but when it comes to managing and stuff like that, I have an idea, but at the same time I've never been in that position. So I'm going to be learning this next year and a half basically from Brad [Hoffman] and Bobby, and then obviously Gareth Swanepoel's training. There's a lot of good guys on the team that are heavily involved with the program and I can learn from them. So for now it's just going to be helping the riders as much as I can by being there by having been in those race scenarios before in my career. Maybe advice and stuff like that, sponsor relationships. I think it's a point where it's going to slowly evolve into me handling more of that. Probably social media stuff and whatnot.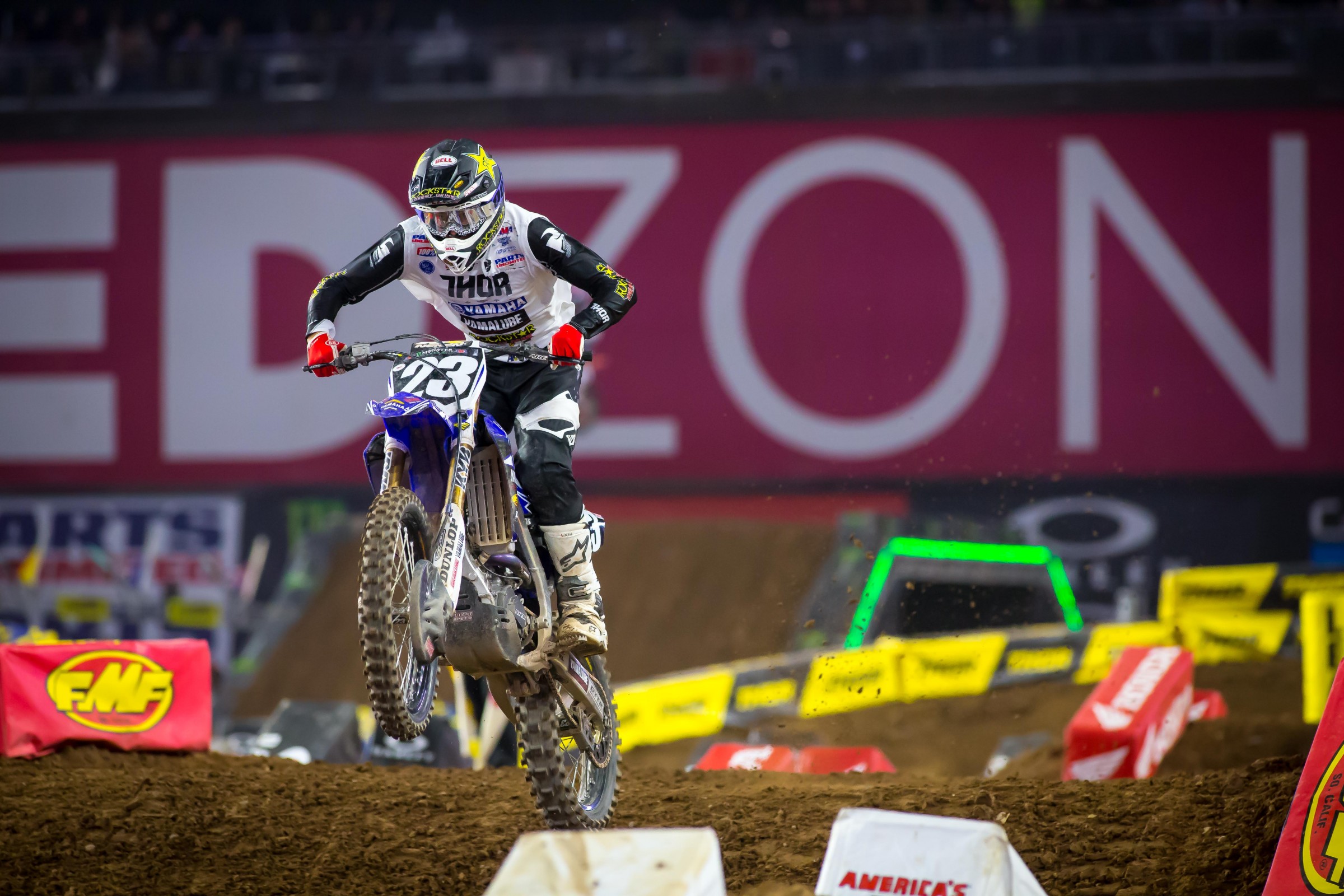 Is there anything you're going to take from your role with the amateur program with GEICO that you'll bring over to your manager role over to Star Racing?
I think some of the relationships you have with the riders and even the parents. I think it doesn't matter, the parents are going to be there and you want to be involved with them. Not only that, but even an amateur kid might be 14 or 15. Pros are only 18, 19 years old, so if you have a kid you're working with and you want to still be that good role model that they can look up to and hopefully respect you as much as you respect them. That's how I try to present myself in that situation where they have no reason not to respect me and vice versa.
What is your current relationship with the riders of the Star Racing team?
Right now, obviously I've know Colt Nichols since he was probably six years old. We grew up racing the Oklahoma State series together. Not in the same class, but he was around with Justin Bogle. Him and Justin were obviously really close friends, and I've been good friends with Justin for a long time. So I've known Colt very well for a long time. Just a really good kid. Obviously Dan and I became good friends. Plessinger's always been around. I've known Aaron for a while. I don't really know Dylan that well, but I'm looking forward to getting to know him. Mitchell [Harrison], obviously when I was with Kawasaki, he was a big Team Green up and comer. Been around him a bit. Obviously know the kid well and excited again just to work with him.
Anything else you want to add?
Mainly just thanks to GEICO for understanding and obviously Star for this opportunity. I think it's definitely a cool position to be in.