Ford Field
Detroit

,

MI
Detroit
Monster Energy AMA Supercross Championship
The action is coming fast and furious in the 250SX East Region, with practice squabbles, penalties and warnings, on track contact, notable post-race quotes, and so much more. The drama literally collided this weekend, when Zach Osborne looked to have a good start coming until Jordon Smith, who had to go through the LCQ after crashing into Kyle Cunningham in his heat race, came barreling in from the outside. Smith's charge caused some contact and soon Osborne went careening into a second factory rider coming from an outside gate—Christian Craig—sending them both down. Just like that, Osborne's points lead was gone.
Then Adam Cianciarulo and Joey Savatgy crashed, Dylan Ferrandis led for a while, and Smith hung in there, showing great composure while racing for his first-ever win. He couldn't help himself one time, though, as he saw an opening and tried to take it. The move ended up backfiring, as Ferrandis came into him, and Smith couldn't jump a rhythm lane.
"I ended up managing that rhythm section pretty good, I did single-table-triple, which is probably pretty stupid, but it's what I had to do," Smith told us after the race. "Joey [Savatgy] got around me but I saw my opportunity, I knew I was fast in that rhythm section before the whoops and that Talladega turn all day. I was able to be aggressive there. Once I came around I saw my mechanic's pit board, and we had actually talked about it earlier. After that LCQ, he told me to be aggressive when I needed to, but once I make a pass, just put it behind you and maintain focus. So I came around to the pit board, he had 'Regroup, Focus' on there, and I was able to do that and go after Ferrandis."
The whole situation happened so quickly—trying to pass Ferrandis, bobbling, getting passed by Savatgy, passing him back—that Smith barely remembered it. "I had almost forgotten about that," he said. "I re-went over the race in my head when it was over and I had almost forgotten that that happened!"
Smith has shown speed before, but now in his third full season as a pro, he's shown a dramatic gain in consistency and composure. He's managed his bad nights better—his worst finish so far is seventh—which was on display in Detroit. Smith had to take a trip to the LCQ, but while Ferrandis was flying and Cianciarulo and Savatgy had crashes, he was doing his own deal.
"Yeah, he [Ferrandis] was riding really good there for a while, he has really good corner speed," said Smith. "I was a little tight at the beginning, having to go to the LCQ left me a little flustered. I was thinking about too much, had to regain my focus. I think he had a good two seconds on me, but I knew the track would go away and if he kept making mistakes I could reel him in if I just kept hitting my marks, and that's what I did. I tried to make a pass on him, and that's when I ended up having to roll the rhythm section, and Joey got around me. Once I got [back] around Joey I was like 'This is my race, I'm going to go get it.' That ended up happening."
Smith would have to deal with Savatgy one more time, though, as the new 250SX points leader took a run at him just before the white flag came out and passed him in the bowl turn. It appeared Smith's bid for his first-ever win would come up one lap short, but Smith fought back. He scrubbed the finish hard, darted inside and put his bike into Savatgy's.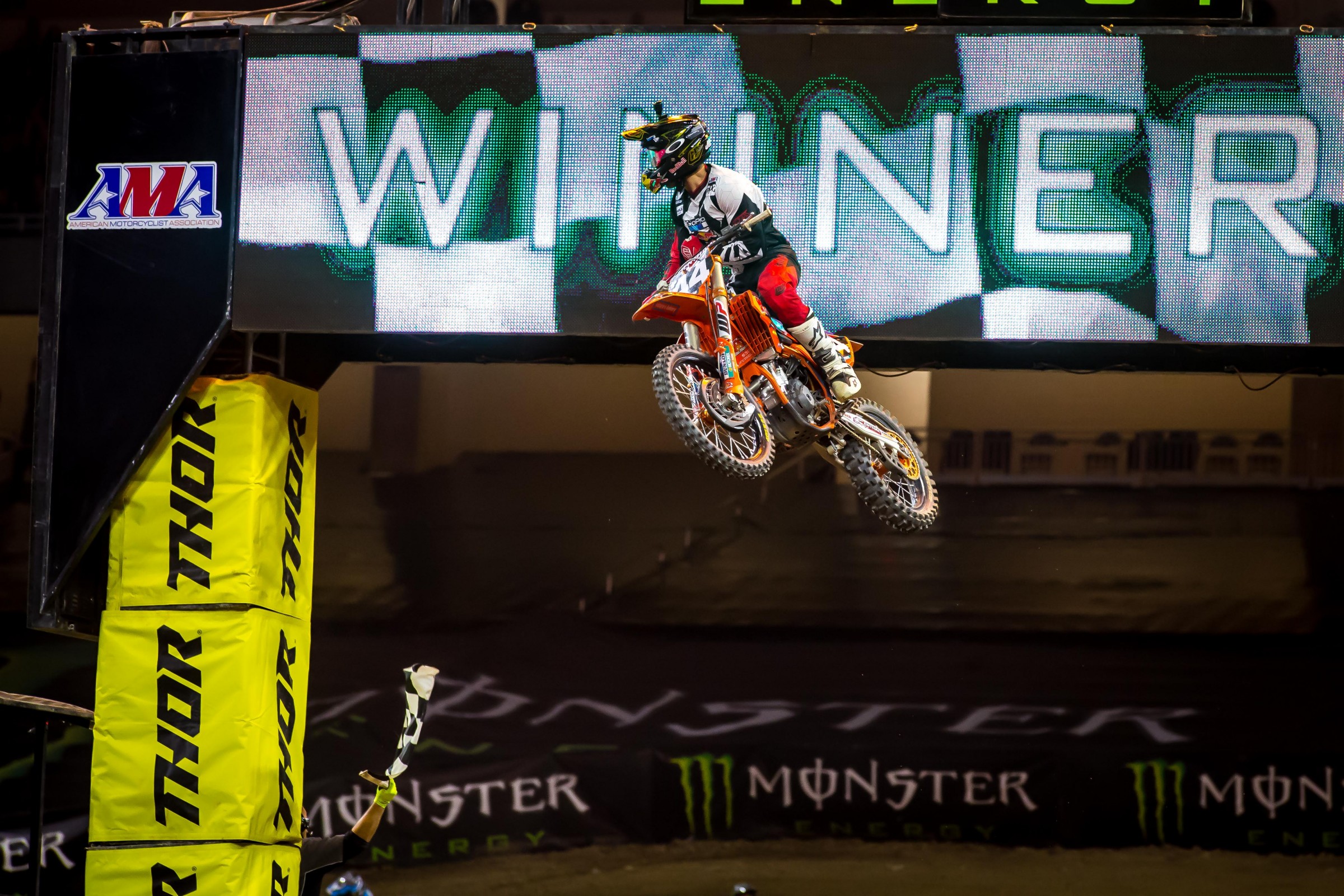 "I grew up training with Joey down at MTF [Millsaps Training Facility], and I know he's one of the smartest riders I've ever rode with," says Smith. "I'm kind of surprised, actually, that he left the inside as open as he did, and I knew I had to go after him right away, so I did. I didn't want to let anyone take that one away from me."
After the race, Smith got to celebrate with his squad, including team owner Troy Lee, who made a surprise visit to Detroit. Smith has also pulled to within nine points of Savatgy for the points lead. The celebration surely got crazy, but what comes after it in this close series is surely going to be even more wild.