Ford Field
Detroit

,

MI
Detroit
Monster Energy AMA Supercross Championship
Saturday night in Detroit, Michigan, the sixth round of the 250SX East Region provided some of the best racing we've seen all year, amplified by the major championships implications that came with it.
Troy Lee Designs/Red Bull KTM's Jordon Smith held off a late charge by Monster Energy/Pro Circuit Kawasaki's Joey Savatgy to claim his first career 250SX win. In the process, he moved to second in points, just nine behind Savatgy, who finished second.
Savatgy's teammate, Adam Cianciarulo, rebounded from an early washout to pass Dylan Ferrandis late in the race to claim third. Zach Osborne, who entered the night as the points leader, dropped to third in points, 10 back of Savatgy, after being involved in a first turn pileup and finishing 18th.
Smith, Savatgy, and Cianciarulo spoke with the media after the race in the post-race press conference.
Racer X: Adam, congratulations on the third place finish. It was pretty evident from qualifying and the heat race that you had the speed to win tonight, but obviously the small mistake there. Do you feel like maybe you let one get away tonight?
Adam Cianciarulo: I do and I don't. I think to say that I let one get away would almost be a little bit of a detriment to these guys up here, because everybody was flying tonight. I feel like in the beginning there I had a pretty good shot with a good start. I was able to get the first gate pick and there was only like one or two good gates out there, especially because the dirt behind the gate got pretty gnarly. I am bummed that I crashed, but at the same time, those guys are riding good. Just happy to get out of here on the podium.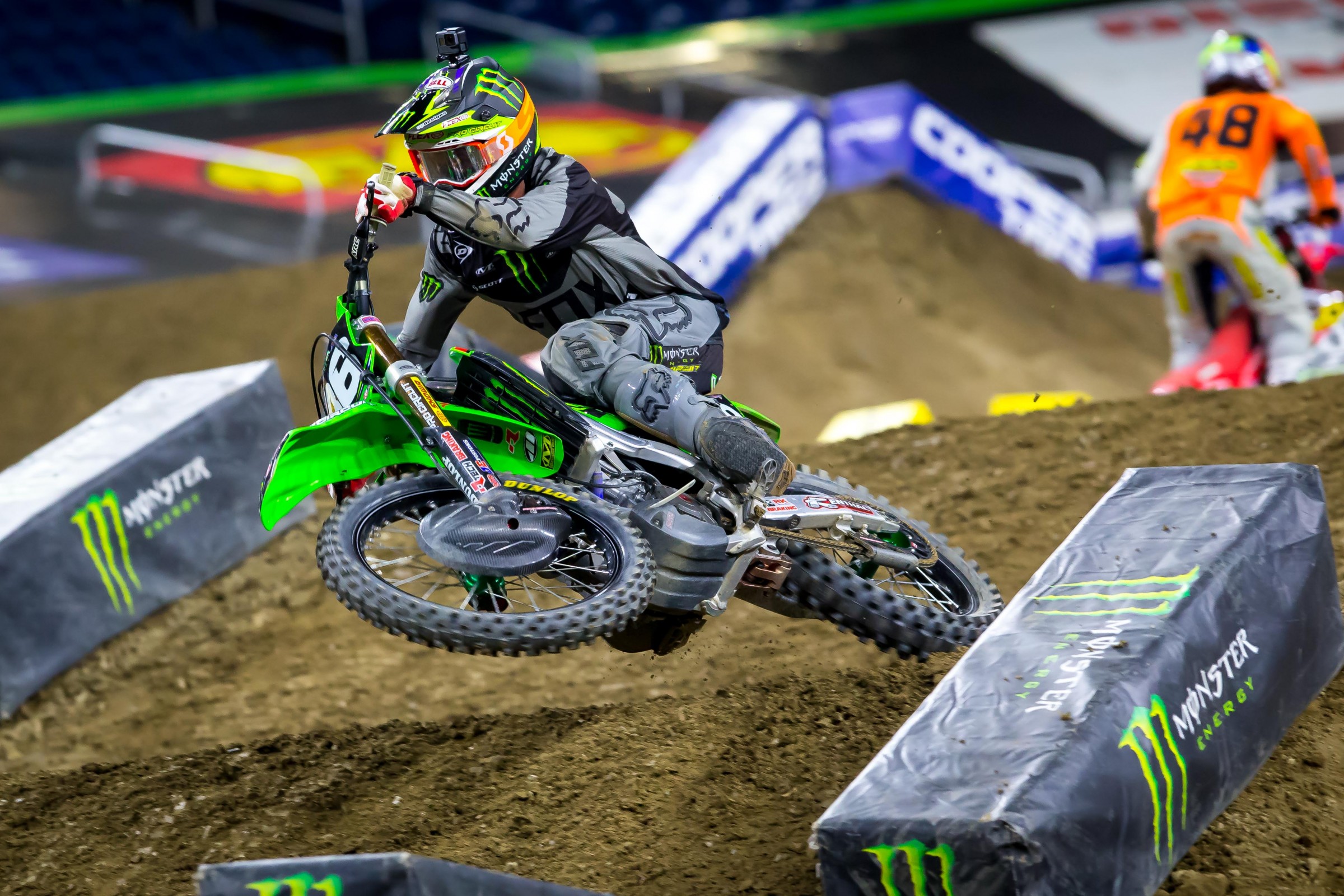 Joey, you and Jordon went back and forth at a few different times in that main event. Take us through the last two laps and maybe what could have been done different to secure the win.
Joey Savatgy: Yeah. I got off to a pretty good start. Adam and [Dylan] Ferrandis were going back and forth. I saw the opportunity and was able to get around those two. Actually didn't know AC crashed, but had probably close to a little over a second, maybe a two-second lead and just dumb mistake. Crashed, got back up in third. We charged all the way to the end. The last two laps came down to the wire. Probably should have stayed tighter over the finish line, or set the pass up a little bit later on the lap. But all in all, got a lot of points tonight and got to keep it going.
Jordon, last week in the press conference you made a pretty bold statement and said that if you would have got the start you think you could have beat those guys. You got a little bit better start tonight. Obviously from the outside it was a little bit difficult, but good start. Got the win.
Jordon Smith: For sure. It was a pretty crazy night. A lot of ups and downs with having to go to the LCQ. I had a really good jump there from the outside. I think I started a little carnage in the first turn. I had to cut over pretty hard from the outside. It was a crazy race with a lot of people making mistakes and Joey and I going back and forth a lot. My adrenaline was going out there. Just super happy to get the win.
Jordon, it's your first win, so what's the pressure like there, especially since it was close? What was running through your mind the last couple of laps?
Smith: I've been leading some laps this year and just had to focus and keep pushing the whole time. I kind of focused behind me a little bit in other races that I've been leading laps in. So I just kept looking at the lap times on my board and trying to keep those down. Just kept pushing. I didn't even really know Joey was so close there coming around to the white flag. He got up the inside and I knew that I had to make the pass back pretty quick and I was able to do that. It was just crazy.
Joey, obviously this race had some big implications for the championship. How about some thoughts on that?
Savatgy: Yeah, I didn't really know until after the race. I'm focusing on me, one race at a time. I can tell you that I need to focus on not making those mistakes. Personally I think if we eliminate the crash it would have been a different outcome. I think we could have put our head down and clicked off laps and we could have got to that checkered flag first tonight, but that's not how it goes. So we'll be good. Like I said, points are valuable and I'm not really sure what happened, but we're able to get as many points as we could tonight and come away with the red plate, which is always good. But we've got three more rounds I think. It's not going to be easy by any means, but got to focus on me. Got to eliminate those mistakes and we'll be in a good place.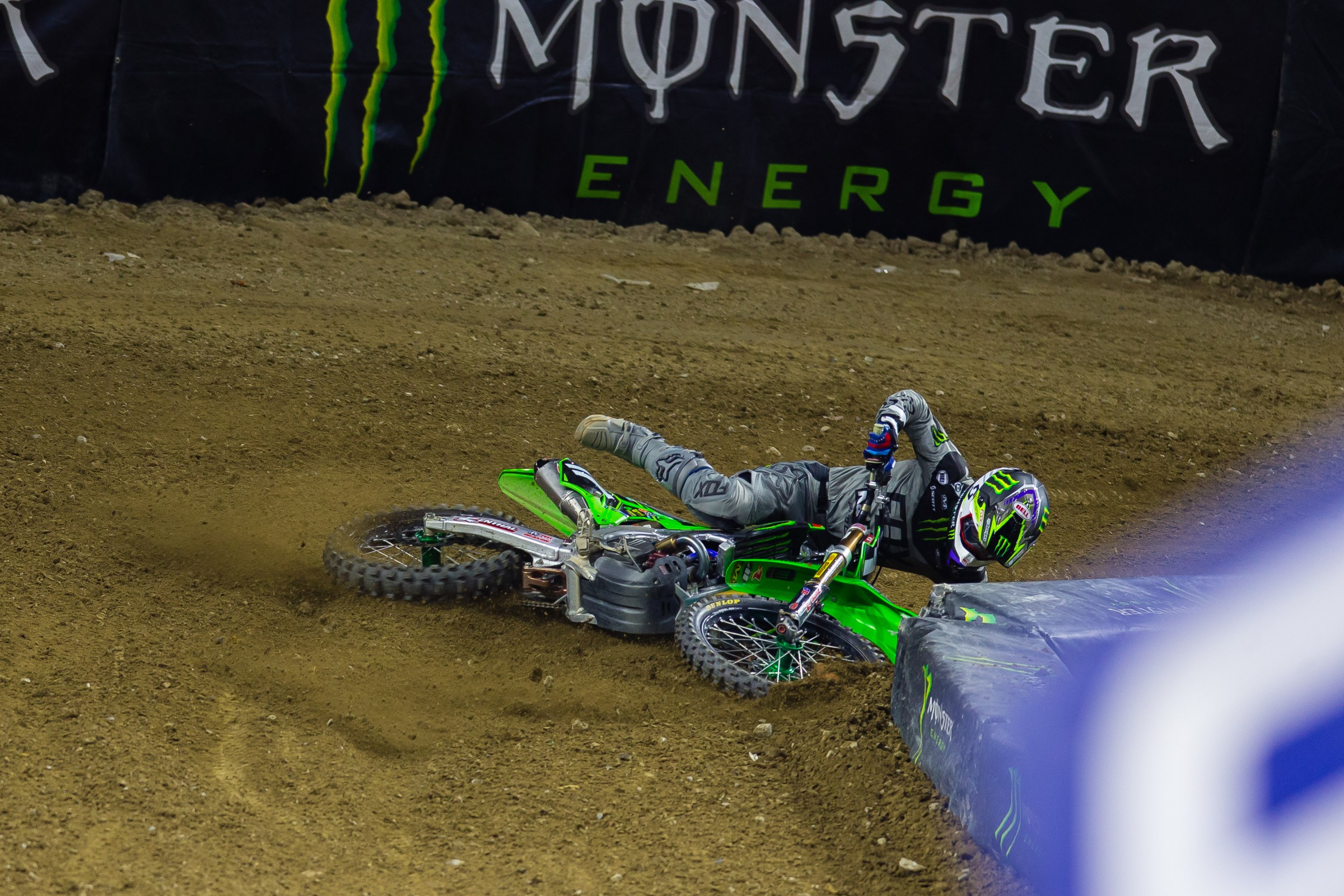 Jordon, what's been the difference this year? You've been good at all the races, not just with this win. You've had podiums and you've been consistent, really. Just talk about the changes, switching teams and all that.
Smith: Yeah, really getting along with everyone over at Troy Lee Designs/Red Bull KTM really good. I had a really good off-season and stayed healthy. I was able to put in a lot of work at MTF [Millsaps Training Facility] and just was able to progress the full off-season. Even once we got into the season now, I started out the first race and rode good, but I don't think I really had the speed that I do now. I've just kind of progressed throughout the season and learned things every weekend. Just getting better and better.
Adam, how is the knee this week? Were you able to ride at all during the week? How'd it feel tonight?
Cianciarulo: Yeah, I didn't ride. It swelled up a lot on Sunday. Actually after the race on Saturday I was like, okay, this isn't going to be too bad. Honestly I wasn't even limping too bad. But then I woke up on Sunday morning and I could barely get to my gate in the airport. It was pretty gnarly.
Savatgy: Did you miss your flight?
Cianciarulo: [Laughs] I did, actually. It's okay. I still made it home to play Playstation in time. It was killing me. It sucked because I couldn't ride and I couldn't road bike or anything, so I did my best to get my heart rate up on some indoor training. But even in that main event today I felt like … any endurance athlete knows the feeling of just like high heart rate, kind of like a flushed feeling. I did my best this week to get my heart rate up. I did some starts. I tried to ride on Thursday. I just ended up doing some starts. I did like three laps going around the whoops. It wasn't ideal, but compared to Thursday I was driving home, driving back to my house on Thursday and I was like, man, this is going to be tough this weekend. Popped a few Advil and we were able to get one the box. Typically I wouldn't be super excited for a third. I'm a guy that likes to win and that's always my goal, but considering where we were this week I think we can hang our heads high on this one.
Jordon, it was a really hard-fought win and everything. The class you're in, the series you're in, there's a lot of intense racing. I thought it was pretty cool. Maybe you can comment. After you took the checkered, I saw a ton of different team people, riders coming up to congratulate you.
Smith: Yeah. It's definitely been pretty aggressive this year in practice and in the races, but afterwards everyone was happy for me. A lot of people came and congratulated me. I'd like to thank all of those people that did. It's a cool feeling, and to be able to share it with everyone is really cool.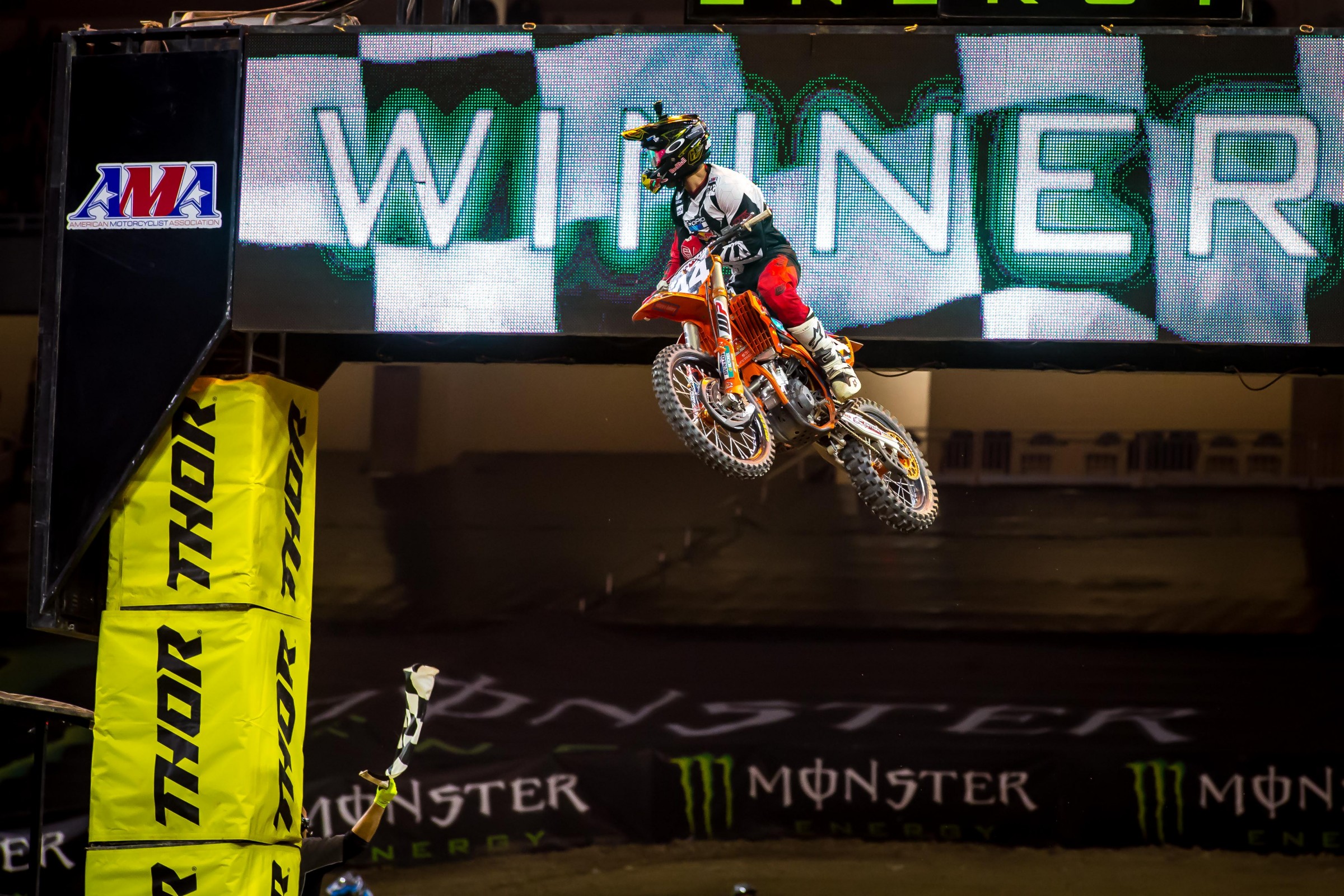 For all three, it looked extra slick tonight, even all day. Can you guys just comment on that a little bit?
Savatgy: I read somewhere where I think Monster Jam was here a couple weeks ago. I could be wrong, but that might have had something to do with it. Definitely that turn after the finish line was brutal. I know in qualifying actually Marvin [Musquin] had a really good line. He would square up that turn and get all the way against the Tuff Blocks where no one had been going. We came after the heat race and they must have moved the Tuff Blocks because I mowed those things right over. Just wheelied right over it. That was pretty slippery. Obviously the turn leading up to the wall was pretty slippery, and coming around by the mechanics area. So it was definitely slippery, but I'm just going to go ahead and maybe assume that Monster Jam had something to do with it.
Smith: Yeah, usually slick tracks like that aren't my strong suit, so I wasn't super pumped on it in practice and stuff. But I adjusted pretty well, I think. We made a couple changes. Like he said, the corner after the finish line was pretty treacherous. You could barely get on the gas there. It was almost just like glass. It was definitely tough. I think that's what kind of made a lot of people make mistakes.
Cianciarulo: It seems like these last couple years for me, when I am racing, it doesn't matter if the track's slick or grippy or what, I find a way to wash the front end. So I'm not going to blame it on the track tonight. I'm just a front end washer. I need to get rid of that.
Jordon, how much did you need those first couple rounds going well? Did that help build the belief and the confidence to get here? Did you need those good rounds to get to this stage?
Smith: Yeah, for sure. I felt really good all off-season. Like I said, I had a really good off-season and was able to progress the whole time. But you really don't know where you're at until you line up at the first round. So that was really reassuring getting second at Minneapolis. I didn't have the best rounds after that, but I knew that I rode good and I knew if I just eliminated the mistakes that I'd just be on the box more. The confidence definitely helps whenever you're able to have really good nights, and then even the nights that aren't so good are still better than ones in the past. So it definitely helps the confidence, for sure.
Joey, I noticed during the track walk you brought Johnny O'Mara to the race. What does Johnny O'Mara bring to your program?
Savatgy: Race day guy, for me. I felt like it would be beneficial for me to have someone with the experience and that's been around the sport, during the day, track breakdown. Just an extra set of eyes. It's nice when Ricky's [Carmichael] here, the few that he is. He's my extra set of eyes that I feel like is beneficial to have. Ricky and Johnny go way back and are good friends and talk all the time. Johnny was here this weekend and I think it worked out good. We kind of bonded a little bit. I've never been around the guy before, so that was always good. Like I said, Ricky's here when he can be and that's helpful. In the meantime I think Johnny's a good replacement. I think between the three of us we all communicate and try to figure out what's best.