Detroit, MI
Detroit
Monster Energy AMA Supercross Championship
Not since Ryan Villopoto clicked off four consecutive championships from 2011 through 2014 have we seen a Kawasaki rider look so in tune with his machine. Ryan Dungey remembers those days of having to battle Villopoto—and typically coming out on the short end of the stick. Dungey even brought it up after a disappointing third last Saturday in Indianapolis, telling the assembled press about his frustration during those four years.
"I've been in his [Eli Tomac's] position, behind Ryan Villopoto for four years, and I don't like it. It bothered me and it upset me a lot, to the point where I hated the sport. I didn't like it at all. I wanted to be done. So bringing that back, I work too hard not to get the top result. We all do—myself, the team, the people around me, everybody."
This season is more similar to 2010, though, than any other year. In that season, Villopoto ripped off seven wins over 10 rounds to close the gap on Dungey before a season ending leg injury. Dungey went on to win that title, but wouldn't get another one in supercross until Villopoto left for Europe in 2015. After tonight's win at Ford Field in the heart of Detroit, Michigan, host of Round 12 of Monster Energy Supercross, Eli Tomac has won four consecutive races, and seven of the last nine, trimming what was once a 25-point deficit to just seven.
After Toronto, Tomac said how hard it would be to claim this championship, when the guy ahead of you is one of the most consistent in history. "I guess if it wasn't Ryan Dungey's name in front of me I would say seconds and thirds are acceptable, but it's Ryan Dungey in front of me so the only thing I can do is go out there and win," he said at the time.
When asked tonight if that "must-win" pressure had subsided a little, Tomac said: "For me, it's still the same goal. I don't know … I'm still the guy behind, so try to keep doing what I'm doing. We have five more left. It's nice to close the gap a little bit for sure, but I'm still the guy chasing, so we won't be happy until … if we do make up that point gap."
Dungey struggled throughout the day last week in Indianapolis, with a qualifying crash and a trip to the semi. He was much more on point this time, taking the third-fastest qualifying time and winning his heat. But his main event was undone from the get-go. As early leaders Marvin Musquin and Tomac tried to distance themselves from the field, Dungey was stuck in around eighth place and was finding it tough to make up ground on a slick track. After winning his heat race rather easily, Dungey said that he made a change prior to the main, and went the wrong way.
"There are a lot of things out of our control, but the thing that was in my control … we didn't touch the bike all day—we did have a little press [day], which helped—I didn't touch a clicker until the main event, right before it. And I should have left it alone, in all honesty. You know, that's the way it goes, and I tell myself 'When am I going to learn?' You know, I'm always really critical with the bike; I'm always finessing this and changing little things here and there. I'm picky, you know? So, you just want a good ride for the main, and you want to hit your marks, and shut your mind off, but we just went the wrong way, but that's no excuse, still, the bike worked great. I still had some good riding."
As far as the points lead, Dungey said his starts—which aside from Indianapolis have hurt him lately—have been a source of frustration.
"We're losing too [many points] each round, that's for sure…. It's a little frustrating and disappointing the last few races, just right off the start I haven't been there. If anything I like a good fight to the end, and even with Eli, I'd like to be there to push him. Last weekend was better for me, position wise, but three of the last four races I just haven't been up there on the start."
For the second straight week, Dungey's teammate was sandwiched between the top two in points. After grabbing the holeshot, Musquin relinquished the lead, but held on for second, his second consecutive podium. Early in the race, he fended off Tomac for a few laps, and then when Tomac went around, Davi Millsaps was there applying pressure early. Marvin was happy with the runner-up spot, though, because he felt like the slick track was tough for him.
"To get the holeshot tonight really helped me a lot," he said in the post-race press conference. "I was hoping to get a good start, like every race, but tonight was really, really important. Davi [Millsaps] was really, really quick tonight, especially in the whoops and off the dragon's back. I was a little bit off, but I was just trying to be consistent and stay in second place, that was the goal tonight. I don't know if I got better, but maybe I was riding tight, and the track was so slick, and I was not comfortable, but at one point I gapped Davi."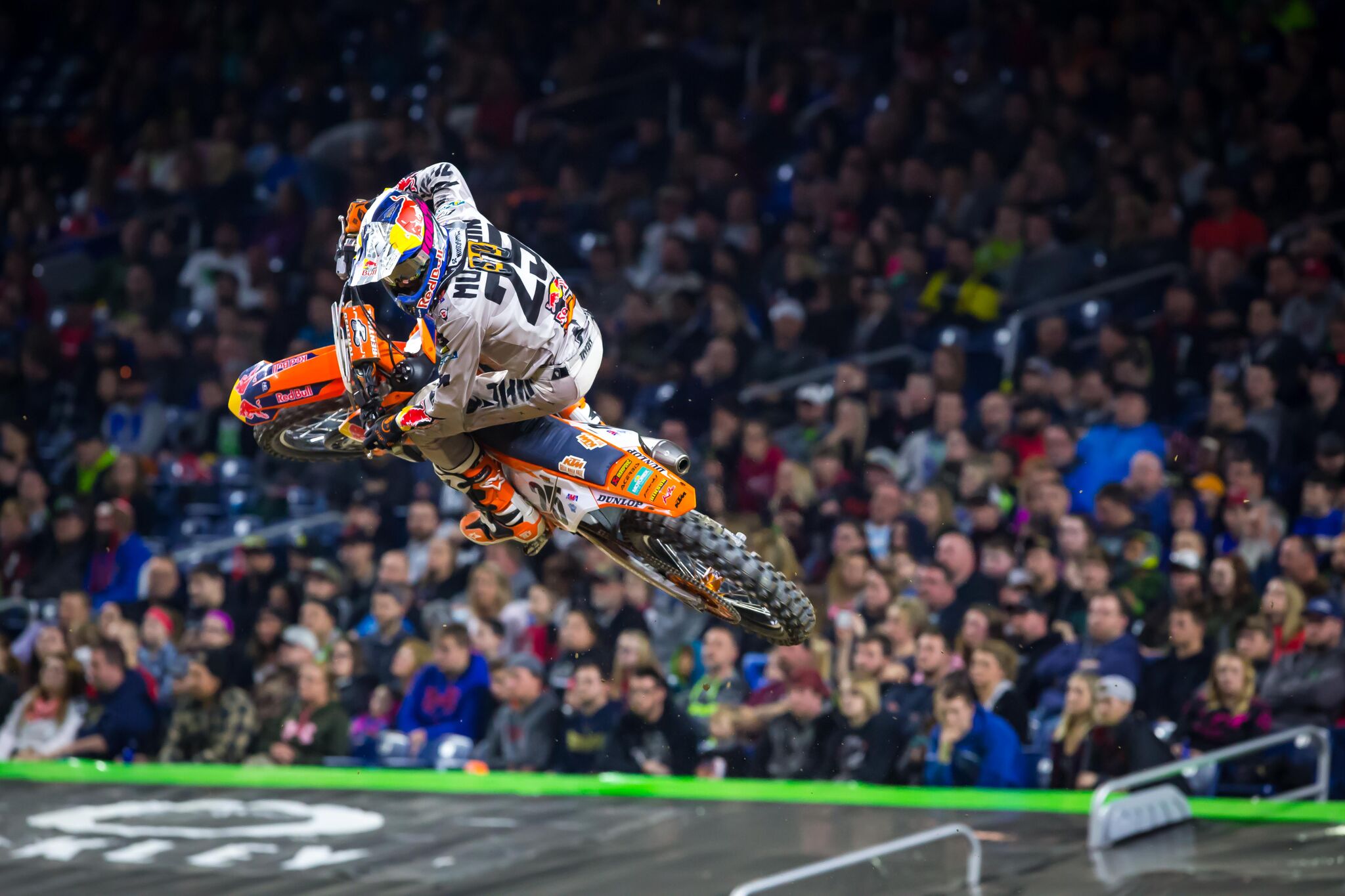 It was another solid night for the Rocky Mountain ATV/MC-WPS-KTM duo of Millsaps and Blake Baggett, who have separated themselves from the pack a bit in the last two races. Millsaps stayed with Musquin early, then lost some ground, and then held off a strong challenge from Dungey before finally giving up third late. Dungey was able to catch Millsaps, but Millsaps was fast through two main passing areas--the whoops and dragon's backs--which made Dungey have to work really hard to make the pass. While Dungey and Millsaps battled, it allowed Baggett, who was charging through the field after a ninth place start (after lap one), to catch them. After Dungey got around Millsaps, Baggett made the pass on his teammate to secure fourth. Millsaps finished fifth.
Millsaps rode very hard the whole way, and admitted he got tired at the end, saying he felt like he could have just fallen asleep on the track as soon as he crossed the finish line. As for Baggett, he said he wasn't tired at all at the end, but admitted his start wasn't very good. "I think I actually started somewhere in Chicago," said Baggett.
Jason Anderson looked to rebound from last week's disappointing ninth and got a rare good start in the main, running fourth early behind Millsaps, but then he washed out in the slick turn after the finish and went back to ninth. He climbed back up to sixth. Broc Tickle had speed on his RCH Yoshimura Suzuki, taking the top qualifying time and holding Dungey at bay for a bit early in the main. Anderson was able to get him, though, and he took seventh.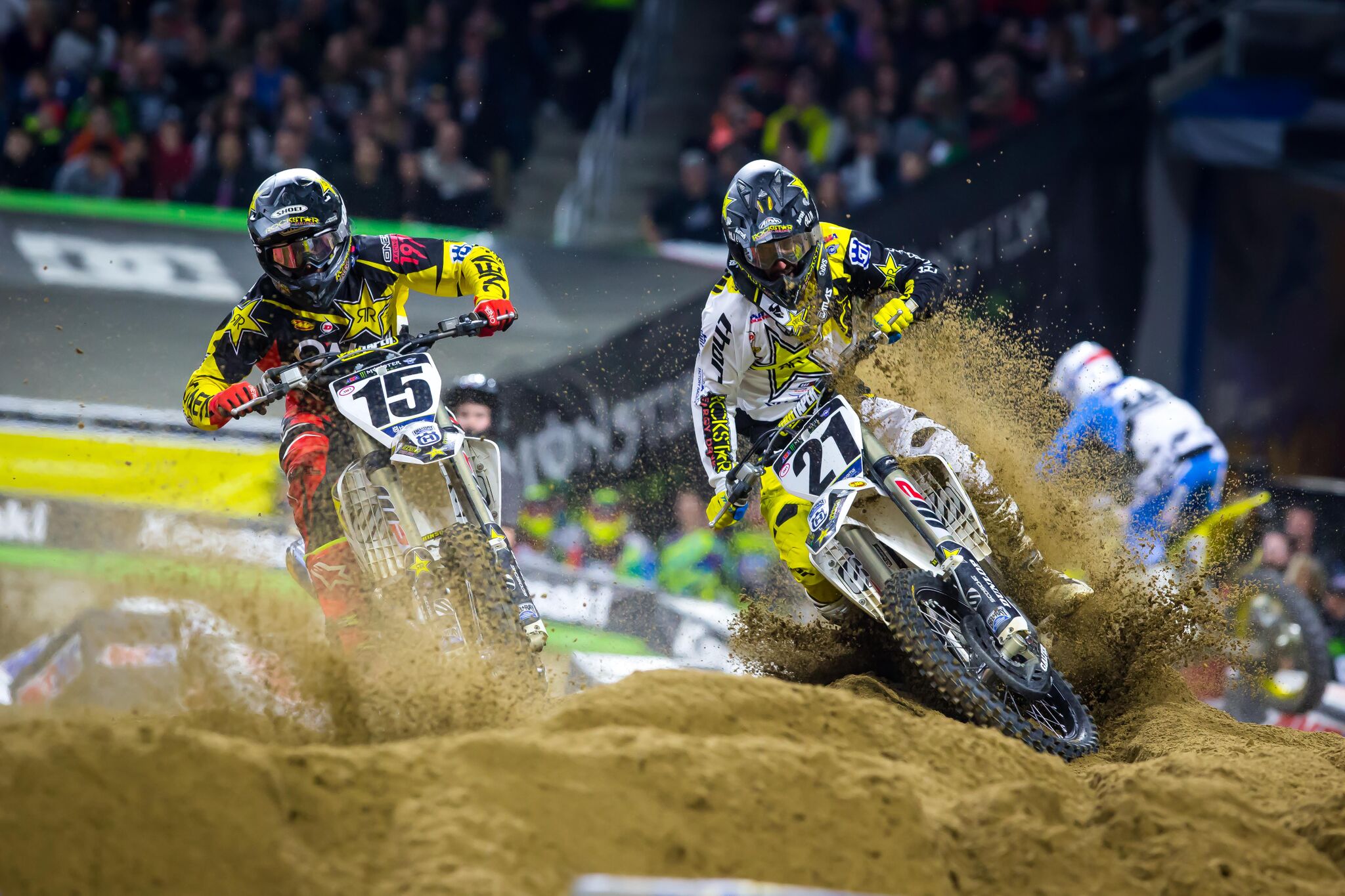 A big pileup on the start claimed a lot of top guys, including Cole Seely, Chad Reed, Justin Bogle, and Justin Barica. Reed would go down a second time later in the night and finished 22nd. Barica came back to 12th, while Bogle finished 18th. Seely, who won a heat race early in the night, came back to 10th.
Cooper Webb was back for the first time in a month, but wasn't able to pick up where he left off. He was done in tonight by the start, where he rounded the first lap in 16th. In his first race back since Minneapolis, he finished 13th.
Supercross
Rider
Hometown
Bike
1
Eli Tomac
Cortez, CO

United States

Kawasaki KX450F
2
Marvin Musquin
La Reole

France

KTM 450 SX-F
3
Ryan Dungey
Belle Plaine, MN

United States

KTM 450 SX-F
4
Blake Baggett
Grand Terrace, CA

United States

KTM 450 SX-F
5
Davi Millsaps
Cairo, GA

United States

KTM 450 SX-F
6

Jason Anderson
Edgewood, NM

United States

Husqvarna FC 450
7
Broc Tickle
Holly, MI

United States

Suzuki RM-Z450
8
Josh Grant
Riverside, CA

United States

Kawasaki KX450F
9

Dean Wilson
Scotland

United Kingdom

Husqvarna FC 450
10
Cole Seely
Newbury Park, CA

United States

Honda CRF450R
11
Trey Canard
Shawnee, OK

United States

KTM 450 SX-F
12
Justin Barcia
Monroe, NY

United States

Suzuki RM-Z450
13

Cooper Webb
Newport, NC

United States

Yamaha YZ450F
14

Justin Brayton
Fort Dodge, IA

United States

Honda CRF450R
15
Malcolm Stewart
Haines City, FL

United States

Suzuki RM-Z450
16

Vince Friese
Cape Girardeau, MO

United States

Honda CRF450R
17
Jake Weimer
Rupert, ID

United States

Suzuki RM-Z450
18
Justin Bogle
Cushing, OK

United States

Suzuki RM-Z450
19
Kyle Chisholm
Clearwater, FL

United States

Honda CRF450R
20
Mike Alessi
Apple Valley, CA

United States

Honda CRF450R
21
Nick Schmidt
Maryville, WA

United States

Suzuki RM-Z450
22
Chad Reed
Kurri Kurri

Australia

Yamaha YZ450F
Full Results
Supercross
| Position | Rider | Hometown | Points |
| --- | --- | --- | --- |
| 1 | Ryan Dungey | Belle Plaine, MN | 359 |
| 2 | Eli Tomac | Cortez, CO | 354 |
| 3 | Marvin Musquin | La Reole | 293 |
| 4 | Jason Anderson | Edgewood, NM | 273 |
| 5 | Davi Millsaps | Cairo, GA | 221 |
| 6 | Blake Baggett | Grand Terrace, CA | 220 |
| 7 | Cole Seely | Newbury Park, CA | 212 |
| 8 | Dean Wilson | Scotland | 185 |
| 9 | Chad Reed | Kurri Kurri | 182 |
| 10 | Josh Grant | Riverside, CA | 175 |
Full Standings
---
After a rather sleepy early program, the 250 main event delivered arguably the best race all season—and it was dripping in major title implications. Entering the night, Rockstar Energy Husqvarna's Zach Osborne had won three of the last four races and held a nine-point lead over Joey Savatgy. All his work disappeared in a flash tonight. Osborne was collected in a first turn pileup off the start of the 250 main event. Once picking himself back up, Osborne had to roll the rest of the track, until he reached the mechanics area, where the team was able to change his front wheel, which was damaged in the crash. Osborne eventually got back on track after a long delay, and saved a few points by finishing 18th. Not only did he lose his points lead, but he dropped to third behind Jordon Smith, and trails Savatgy by 10 with just three rounds remaining.
"It was a tough night," said Osborne in a Husqvarna press release. "I felt good all day and was felt great on the track. I got a really good jump in my heat race, but just didn't get around the first turn very well. In the main I thought I would go a bit wider and then absolutely crushed the start, but then someone came from the outside and we went down and their footpeg went through my spokes so I had to do a pit stop. I'm going to regroup and focus on next week's race in St. Louis."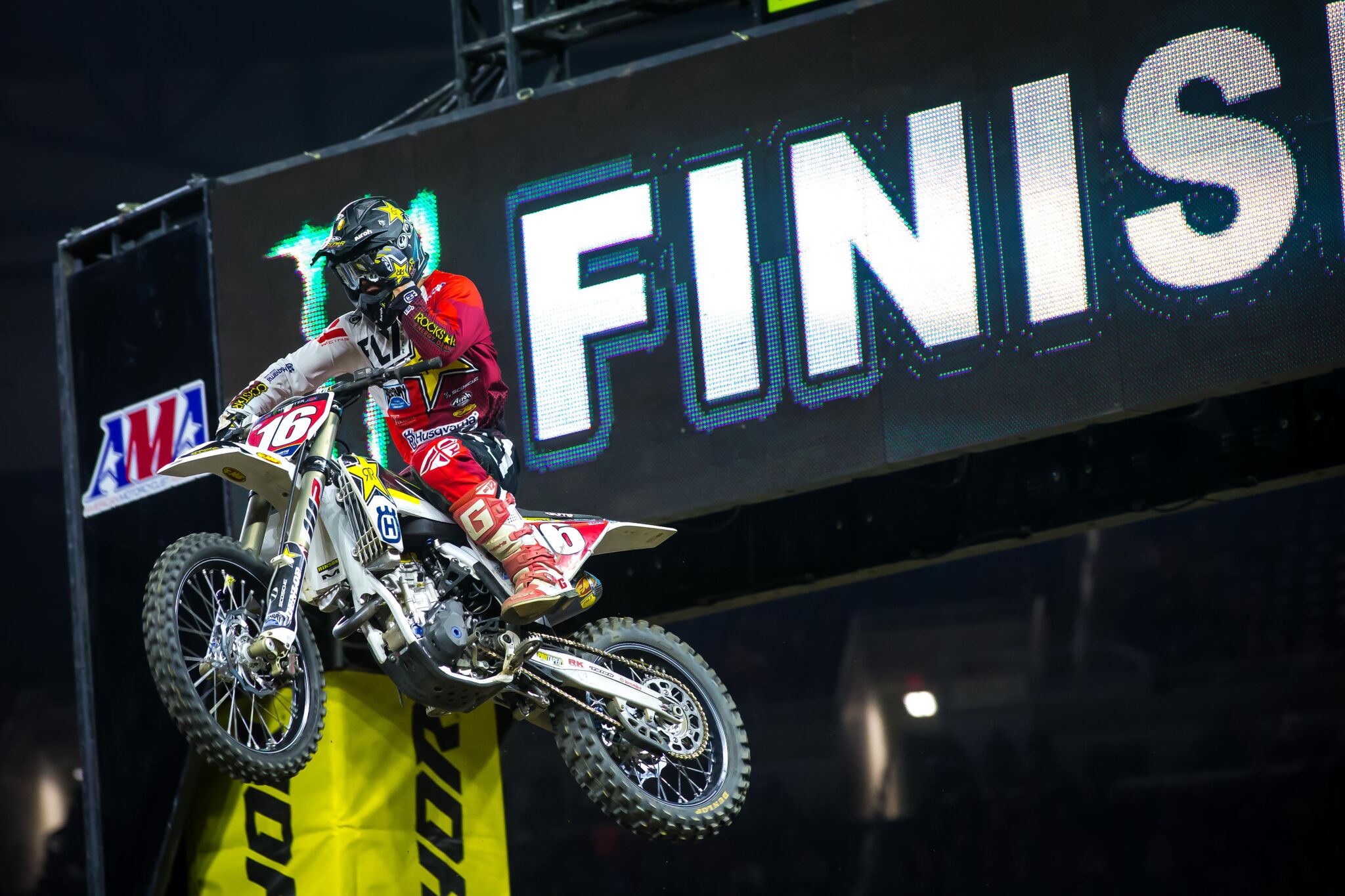 Savatgy was primed to pick up the max amount of points, as he darted off to the early lead after passing his teammate Adam Cianciarulo and Dylan Ferrandis. But Savatgy fell victim to what was a very slippery track, and lost the front end in the corner into the stands.
"I read somewhere that Monster Jam was here a couple weeks ago, I could be wrong, that might have had something to do with it. That turn after the finish line was brutal. I know qualifying, actually Marvin had a really good line. He'd square up that turn and get all the way up against the Tuff Blocks where no one had been going. But when we came out for the heat race, they must have moved those Tuff Blocks, because I mowed those things right over. That was pretty slippery. Obvioulsy that turn leading up to the wall was pretty slippery and that turn coming by the mechanics area was pretty slippery."
When Savatgy went down, it allowed Ferrandis to take the lead, which he held for nine laps. Smith, who took over second, first attempted to pass for the lead after the mechanics area by dipping to the inside in the corner prior to the rhythm, but it didn't work and allowed Savatgy through for second. Smith quickly rebounded and retook the spot, but the two would meet again later in the race. By lap 14 (of 18) Smith had finally gotten to the lead, but Savatgy was pressuring him every step of the way, after also getting around Ferrandis. Savatgy briefly took the lead after the white flag, but Smith fought back in the following corner and then held off a last ditch effort to claim his first career win. The win was also big in regards to the title chase, as Smith moved into second, just nine points back of Savatgy.
"It was a pretty crazy night, a lot with ups and downs with having to go to the LCQ," he said post-race. "I had a really good jump there from the outside and I think a started a little carnage in the first turn, I had to cut over pretty hard from the outside. It was just a crazy race with a lot of people making mistakes and Joey and I going back and forth a lot, so my adrenaline was definitely going up there."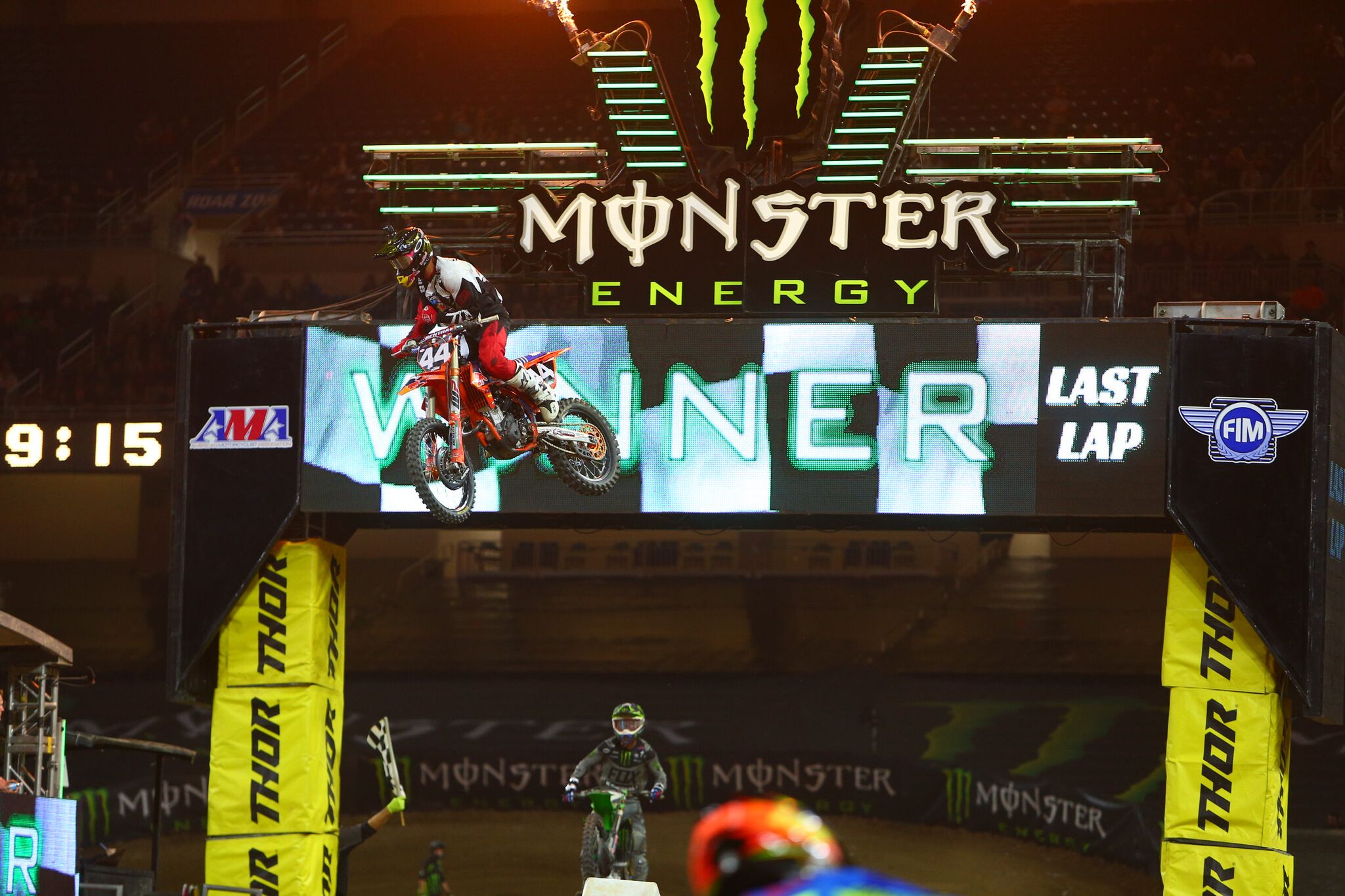 Cianciarulo battled back after washing out early in the race in the corner after the finish line to pass Ferrandis late in the race to claim the final podium spot. After the race, Cianciarulo told the media that he didn't ride this week due to his knee injury suffered last week, so he was happy with a third tonight.
"After the race on Saturday, I was like, okay, this isn't going to be too bad. But then I woke up on Sunday morning and I could barley get to the gate in my airport—it was pretty gnarly. It sucked because I couldn't ride or get on my road bike or anything, so I did my best to get my heart rate up with some indoor training, but even in that main event today … any endurance athlete knows the feeling of high heart rate, kind of like a flushed feeling. I did my best this week to get my heart rate up. I did some starts. I tried to ride on Thursday and ended up doing some starts and did like three laps going around the whoops. It wasn't ideal but compared to Thursday, I was driving back to my house, and I was like man this is going to be tough this weekend, but we popped a few Advil and were able to get on the box."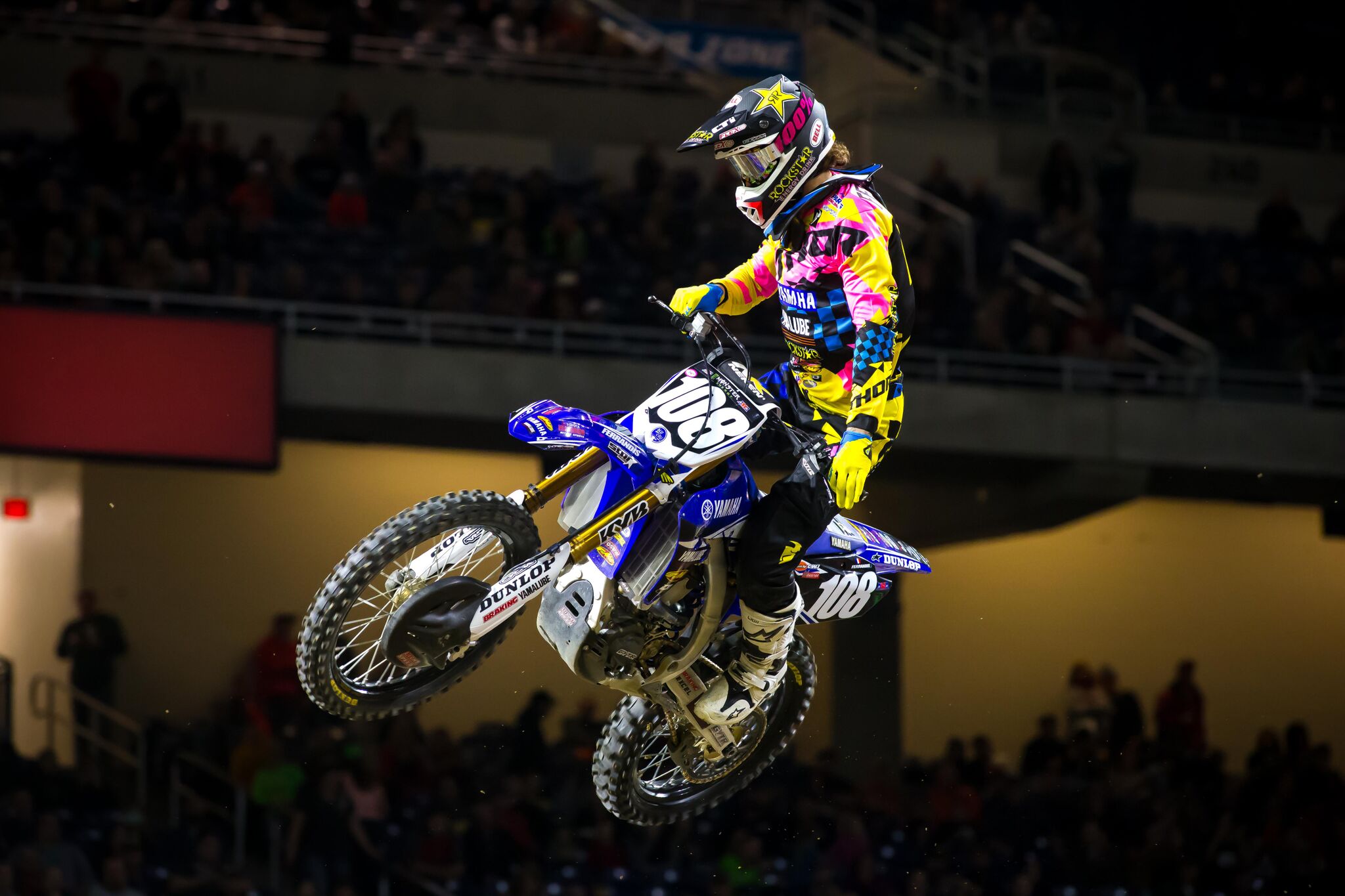 Supercross
Rider
Hometown
Bike
1

Jordon Smith
Belmont, NC

United States

KTM 250 SX-F
2
Joey Savatgy
Thomasville, GA

United States

Kawasaki KX250F
3

Adam Cianciarulo
Port Orange, FL

United States

Kawasaki KX250F
4
Dylan Ferrandis
Avignon

France

Yamaha YZ250F
5
Kyle Cunningham
Aledo, TX

United States

Suzuki RM-Z250
6
Mitchell Harrison
Lansing, MI

United States

Yamaha YZ250F
7
Christian Craig
Temecula, CA

United States

Honda CRF250R
8
Gannon Audette
Minneapolis, MN

United States

Kawasaki KX250F
9
Anthony Rodriguez
Caracacus

Venezuela

Yamaha YZ250F
10

Luke Renzland
Hewitt, NJ

United States

Yamaha YZ250F
11
Lorenzo Locurcio

Venezuela

Yamaha YZ250F
12
Jesse Wentland
Elk River, MN

United States

Honda CRF250R
13
Josh Cartwright
Tallahassee, FL

United States

Yamaha YZ250F
14

Henry Miller
Rochester, MN

United States

Yamaha YZ250F
15
Paul Coates

United Kingdom

Yamaha YZ250F
16
Zack Williams
Elko, MN

United States

Yamaha YZ250F
17
Keith Tucker
Fuquay Varina, NC

United States

Yamaha YZ250F
18

Zach Osborne
Abingdon, VA

United States

Husqvarna FC 250
19

Jeremy Smith
Marmora, NJ

United States

Yamaha YZ250F
20
Jerry Robin
Hamel, MN

United States

Yamaha YZ250F
21
Gradie Featherstone

United Kingdom

Yamaha YZ250F
22

Dakota Alix
Jay, VT

United States

KTM 250 SX-F
Full Results