Ford Field
Detroit

,

MI
Detroit
Monster Energy AMA Supercross Championship
Monster Energy Kawasaki's Eli Tomac has now won four consecutive races, and seven of the last nine, after Saturday night's win in Detroit, Michigan, site of round 12 of Monster Energy Supercross.
With his win, Tomac has cut Ryan Dungey's points lead to just seven with five rounds remaining. After a bad start, Dungey finished third for the second-straight race.
Dungey's Red Bull KTM teammate Marvin Musquin claimed second for the second straight week.
All three riders spoke with the media in the post-race press conference.
Racer X: Ryan, it took you a little while to get going early in the main. Had that battle with Broc Tickle. Went back and forth a little bit. What was it about tonight or the track or yourself that maybe held you back from getting through those guys a little faster?
Ryan Dungey: Just the track being slick. That was probably the toughest thing. It was a lot slicker in the main event than I guess it was really the whole day. Just trying to make the passes. I had a lot of them made and then coming in the corner too tight, they'd square it up and cut under me. It was kind of tough. Then with [Davi] Millsaps, I sat behind him for a while. He's really good in the whoops. I'd get up on him in the whoops and then he'd go away from me again, so that was tough. But I was able to make the pass at the end for third. Just the track conditions being slick was the challenge.
Marvin, early in the main you had a lot of pressure from Davi Millsaps, and then it seems about halfway or so you found another gear. Did you make some kind of an adjustment or was it just the flow of the race that helped you get away?
Marvin Musquin: First, to get the holeshot tonight really helped me a lot. I was hoping obviously to get a good start, like every race. But tonight it was really, really important. Then I was second and Davi was really quick tonight, especially in the whoops and on and off that dragon's back. I was a little bit off, but I was just trying to be consistent and trying to stay in second place. That was the goal tonight. I don't know if I got better, but maybe I was a little bit tight, riding tight. The track was so slick and I was not comfortable. But at one point I gapped Davi and it was a little bit easier on me, less pressure. I was just trying to keep going and be consistent and stay second.
Eli, headed to the main event there was some gates open on the inside, but you chose to go outside of the box. After what happened in the 250 class and the pileup was there any concern that being out there might be in an area where something could go wrong? What went behind the decision to start outside?
Eli Tomac: Yeah, there was risk on either side of the dog house there. The inside I found out in the heat race that it would pinch really bad. It seemed like you had to be the guy on the inside if you were going to end up over there. So I took the gamble on the outside. I was in a position to where I actually wasn't one of the first guys on the outside but enough behind I was able to sneak underneath there and come out second. Rolled the dice there and it worked. The gates were hammered again outside of the gates themselves. So you just had to go out there and really do it. It was another tough track, some tough racing. Fortunate to get it done.
Can you talk about the pass you made on Marvin? I think it was outside of the sand. We didn't see much passing in there, so just talk about setting that up.
Tomac: I actually looked at that line on the sight lap or parade lap and it was there. They redid that turn a few times tonight, so it seemed like it changed throughout the day. Sometimes the inside was better and a few times the outside. At least there was an option there.
Marvin, did you expect that there? We didn't see much passing in the sand. So were you surprised all of a sudden when you saw him out there?
Musquin: Unfortunately, not really. Like I said, I was riding tight, but good thing I was in a good position off the start. It would have been a tough main. I was leading and Eli was better than me and he got around me. That sand section, it was actually good last weekend because we had no sand. But definitely, especially after those whoop sections you try to slow down because you're coming into the turn after the whoops and then you hit the sand. We've seen so many crashes today. I don't know who chose to have a sand section like that. I don't know if the fans love it and they ask for that and whatever, but I don't think … maybe Eli loves it too, but I don't think a lot of people love that sand section. But at least it was not over a wall like Atlanta. It was actually a pretty nice turn.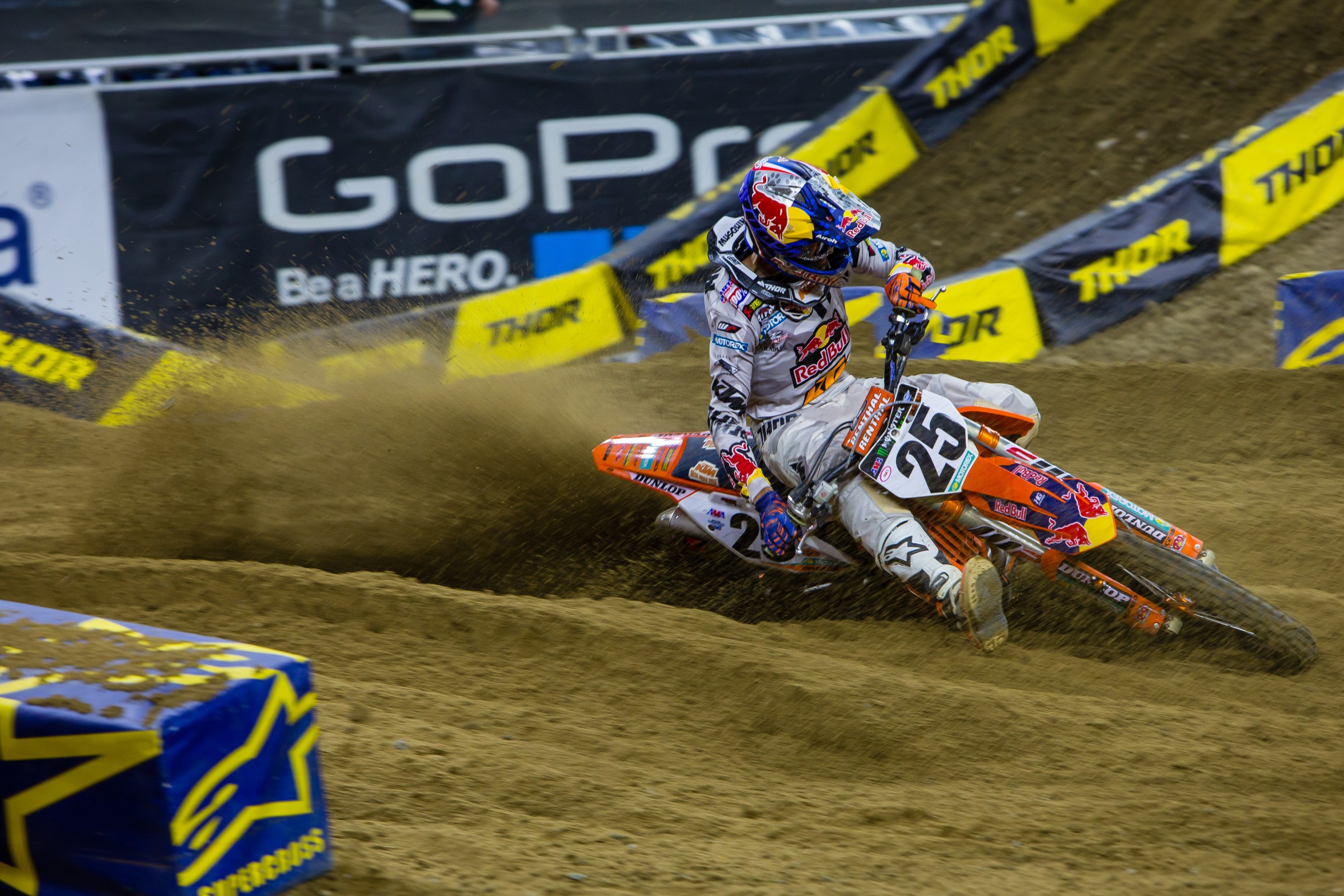 Eli, talk about the difference between the heat race and the main. Was it the start only or did you guys change up anything else?
Tomac: The heat race was like disaster start, being in the back and then clipping the hay bale and coming out second to last. At that point if you're in 18th or something you pretty much have no chance getting to the front, especially for how fast everyone is. No, other than just improving position those first laps, there wasn't much different.
Ryan, we've got to ask about points here. It's getting closer and closer. Just your thoughts on that.
Dungey: For sure, we're losing too many each round, that's for sure. I feel like with the points championship and everything like that, we know where we want to be. That's the goal, that's the end result, but each race just giving it our best and putting ourselves in a position. It's a little frustrating and disappointing. The last few races just right off the start I haven't been there. If anything I like a good fight to the end, and even with Eli I like to be there to push him. Last weekend was better for me, the positioning-wise. The last three of the four races I guess I just haven't been there in the start. Be up front, put ourselves in a better position, try to work on that. Then just take each and every race as itself. Not to get too far ahead of ourselves obviously with the racing and stuff, but I give it my best. Tonight got fumbled in the first turn. That's the way it goes. That's how it works. I don't like to lose as many points as we have been consistently in a row racing, but I think some wins here will definitely help us for sure.
Eli, a couple rounds ago you had talked about the pressure of kind of a must win. Now that it's seven points, has that pressure kind of subsided a little bit or is it still there?
Tomac: No, for me it's still the same goal. I don't know. I'm still the guy behind. Just try to keep doing what I'm doing. We only have five more left. It's nice to close the gap a little bit for sure, but still the guy chasing, so I won't be happy until we actually … if we do make up that point gap.
Ryan, you had such an awesome day in your different qualifying/practice sessions and everything, your heat race, and then you get kind of fumbled up I think was the term you used, in that first turn that really set you back. It took a lot of effort to come up to where you did. How do you battle that when you've had such a good day and then something maybe out of your control happens?
Dungey: There's a lot of things out of our control, but the thing that was in my control [was] we didn't touch the bike all day. We did have a little press [day], which helped. I didn't touch a clicker all day until the main event, right before it. I should have left it alone, in all honesty. That's the way it goes. I tell myself, "When am I going to learn?" I'm always really critical with the bike. I'm always finessing this, changing little things here and there. I'm picky, you know. You just want a good ride for the main and you want to hit your marks and shut your mind off. We just went the wrong way. But that's no excuse, still the bike worked great. I still had some good riding. But that is a bummer. You ride good all day, you've got good times, good heat race win, and then that. It's easy when you're winning and stuff's going good. It's easy to be happy, but these are testing times for sure for me, absolutely. I hate to feel like I'm not learning anything out of this but I've been in this position before. It's testing.
[Question from local news outlet] Northern Michigan is interested in all three of your reactions, just to racing in the day and coming to Michigan and racing here. Ryan, we can start with you.
Dungey: Yeah, I enjoy coming here. Two thousand seven was my first time here as a rookie. We've had some wins here, had some good times. I'm from the Midwest, from Minnesota. That's a little further over to the west, but it kind of feels like coming home to me. It's nice to be in this area.
Tomac: Yeah, this place has been good for us. Two thousand fifteen we got a win here. Last year wasn't as good, but for the most part it's a good vibe of a stadium and I enjoy it.
Musquin: For me, Detroit has been actually pretty good, even though this dirt is really unique. It gets super slick every year. I got second in the 250 in 2015 and last year I got third in the 450. I've been on the podium every time, so even if it's not my favorite conditions out there, other than the dirt everything has been good here in Detroit. So I don't mind coming here. It's nice.