Indianapolis, IN
Indianapolis
Monster Energy AMA Supercross Championship
Yeah, man, it's, like, already Round 11 of the 17 round Monster Energy AMA Supercross, an FIM World Championship. Where has the time gone? After skipping Daytona last week, I was recharged, relaxed, refreshed, and ridiculously ready to catch some racing.
Indianapolis is a great race, usually has good dirt and the fans have always packed the dome whether it was the old RCA Dome then or the very nice Lucas Oil Stadium now. I've always had fond memories of Indy. I remember pitting out of a box van and my rider Tim Ferry finishing third in the main event. Upon getting to the podium, the winner Ezra Lusk asked him "What are you doing here?" It was a great ride and very cool as total privateers to make the podium. Then we went to TGI Friday's in the hotel and Denny Stephenson started chanting "Red Dog" over and over.
Back to this year, and my first question: Why did the track builders take out a very challenging little dragon's back before the second triple after the first practice and leave a 30-foot run at said triple? Nobody knows. Yeah, some unseeded 250 riders were having trouble clearing the triple after it but surely something other than knocking it completely down and giving the riders a long, clear run at the easiest obstacle on the track could've been done? Sigh.
But while I'm criticizing that track decision, I want to give an example of why criticisms of the tracks (mine included) aren't always fair. With the advent of shadow software, LitPro, segment times, etc., you can see that the teams and riders all know exactly what line is fastest, and they always take that line. This makes it really hard for the designers to make a track that offers passing and options because these jerkies will just figure it out.
Case in point was the rhythm section after the second triple. The fast way was to triple onto the tabletop, skip across to the other table, and then there were two jumps. Most guys started jumping off and then singling out. But that shot you way up in the air onto flat ground. Some guys went all the way over the second tabletop and then doubled out, but the start of that rhythm was slower so that was no bueno.
The riders quickly realized, by looking at video shadowing software, that slowing down going off the table allowed them to hit the single off the table and their momentum would pop them over the last jump. This helped the riders keep their motorcycles on the same plane throughout the rhythm lane. Some did it better than others, but once everyone figured it out, the section looked relatively routine for the top guys. Damn technology!
Well, well, well we have ourselves a series here don't we? Eli Tomac won again and the gap now stands at 12 points between Ryan Dungey and him. Dungey didn't ride well all day long (sixth in qualifying, had to ride the semi race where he finished second) but he did what he had to when it counted and pulled a clutch start in the main event. He even put heat on Tomac and passed him at one point. All that was fine and the race was setting up to be a battle to the end.
Tomac inched away a bit but then Dungey made a charge and caught Tomac a bit around halfway and then—are you ready for this?—Dungey was unable to keep up the fast lap times and dropped back enough to where Marvin Musquin, once as much as six seconds back of Dungey, caught, passed, and beat him by six seconds. A 12 second swing in about 16 minutes plus a lap. The "Diesel" wasn't very diesel-like … again.
What kind of world are we living in? Next thing I know you'll tell me that Donald Trump, the guy from the reality shows, is the president of the United States! Man, this is bizarre and there's obviously something going on with Dungey behind the scenes (listen to his podium comments) that we're not privy to but whatever it is, he's lost some serious momentum in this championship.
Eli Tomac looks unbelievable right now and I'm not sure how you stop him but if you're Dungey, you've got to beat your teammate Marvin Musquin when you have a six second lead on him and there are 14 minutes left in the race. I thought that with the way he'd been riding, a second would have been like a win for him. Uhhhh, hey Marv, KTM's trying to win a 450SX title here, how about some help?
It's all so bizarre, for sure. Switching to Tomac, wow, what a ride again. His margin of error is still small, though, as he sits 12 points back with six rounds left. If he crashes one time or Dungey can get five more points on him, that might be enough for RD to hang on. But as I tweeted out on Saturday, guess who's got the best average starting position in the 450 class? Yeah, Eli Tomac. Imagine that? The rider that once had to put out an Instagram post defending his bad starts is now the best starter in the class. What a turnaround.
Let's take a look at the results shall we?
250SX Results
1 16 Zach Osborne Abingdon, VA Husqvarna FC250 - The practice incident with AC aside (not a great look for either guy), Osborne re-established himself as the title favorite with a win in Indianapolis. It was a great ride. Osborne and Joey Savatgy were so far gone from everyone it was interesting, and cool, to watch both guys push themselves so hard. Whenever I head over to someone on Osborne's team or in his camp I'm always known as "Team Adam" and when I'm over by PC, I'm "Team Zach" which means I'm doing my job perfectly I suppose. My 10th year in the sport as a media guy and sure, the names change but the assumptions do not.
2 17 Joey Savatgy Thomasville, GA Kawasaki KX 250F - Savatgy Indy ride was good enough to win 90 percent of the races he's ever entered. He got the start, he was smooth and consistent and did what you had to in order to win, like I said, most races. Unfortunately he had a poor line after the whoops and Zacho's on fire this year. What can you do?
3 44 Jordon Smith Belmont, NC KTM 250SX-F - Smith has been very good this year and he continued that with his ride in Indy. Yes, his teammate Alex Martin made it easy for him to get by and into third by crashing, but he was all over him and might've made the pass anyways. Jordon has been remarkably consistent this year and there's none of those balls-out moments anymore. Then again, having those balls-out moments helps you win.
4 26 Alex Martin Millville, MN KTM 250SX-F – A-Mart crashed after the rollers and went over the berm yet still held onto fourth. That's pretty good, right? Martin's been dealing with arm pump this year and can't seem to get over it. His buddy Osborne had the arm pump surgery (somewhere out there Robbie Reynard is nodding) and it helped him, so maybe that's what Alex does. Not sure, I thought arm pump surgery was like the pet rock or the Rubix Cube and we've moved on.
5 36 Adam Cianciarulo New Smyrna Beach, FL Kawasaki KX 250F - When AC went down with a knee injury after the Osborne run in (earning the name "Wacko" as in "Never mess with a guy that's got Wacko as a nickname!") I was so concerned that after practice I went to Starbucks before I checked on him. At Starbucks I was hearing his ACL was torn and that's not good. Got back to the pits, went in the PC truck and there was Adam flipping me off, pointing to a bicycle and saying I should get on one. Guess he was okay?
6 48 Christian Craig Corona, CA Honda CRF 250 - Craig had a so-so race until the big whoops broke down and there went his advantage. Him and riding coach David Vuillemin have officially broke up, but it wasn't a bad thing. Craig's results aren't there for whatever reason and he probably wanted a change. He's staying in Florida now, too, and no way was DV going to go there. Too bad, I know they both worked hard in the off-season and I know I'm going to harp on this again, but that last minute East/West switch of J-Mart and Craig didn't seem to help anyone out.
7 108 Dylan Ferrandis Lake Elsinore, CA Yamaha YZ250F - Ferrandis looked good early and then for some reason he fell apart on one lap and lost three spots. It was weird, not sure what happened but he got his teammate Harrison back to salvage a seventh.
8 45 Mitchell Harrison Brighton, MI Yamaha YZ250F - Harrison was good all day long in Indy. Right from the first practice he seemed to get the track down and then ran a strong pace all the way through the night show.
9 49 Anthony Rodriguez Cairo, GA Yamaha YZ250F - I thought A-Rod was getting that GEICO fill-in ride, I really did. Unfortunately for him, the team reached out to Smartops/MotoConcepts and got Cameron McAdoo for the rest of this season and next. Honestly, that's probably a better selection right now because McAdoo is younger and probably faster, but somebody give A-Rod a shot!
10 42 Kyle Cunningham Willow Park, TX Suzuki RM-Z250 - I talked to Cunningham's mechanic Lee McCollum after practice for, like, an hour about vintage bikes, building them, and then we spoke about our days at factory Suzuki and Yamaha as a mechanic and all the problems we had with bikes and parts breaking over the years. Then Jimmy Button came over and chimed in with some epic "scared for your life on a four-stroke in SX" stories and we all had a good laugh.
11 81 Henry Miller Rochester, MN Yamaha YZ250F - Henry Miller lives in a cabin with Cade Clason and Alex Ray at Club MX. He gets to see the other two live their lives by detesting and making fun of each other. He could probably write a book.
12 70 Dakota Alix Jay, VT KTM 250 SX-F - Hey, Alix is now on the Rocky Mountain ATV-MC-WPS-KTM team for the rest of the East Coast! Who knew? That deal came together a bit sudden, didn't it? The cool thing for Alix is now he actually has graphics to run on his bike.
13 88 John Short Pilot Point, TX Suzuki RM-Z250 - Short's a very frustrating rider for us fantasy SX players. I'll leave it at that.
14 50 Luke Renzland Hewitt, NJ Yamaha YZ250F – Luke's day didn't start off well when he cartwheeled in practice and destroyed his bike. I thought he might've destroyed himself, but he was okay. Then in the main I looked over and he was down with like three other dudes in a mess of colors and motorcycles.
15 559 Dylan Merriam Corona, CA Yamaha YZ250F - Last week was Dylan's first ever 250SX main event (if Jim Holley is to be believed) and hey look, he made it in again. That's awesome. Also, it seems almost impossible for people not to say his last as "Merrimen."
16 351 Eric Grondahl Portsmouth, NH KTM 250 SX-F - This was Grondahl's first ever main event and that's cool to see. I've always thought he had a sweet riding style and should've made more. I mean, he rides at The Nest in Florida every day with some amazing riders and has a bunch of advantages over dudes that make mains. So good for him.
17 93 Joshua Cartwright Tallahassee, FL Yamaha YZ250F - Josh is a good starter, bro.
18 931 Gradie Featherstone England, UK, Yamaha YZ250F
19 72 Cole Thompson Brigden, Canada KTM 250 SX-F - Thompson was right outside the top 10 for most of the race and then boom went the dynamite.
20 62 Jesse Wentland Tallahassee, FL Honda CRF 250 - Rough stretch here for the Minnesotan as he either DNQ's or crashes in the races. And it all started out so well in Minneapolis!
21 40 Fredrik Noren Sweden Honda CRF 250 - What a double whammy for the TiLube/Storm Lake Honda team to have both riders laying on the ground late in the main event. Bad night for both Freddie and Jesse.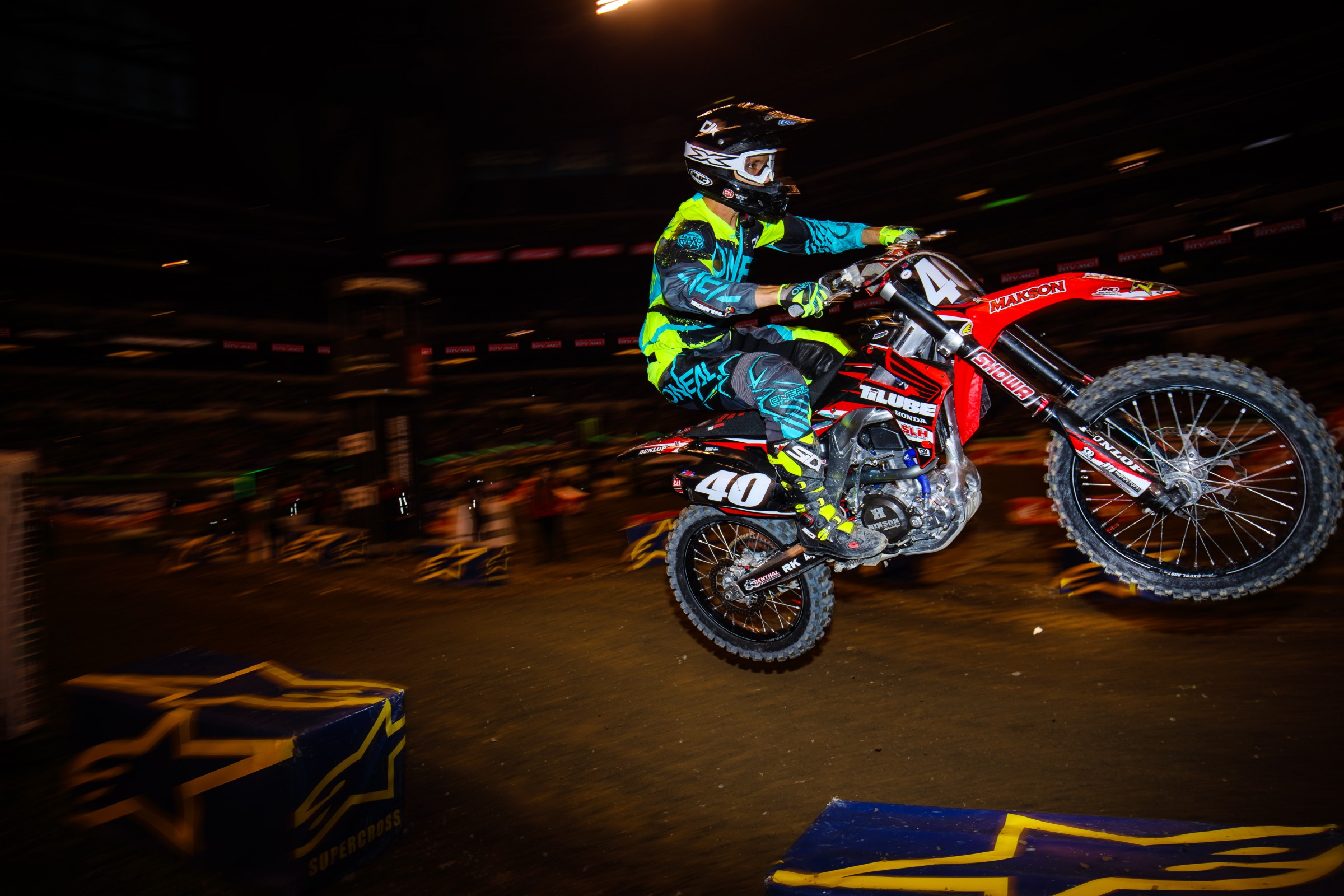 22 558 Jerry Robin Corcoran, MN Yamaha YZ250F - I found Robin's interview on Racer X last week weird. He said he was over the MX industry and the way it treats people. Don't you have to have some experience with teams and stuff to have that opinion? I'm not sure how Robin got enough experience to form that opinion, but okay.
---
450SX Results
1 3 Eli Tomac Cortez, CO Kawasaki KX 450F - Tomac's corners are on point right now and it'll be interesting to see, although it may not matter, if he can keep this riding up as the dirt gets harder in places like Salt Lake City and Las Vegas. He loves traction and grabbing handfuls of throttle. I'm hearing his deal to stay at Kawasaki is close to being done. The way things are going, why would it be?
2 25 Marvin Musquin CLERMONT, FL KTM 450 SX-F - Marv rode great to get into second and really caught fire the second half of the race. He was using inside lines everywhere he could, and he had the triple/single before the finish down so good. After a couple of poopy weeks, Marv is back!
3 1 Ryan Dungey Clermont, FL KTM 450 SX-F - Dungey's crash in practice was probably harder than it looked. He bounced right up, but kissing the concrete like that couldn't have felt very good.
4 4 Blake Baggett Grand Terrace, CA KTM 450 SX-F - Baggett's been great this year but again we saw that most times he can't hold a podium pace without making a mistake. Just like Toronto and a few other races, Blake went down while battling close to a podium spot. He was so far ahead that he still got a fourth but he's missing that teeny, tiny bit to complete his great rides. It's like he's at 95 percent effort while the other guys are at 90 percent and that small bit makes him tip over.
5 14 Cole Seely Sherman Oaks, CA Honda CRF 450 - Seely didn't get a great start and when he got into fifth, the top four were long gone and as I said, even with a Baggett crash, Seely couldn't move up. I know Cole said on the Pulpmx Show that he and Jason Anderson have squashed their beef which is a good thing but still, catching and passing Anderson in the heat race had to fell good.
6 18 David Millsaps Lake Havasu City, AZ KTM 450 SX-F - Millsaps tried to run me over after the race when I was walking to my car. Thankfully for all of you people, I dodged it and lived to go on to Detroit.
7 22 Chad Reed Dade City, FL Yamaha YZ450F - Reed had a good crash in practice on that on/off before the finish and was feeling it all day. Then he lost his visor early in the main when it just blew off. That had to be awesome for the #22, I bet he was so stoked.
8 20 Broc Tickle Holly, MI Suzuki RM-Z450 - Two weeks after his first-ever 450SX podium, Tickle rode very well in coming from the back and catching the #22 and #18. He pulled off another very Broc Tickle-ish type of race.
9 21 Jason Anderson Rio Rancho, NM Husqvarna FC450 - Anderson's down there at the Baker's Factory and I guess judging by his main events he is just getting worked on the practice starts? Marv, Dungey, and Osborne have all usually gotten the starts so I'm guessing Jason's got to be pretty depressed during the week gating against those guys. It's all starts, starts and more starts for the #21.
10 51 Justin Barcia Greenville, FL Suzuki RM-Z450 - Justin's riding better than he was when he first came back (predictable), which has got to be a relief for JGR and himself. Do you know he hasn't gotten a SX podium in 25 races or since he was on a Honda? Weird, right?
11 15 Dean Wilson Clermont, FL Husqvarna FC450 - Dean had a nice battle with Barcia in the main event where, from what I saw, both guys kept it clean and went back and forth. Barcia is must-see-TV right now in the mains so I was checking this out quite closely.
12 10 Justin Brayton Mint Hill, NC Honda CRF 450 - Brayton didn't ride all week due to being sick, but he had to love winning the semi race over Dungey. That was a nice bit of riding under some heavy pressure from the Dunge.
13 33 Joshua Grant Wildomar, CA Kawasaki KX 450F - That triple onto the table then skip to next table and drop off to double out that I was talking about earlier? Grant was maybe the best at that in his semi as he barely clipped the jump off, shot him over the double perfectly and accelerated hard on the downside. It was smooth and fast!
14 41 Trey Canard Edmond, OK KTM 450 SX-F - Canard came back (missed that PR? Yeah, so did I) and looked good in practice. Unfortunately he was forced to the LCQ and then with that great gate pick came from last to this spot. We're still waiting for Canard to turn into Canard. Rough start!
15 19 Justin Bogle Cushing, OK Suzuki RM-Z450 - Bogle's had a rough time lately and was sick this week (another guy), so I suppose it was a bit predictable that halfway through the main, he hit a wall and started going backwards. He and his teammate Tickle had a battle royale for a few laps.
16 12 Jacob Weimer Huntington Beach, CA Suzuki RM-Z450 - Weimer's been in a bit of a slump lately and it might have hit bottom in Daytona. He seemed to ride a bit better in Indianapolis because when you look at the dudes in front of him, who can you for sure, 100 percent without a doubt, he's better than? Yes, he can beat the guys in front with a start but that didn't happen in Indy.
17 61 Vince Friese Cape Girardeau, MO Honda CRF 450 - Weege talked to Friese a while back and he's on a "15th place or bust" contingency deal with Smartop/MotoConcepts so ever since then I'm always watching to see if Vince gets that spot or not. In Indy, he didn't ride as well as usual in either the qualifying races or the main event.
18 47 Malcolm Stewart Haines City, FL Suzuki RM-Z450 - Mookie's heat race was a thing of beauty coming from a ways back to get fourth. It was even more impressive considering he hurt his hand earlier in the day. I spoke to Malcolm afterwards and he was frustrated with his results lately telling me, "What can I say? I had a good week. It's just picking it up in the main event. We are going backwards and I don't like that. Hopefully we can start turning things around and move forward. Maybe I can get my buddy Christian Craig. I know he's struggling a little bit. Maybe me and Christian need to go back and dig deep and do whatever we did last year, literally. He won a race last year and I won a championship. So whatever we need to do, we need to go back to it."
19 800 Mike Alessi Hilliard, FL Honda CRF 450 - I don't know what happened to Mike in the main. Great reporting I know, but what can I say?
20 11 Kyle Chisholm Valrico, FL Honda CRF 450 - Chiz is a full privateer out there but his 250 team, MCR, has been taking his bike to the races for him and if he needs anything for parts, they hook him up. Kind of a nice deal. Chiz and I came up with a plan for him to ride his race 250 bike in the 450 class in St. Louis the week before he goes back to the West Region and Tony Alessi said it would be a good idea.
21 75 Nick Schmidt Lake Elsinore, Ca Suzuki RM-Z450 - I wish Schmidt would try more in the main events and not just be happy he's in there. He's a good rider!
22 722 Adam Enticknap Lompoc, CA Honda CRF 450 - The 722's inclusion into the main event was an all-timer. Cade Clason cleaning out AJ Catanzaro in the last turn for the last spot into the main (let's face it, Cade had about a four percent chance of making that work for him, but there was a chance, right?) and having the 722 cruise by for the spot was priceless.
Thanks everyone for reading, good times in Indy and we're off to Detroit this weekend. Email me at matthes@racerxonline.com if you want to chat about this race or anything else.