Atlanta, GA
Atlanta
Monster Energy AMA Supercross Championship
Ain't nothing changed, apparently, at the front of the pack in Monster Energy Supercross. There might be some riders right now that can out pace or even run down Ryan Dungey on the right nights of Monster Energy Supercross, but he is still able to do what no one else can do consistently, which is nail starts and execute when it counts. With that, Dungey's run of four "off" (for him) races ended with a big victory in Atlanta, in the final supercross to be run in the Georgia Dome. Dungey grabbed the holeshot and rode steady, and while Eli Tomac made a huge charged from about ninth to second, and then started cutting into Dungey's lead at the end, it didn't matter. Dungey got the start when he needed it, Tomac (and others) did not. That's how Dungey does thigs, and that's how he's back up to a massive 25 point (a full race) lead in the standings.
So was anything really wrong with Dungey in the first place during the previous four races, which were won by Tomac and Marvin Musquin? Dungey let on to a few things that might have been holding him back. He said he was happy to finally get in a full, low-key week in Florida and not have to fight rain like he's been doing in California. He said some small bike changes during the week helped. He also said he's learned some lessons on these beat up tracks, now a constant with the timed main events and longer races. Dungey said he spent too much time in the previous weeks trying to find smooth lines, but he watched Tomac last week and realized that Eli didn't looked for smooth lines, he just hits the rough stuff and "smashes it." Dungey tried to use a little of that mentality here, although he still had to be cautious in spots, like a corner where the riders dug down into the concrete floor. He also said he just tried to mark Tomac throughout the main event and hit his lines. Ultimately the Red Bull KTM rider won by 1.5 seconds, but you could see Dungey had more late if he needed to—and Oakland-style comeback win for Tomac wasn't happening.
"We found a few little things, bits and pieces," said Dungey. "Kind of my first full week in Florida a good week where I got to chill out. Got to ride with the guys at the track, it was nice, things kind of slowed down for a change. The changes we made to the bike translated to the race. Doesn't always happen like that."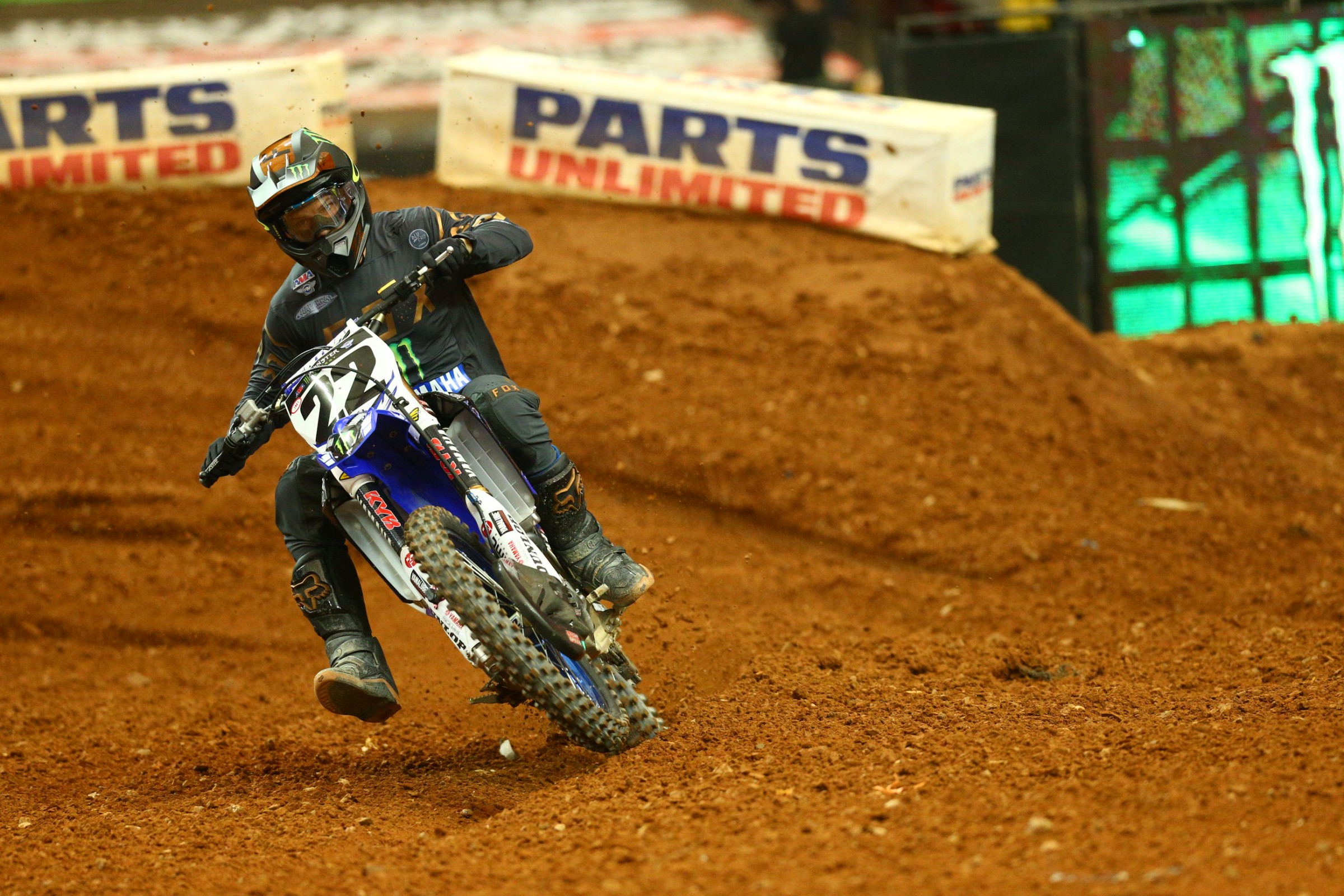 "Little bit of a tough night, bad start in the heat race, not where we needed to be. Went to the main event and did what we could, got a bad start, but no excuses there," said Tomac, of Monster Energy Kawasaki. He also mentioned that the track was very beat and difficult, down to concrete, and also a massive wall jump into a sand section wasn't a favorite, even though Tomac looked to be making up time there. "When you walked the track the whoops didn't look too tough, but the way they were spaced out, and the clay they used, they got really tough."
"Like Eli said, the track was gone [in the main event] and it was just down to survival," said Dungey. "I could just see where Eli was and just tried to hit my marks."
Blake Baggett has been very, very fast lately on the Rocky Mountain ATV/MC WPS KTM. He has not executed and shown that speed in the main events. It's odd because Baggett has never been known for fast qualifying speed, but lately he's dialed in the short races but out of sorts in the longer ones. This time, he put it all together. "Speed doesn't do you any good when you're crashing or getting bad starts," said Baggett. "Getting better and better on this bike and with this team, and the track felt like what we work on at home."
Baggett ran second to Dungey early, and even matched pace with the champ for awhile. Then some nerves caught up to him, he tightened up, and started sinking a bit. Tomac got him and on the last lap Jason Anderson was closing for a final podium spot. Baggett's podium would be a long-elusive first ever for the Rocky Mountain team, so he knew how important it was. But Anderson—you know Anderson will send it for a podium. And he tried! Anderson dove inside in an off-camber corner, but he said it was just too dry, he didn't have any traction, and nearly crashed. Baggett got away and hung on for third.
"For years I didn't even like supercross, but it's come a long way and I like it now," said Baggett of his big gains this year indoors.
Anderson and Baggett have had heat before, but after the race Anderson rode up to Baggett to congratulate him. Anderson respected Baggett's race craft late in the race. Anderson had some inside lines picked out to make passes, but as soon as he got close to Baggett, Baggett figured it out, switched, and covered the insides. "He read me like a book," said Anderson. "Sometimes you have to show respect for the guys, I know how much everyone puts into this, and Blake, he's had some tough times. I've been lucky, in my 450 career I haven't had it that bad."
Musquin simply got a bad start in the main event, and he chance for the podium was done. He managed to climb up to fifth. Again, Tomac and Musquin are fast, but Dungey has simply gotten seven good starts and one bad one in eight races. That means everything.
In the 250s, Zach Osborne was super fast last weekend in Minneapolis, but a lot of riders said they were suffering from opening-night jitters. Would everyone else step up in the more relaxed environment at round two? Not really. Osborne was the fastest guy again! He was fastest in practice, he won his heat race, and this time he won the main event, the first 250SX victory ever in Osborne's career. "I think I squandered a good opportunity last week," said the Rockstar Energy Racing Husqvarna rider. "I must have watched that race back 50 times. I won this race in the KJSC [KTM Junior Supercross Challenge] in 1998, ever since then it's been a dream of mine to win this, and to do it in the last race in the Georgia Dome…I mean, I could go on for an hour, but, it's just unreal.
Last week's winner Joey Savatgy wasn't as sharp this time. He got a bad start in the main on his Monster Energy/Pro Circuit Kawasaki, but didn't come through as quickly as usual. In fact, once he climbed to fourth, he didn't really make up any ground on Colt Nichols, ahead of him on the Yamalube/Star Racing Yamaha. His fourth gives Osborne a slight lead in the standings two races into 250SX East.
Nichols' first podium after breaking his femur in the off-season is significant. He credits his team's trainer, Gareth Swanepoel, with forcing him into [some very painful] therapy as soon as he got out of surgery, with a goal of getting back for this series.
Alex Martin improved massively from his DNF last week—he finished second! "Yeah last week was a tough one two swallow," he said. "It was the home race, and I just wanted to put a stamp on how good I felt the whole off season. I crashed first turn and made it a lap, crashed again and I was hurting. Two laps in, I was done. It was tough, and with the hometown crowd, there were so many people there that you know, and it was tough to be walking back to the pits. To go second tonight feels really good after last weekend."