Minneapolis, MN
Minneapolis
Monster Energy AMA Supercross Championship
Weird night of ups and downs in the 250SX East Region opener in Minneapolis. Did we get what we expected? Who is going to bounce back? And can we really ask three questions about the 250SX East opener and not even mention Adam Cianciarulo's name in any of the answers? Let's see!
1. Who surprised you most in the 250SX East Region opener?
David Pingree: I'm going with Dylan Ferrandis. I know nothing about this guy and this is his first ever supercross race. For a guy who didn't grow up in the States to get a sixth at his first supercross is impressive. I'm keeping an eye on him.
Jason Thomas: It really depends on which part of the day we would be referring to but since the end result is what matters most, I will take Jordon Smith. He didn't have a good qualifying afternoon and then he squeezed into the main event with a ninth-place finish in his heat race. Things weren't really clicking until that magical holeshot and everything changed. He rode really well in the main event. He avoided mistakes and never lost touch with Joey Savatgy out front. Jordon has the talent to be up front every week, but has always had the tendency to make the big mistake. He showed us once again that when things go right, he is a legit front runner.
Steve Matthes: I can't take Smith because JT did so can I go with Zach Osborne? Yeah, he got third, but man was he good. He qualified fastest, he ripped through riders in both the heat and the main and without a small mistake, he would have been second on the night. Wacko Zacho is the real deal here in the East Region. Further on down, I thought that Luke Renzland was very good all day. Osborne got him in the last turn for second in the heat and then in the main he turned a good start into a top 10 on the night. Nice work for him.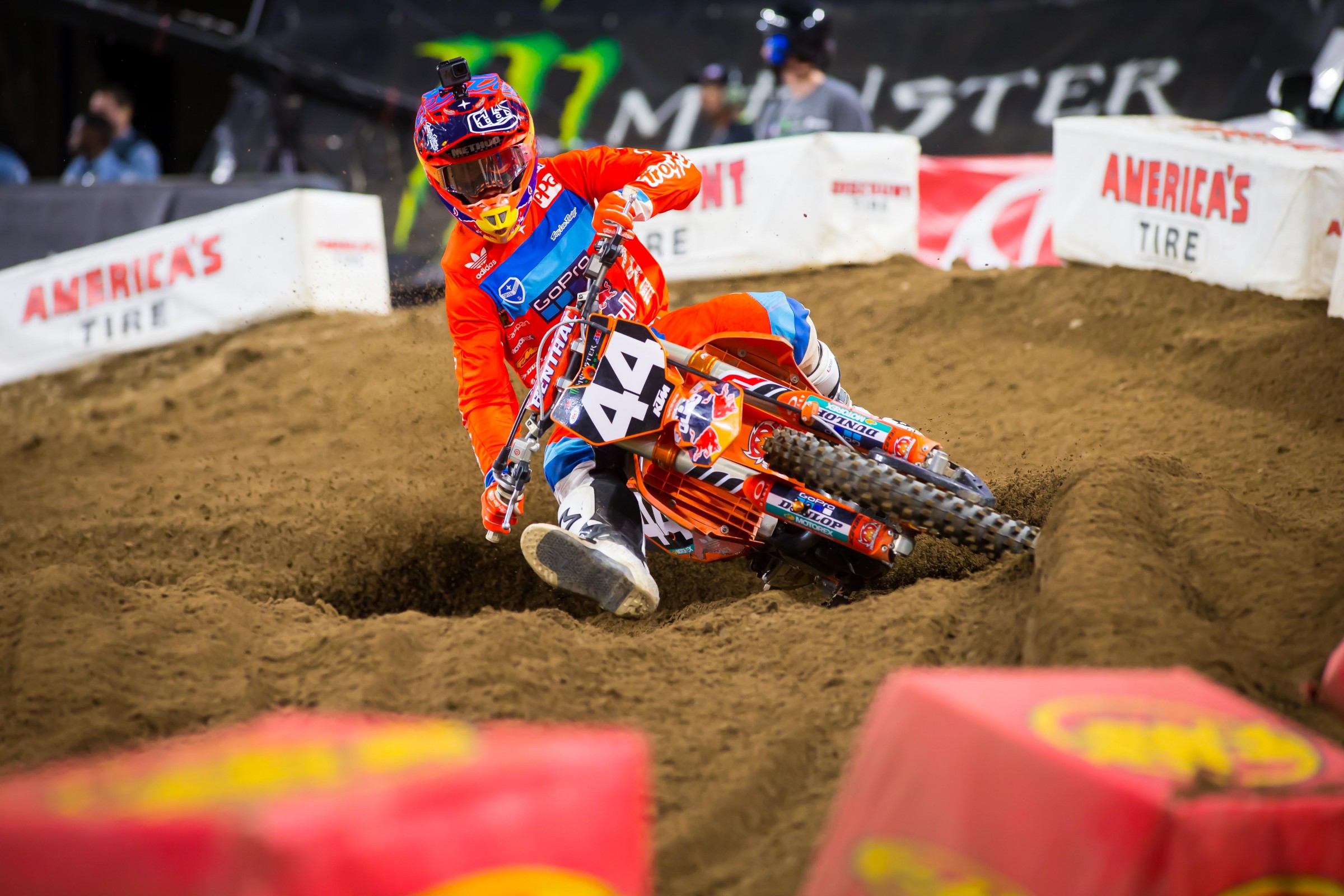 2. Who surprised you the second most?
Ping: The next biggest surprise has to be Weege running the idea well so dry that he has to re-tap the first question to keep this from being called 3 on 2. That aside, I would say Craig's disappointing ride was a shocker. I know Christian has been working hard and he will win some races this season. It's a bummer he sank himself into such a big hole at the opening round. I would pick him for the win this weekend.
JT: Running out of ideas for questions, Weege? I will say Christian Craig's main event. He was SO good all day and was a shoe-in for a podium. He crushed his heat race and I fully expected him to battle Savatgy and Osborne for the win. Things unraveled in that main event for him and I just didn't see that coming. Now that I think about it, Christian and Jordon might have switched bikes for the main event. Their days and nights were completely inverted.
Matthes: Well, I can't say Craig because JT did but I really want to. I still can't believe his main event went that bad. I'll go with RJ Hampshire who took a fourth and looked good all main event long despite some not so great qualifying times. Hampshire probably felt a bit under the radar being on the same team as Craig but in Minneapolis, he showed everyone that he's not to be forgotten about.
---
3. About a half dozen contenders all said they rode badly due to opening round jitters, including the winner, Joey Savatgy. Who is best primed to bounce back this weekend in Atlanta?
Ping: As mentioned above, Craig is going to have a big jump in results. I also think Alex Martin will be much better. That's low hanging fruit since all he has to do is stay on two wheels on Saturday and he does better than last weekend. Still, I think he'll be near the front this weekend. I'm also pulling for a big rebound for Jason Weigandt in next week's 3 on 3 column; three unique questions is within his reach and I truly believe he'll get back there.
JT: This has to be Christian. I know I just used him in answer #2, but that's no reason to fret. He is a podium guy all day and will show that Saturday.
Matthes: Yeah, c'mon with these questions, Weege. Geez. I'll go with Craig but wait, I can't cause, well, you know. I'll take Alex Martin because let's face it, it can't get any worse for Troll.
[Note from Weege, who came up with the questions: It's the opening round, there were probably a half dozen surprises both good and bad, such as Craig's bad main event, Ferrandis doing well in his debut, Colt Nichols going fast coming back from broken femur, Jordon Smith rebounding from a tough heat to finish second, A-Mart not finishing at all, Renzland as Matthes mentioned above … is it really crazy to ask for TWO surprises out of 22 riders in the opening round of the series? Get over it!]