Oakland, CA
Oakland
Monster Energy AMA Supercross Championship
Justin Hill's third win in a row didn't come easy. After battling an illness last week, Hill came into the race unsure of his fitness. Combine that with a mid-moto crash that allowed Martin Davalos to close the gap by a significant amount, and it adds up to Hill's most hard-fought win yet. Shane McElrath was able to grab the last spot on the podium after riding into the main through the LCQ.
All three podium finishers spoke at the post-race press conference.
Racer X: Shane, we'll start with you in third place. Five podiums in a row, you've got to feel good about that. But it was a tough night—you went to the LCQ again—and it was a tough track. How happy are you just to get out of here with a podium?
Shane McElrath: It's actually a big relief. I mean, this is the first time I've had all the pressure off of myself. It's been a tough five races and it seems every weekend it's only gotten tougher having that target on my back. We're one point down now, and I couldn't be more relieved. I can actually settle down. That's been my biggest thing, is trying to understand how to deal with it. I'm here and I'm thankful that I'm safe after today. That track, it's something I'm just glad to have made it through the main, and be on the podium at that. I'm ready for next weekend and ready to put up a fight going in to the break.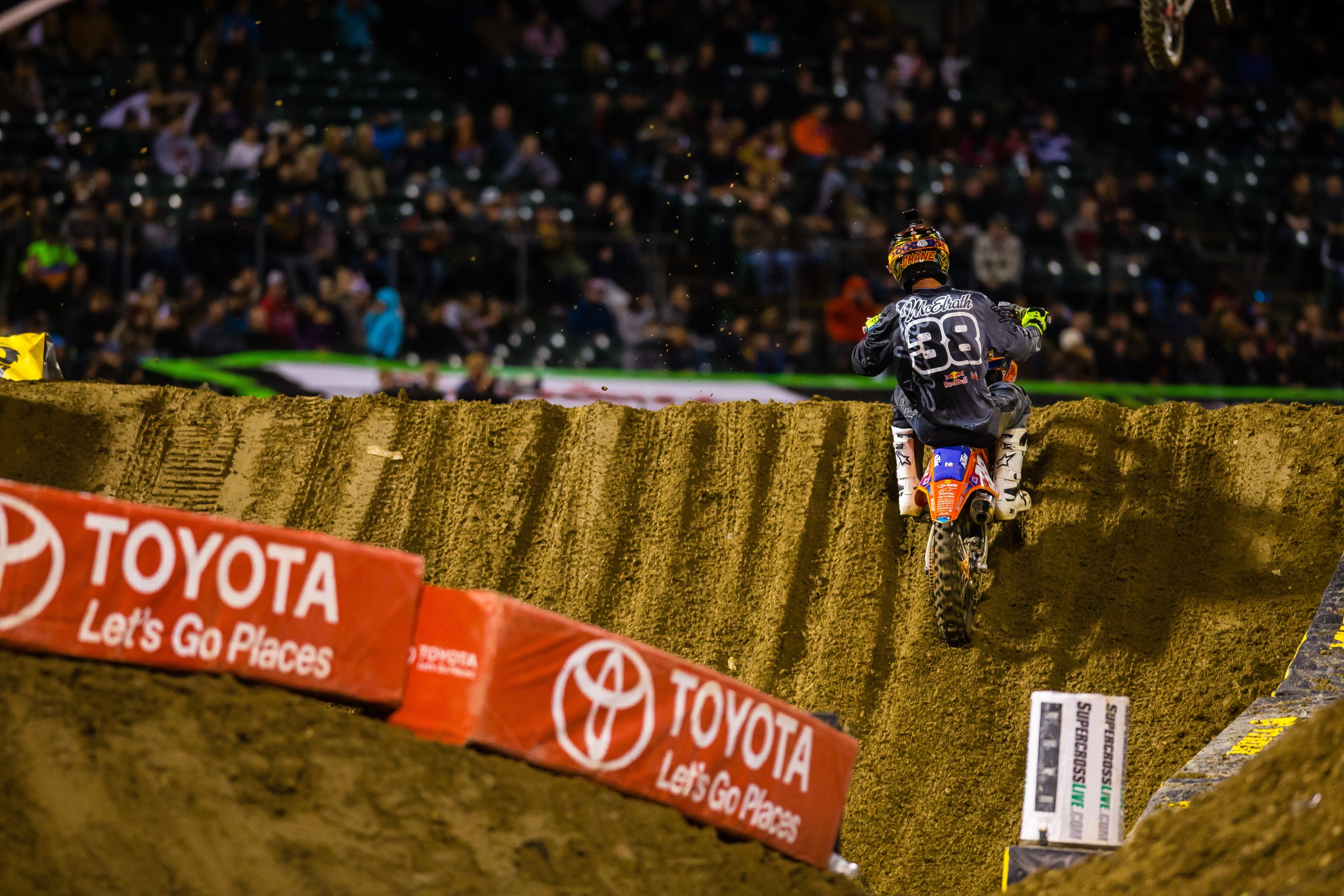 Martin, you got off to a good start and led it for a while until Justin [Hill] got around you. Then with about four minutes to go Justin went down. I know you saw him and probably got a big burst of energy there to try to go for the win. What was going through your mind there when you saw him on the ground.
Martin Davalos: Definitely. The start was a big key for me tonight. I tried my hardest; Justin was just better than me tonight, hands down. The track was pretty brutal for us. In practice it didn't seem like it was as soft as it was during the night, and going through the lappers, there were a lot of crashes out there. The whoops were slick. He obviously made a mistake, but I didn't know it was him at first. It kind of caught me off guard. I wanted to push, but it was just so hard to push and be safe out there. Hands down he was better than me, and Shane rode great too. I'm happy I'm on the podium; it's been a rough couple weeks for me. I'm ready to go to Dallas and race to the end.
Justin, three wins in a row. When we started this day Ralph Sheheen was on Race Day Live and was reporting to us that you weren't feeling too good, a little sick. Then late in the main on a tough track you made a mistake and went down. How did you pull your socks back up and finish that main event and make it three in a row?
Justin Hill: I don't know how I did [it]. It took a lot of heart. Like you're saying, I didn't ride at all. I tried to do a couple sessions on Tuesday and we just had to call it. I was sick as a dog. I was really worried about this weekend. I didn't know how much strength I'd have, how much energy. But when the chips are down you gotta do it and I just went for it, tried the best I could. Like Martin said, that track was so brutal all you could do was just get around it without making any mistakes. When I was trying to push it was almost like I was wrecking myself and after I crashed, even more so. Like they were saying, it was just trying to get out of here alive, and with another win on the plate, that's amazing.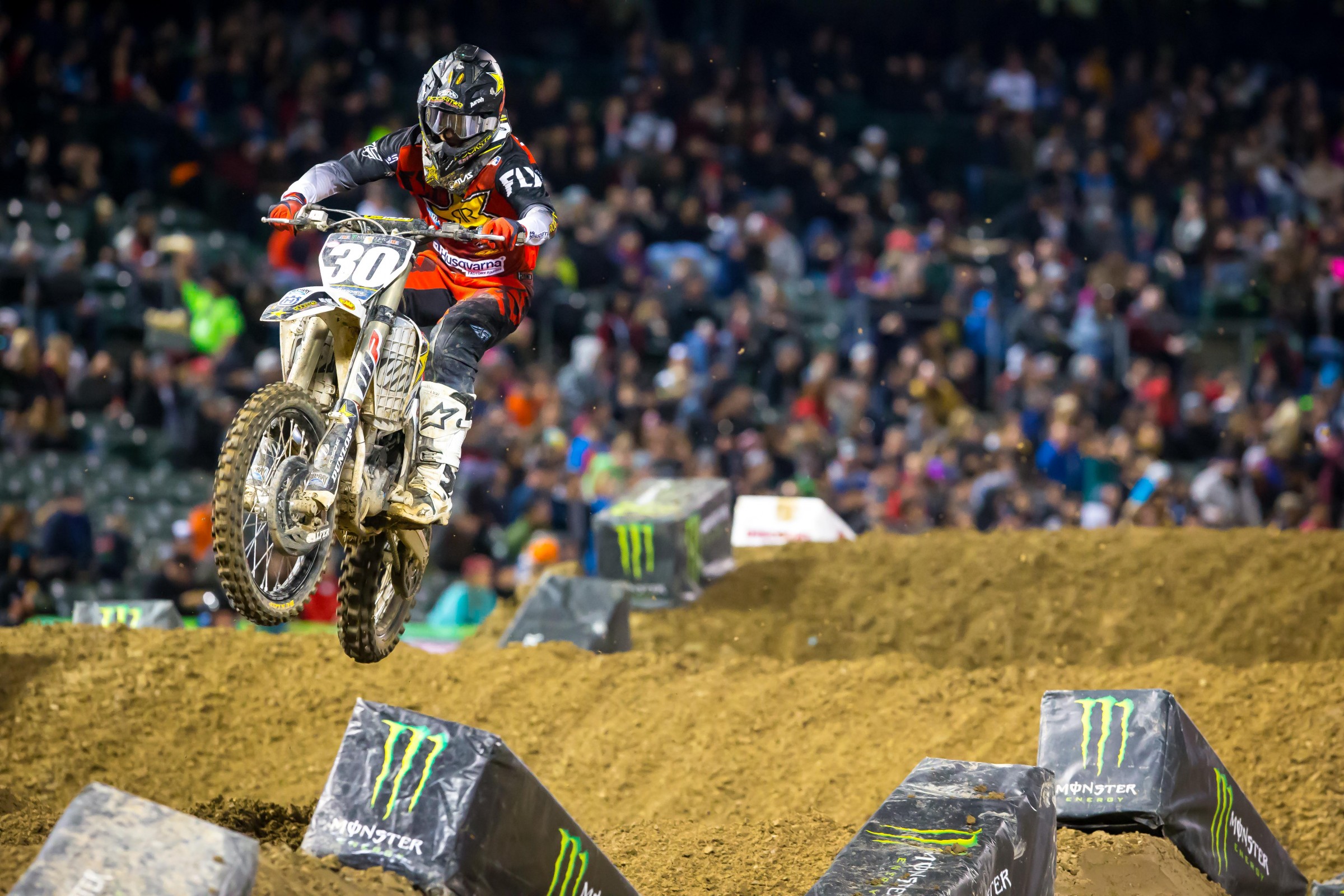 Martin, the track looked like it was tough to push on. What made it so difficult?
Davalos: For me, I was actually excited about Oakland because I've been doing East Coast for a couple years. What was so challenging, when you moved over, you just didn't know how soft it was going to be. The landing of the triple, the finish line, it was just very challenging. You would land in holes and it would jerk you to the left and right. When we hit the halfway mark, trying to get through the lappers you were hitting lines you didn't know or didn't feel comfortable in. That was definitely the most challenging thing.
Shane, in the heat race you and Jimmy Decotis got together. How'd that happen and are you banged up?
McElrath: We're both a little beat up from that. That was just kind of a racing incident. I probably wasn't the fastest through the whoops tonight and our lines came together. We actually kind of hit over the last few whoops I think. It was just one of those things where we ended up having to go to the LCQ. But in the end it helped me settle down and made me realize I really have to focus. Like everybody else has said, and will probably say again, it was a challenging track tonight. Everything was constantly changing, and that's the most challenging part of it.
Justin, what was it that bit you in that corner and was there a heart rate spike or any panic involved there?
Hill: Yeah, definitely a heart rate spike. It was a blind rut. They set a Tuff Block there we had to miss to hit the rut, and you couldn't see around it. There was a piece of plywood showing in the rut, straight across the thing, and I came around and tried to pop my front end up and get away from it, but my rear slipped out and I crashed. It was such a surprise to hit the ground that way; I didn't know what to do. I just had to grab the bike, muscle up and go, and that was a heart rate spike. I knew Martin was coming, I knew he wasn't giving up, and I was actually able to gain it back a little bit. I earned that one, I've never worked so hard, especially coming in sick and being weak. It was everything I had and I'm so glad it's over!
Shane, five podiums on the year so far for you. Where's your confidence level?
McElrath: Like I said before, it's kind of a big relief just to get through this weekend. Every race has been getting tougher, and it's all new to me. Just trying to learn the most I can each weekend and deal with it in a way that I think is the right way, and trying to learn from other people's mistakes who have been in the same situation. Tonight we did everything we could and ended up on the podium, and safe, which is the main thing. Next weekend I'm excited to put in a good week and make a statement for the break. This is something where we don't have anything to lose. We're fighting for a championship, but the main goal is to be where Ryan Dungey is [in the 450 class]. We'll keep pushing, and we're going to go out and give it our all and put up a good fight.
Justin, last week I don't think we talked about it, but it was Pro Circuit's 250th win. I know you said Mitch [Payton] was missing tonight and wasn't able to share in this win.
Hill: Yeah. Maybe 251 isn't as special, but it was pretty cool last weekend. I didn't actually know until I got back to the motorhome and I was like, "Right on, that's pretty cool!" But yeah, I'm a little bit bummed he couldn't be here and I'm sure he is too. I texted him throughout the day and told him where we were at and how I was feeling, and he's stoked. I'm really grateful for him to have given me another shot on this team. I'm at a loss for words for that—that's a super cool opportunity. I really just want to do my best for him and try to show him it wasn't a mistake.