Oakland, CA
Oakland
Monster Energy AMA Supercross Championship
GEICO Honda's Jimmy Decotis and Autotrader.com/Monster Energy/JGR Suzuki's Phil Nicoletti aren't afraid to get starts and send it, which makes them a pretty good fit for the 250 Class. Finishing the deal has been the larger issue this year, as Decotis, for example, led half of the race in San Diego but then fell off the pace and drifted back to sixth. Nicoletti spent the early races jammed up in first-lap crashes, but last week in Glendale he appeared to be on pace for a top-five finish before the old Filthy Phil luck kicked in—he cased a jump and somehow managed to dislocate a knuckle when he landed hard. He drifted back to ninth.
Oakland's conditions were tough and nasty, but perhaps the Northeasterners found something special in those conditions—Decotis is from Massachusetts and Nicoletti from New York. Decotis rode arguably the best race of his supercross career, netting fourth after a race-long duel with Shane McElrath, the 250SX West Region points leader at the time. Decotis passed McElrath early in the main, McElrath got back around, then Decotis closed back in late in the race before being thwarted by a lapper. Still, a good night—it tied his career-best fourth from Anaheim 1 last year.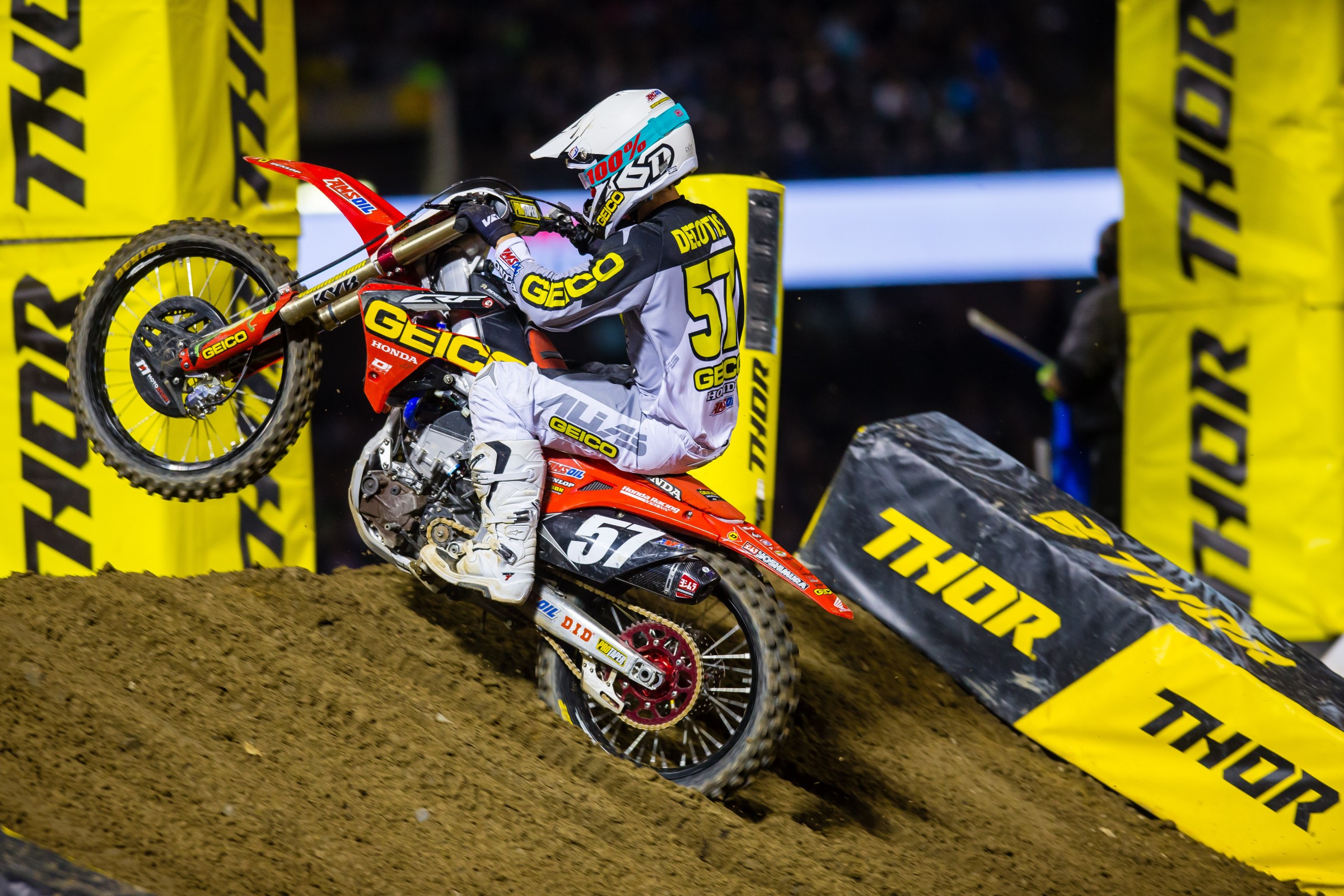 "The main was good for me," said Decotis to our Aaron Hansel in the post-race press conference. "I started eighth or ninth around the first corner and there was that big pileup. I came around the triple and I was in fourth. I don't know how that happened. I ended up getting by Shane [McElrath] in the whoops and actually rode good for the first eight minutes, but I missed a rhythm and made a couple mistakes and Shane ended up getting back by me. Toward the end I reeled him back in and was thinking podium. It's something I've never gotten in my career and I'm getting better every week and it was my time to get it. I made a run on the last lap in the whoops but he kind of inched me out a little bit into the lappers. It was hard out there with the lappers, it was a tough track. The harder you pushed the worse it was. I felt like I was just trail riding out there. It was still tiring even though I felt like I wasn't pushing that hard. Fourth isn't where I want to be, I want to get on the podium. It's something I want to experience. I want to get up there and stay up there. Tonight I was really close, but just missed it."
The main event represented a second McElrath versus Decotis duel, as they battled to a stop in their heat race.
"I made a good pass [on McElrath] through the whoops, those were my favorite whoops of the year and I felt awesome in them," Decotis said. "I made a change with my forks this week for the whoops, I was struggling in them. Last year I felt like I was really strong in them so I went back to where I was at last year and just crushed the whoops on the right. I felt fine, I thought I had plenty of room, but the track was so tacky there I think Shane got bucked a little and moved over on me, and I actually got a little buck and went into him. It was a racing incident. Shane didn't move over on purpose and I didn't try to cut down. It was just a racing incident. I got lucky the bails held me and I didn't go into the starting gate, that could have been bad."
"We're both a little beat up from that," confirmed McElrath. "That was just kind of a racing incident. I probably wasn't the fastest through the whoops tonight and our lines came together. We actually kind of hit over the last few whoops I think."
We actually spotted Decotis limping at the end of the night.
"Yeah. It's more my hip so I'm just walking awkwardly," he explained. "I'm just thankful for Dr. G and the medical staff. He actually saved my whole night, my whole main event. He came in and took care of me, and I appreciate that. Have to give him a shout out for that. And thanks to [Alpinestars] for looking after me and everything. Going into that main event, that parade lap, I was wondering if I could even ride. To get fourth, it was okay. Yeah, I hit my nerve pretty good and I think it's just tender. The body is protecting itself. As soon as I move one way it hurts pretty bad. I asked Rock [team manager Mike LaRocco], 'Rock, you know how to ride through pain, what do I do?' He said, 'Just get the holeshot and run!' I didn't get the start, but as soon as I was racing I didn't even think about it."
For Decotis, he got to lead laps in San Diego, but finished better in Oakland. Which was the better race for him?
"I think for experience leading was better, but I've been doing this a while and I don't need much experience," he said. "I just need to do what I do in practice. Today showed me I have it. In the heat I was making the pass for second and in the main I was running third for half of it. I should have had the podium tonight. It was better for me tonight for mindset. I left San Diego knowing I could win but wondering if I could do the whole race. Tonight I did the whole race on the trickiest track and fought hard to the end. I'm a little bummed with fourth but I gave everything I had. I didn't have anything else, and no matter what position it is, that's all I can ask for, that I give it my all. I did that tonight."
As for Nicoletti, he took fifth, which also matches the best of his career. He had two fifths back in his previous life in the 250SX class, in 2012.
"The track was brutal," said Phil. "Ask anybody. It came down to being precise and picking your lines lap after lap, section by section. It was tough and I had Aaron Plessinger on me pretty much the whole time so I had that added pressure to stay in the zone. That helped quite a bit. It was almost like racing Indianapolis all over again. It was good, I enjoyed it."
Nicoletti originally joined the JGR team to be an injury-replacement on 450s. Jake Weimer has been hired to take that spot now that Phil has gone down in the 250s. With just one more race to go before the 250SX West Region gets a break, could Phil jump up to a 450 at some point?
"I'm not sure yet," he says. "I'm definitely open to the idea. I think I'd like to ride the Suzuki 450 indoors, but it's obviously up to the team to see what they come up with. I don't know if I'll start outdoor testing or what. Maybe this week we'll find out a little bit more, but I'm sure not opposed to the idea. It's just weird because either way, if I wasn't doing the 250 deal it would have been a full supercross deal for me on a 450. I don't know what's going to happen yet, we'll see."