Phoenix or Glendale Supercross (whichever you prefer) this weekend wasn't just round four of Monster Energy Supercross, it was a new beginning for a lot of people and maybe, the series itself.
For one, the rider that won the first two rounds, Ken Roczen, is out for the year (and apparently on cloud nine with some great drugs, if you've seen his Instagram stories).
Two, this stadium was the first football stadium of the series, which changes the track layout a lot.
Three, the track designers/builders were inspired this week. They had lots of dirt to work with, the sand section actually worked, there was an over/under bridge and big rhythms that some riders couldn't actually do. Oh, and there were big whoops! The entire thing—the layout, the track obstacles, the racing—was very entertaining start to finish. Think of Santa Clara last year, only the complete opposite in every way.
Going into Anaheim 1 Monster Energy Kawasaki and Eli Tomac were happy with the motorcycle, but then ET went backwards in the first three races with arm pump at A1, who knows at San Diego, and a lackluster ride at Anaheim 2. I was talking to the team guys about the struggles of Tomac to start the year and even though they hadn't asked, I gave them my "testing" theories to help the #3. I do this a lot, to a lot of teams in the pits, and I'm sure they're pretty tired of me knowing their team better than they do. (But, I gotta be me, y'know?) This was before the night show started and the people I talked to seemed very confident their bike issues with Tomac were over.
Seriously, it was weird how confident they felt the week in testing went. I was, like, "Have you seen your first three races?" They said they did some "smart testing" with Tomac, which implied, I think, that my theories on testing with a struggling rider were not, uhhh, smart.
This week Mike Williamson (Ryan Villopoto's old mechanic) went out to Arizona with Tomac to ride during the week (Southern California's been swamped with rain) and they worked on chassis, chassis, and more chassis. It's been a weird deal for everyone over there and frustrations have to be high. It's Tomac's contract year as well and I'm sure that plays into everything that's been going on.
Well, we can destroy the Tomac panic button. He worked everyone this weekend and badly at that. A 17 second lead at one point, Tomac looked amazing. HE CRUSHED EVRYONE. Not sure what the deal was because I don't think some fork settings, a link, and a few tweaks here and there can account for such a big difference. But as I've said before, these riders, they're fragile, man. It doesn't take much one way or another for things to turn and man, did it turn this week.
What was it that turned Tomac into a rocket? Well, on Sunday the Kawasaki guys I texted back and forth with indications that it was probably a bit of the track, a bit of the dirt, and these new chassis changes they did. I asked them the obvious question as to why didn't they start A1 with these chassis changes and it was replied that they had to make one new part from scratch that they hadn't done before.
Whatever it was, I think Tomac's "slump" is over now. I mean, he may not win this weekend but I think this ride is what he needed to stop going backwards. Confidence is oh so dangerous in the sport and with that ride, Eli Tomac has it and is officially back.
Did Chad Reed just throw shade at Yamaha after his great ride into second? Yeah, he kind of did, insinuating that after some so-so rides, the blue crew basically let him try some parts he's wanted and now look at him.
"When you have a season where the first two races just don't go to plan, it allows you to just be like, you know what? I've got nothing to lose," he told me after the race. "Try to have a meeting, try to make progress in the way that I felt we needed to make it, and I got the green light. So we went to, I want to say, two days of testing before Anaheim 2. I think that we got things in the right direction."
Reed rode great, coming up and passing Ryan Dungey and Cole Seely to take second. And in typical Reed fashion, he seemed frustrated he couldn't keep Tomac in sight. Hey, Chad, don't be mad about that—I'm not sure Jesus on a CR500 could've kept Tomac in sight last week. We saw the old Chad Reed on Saturday and not an old Chad Reed. He was very good and seems to be happy with his bike but that's as tenuous a feeling for him like a butterfly riding on a grasshoppers back. Everything could be garbage next week but I, and everyone else, hope not.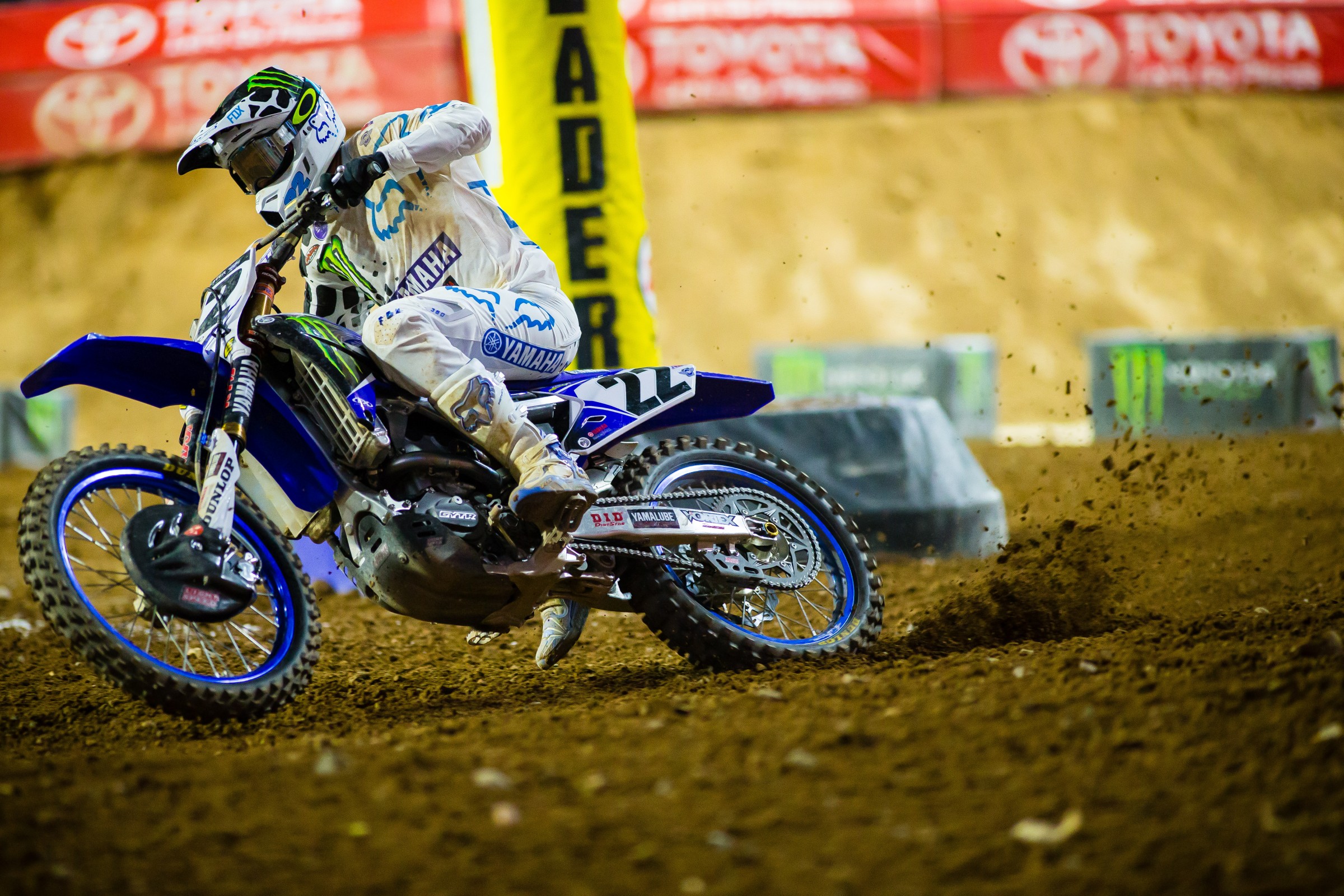 I was talking to Weston Peick (RIP to the jump he hit in practice. Funeral arrangements are pending) last week and asked him about the difference between the Yamaha he rode last year and the Suzuki he's on now and it was an interesting take—one I hadn't heard before and not one I would have necessarily thought Peick could elaborate on. But basically he was saying the window to where the Yamaha works well on is small. Certain soil conditions, certain tracks—it's great. But if that changes during the day, or a week, then the bike reacts differently. The Suzuki, he explained, has a more consistent feel no matter what conditions. Not sure this explains what Reed's been dealing with week in and week out but maybe.
It wasn't just Eli Tomac we welcomed back this week. Justin Brayton returned from being Zombie-Justin Brayton that we saw at the opening rounds. Truthfully he was better last week also and I talked to him about a bunch of stuff, but then for some reason, my recorder didn't actually record my post-race stuff last week. But essentially he got a late start to everything, he's testing things with Showa, and he's not quite where he needs to be—yet. This track, like I said with Reed, suits a dude like Justin (or even Zombie-Justin from the first two rounds). One thing Brayton can do is jump a motorcycle and this track rewarded that.
I asked him the question we all have wondered: how has the Smartop/MotoConcepts team been? The MCR team has, at times, been this sort of strange island in the pits (like privateer island, only nicer) where you're not quite sure if you're welcome or what's going to happen if you venture in. So I asked Brayton, a guy that's ridden for factory KTM (kind of), Honda, JGR, and many others, how things are going.
"I wish we could video or people could hear the stuff he [Tony Alessi, team manger] says and the stuff that truly goes on. I'm being totally honest—it's incredible the stuff that he does for his riders. He's super, super smart and he's really, really caring, same as [Mike Genova, owner]. You hear all these stories and stuff. I haven't even gotten close to any of those."
So there you go, bro.
The press conference after Phoenix hadn't even started yet and Justin Hill sat down next to Shane McElrath, the man that he ripped the lead from with one and a half laps to go. Before Hill could speak, McElrath put his arm around him and said, "You're really becoming a thorn in my side," and both riders laughed. It was a nice touch by McElrath, the surprise leader in points through four rounds. McElrath had a very good ride from the second to last gate all the way on the outside (after a crash in the heat left him in the LCQ). McElrath had the 19th gate pick but he went with the second worst spot on the gate because of what laid in front of the gate. "It wasn't so chewed up," he said about why he picked that gate.
Had this been one week earlier in Anaheim, there is zero chance McElrath pulls that start from way out there. The length of the start straight is what helped him as he could use the power of his KTM to get away and give him some room to move. Really great ride by McElrath to salvage what could have been a bad night.
As far as Hill, well, the more technical and gnarly the track, the better for this guy. Hill's been so hit and miss in his pro career and that's frustrated team managers/owners who want him to try and reach the potential they see in him. As proof, Mitch Payton probably felt that way about Hill a few years ago, but now they're back together and succeeding again. Grant Langston, a friend of Justin's, spoke about this on Monday's Pulpmx Show as well. Last year he was great and went out with a practice crash in Detroit early in the series. We're four rounds down and he's won the last two races. As I've said before, I think Justin's a kid who really feeds off how he's feeling, good or bad. And right now, he's good, baby—really good!
Aaron Plessinger has the seventh best starting position in the class. That's all you need to know about his season so far. Maybe it's amazing that he's only 10 points back in this title hunt. Those whoops and Aaron were made for each other, but tangling bars with Martin Davalos five feet out of the gate did him in. If you're the Star Yamaha guys, bring a pack of clutches to the test track this week. (Or it's 2017, maybe call the data guy?)
A trying week for Martin Davalos and I can't help but think this affected him on the track a bit (although he won is heat) as he stalled his bike in the main. Good track for Marty and an opportunity for him to get on the podium went bye-bye with the stall.
Austin Forkner is figuring it out—slower than some of us expected, but he'll get it. Maybe it'll be 2018, but it's definitely coming for the kid.
Phil Nicoletti has been waiting for a start and a breakout ride this 250SX West Region and it finally came this past weekend. Nicoletti rode well in the heat and early in the main (stuffing Jimmy Decotis might be something that comes back to haunt him) was up to fifth and looking good before coming up short on one of the triples and dislocating his knuckle. Ouch. He rode the rest of the main event in pain and wasn't happy, shocker. Only Phil could dislocate a knuckle while casing a triple.
In more Filthy Phil news, Racer X had a subscriber contest where the winner got to hang with Weege and I for a couple of hours in the pits. We immediately took him and his girlfriend to the JGR Suzuki truck and listened to Phil and J-Bone [Jeremy Albrecht, JGR team manager] go back and forth with us. And then Jake Weimer joined in and a good time was had by all. It was at this point a dude tweeted me that he would bring me Starbucks if he could meet Phil to which, without speaking to Phil, I said sure. So he shows up with his girlfriend and gives me the delicious Starbucks and I explained the deal to Phil. So Phil invites the couple into the truck and gives them a jersey and signed number-plate sticker as well! All while cursing at me for doing me a favor. Then the subscription winner guy and girl sit down with some of the JGR people, JT shows up, me and Weege and the Starbucks guy and girl all eat some pasta under the JGR tent. Thanks, Phil!
What a disaster for the GEICO Honda team and Jeremy Martin. Martin was expected to challenge for the title in the 250SX West Region but it's been crashes, poor starts, and now a cartwheeling Tyler Bowers bike catching him in the head in practice. That knocked him out for the day and probably for this weekend also. And speaking of disasters, Bowers will be out for a while with a fractured femur. Martin, Bowers, and Mitchell Oldenburg are three big name guys who have gotten hurt and badly want a do-over.
Week two of the Mookie Project happened and although he was knocked down by Davi Millsaps early in the main, I thought he looked better than last week. And I bet he's better this coming week as well. Watching him in practice, on a 450 that allows him to do whatever he wants, it struck me just how talented this guy is. Like big brother James (who's collecting parts for a Honda whenever he decides to come back), Malcolm seems to be able to put the bike wherever he wants it and looks good. Reminds me of how we miss JS7 and I hope he comes back to full JS7-type power.
When Jake Weimer got the four-race fill-in ride with JGR Suzuki I offered him the Pulpmx.com sticker deal that we had last year, but with a catch. I offered him a big (relatively speaking!) up front cash bonus for the entire 2017 season to run the sticker, or I said I would pay X amount per race. Jake didn't know how many races he'd make with this fill-in ride, so he went with the up front cash. Now it looks like he's going to a lot more races since Peick injured his wrist. He told me he was already thinking about his poor choice on Saturday. I would look for the #12 to be on JGR Suzuki for the next little while.
Speaking of Weimer, his race was a disaster as he set his ignition to the wrong start mode and got off the line crappy, then he crashed and saw all these lights on, and pulled it in to make sure it was good to ride, which it was.
Marvin Musquin and Cooper Webb went at it for the entire main event. It was epic to watch.
Dean Wilson had another nice finish. I spoke with Dean after practice and he's in the process of figuring out how he's going to go east. I know he's telling people that he's not going east after Dallas but I keep hearing he is and truthfully, he needs to make it happen. Spend some of his own money, build a resume of 450SX races (he's already done more SX races this year than the last two combined) and stay ready. [Ed. Note: A few days after the race Steve tweeted this out. Stay tuned.]
Dean Wilson to Rockstar Husky for SX & MX. Great to hear, he's used to the bike so should hit the ground running #sourcessay

— Steve Matthes (@pulpmx) February 1, 2017
"Dandy" Dan Reardon has to be getting frustrated—he's off the pace of the top guys but he's clearly better than the guys behind him. Him and Decotis are stuck in this zone where they can't break through into the lead group but beating guys like Kyle Chisholm, Cole Martinez, etc. isn't a problem.
Remember Terry Boyd? He was the DJ from Portland who wore bracelets and handled the floor announcing for supercross for a long time. He was so good at demonstrating how roll-offs work! Well Terry's been back on the scene working with the Dirt Wurx guys on some coconut … err, material that you put into the dirt and it holds moisture longer. Seems pretty cool and if this works, it could be great. The track in Glendale was over-watered for the first practice and then dried out for the mains but I've certainly seen worse in Phoenix races. So maybe it worked? I don't know but good to see Terry around the races again.
Thanks for reading, "we" appreciate it. Email me at matthes@racerxonline.com if you have some thoughts or questions or whatever.