Weston Peick Injury Update [Update]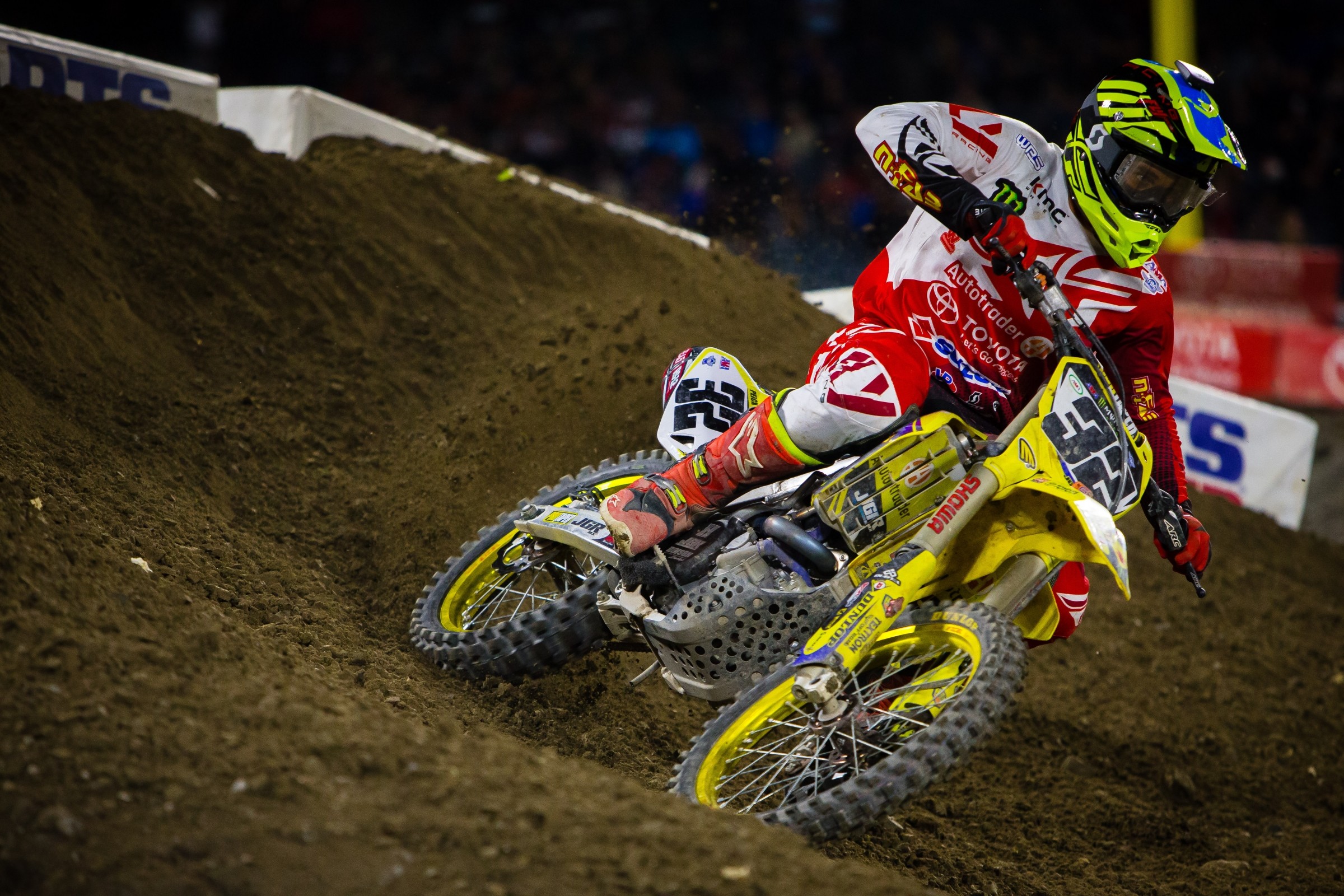 Glendale, AZ
Phoenix
Monster Energy AMA Supercross Championship
Weston Peick's strong start to the season is now just a memory. The AutoTrader.com/Monster Energy/ JGR Suzuki rider crashed early in a Glendale SX practice session in the same section that claimed a ton of riders, the rhythm lane after the start. Peick spun on the face of a jump and came up way short. Peick dislocated his wrist, which required surgery, and also lacerated his kidney.
He had wrist surgery performed locally on Sunday night and will be evaluated this week back home in California. His timetable to return isn't yet known. The JGR team gives thanks to Alpinestars Mobile Medical Center's Dr. John Bodnar for helping Peick find a good hand surgeon in the area, as Peick was unable to fly back to California for surgery due to the kidney problem. The JGR team will likely stick with just Jake Weimer in the 450 class until Justin Barcia or Peick return from their wrist injuries.
We'll update you as we find out more about the time table for Weston's return to racing.
[Update: Tuesday, Jan. 31]
In a statement released today, JGR said that Peick's recovery time is difficult to predict at this time, but that he'll need "several weeks" of healing time. As we mentioned above, JGR said that Justin Barcia is expected to return in the next couple weeks, and they will not seek a fill-in rider for Peick.
Below is the full statement from JGR.
HUNTERSVILLE, N.C. – Weston Peick suffered a hard crash during practice at last week's race in Phoenix, Ariz. He was transported to a nearby hospital where it was discovered that he had a lacerated kidney and a broken wrist. Peick underwent successful surgery Sunday night on his wrist, the kidney should heal on its own. Although the recovery time is difficult to accurately predict at this time, he is expected to need several weeks of healing time before he can begin preparing to return to riding, and then racing. His condition will be updated as more information becomes known. Peick was riding exceptionally well before the crash, and was coming off a season best fifth place the week prior.
"Weston was riding really well with lots of confidence on the RM-Z450, I am really bummed for him but we look forward to a full recovery and seeing him back racing once he is healthy and ready," said team manager Jeremy Albrecht.
Since Justin Barcia, who has been recovery from a wrist injury is expected to return to racing in the next couple of weeks the team will not look to replace Peick with a fill-in rider at this time. Jake Weimer, who has been substituting for Barcia will race his RM-Z450 at Oakland Alameda County Coliseum this Saturday, Feb. 4, with Phillip Nicoletti contesting the 250SX class aboard his RM-Z250. The race will air on Fox Sports Two starting at 7:00 p.m. (EST).