Anaheim, CA
Anaheim 2 (A2)
Monster Energy AMA Supercross Championship
By Jason Weigandt and Kyle Scott
In the old days, Anaheim was a home race for nearly every rider, as the factory teams were jammed full of Southern California talent. That's not the case anymore, but two riders from up the road from Angel Stadium, Weston Peick and Josh Grant, finished the night in fifth and sixth (and Cole Seely, born and raised just a little further north, finished third). There's still good depth in the Monster Energy Supercross field, and Peick and Grant are breaking through. Peick (Autotrader.com/Monster Energy/JGR Suzuki) has gone 8-7-5 in three races and is a strong sixth in points. Grant (Monster Energy Kawasaki) has gone 9-11-6 and is eighth. Here's what they had to say after the race.
Weston Peick | Autotrader.com/Monster Energy/JGR Suzuki | Fifth Place
Racer X: What about tonight? How was the racing?
Weston Peick: It was really difficult. I think it was probably one of my most difficult races we've had in the last three or four years racing professionally just with track conditions and the way the track was kind of built so tight and a lot of 180 turns back and forth through the whole track. I struggled all day from practice all the way until the main event, and even the entire main event I struggled. But the team was able to make changes. I think at the end of the night with what we had overall and able to get fifth place and pressuring for fourth. I think if the track was a little bit more opened up I would have progressed a little bit more, but with it being so tight I just kind of rode a little tight and got arm pump I think about halfway through. But I was able to finish out with a fifth and I'm happy with that.
You can't shed arm pump once you get it, right?
You do kind of shed it. I'm able to shake it out a bit but it's always kind of still there as like a fatigue point. It's definitely hard at this level when you've got six fast dudes behind you—pressuring you—and all you're thinking about is don't fade, don't get tired. Just keep the same pace. I think the smartest thing I have been able to do this year is handle pressure well. I know my fitness is there and I'm able to just kind of keep running the same pace the entire race where other guys might be two or three laps faster than me but they can't do that the entire race. With me I'm able to sustain such a longer period of time over the race and just kind of stay consistent.
When you're talking about getting tight, is that partially because there's so many corners? Are you used to more being able to relax in the air a little bit more?
Yeah, I'd say as far as like last weekend in San Diego, I didn't get arm pump one bit. I was 100 percent solid all day, and then you come here and you have no straightaways. You have no time to really chill out. There are so many ruts and there's so many jumps that you're kind of on the edge the whole time. So you're tense the whole time. There's not really time to relax. You just ride tight and then obviously when you ride tight you blow up. So that's kind of how it was all day for me. I rode tight and it just kind of affects you, but I was able to maintain it for the entire night and finish.
Top five. Not so bad.
Yeah, I'm happy with it. We keep making progress every weekend. This week's starts were better. I started a little closer up front which definitely helps. The whole JGR/Autotrader Suzuki team has been definitely killing it with the last-minute change we did to Suzuki. So I'm happy. I think the team and everybody's growing every weekend. – Jason Weigandt
Josh Grant | Monster Energy Kawasaki | Sixth Place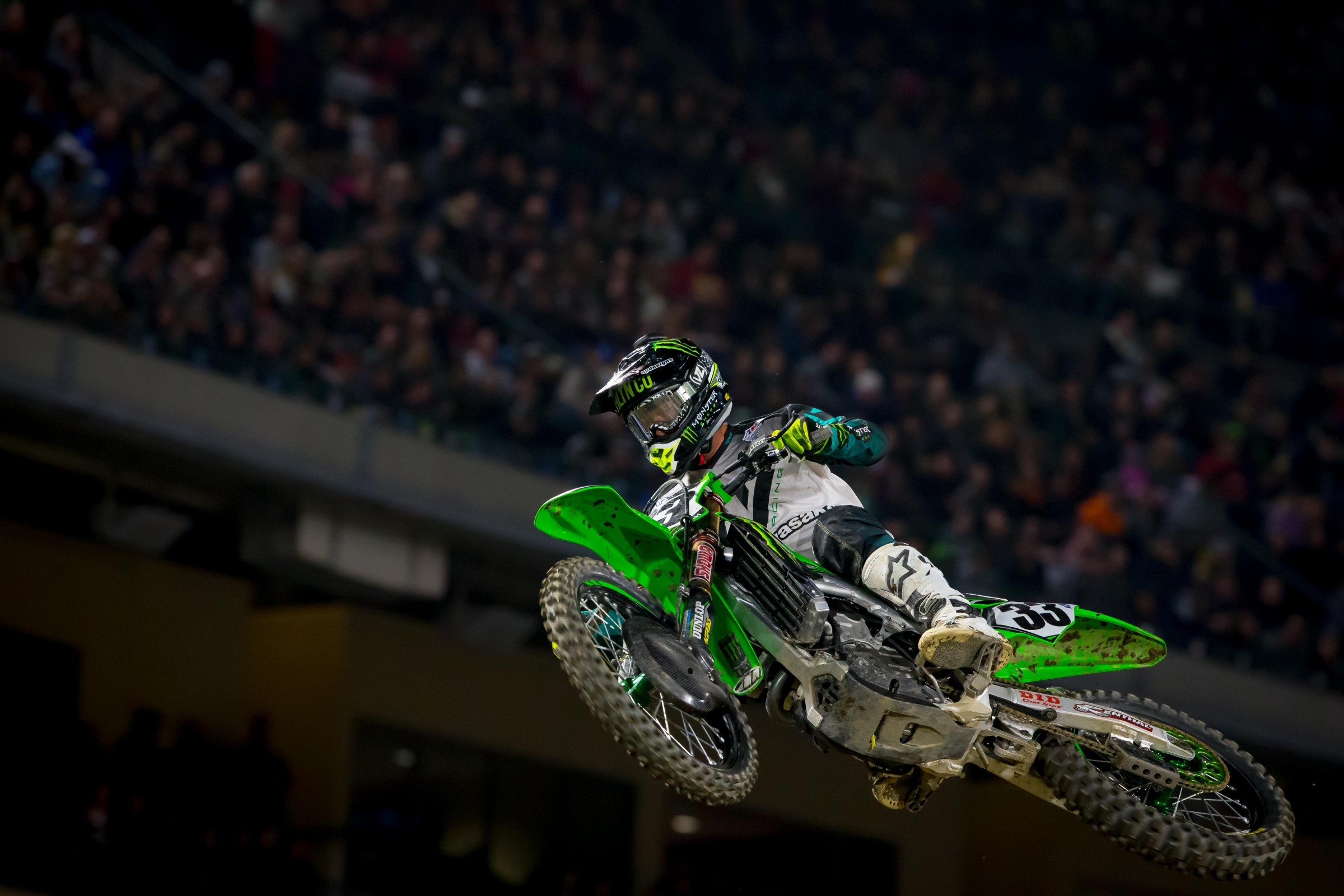 Racer X: You were on it. Can you walk me through the day? You missed the first practice. Did that mess you up at all, the canceled session?
Josh Grant: Honestly, I think it kind of hurt us a little bit, or at least the way I'm preparing to go into the race. I like to have that first practice to have no stress, not worry about lap times, get the track down and start moving around and flowing. When we're thrown into it like, hey, you got eight minutes and you got to lay a freaking lap time down, it kind of gets a little hectic. Kind of starts the day off a little on the edge. But for the most part it's just trying to adapt to it and have fun.
You looked like you were flowing out there today. What's the difference?
I think it's just getting time under my belt. Getting those couple races out of the way and getting the jitters … obviously tonight was a little bit better because I got a start and being able to be up there. I haven't seen that front of the pack in a long time, especially right out of the gate. It was like seeing a race from whole new eyes. So for me to not have a worry about somebody about to land on me or rushing through the back 12 to 20 or whatever. It's just a sketchy situation back there. As long as I can keep putting myself in that position and working towards being better, I think it'll be good.
If you get that start again next week it will feel different?
Yeah, I need to put myself in that position. We look at times. Obviously Kenny [Roczen] and Marvin [Musquin] and [Ryan] Dungey are going a little bit quicker, but my lap times would average out to a pretty good finish as long as I can keep doing them. We looked at that, we know what the information is, it's just a matter of putting myself in the right spot and I did it.
Any issues in the main event?
When Kenny went down it kind of threw my whole rhythm off because we had to roll that whole section. It kind of messed me up, I was in a really good flow. But then I made a mistake on that on-off, then after the sand section I went too high in the berm and almost fell over. It allowed Cooper [Webb] and Peick to get by me. I think I could have gotten fourth because our times at the end of the race, I was right there. Little bummed on that but I'm happy how the night went. I'm never going to be satisfied, I want more.
And you have ankles!
Oh that's so good.
Was it worse actually in day-to-day life than riding?
Probably worse for day-to-day life, actually. For riding you could tape them up and get through it. But if I made a mistake and hung a wheel [cased] something, I was done. So I was having to try to ride perfect and be smooth. I could do that, but if I made a mistake, I was done. This track would have been tough, we had a lot of kickers and ruts out there, and you saw guys like Kenny and [Justin] Bogle, they went down. It was tough. It was good for me to be able to ride a track like this, make a mistake, and not have it affect me. – Kyle Scott/Jason Weigandt