Anaheim, CA
Anaheim 2 (A2)
Monster Energy AMA Supercross Championship
After finishing a close second last week, Monster Energy/Pro Circuit Kawasaki's Justin Hill broke through for a victory at round three of Monster Energy Supercross in Anaheim. The victory ended the two-race win streak of TLD/Red Bull KTM's Shane McElrath, who finished third. Aaron Plessinger finished second on his Yamalube/Star Racing Yamaha. The three riders get along pretty well and had some fun in the post-race press conference.
Racer X: Shane, you got two wins and a third. You've got to be happy about that. You still have the points lead. What's your focus now heading into round four?
Shane McElrath: Just to keep giving everything I can to these guys. This track tonight was a tough one to separate yourself from everybody. I didn't have the best start, so coming from behind kind of dealt with what these guys dealt with last weekend. With that, the gates weren't ideal for anybody, I think. Just fought until the end. Third is what we ended up with. I didn't hold anything back, just like the rest of the season. We're going to be there until the checkered flag flies.
Aaron, you're still smiling. Three podiums in a row.
Aaron Plessinger: Yeah, and I'm getting better at my starts. I've just got to get used to being up there earlier in the race. I kind of froze up and rode a little tight, but we're working on it. We're going to add some intensity this week so hopefully we'll be battling for the win.
Justin, I got to say, it seemed like you've been wanting to get behind the starting gate again as soon as you went across the checkered flag in San Diego. You were hungry. You got your victory. Congratulations. It has to feel amazing.
Justin Hill: Yeah, it feels good. When you come that close to a race win and you work that hard for it, it's fun battling with these guys. When I came into this week I was just like, I just want to put a lot of work in and not let that happen again. We've just got to get up front. It was a fun race. I kind of tucked right behind Aaron on the start and was able to … him and Austin [Forkner] kind of got a little banged together and I was able to get around them. Kind of fortunate for me. Got up front and just listened to what my dad told me on all over the track. He just gave me all the pointers that I needed and came away with it.
Well, you ran into some lappers at the end of the main event. How were you able to power through them and find different lines when you had to?
Hill: Definitely the hardest part was finding the different lines. The flaggers are doing a really, really good job of pointing at them, letting them know where they're at. I think a lot of the guys got the message. They did good tonight. Nobody really got in our way big time. The people that did got equally in all of our way, it didn't do too much to shake it up. That's the race that I want as the leader. It's not the race they want as the next two guys, but that's what I wanted. So the flaggers did an excellent job, though, letting them know where they were at.
Justin, talk about that move for the lead. I think you passed two guys in one turn just by going to the inside. It was like the greatest turn in the history of supercross. Can you describe that move?
Hill: [Laughs] Yeah, greatest turn in the history! No, I just went up inside. Me and Aaron were kind of like side by side down the rhythm. He was kind of moving over trying to get into Austin, I think it was, and then I was just moving over to not hit him. Then I came out with the lead. I was like, well, shoot, that was kind of cool. Once you're there it's all just forward and you're thinking about yourself. Having the lead is just … it's so cool.
Justin, today seemed like unfinished business from last weekend. How much of that was motivating you to not only crush those practice times but break away in the main event?
Hill: I'm always hungry. I'm always wanting to do good. These guys are tough competitors and they're also considered my friends, so it's a lot of fun to battle with them. When Shane won I was like real pumped for Shane. I almost wished that I was in the stands watching Shane win and I could race another time. But we battle together and it's motivating coming that close to a win and then you get a whole week to think about it. Then when you line up again you're like, all right, this is what the whole week was for. This is what the last months were for. It's motivating.
Justin, last week you said you kind of had to mentally push even when you were kind of tired. Did you feel that this week or is that fatigue gone now?
Hill: It's never gone, but we're pushing a pretty high pace, all three of us. It's not ever easy to go that fast. Kind of like Kenny [Roczen] showed tonight. He was going so fast and it's easy to make a mistake and you have to be on it all the time. It's never gone and you have to push through it every time, but tonight I just was fortunate. I was able to get up front and when you're out there you can think about yourself. You can click the laps off. I just kind of made it about me and my mechanic. I was looking at the board saying, "Okay, that's the lap. I can beat that. Let's just do it, let's do it. Stay solid. We did it."
Aaron, you like the mud, but the rains are not going to play in your favor this year, sorry to say. But what can you do to take that next step in your process this year and take a win?
Plessinger: Dirt Wurx is really not playing in my favor. They're doing a good job of keeping the track perfect pretty much! Starts and intensity, really. I'm going to have to work on my intensity. These guys are really stepping it up and going that extra mile. So I'm going to have to do the same, and that's pretty much what it's going to take.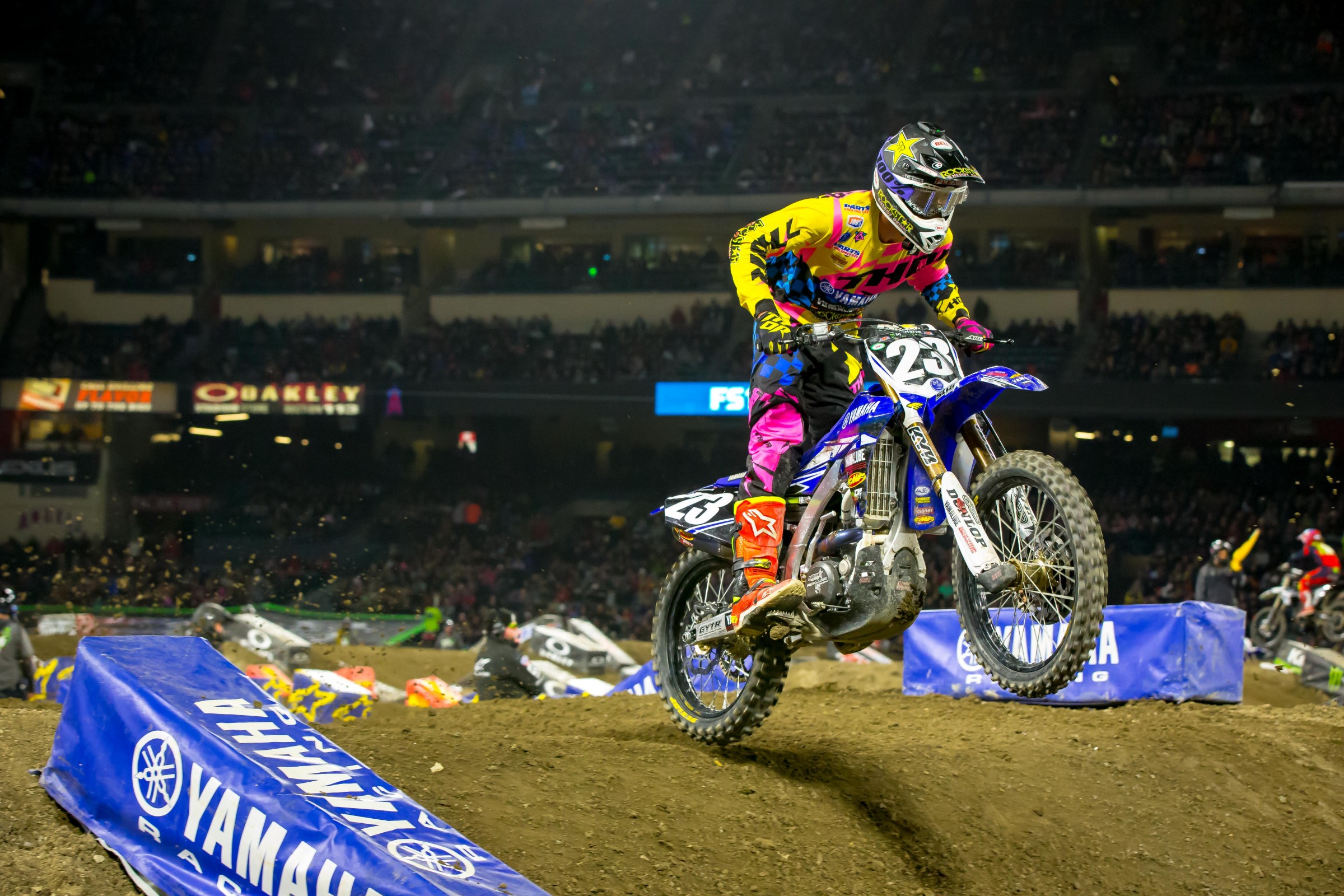 Are you guys looking forward to a dome stadium next weekend and not worry about rain?
Hill: Maybe a little more peaceful sleep the night before. I was in the motorhome and it was raining. I thought, oh boy, they told me they uncovered the track. This ain't good. But a dome will put my mind at ease a little bit.
McElrath: Yesterday coming out here for some media stuff and there being six inches of water sitting in the parking lot—it this was at 3:00 in the afternoon and the track was still covered in puddles and they were trying to pump the water off and brush some of it off with brooms and stuff. So it wasn't very comforting knowing that. Waking up this morning coming to the track I'm just like, man … I'm just hoping that we're able to do the rhythms and stuff because yesterday it didn't look very good. Again, awesome job to the Dirt Wurx guys. It was pretty crazy. Just like last weekend, we didn't expect everything to be so good.
Justin, two years in a row now you've gone 5-2-1 in your first three races. I don't know if you realized that at all?
Hill: I did. It's weird, isn't it?
Aaron, for a while there it looked like you had the pace to catch Justin but he was kind of getting away during the middle there. What kept you from going after him? It looked like you had the pace early in the race.
Plessinger: [Laughs] I think I'm just used to coming from behind and not being up there at the start. But I've been working on my starts and I'm going to have to put the work in this week and hopefully at Phoenix we can be up there again.