Anaheim, CA
Anaheim 1 (A1)
Monster Energy AMA Supercross Championship
After winning the 250 B and 250 A titles at the 2014 Loretta Lynn's AMA Amateur National Motocross Championship and capturing the first AMA Motocross Amateur Rider Award, Olympia, Washington's, Tristan Charboneau was drafted into GEICO Honda's amateur division to begin preparing for the professional ranks. His debut race came earlier than expected as a few weeks prior to the opening round of Lucas Oil Pro Motocross Championship at Hangtown, the recently awarded East Region Supercross Champion Malcolm Stewart announced he'd be sitting out the 250MX Nationals.
Pinning it wide open into the great unknown, Charboneau fared pretty damned well showing great speed and exceptional endurance. A broken collarbone suffered at round two at Glen Helen sent him straight to the sidelines, and as you're about to read about, ultimately cost him his ride with the team.
Put back on his heels, the 18-year-old didn't give up hope, and in October signed a deal to ride for the small, but proven Bud Racing/Monster Energy Kawasaki team to ride, as Darian Sanayei did in '16, supercross and the 2017 FIM World Motocross Championship EMX250 class. This Saturday night in Angel Stadium Charboneau will make his first professional supercross appearance. How is it all going and how does he feel about the new reality of his surroundings? Read on.
Racer X: Tristan, we're a few days out from the lights turning on over at Angel Stadium. Are you excited for Saturday?
Tristan Charboneau: Yeah, it should be a good time. My rookie season in supercross, so it should be good.
How long have you been at it as far as practicing, testing, and training for supercross?
I've pretty much been riding supercross ever since the outdoors, actually. I took a week off after outdoors and I just started getting myself into supercross. The GEICO team let me ride their bike for about a month and a half after the outdoor season just to kind of get my supercross going until I got my bikes from the new team.
As a full-on rookie, you raced for GEICO Honda beginning with the Lucas Oil Pro Motocross Championship opener at Hangtown. You ran to an impressive sixth in the first moto and backed that up with a seventh a week later in moto one at Glen Helen. Then you went out for moto two and broke your collarbone. You missed five straight nationals and then showed up Millville and never really got up to full speed again. Near the end of the season, GEICO signed Jeremy Martin and, well, you ended up out of a ride. What happened there?
Well, they brought Jeremy Martin on about mid-season and they signed him and pretty much told me that I wouldn't have a ride for the next year because they were already full because they signed Martin. Obviously they didn't have the budget for me and I was the only one with a contract ending, so I was the only one that could go. In that sense I was kind of shut out there. You know, I broke my collarbone at Glen Helen and then got the call about 2017 about two days after surgery, which was nice. That really boost me up, right? Come around Millville time when I came back, I did absolutely terrible; I came back way too early. I finally got a good finish at Unadilla [Charboneau raced to 10-10 moto scores], and after Unadilla they told me that Jordon Smith was moving on with TLD. So they were like, "A new spot is open there. If you can prove yourself, you can have the spot." I was like, "Haven't I already proven myself in this scenario? I went and got sixth at Hangtown and seventh at Glen Helen and then broke my collarbone and then you fired me." I was kind of confused at the time, plus my confidence still wasn't there. That kind of left me in a dark spot and I wasn't super-hyped about anything. Coming into the last two rounds I just didn't have the best confidence and I pretty much blew it for myself with getting that ride back. After that, they felt bad so they let me keep the bike for a little bit to ride until I got with a new team. That was awesome. I can't thank them enough actually to do that. You know teams don't usually do that. Around that same time, Aaron Nixon at Monster called me up and asked me if I had a ride yet. I said no and he told me to e-mail the guys at Bud Racing and get hooked up. We hooked up and I signed at the Monster Cup and I started riding the bike about a week after the Monster Cup.
Stepping back for a moment, when you went to Hangtown, you went as a complete amateur. You were supposed to finish off your amateur career at Loretta Lynn's, correct?
Yeah. I mean coming into Hangtown I had no expectations on where I would finish. I qualified sixth in practice so I was like, "Damn! That's good." So it came to the races and I said, "Well, let's go see where I finish in the races." I got a fifth place start in that first moto and moved back to sixth on the first lap and stayed there. There was actually one turn in the race where I was inside of Martin and Hampshire and I almost passed both of them. I was amped on that. First race and almost passing Martin and Hampshire? Come on. It was an exciting time. I was happy about it. I was excited. It gave me a boost for Glen Helen and I went and got the holeshot in the first moto. Granted, I made a mistake and went back to seventh and I finished seventh.
In the second moto I was in eighth place and Hampshire was behind me and with two laps to go I crashed in that death trap section they made and broke my collarbone. It was a mistake, but you live and learn. After that it just all went downhill for me. I lost all confidence in myself. It was like, "I broke my collarbone. I'll just get surgery and get ready and get back to it at whatever round I can." But then they were like, "Oh, you're fired," I knew I had to go and race and try and do good and I felt like I had a lot of stress on my shoulders. I had a lot of pressure on me. When you're trying to fight for a ride when you're still hurt, it sucks. When you're a rider and you get mentally screwed like that, it mentally screws you all around the place.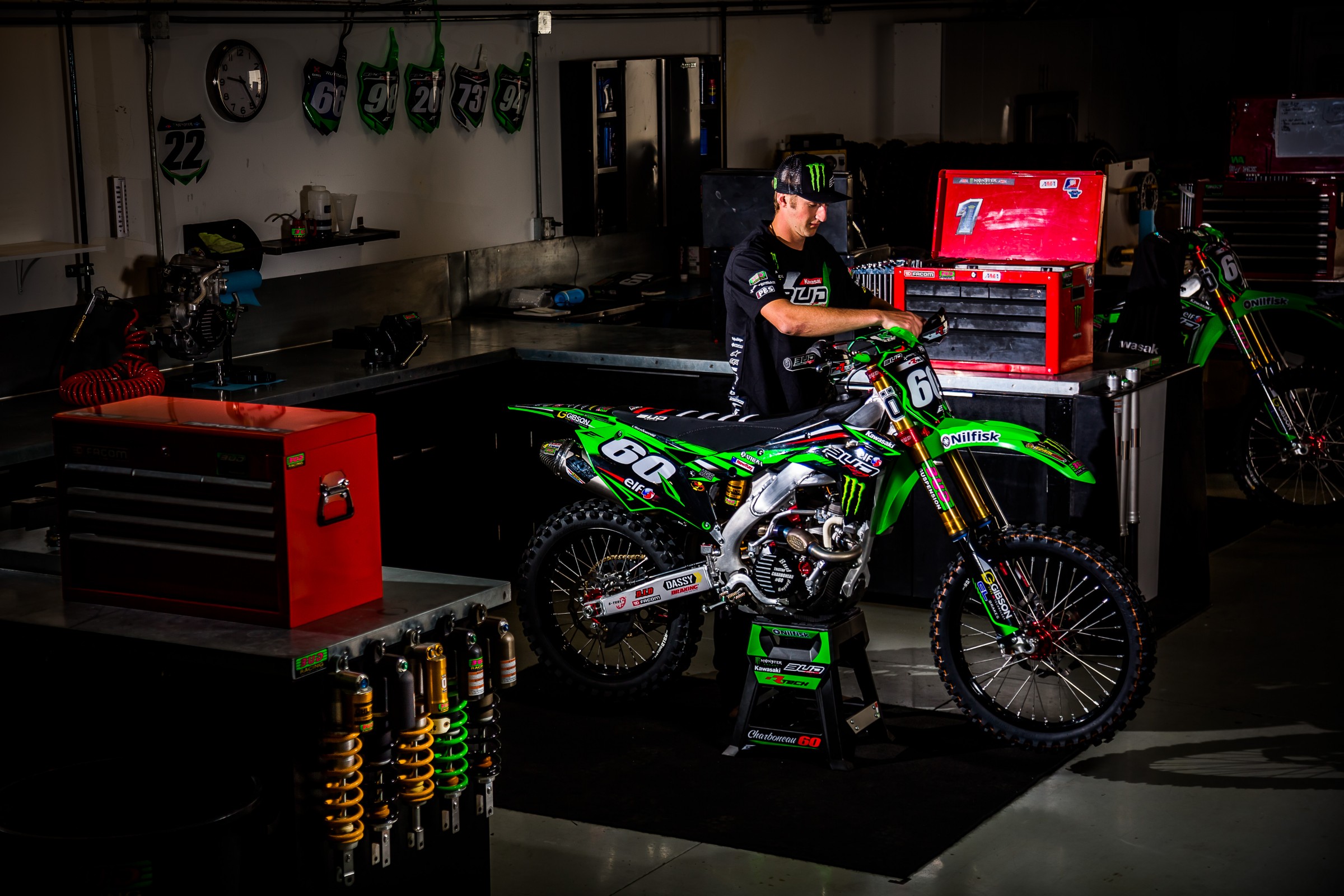 In talking with Darian Sanayei late last summer, he was really pleased with the entire Bud Racing/Monster Energy Kawasaki race team and how things had gone throughout 2016. When you considered racing for the team in '17, did you have a good feeling about everything?
Coming into it, I didn't really know how the team was going to be or how it would work out. I knew that they had a shop in Elsinore out here in California. I was kind of timid on the situation, but I talked to Aaron and I talked to Darian and they said it was a really good team everybody around the team was great and it was a good environment and all that. Now that I'm here, the bikes are great and the team is great and everybody is like a big family and everybody is nice. It's just awesome.
How is the race bike you'll compete on come the start of the season?
The bike I'm riding right now coming up to supercross is actually really, really good. It's a lot better than I thought it would be. We'll put it at that. Comparing it to a GEICO bike, it's honestly pretty close. I'm actually very impressed with what they are doing with the race team. I think the team has a lot of potential.
As far as you, your bike and your riding, how do you feel about supercross? Again, and like Hangtown was for you, it has to be something of an unknown.
I've had my struggles with supercross with Monster Cup and all that, but I was a young kid [Charboneau placed 4-5 in the 2015 Monster Energy Amateur All-Stars classification]. Now, I mean, it's pretty simple. Although when you say supercross is pretty simple, it's kind of like, "What? Huh?" Once you get used to it, it pretty much comes muscle memory. You figure out how to hit the whoops every lap. If there is a triple coming out of a 180-degree corner, you know how to it. It's all muscle memory. It's just nice. I've been out on the supercross tracks and I'm ready for A1.
Do you have idea of where you stand right now? Have you been able to ride with or be around any other riders on any of the other teams? Or are these more unanswered questions?
It's more of an unanswered question. I haven't really tried to measure myself against the other guys. I don't really care about what they do or all that. I'm just out there trying to be myself. It's just like going into Hangtown. I don't know where I'll fit it and I don't know where I'll be. I'll just go in and have some fun. That's pretty much where I'm putting myself. No stress.
Down deep, what kind of result do you believe you can pull off on Saturday night?
You know if I go in with a smile on my face and go there to have some fun and do some corners and do some whips, I'd probably say I could throw down a good top 10. I could put it at that. I'm not going to set super-high expectations on myself because when I went into Hangtown I told myself I was going to get a top 10. My expectations are top 10.