Anaheim, CA
Anaheim 1 (A1)
Monster Energy AMA Supercross Championship
It's unbelievable to think that Honda HRC's last premier class title came in 2004, when Ricky Carmichael took them to the 450MX title. Riders like David Bailey, Rick Johnson, Jeff Stanton, and Jeremy McGrath bridged the gap from the early 1980s all the way to RC in the early 2000s, ensuring Honda was on top year after year. Since then, it's been a long 13 years for a manufacturer that used to dominate the sport.
But the big red machine is asleep no more.
Ken Roczen's done nothing but win since he arrived in America from the GPs—and he was actually winning a lot before that. The German has won a 250SX title and two 450MX titles but doesn't have the crown jewel of a 450SX title just yet. Lots of wins in every class but injuries and the brutal efficiencies of Red Bull KTM's Ryan Dungey and the now-retired Ryan Villopoto have stopped Ken from getting the indoor plaque.
After two years at the RCH Suzuki team and the 2016 450MX title, Roczen is taking his talents to factory Honda for the next three years. It's a deal that's huge for both sides. For Kenny, it's his third OEM switch in just six years and for Honda, it's a massive investment to get them back on top.
"I put pressure on myself. I've kind of said many times it will be my ass out the door if this doesn't work out," Honda HRC team manager Dan Betley says about the signing. "I put the most amount of pressure on myself. Nothing short of winning championships is going to be acceptable to me, and I don't think it's going to be acceptable to Kenny."
Roczen knows about the drought and knows that he and the all-new 2017 Honda CRF450R are tasked with getting Honda back to the top.
"Of course everybody is looking at me," Roczen tells me on his way to a recent shoot for Red Bull. "First off, I ain't worried, but of course everybody is looking at me. Even though I won the outdoors, I haven't won a supercross championship yet, but I'm not worried because of Honda and because of the material I know what I'm sitting on. I can guarantee them that they get 110 percent focus and effort out of me. I'm thinking championships. The paycheck that I get is definitely not to get anything less than a championship."
Roczen and the RCH Suzuki team suffered through some tough times in 2015. Not meshing well with senior leadership at RCH prompted Roczen to start thinking a year ahead.
"Twenty fifteen was a really long year for me," says Roczen. "I struggled so bad that in my head I was almost throwing the towel in. Right there and then, throughout outdoors, everything, with all the shit that went down, I was already past the next year almost. I'm like, I got to change something.
"It's kind of a sad deal," he continues. "You come to a new team and you haven't really been with them for very long and the problems that went on and the stress that we had, nobody was happy. That's a tough thing, especially if you have another year on the clock. I made my mind pretty early on that I was leaving. We work our asses off and there's so much risk involved in this sport that I wanted a structure and guaranteed money. It just seemed right. I more and more felt comfortable with that whole idea of going to HRC. I hired my agent Steve (Astephen of the Wasserman Media Group) to take care of all the business side for me. With the risks we go through, I feel like a lot of the times riders get taken advantage of.
Betley, who had been a mechanic for Stanton in the heydays of Honda winning everything and dominating, not to mention having the best bike on the track, has been tasked with getting Honda titles. Without a change in management at Honda about three years ago, there's no way they spend what it takes to get a rider like Roczen. The #94's signing is just another sign of the push that Honda is making in racing worldwide.
"I feel like I was preparing upper management that this is what the going rate is for riders. If we want a top rider, this is what it's going to cost us," says Betley. "I also want to give a lot of props and kudos to those guys [management] because they're the ones ultimately that have to put it in the budget and write the check.
"I think Kenny also realized too, this thing all goes in cycles. We've been on a downtrend and we're ready to turn this thing around. It's not lip service. We're ready to do it."
"I think there was one point in the negotiations when we [Honda] all kind of looked at each other and went, 'Holy crap!' But we never swayed from it." - Dan Betley
One man who has been by Roczen's side, either as an agent for WMG or as a friend and sponsor, is Chris Onstott of Fox Racing. Before Kenny went to RCH in 2015, Honda made a run at him when his KTM days were over.
"Honda really came after him that year, the year that he signed with Suzuki," says Onstott, known in the pits as Beeker. "I'm a little bit surprised that maybe he didn't take that opportunity to go to Honda at the time. I just know that back then, he was really leaning toward Suzuki from when he rode the GPs for Suzuki and the experience he had with the brand."
Some phone calls between Betley and his bosses, and Astephen, began to get serious in September 2015. For Betley, though, nothing was going to happen until he got to talk to the rider himself. A meeting was set-up at Astephen's gated community in Southern California so that Betley could get a sense of what Roczen felt about turning red.
"I needed to have a meeting but with Steve present so there was not a "he-said-she-said" thing. I didn't feel comfortable enough to call Kenny directly without Steve's involvement," says Betley about that initial meeting in fall of 2015. "I wanted to do a face-to-face with everybody involved and sit down. So he met us. He got a sense of where we were coming from, and I wanted to do that with Kenny being there. Not that Steve wouldn't communicate our needs or wants, but this is an important deal. It's not what you say, it's how you say it."
For his part, Onstott thought that Roczen shouldn't let this second opportunity to ride red go by.
"There was another brand involved too. We talked about it. He asked my opinion on the two," says Onstott of the talks that began in mid-2015. "I've always been a huge Honda fan. I grew up dreaming to be Ricky Johnson and worked with [Jeremy] McGrath when he rode for the brand. I always put Honda on a pedestal and when I talked to Kenny, to me, that's the dream sponsorship. If you can ride factory Honda … I feel that's the pinnacle of our sport and you're the lead guy."
Before the gate dropped at Anaheim 1 in 2016, the die was cast. Roczen and Honda had an agreement in principle on a three-year contract starting October 1, 2016.
"I think there was one point in the negotiations when we [Honda] all kind of looked at each other and went, 'Holy crap!' But we never swayed from it," says Betley. "We never said, 'Let's look at this other guy instead of Kenny because it's getting too expensive' or whatever.
"Our management's major concern is we want to make sure we get our dollars worth, meaning we're investing a lot of money and time and we want to make sure that we are able to promote Kenny and our motorcycle and get that out of it. I don't think from a Honda side, we never swayed or questioned whether this was the right thing to do or not."
There was still the small matter of Roczen finishing up the 2016 season for RCH Suzuki. Everyone inside Roczen's inner circle knew he was gone, as did Betley and the upper management at Honda. But early on there were leaks that the deal was happening and that made for some difficult times for Roczen and Honda.
"There were only five, maybe six, individuals that I can think of that knew and they all were above me. Everybody had signed a Non-Disclosure Agreement," says Betley. "Nobody was allowed to speak about it, and it was also signed from the other side because we had just as much to lose if this got out. But unfortunately things get out, because of guys like you [the media]. I don't know where the leak came from, but it didn't come from Honda."
But really Roczen, out of everyone, had the toughest task. He had to leave it all out on the track to try and win while at the same time knowing he was leaving the team at the end of '16, no matter what happened. This was a tricky situation for Kenny, for his existing team and for Betley at Honda. For example, in 2014 everyone knew Barcia was leaving Honda for JGR Yamaha for 2015, and he was often seen around the JGR crew on track walk hanging out and talking. "That to me shows the professionalism of people you're dealing with," Betley says of the trying 2014 year with Barcia.
Unable to talk about the deal at all, Roczen was left in a tough spot. "It was actually very difficult for me," he says. "When something like that happens you're excited about it, but knowing that there are months ahead of you is the tough part. I tried to distract myself, and then as soon as it was kind of out of my head, I kind of thought week to week, and then it was a lot easier.
"When I did really think about it, it was very tough but I did a pretty good job of just keeping it out of my head. I kind of just worried about other things and I knew that it would have been the wrong thing to do to keep thinking about it and possibly get out of focus and all that stuff."
At some point in the 2016 supercross season someone in the media came up to Kenny under the RCH tent and proclaimed something along the lines of how he's going to love it at Honda in front of everyone. If anyone at RCH didn't know at this point, there was now going to be plenty of talk.
"That person did not know for sure that this was happening but they were basically just prodding them, trying to get something out of them," says Betley. "Next thing you know, my phone's blowing up from Steve [Astephen] and he's saying how unprofessional we were. We got into it a little bit, but I made it clear that—give me a name, I want to know who this person is. It turned out not to be anybody that worked at Honda."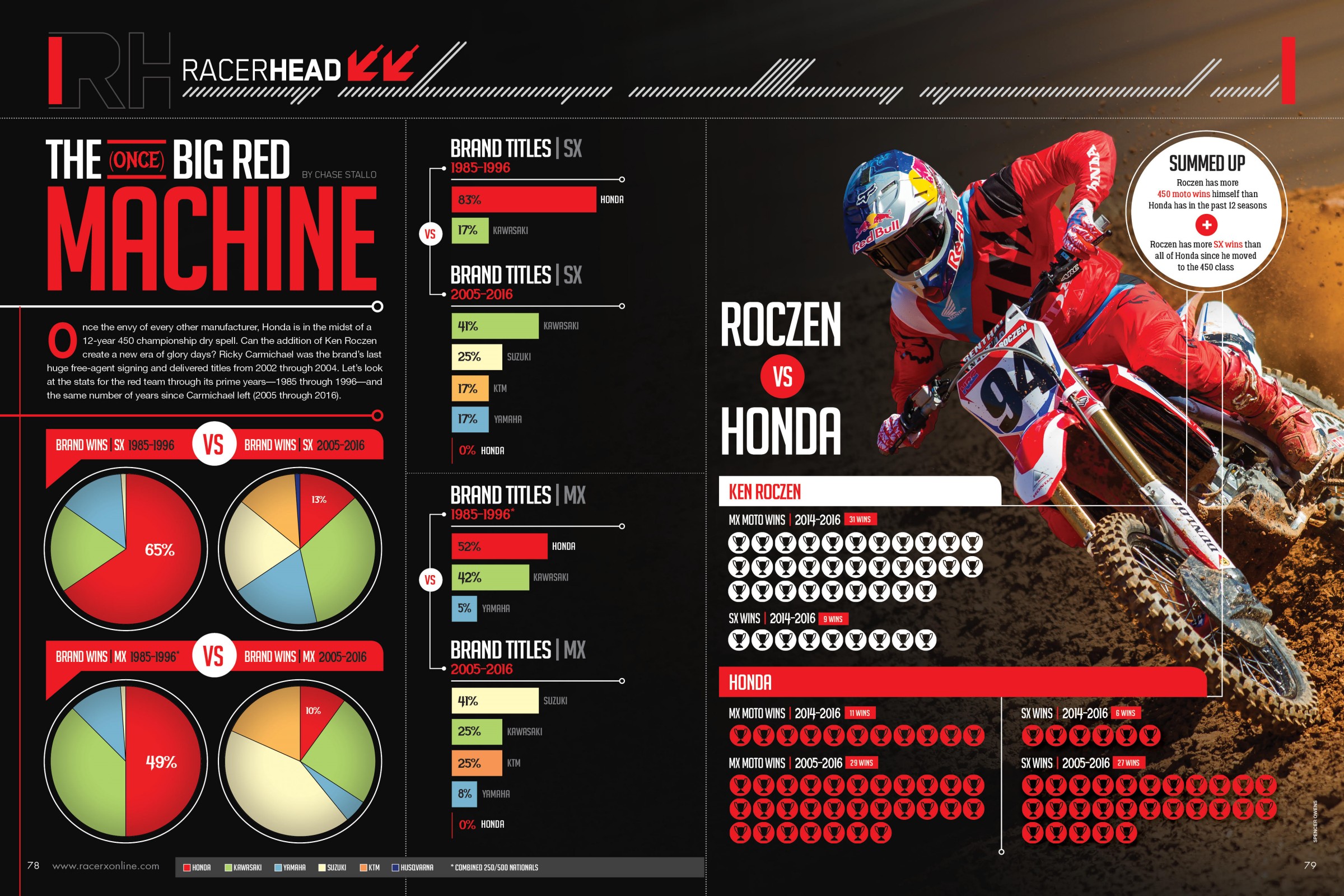 Things got a little tense at that point with everyone reminding everyone that there was a non-disclosure in place.
"Until I was legally with those guys I hadn't even been in the truck and haven't really met everybody yet. It was a very interesting time," says Roczen of the 2016 season.
Something that was also interesting was that the bike Kenny would be riding wasn't ready. The 2017 Honda CRF450R is an all-new model and in most deals with top riders, at some point the rider gets on the bike from the new team and does some laps on it. Yes, this is technically illegal as per every rider's contract, but it happens more times than you would think. It's the final step of any new deal for a top-level rider and is done in secret. In this case though, there really was no bike for Roczen to try. Due to an earthquake in Japan that hit Honda hard, bikes and parts weren't going to be ready as quickly as American Honda would've liked. So there was a bit of trust on Roczen's side that the new bike was going to be as good as Honda thought it would be.
"They didn't have any bikes!" says Roczen of this unusual arrangement. "I don't know if worrying is the right word. I was more so curious and anxious of what the characteristic would be. A little bit scared, of course."
Honda did get Roczen a 2016 CRF450R to ride some motocross with but with the '17 being so different—only the '16 wheels are the same—it wasn't something that really helped.
The first ride for Roczen on the 2017 was mid-September up in Simi Valley at a private motocross track. Roczen, Betley, Honda's Lars Lindstrom, Jason Thomas (from Honda), Roczen's mechanic Oscar Wirdeman (who had come over from RCH), and some Kayaba engineers from Japan watched the marquee free agent in the sport ride a Honda for the first time.
"It was very, very different than my Suzuki which took a lot of work to get it to where I liked it," said Roczen. "But as soon as I got on the '17 Honda, I had a huge, huge smile on my face the first time I jumped on that thing."
The next day the crew added Onstott and headed to the Honda supercross test track in Corona, California, to see how it performed there. There was also a Racer X cover shot set up and some PR photos.
"That next day, every time we targeted something it was done within one change," Roczen tells us. "It's like how it should be, but you rarely get that from a team. But I told them something, they targeted that area, they used their brains, came back at me with something, and that is exactly what changed. I was pretty damn impressed by that whole deal."
"Everybody seemed to click with him really fast," adds Betley. "Everyone got on really well. I think initially he was trying to figure everybody out and how everyone's going to get along. I think that's already gone. I think we're gelling pretty good right now."
"He was really happy," says Onstott. "He was really excited. His first reaction was he loved the bike but he also really enjoyed being around the team. I just remember him commenting on he couldn't believe how many things they had for him to try. You're kind of blown away."
A crisis developed when some iPhone photos of Roczen on the Honda on day one up in Simi leaked out to the world. Nothing was to be officially announced until October 1 and these photos, shared hundreds of thousands of times all over the world, really jacked up some plans by everyone, including Onstott at Fox.
"There was a group of people here inside the building (at Fox) that knew it was happening," Onstott explains. "But our sales force didn't know. It's always disappointing when they see it on the internet or they go into an account and hear it first. It kind of makes them look bad. We don't want to send our guys out in the field and not have all the information. So that was disappointing."
Team Honda and Team Roczen moved into immediate salvage mode by bumping up the release date on a "Welcome to Honda" video Roczen had made as well as the official PR.
In the era of smart phones, it's harder and harder to keep the lid on something like the Roczen signing.To have a photo leak so close to the end was frustrating for everyone involved.
"Kenny was sending me photos from that first day on the bike and one morning I was checking my Instagram and Twitter and I saw one of the photos. I was freaking out because I was like, I have one of these photos on my phone!" laughs Onstott. "The only person I could think of was Steve (Astephen). One of the dudes posted it was a guy I follow and I'm like, "Oh my god, Steve's going to think I sent the photo to the guy." I'm like, I don't even want these on my phone!"
In the end what seemed like a disaster turned out fine and all the world found out Roczen was going to Honda nine days ahead of when it was supposed to be official. We know the beginning of the story with Roczen winning two of the three races at the Monster Energy Cup in October and crashing while leading the other. The rest of the story starts this Saturday in Anaheim when Honda and Roczen begin this quest to make Honda great again.
Betley knows he's all in to try and get back to the Honda glory days that he knows all so well, having wrenched Stanton to six AMA National Championships. "Are we going to win races? I guarantee you we're going to win races," he says. "Championships? I don't know. That's our goal and anything short of that I'll be disappointed, but if it doesn't happen in 2017, definitely it's going to have to happen soon. I'm getting close to retirement age anyway!"
"I finally feel back to a family, a long-term thing," Roczen says about his new team. "I can really see myself closing out my career with those guys. You never know in the future, this and that, but I don't want to think about that. As of right now, I'm as happy as I can be. I can just put in my work now. There is nothing more that I want than win races and win championships with the family that I have now. They deserve it. It's been too long for them."
We're all going to see if Honda's "No Wing, No Prayer" theory in supercross—which stretched well through the 1980s and 1990s—comes comes back in 2017.