Anaheim, CA
Anaheim 1 (A1)
Monster Energy AMA Supercross Championship
Straight up loaded. No, we're not talking about your Uncle Carl at the family Christmas party, we're talking about the 450SX field we'll see at the season opener. Every single rider who will attempt to make the main event has a backstory interesting and complex enough to turn into a major feature. But for now we're presenting a quick read by focusing on the basic situation for last year's top-22 racers by giving them two sentences each.
[Note: Riders appear in order of their final finishing position in the 2016 Monster Energy AMA Supercross Championship.]
Ryan Dungey: The Red Bull KTM rider, who hasn't contested an AMA points-paying race since crashing out at Thunder Valley in 2016 [he did race the SMX Cup and Monster Energy Cup this off-season], is looking to claim his third consecutive Monster Energy Supercross Championship, and fourth in total. Can he fend off the wolves yet again in 2017?
Ken Roczen: Things looked so, so good at the Monster Energy Cup when he debuted on that Honda and despite finishing seventh overall, there was no question he was the fastest rider on the track that night. If that speed becomes a reality for the next 17 races, and if he's able to avoid trouble, everyone else could be in trouble.
Jason Anderson: Anderson is coming off a huge break after breaking a collarbone during Lucas Oil Pro Motocross and later, breaking his foot, and getting landed on at the Motocross of Nations. We know he's got the speed to win (he won last year's opener) but his starts were inconsistent in 2016, something he'll need to improve if he wants to be in title contention in Las Vegas.
Eli Tomac: Most racers would be overjoyed to win a race and finish fourth overall in 450SX, but for Tomac, who won the 2016 Monster Energy Cup, it was a disappointing season compared to winning three races and taking second overall in 2015. The buzz in the pits was Tomac, who was also overcoming major injury to both shoulders, wasn't quite gelling with his new Kawasaki, although progress made throughout 2016 suggests he and the team are on the right track to letting the good times roll in 2017.
Chad Reed: For a guy who had almost zero preparation and time to develop his bike before the season, last year started out great for Reed, who recorded two runner-up finishes in the first three races. This year the veteran is coming into supercross better prepared and more in tune with his bike, and as history has taught us, you can't ever count this dude out.
Cole Seely: It's weird to think a guy who's won a handful of 250SX races, as well as a 450SX race in 2015, isn't considered a team's number-one man, but that's the case for Seely at Team Honda HRC, where he shares space with Roczen. Honda also has a new bike this year and is putting a tremendous amount of effort into their program, which, along with a lack of pressure to be the team's showstopper, is only going to further benefit Seely.
Marvin Musquin: Like Seely, Musquin isn't the top dog on his team (that's Dungey's job), although he did earn a slew of podiums in 2016 and was tantalizingly close to winning Atlanta, which, for a 450SX rookie, is nothing to shake a set of Renthals at. Marvin has looked great at off-season races, and he needs to use that experience to maintain those great races while eliminating some of the inconsistencies he suffered from last season.
Justin Brayton: Signing Brayton is an absolute win for SmarTop/MotoConcepts Racing—the team gets a solid rider capable of top fives without the drama and, let's face it, deserved or not, negative image that at times seems to follow MotoConcepts riders Mike Alessi and Vince Friese. Since Brayton will be on HRC-backed machinery, helping the team achieve their most successful year yet in supercross should be the goal.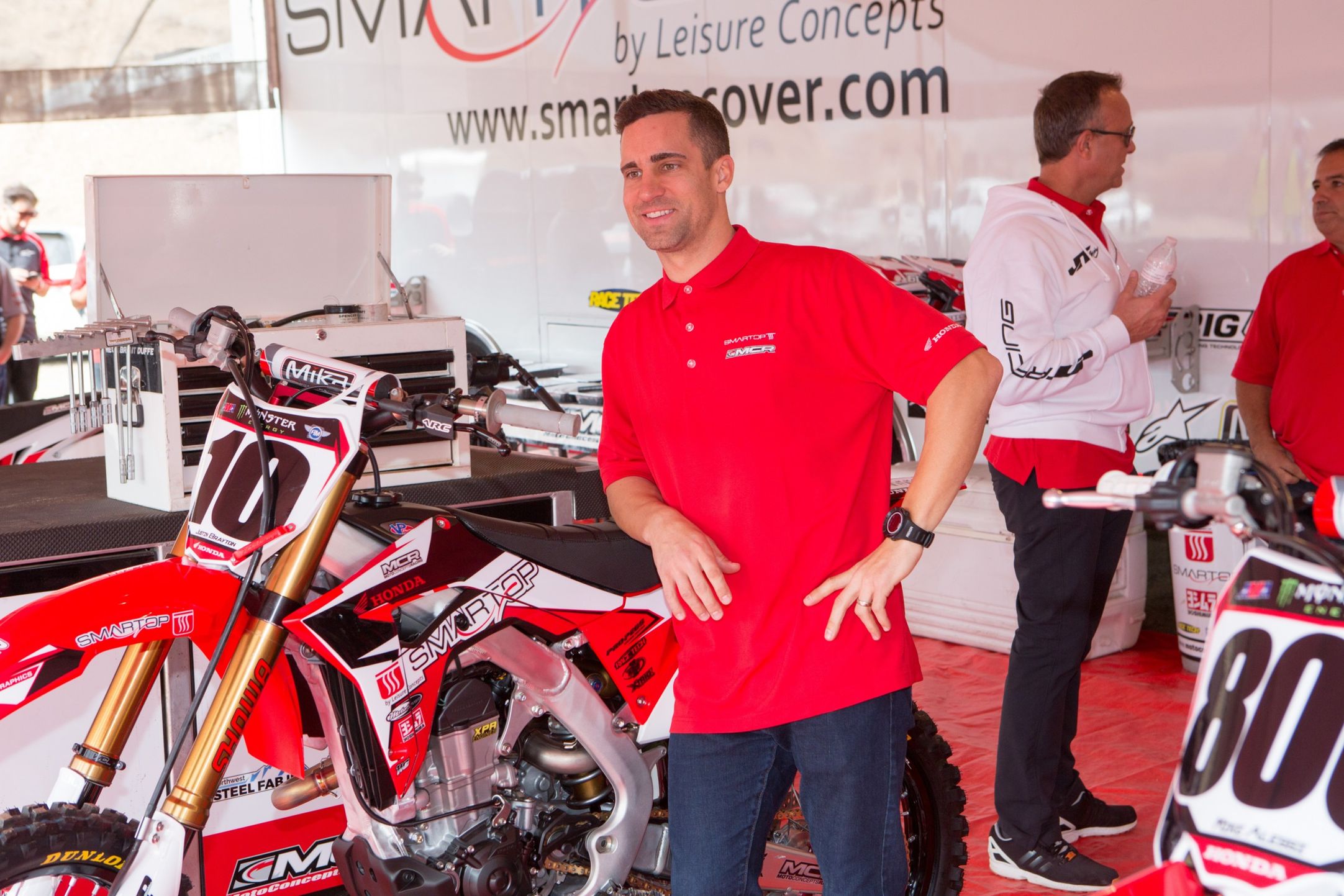 Trey Canard: The rub with Canard is well-known—he's ultra-fast, can win races, and can challenge for a championship as long as he's able to avoid getting hurt, which has been an issue for him in the past. He's on a new team now—Red Bull KTM—but recording 17 solid rounds needs to be the primary focus.
Jake Weimer: As of posting time, Weimer still hadn't been able to work out a two-wheeled solution for 2017. We know it's been an abnormally tough off-season for lots of fast guys, but it still seems crazy that a guy who finished 10th overall and made every single main event last year is left without a ride.
[Update: Weimer is expected to fill-in for the injured Justin Barcia at JGR Suzuki.]
Justin Bogle: We've never seen Justin Bogle on anything but a GEICO Honda, so it should be pretty interesting to see what happens when he rolls into Angel Stadium on his new Suzuki, courtesy of RCH/Yoshimura Suzuki Factory Racing. Can he beat his best result of 2016 (fourth in St. Louis) by snagging a podium at some point?
Mike Alessi: Did you know Alessi made every single main last year? Now you do.
Weston Peick: Last year didn't go as he hoped, but in a weird way maybe that's a good thing for a guy like Peick, who runs so hot he could probably make fire by rubbing two ice cubes together. Peick is no doubt aching to go out and erase the memory of a mediocre 2016 by making the right kind of headlines on his new JGR Suzuki this season.
Davi Millsaps: Remember when Millsaps came out and won A1 in 2013 and held the points lead deep into the season? Sure, nobody expects that to happen again, but nobody expected it to happen then either.
Christophe Pourcel: Despite being in and out of the AMA scene since 2007, last year was Pourcel's first season aboard a 450 in supercross. The talent-laden Frenchman finished 15th overall and missed multiple races due to injury, but he showed his trademark qualifying speed, and the good news is there's plenty of room for improvement in his sophomore year.
Vince Friese: Friese was put on permanent probation after his run-in with Weston Peick at last year's opener. It's too bad he's known for this kind of headline because he's a good rider who's capable of getting decent results.
Blake Baggett: After finishing third overall in combined MX/SX points in 2015, Baggett was severely limited by injury in 2016, racing just nine of 17 supercrosses and only four of 12 Nationals. With polarity like that Baggett has got to be hoping the bad luck skips this season.
Josh Grant: These days Grant's MO seems to be quiet consistency, and Kawasaki would be happy with that since Tomac is the lead gunner. But now that his ankles are all healed up, could some of the old JG fire return?
Broc Tickle: Tickle is like a stealth bomber—he operates just below the radar and doesn't always generate a ton of headlines, but he's always there and always seems to complete his mission solidly. The folks at RCH/Yoshimura Suzuki Factory Racing must like him too because this will be his fifth year there.
Wil Hahn: Late in 2016 Hahn announced his retirement, but will still be around helping with testing and development for GEICO Honda. Despite no longer racing professionally, we're betting he still figures out a way to run #69, his official 2017 AMA number.
Justin Barcia: Once considered a guy who should be challenging for race wins on any given weekend, Barcia's had a tough few years lately and hasn't won a supercross race since Seattle in 2013. That undesirable streak could end this season though—Barcia says he's much, much happier with his new Suzuki than his old Yamaha.
[Update: We've just learned that Barcia is out for the opener with a wrist injury.]
Nick Schmidt: Last season Schmidt was incredible, qualifying for 16 of 17 mains as a privateer. Only eight other riders—Dungey, Roczen, Anderson, Tomac, Reed, Brayton, Weimer, and Alessi—can say they made more mains than Schmidt.
Bonus!
Cooper Webb: Yeah, Webb wasn't top 22 in points last year because he didn't race 450SX, but the hype train is rolling for his rookie season. Don't let his podium bluster fool you—Webb races with his heart, but he's also very smart and adept at figuring things out, which bodes well for a newcomer to the 450s.
Dean Wilson: Dean didn't make the top 22 last year after getting hurt following just two races. Now he'll try to shine with his own Yamaha program through the first five rounds—and hope someone picks him up from there.
Malcolm Stewart: The other rookie and the other 250SX champion from 2016—but this one doesn't have a ride so we don't know when he'll show up. Malcolm is built for 450SX though, and has one career start to his name, at Daytona, 2014, when he was mixing it up with Barcia for a top five (until it came crashing down).